Coordinate Your Indoor & Outdoor Spaces With Matching Porcelain Tile & Pavers
March 13, 2022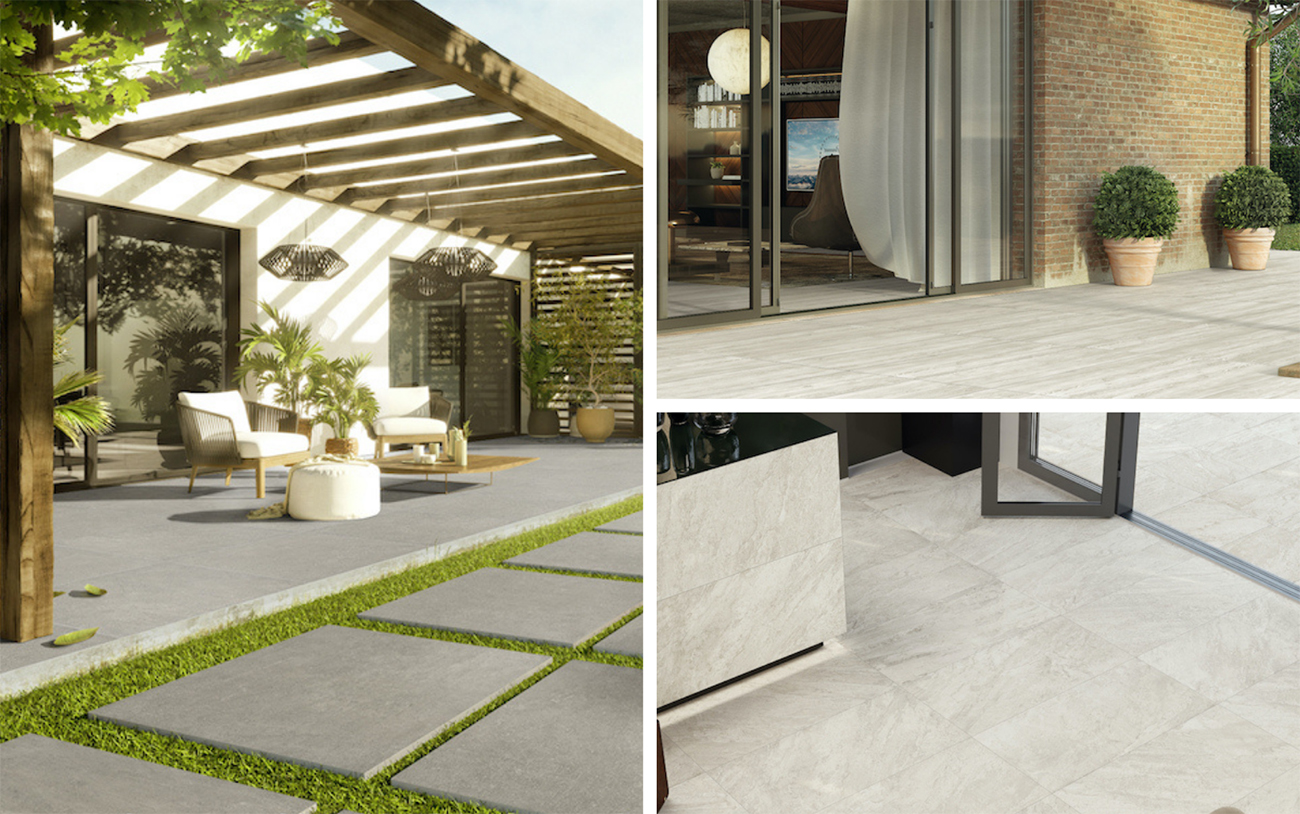 The indoor-outdoor trend of transitional spaces is more popular than ever. The movement gains traction daily, and for good reason. Homeowners feel a strong desire to interact directly with the natural elements of their property and even as far as the eye can see. One of the best ways to create awe-inspiring indoor-outdoor transitional spaces is with MSI matching porcelain tile and pavers.

Our backyards are captivating extensions of our living spaces, so it was only a matter of time before the wall between indoor and outdoor blurred. Once that wall blurred, or came down altogether, homeowners began taking advantage of enjoying the great outdoors from the comfort of their homes or elevated outdoor spaces. While the possibilities of this trend are endless, this article will cover the use, convenience, and magic you can achieve when you transition from inside to outside with indoor/outdoor matching porcelain.
BENEFITS OF MATCHING PORCELAIN TILE & PAVERS
For years, homeowners have opted for porcelain tiles inside their homes due to their unparalleled beauty and numerous benefits. At the top of that list is durability. Compared to other floorings and premium surfaces that porcelain mimics, porcelain tile and porcelain pavers stand up to cracks, scratching, and chipping, even in high traffic areas.
Porcelain tiles are fired longer and at a higher temperature than, say, ceramic, making them non-porous, so they'll never need the ongoing sealing required of other floorings like marble, concrete, or wood—though they absolutely capture the look and essence of these products.

The majority of porcelain tiles and pavers are waterproof, making them ideal for creating a seamless transition from inside your space to the glorious outdoors. While your indoor porcelain tiles remain safe from water, the matching outdoor pavers will stand up to any weather that comes their way.


You may think if you live in an area where temps dip below freezing, an indoor-outdoor transitional space isn't in the cards. Fortunately, since these pavers absorb no water, they won't crack under freezing temps. On the other, more sunny side of the coin, porcelain won't fade no matter how bright or hot the sun gets.
When it comes to creating your perfect indoor-outdoor space, matching porcelain tiles with pavers as a flooring option is difficult to beat. Not only do they offer the benefits listed above and more, they deliver a spectacular look of continuity between the indoor and outdoor.

Finally, all of the porcelain pavers covered in this article are outfitted with ZeroSlip™ technology, MSI's proprietary anti-slip technology, which provides peace of mind knowing that your family and guests are that much safer, especially if there's a pool incorporated into your indoor-outdoor sanctuary.
LEGIONS PORCELAIN TILE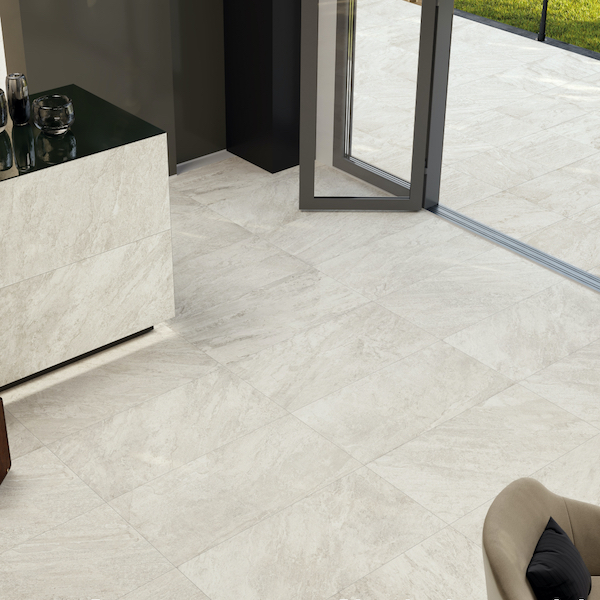 MSI's Legions Porcelain Tile Collection offers an irresistible and unbroken flow from your indoor to outdoor spaces. They are available in three colors, all offering the appearance of natural stone. For this article, we'll explore the Legions Quartz White Arterra Pavers.

These porcelain pavers use a refined blend of cool whites and grays to create an eye-catching soft movement so gorgeous it's challenging not to stare. Take a look at how effortlessly the indoor tiles transition to the matching outdoor pavers. These quartz look pavers deliver the elegance, and the matte finish and low sheen serve up an appealing modern, while still timeless, look.

Use them to elevate your pool deck, craft graceful pathways, or expand your indoor space to your inviting backyard. No matter how you use these lovely pavers, you're sure to create something new and appealing and perhaps the only indoor-outdoor transitional space in the neighborhood.
Legions Quartz White Arterra Pavers are easy to install and care for, and since they're non-porous, you need not worry about mildew, mold, or weather damage.
CALDERA PORCELAIN TILE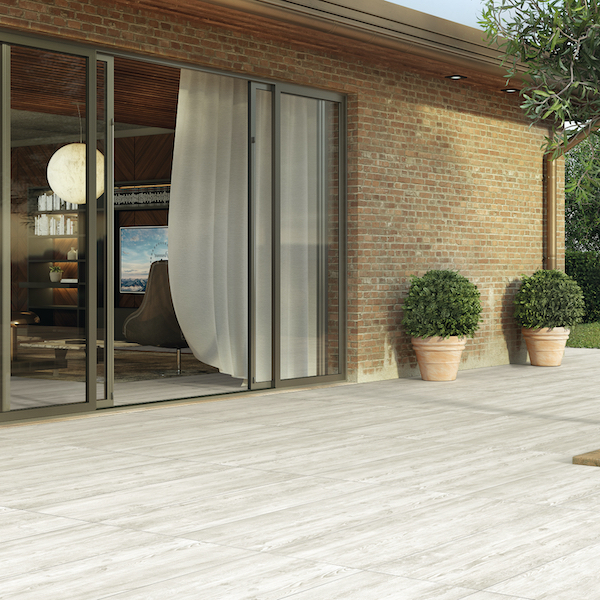 MSI's Caldera Porcelain Collection captures the highly coveted look of natural wood flooring in three stunning colors. Where authentic wood flooring requires regular sealing, these porcelain pavers do not. Nor are they limited in where you can use them.

Real hardwood floors do not mix with moisture-rich areas like bathrooms or kitchens, and they absolutely do not gel as a pool deck. But the Caldera Blanca Arterra Pavers pictured here with their non-porous nature certainly do. Transitioning this creamy cool white wood look porcelain so effortlessly feels almost surreal as you enjoy such a striking wood look tile without the glare from a stained wood patio.

You'll surely be busy enjoying your new indoor-outdoor oasis and taking in the warm glow of good company, but remember to steal a look or two whenever you can to experience the intricate tile patterns that this porcelain boasts.
CONCERTO PORCELAIN TILE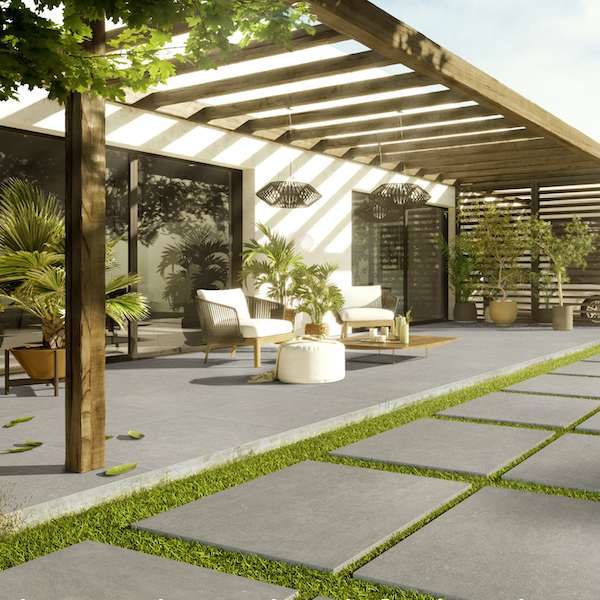 Concerto Porcelain Tile by MSI is offered in 24x24" and 18x36" concrete look porcelain, though like the premium surfaces we've covered, these porcelain products are more durable, easier to care for, and don't require all the regular mundane sealing and other maintenance that real concrete does.

Take a look at these Concerto Grigio Arterra Pavers. They utilize a slightly weathered appearance with gray hues to capture the on-trend concrete flooring look. Featured here among the grass creates the feeling of a spa retreat or meditation center or simply your own relaxed backyard where you can kick back and decompress.

Use Concerto Grigio Arterra tiles inside with matching pavers outside to create a unified look where it's somewhat unclear where inside ends and the out begins. Imagine feeling a cool breeze coming through the transition space or hearing laughter coming from inside while you take in a breathtaking pastel-colored sunset.

From the looks of it, the indoor-outdoor trend is here to stay, and any of us lucky enough to experience it daily is better off for it. We live in a modern world—a world where we won't be returning to nature full time, but that doesn't mean we can't experience more of it from the comfort of our own property.

One of the most convenient and long-term ways to achieve this is with indoor and porcelain outdoor tile. It's also one of the best ways to elevate your indoor and outdoor spaces and, at the same time, create something entirely new.
READ MORE ABOUT OUTDOOR SPACES with PAVERS AND PORCELAIN TILE:
Alfresco Living with Our New Concerto Indoor & Outdoor Porcelain Tile Collection
Can Porcelain Tile Be Used Outdoors?
How to Install Arterra Porcelain Pavers for Perfect Outdoor Living
New Arterra Porcelain Pavers Are Perfect for Outdoor Living
Learn More About Pavers And Alfresco Flooring
Coordinate Your Indoor & Outdoor Spaces With Matching Porcelain Tile & Pavers
Holistic Havens: Creating Your Indoor/Outdoor Sanctuary
Stylish Soreno Porcelain Pavers And Tiles With Zero-Slip Technology
3 Flooring Tile Styles That Create A Seamless Indoor And Outdoor Space
Living Alfresco With Arterra Porcelain Pavers