See How Plank Luxury Vinyl Flooring Transformed These Rooms
November 14, 2018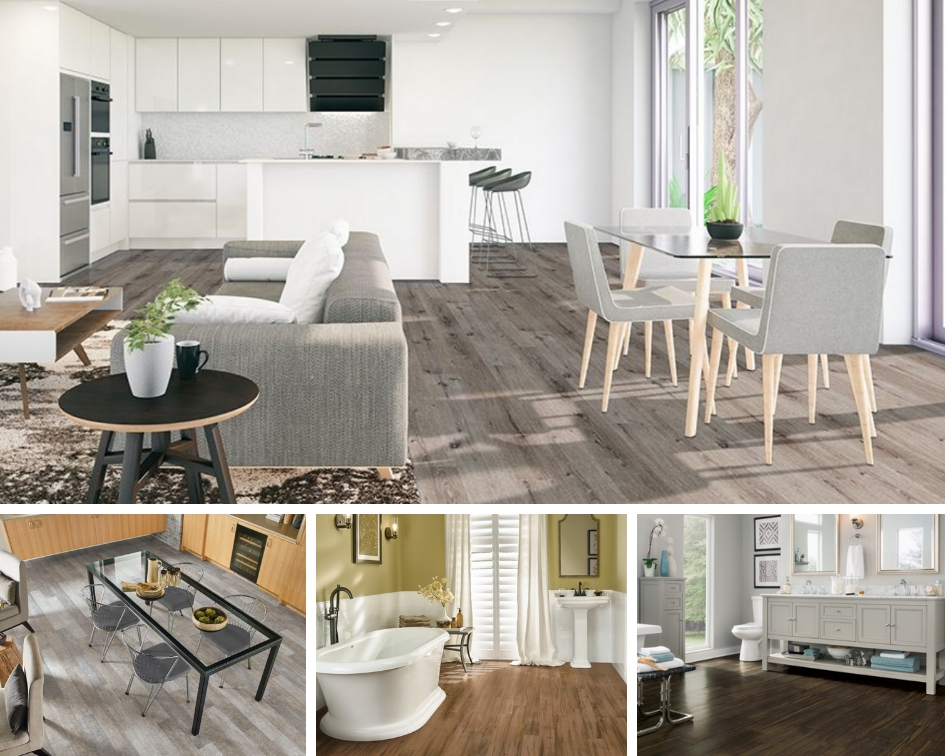 Flooring makes the biggest impact on an interior design transformation since it serves as the foundation of the room. One of the easiest ways to makeover a space is with luxury vinyl flooring.
LVT offers the luxurious look of real hardwood but with the least amount of maintenance needed, and keeping it clean is easy with a quick sweep or mop. You'll be able to select exactly what you need to coordinate with your existing or new style with close to 30 colors available from MSI.
The quick installation process is something that novice and professional decorators rave about, and it can be featured in any room of the house. Plus, the flooring line with a simple locking system is easy enough for any level DIY-er!
Wondering how you can envision vinyl flooring in your home? See how these practical and stylish vinyl plank flooring tiles completely changed the look and feel of these rooms!
Charcoal Oak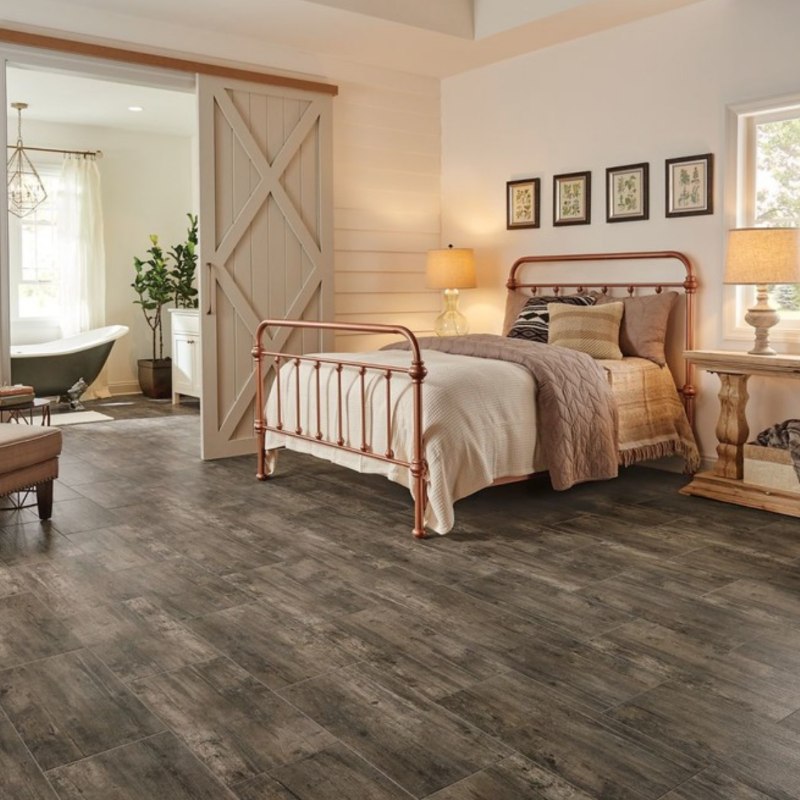 Recreate this look with MSI's Charcoal Oak Vinyl Tile (Photo Credit: Houzz)
This beautiful farmhouse bedroom marries soft creams and taupes with rose gold metals and Charcoal Oak LVT flooring. The gray and greige tones of the luxury vinyl planks accented by subtle knots and grains give it an authentic wood look. The glue-down product is not only gorgeous but also very durable. The seamless installation from bedroom to master bathroom makes the space cohesive. And, since you spend approximately one-third of your lifetime sleeping, you'll love this carpet alternative, a perfect option especially for those with allergies.
Burnished Acacia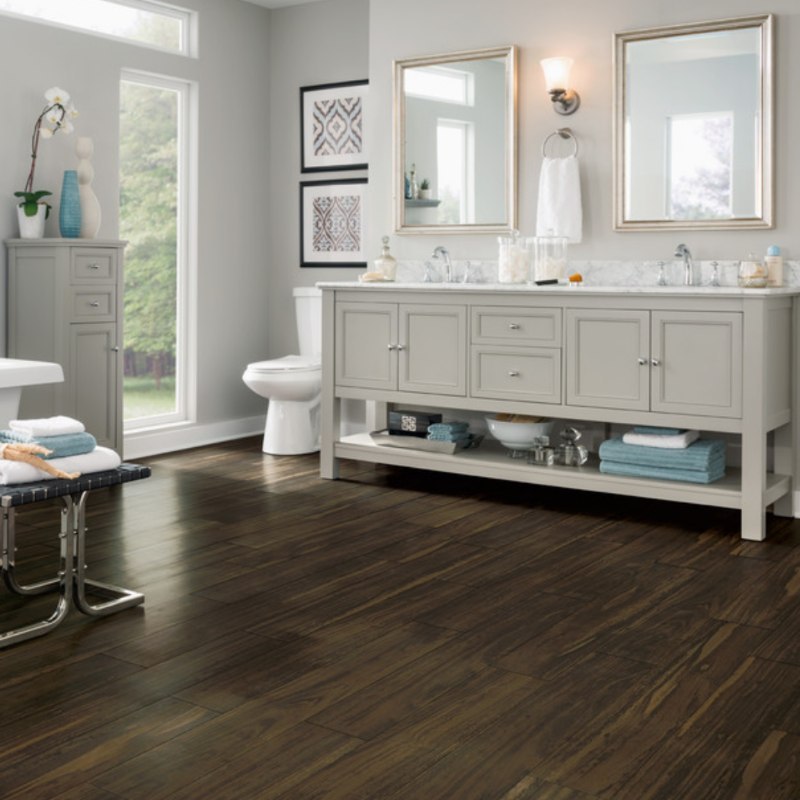 Recreate this look with MSI's Burnished Acacia Vinyl Tile (Photo Credit: Houzz)
This transitional bathroom balances modern gray tones with more traditional rich wood-look hues found in the Burnished Acacia luxury vinyl tile. With the richest, deepest, darkest browns and gorgeous grains, this flexible, glue-down Luxury Vinyl Flooring grounds the large space and gives it a fresh look that will stay that way. Plus, no one likes walking on cold tile first thing in the morning, but your bare feet will be more comfortable when you've got vinyl because it stays closer to room temperature.
Ludlow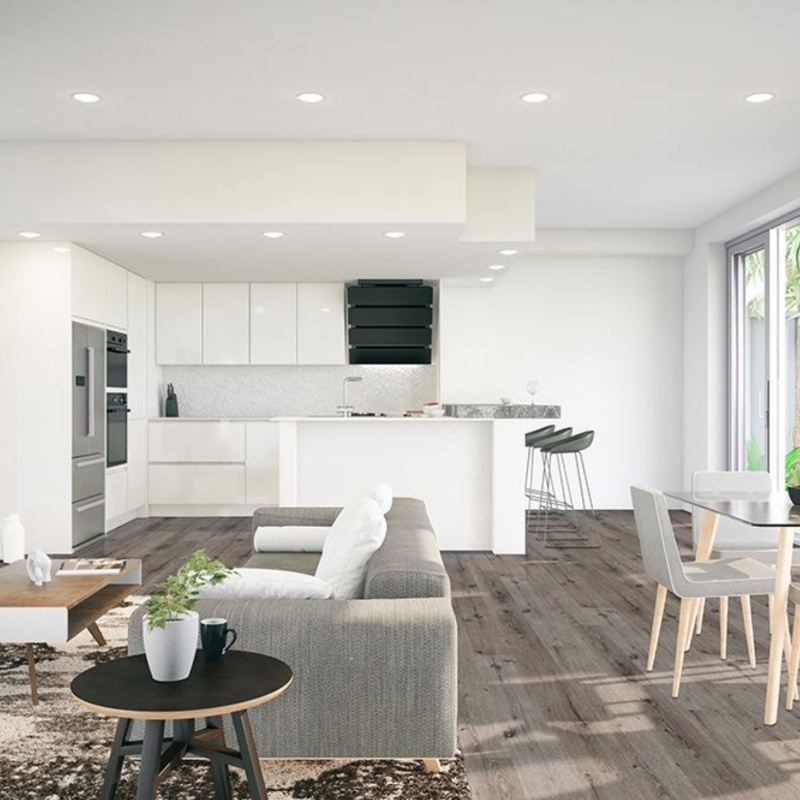 Featured: Ludlow Vinyl Tile
The gray colors, light wood tones, and bright whites in this modern great room pair perfectly with Ludlow LVT flooring. It comes with subtle grays and realistic charcoal gray knots and graining for a more modern aesthetic. These low-maintenance planks are ideal for living areas and great rooms that get a lot of traffic because they are dent, scratch, and stain resistant. And, it's an affordable wood-look solution for large spaces.
Fauna
With the bright whites, gorgeous greens, and warm wood tones, this traditional bathroom feels so elegant and inviting. The Fauna vinyl flooring is a fantastic choice for a bathroom because it's 100-percent waterproof, so you can splash all you want in this luxurious soaking tub! The light-brown tones and dark brown grains and knots really do look like real hardwood, and the easy-install locking system makes tackling any bathroom in a weekend possible.
Elmwood Ash

Recreate this look with MSI's Elmwood Ash Vinyl Tile (Photo Credit: Houzz)
Some might be afraid to mix various wood tones like in this kitchen and dining area, but the Elmwood Ash luxury vinyl tile acts more like a neutral backdrop so that the light cabinets can pop! The good-looking grays and understated blues of the LVT play nicely together, and the subtle knots and grains provide an authentic look without being an overpowering pattern. It also coordinates well with the contemporary dining chairs and upholstered accent chairs.
Adding luxury vinyl flooring to your home can make a huge impact and add to the overall décor. It provides the practicality of tile without being too hard or cold and the luxurious look of real hardwood without the hassle of maintenance or water issues. If you're interested in installing LVT, then check out this article for tips on maintaining your vinyl flooring.
More On Vinyl Flooring
What Luxury Vinyl Plank Size is Ideal for a Certain Room Size?
Vinyl Flooring Color Trends for 2020
How to Get Professional Results Installing Luxury Vinyl Tile Flooring
The Cyrus Series: Easy-Install Luxury Vinyl Tile
A DIY project in the making, there's no easier way to replace laminate, tile flooring, or carpet than installing LVT (Luxury Vinyl Tile). From prep work and step-by-step instructions to tips, tools, and materials, follow these Vinyl Flooring Installation instructions for everything you need to know to achieve professional results. You could get started today and be done in just a few days – and with professional, polished results. If that sounds attractive to you, read Luxury Vinyl Flooring installation best practices for optimal results.
What's not to love about low-maintenance vinyl flooring? As lovely as they are, they won't clean themselves. To keep your Luxury Vinyl tiles and Planks looking their best through the years, follow these handy Luxury Vinyl Flooring care and maintenance tips.