Popular
Wood Look Game-Changers: Introducing Everlife LVT
September 20, 2018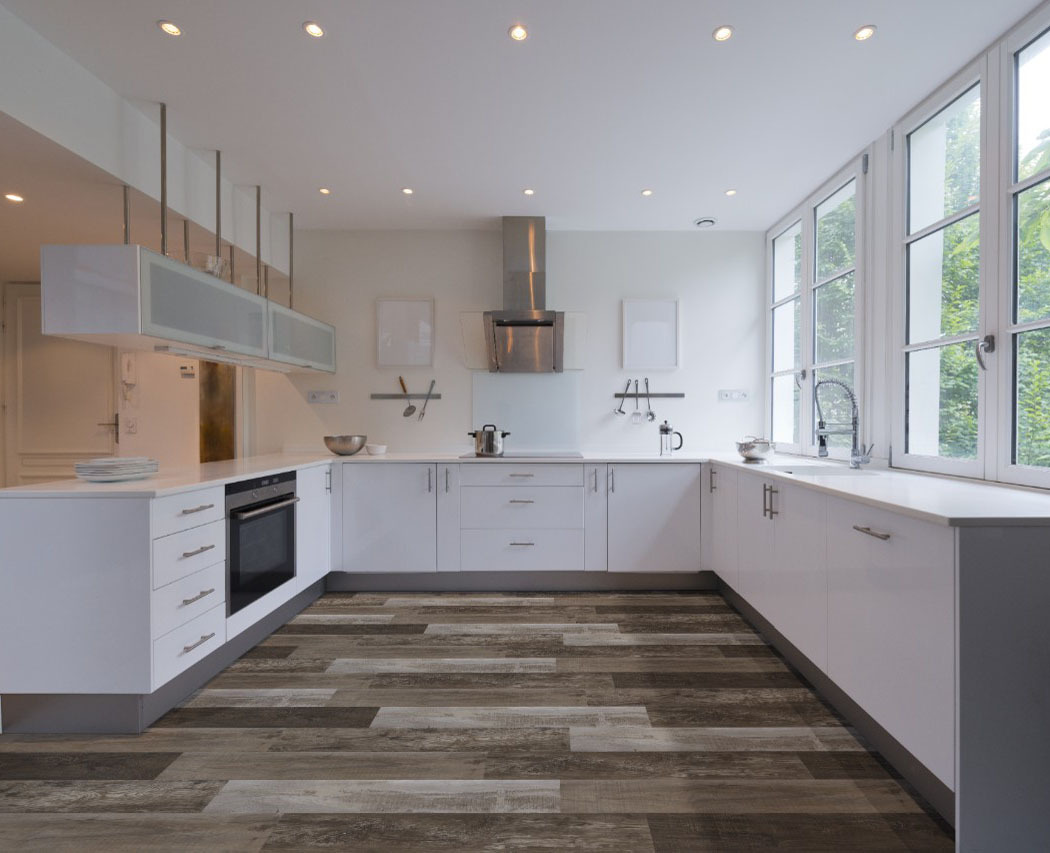 A telltale sign you had a fabulous summer? The to-do list you made for updates around the house is nowhere to be found. Despite the things we never got around to (um, guilty as charged), fall is always welcome at our doorstep.
Time to kickstart that flooring project you've put off for ages? You'll find a world of inspiration underfoot with Everlife, our first line of luxury vinyl tile (LVT) featuring on-trend wood looks. Flush with true-to-hardwood aesthetics, our newly-launched five series collection is designed to withstand whatever comes your way. Rambunctious kids, unruly pets, holiday houseguests, red wine (yes and please). What's not to love about game-changing warranties, and two waterproof lines perfect for the DIY set? Oh, and dust off those dance moves. Everlife is eco-friendly. (FloorScore and GreenGuard Gold certified to be exact.)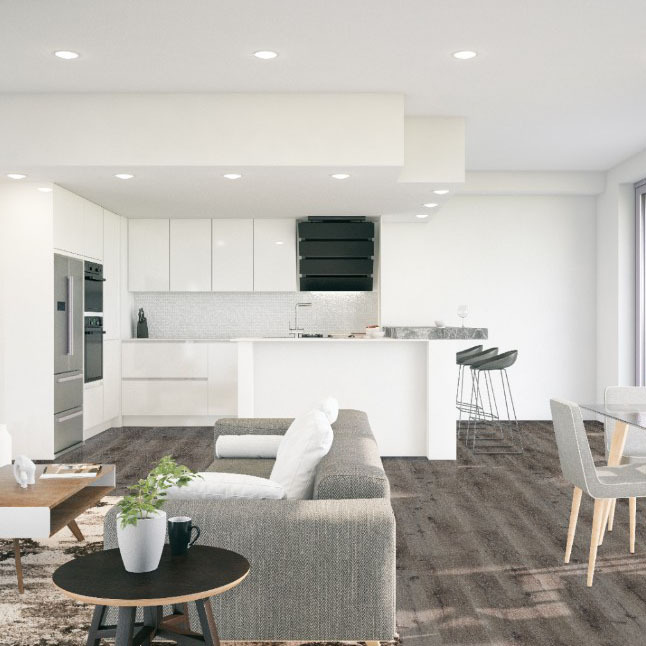 Making the open concept look happen, and then some: Ludlow from Prescott Collection.
From Scandinavian-influenced coastal vibes to mixed-width rustics, the rundown of our faves includes modern-day grays, greige-infused blondes, and old-school classics. Each style is as organic looking as the next, so it's hard to choose one! This much is clear: homeowners are bringing budget-friendly floors to life without sacrificing dreamy looks. A super trend headliner in luxury vinyl tile, Everlife's high-resolution wood imaging technology combines with true-to-life textures to turn even today's toughest skeptics into believers – especially in-laws with raised brow syndrome. Ahhh, the design gods are smiling.
Practical Matters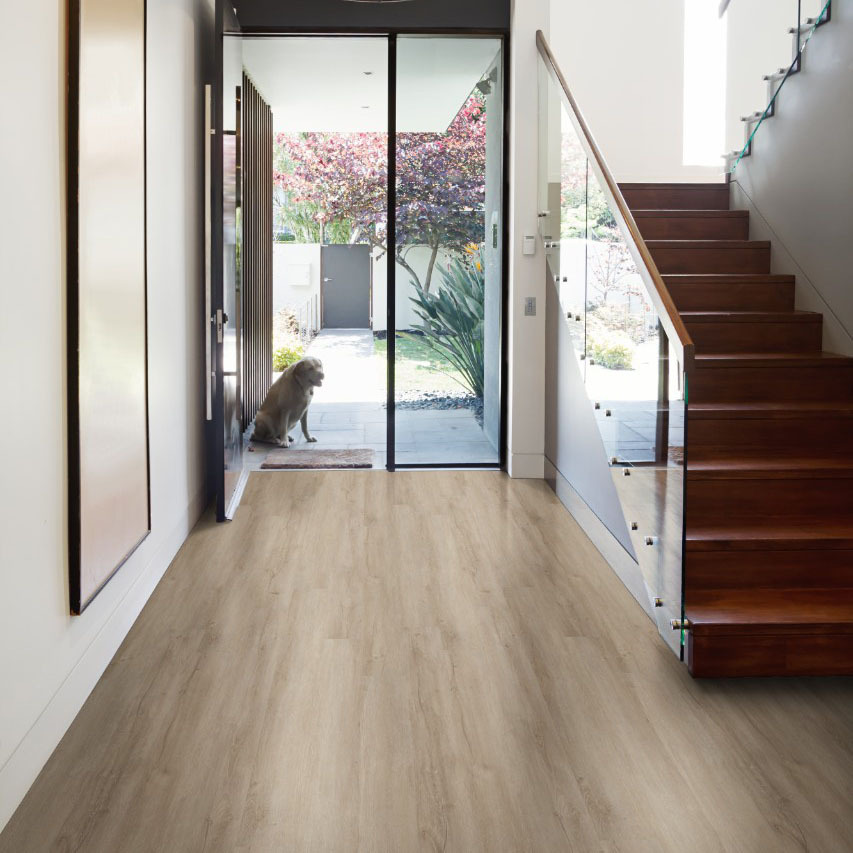 For families tough on their surfaces, Sandino from Cyrus stands out in cashew brown.
Everlife is made to last a lifetime because it's constructed of the hardest working materials in flooring, outperforming its natural wood and laminate counterparts. This isn't your mother's vinyl tile – the line's precise detailing means you can't tell it apart from authentic hardwoods. Even textures pass the feel test, so no one but you and the guys from the showroom will know it's vinyl.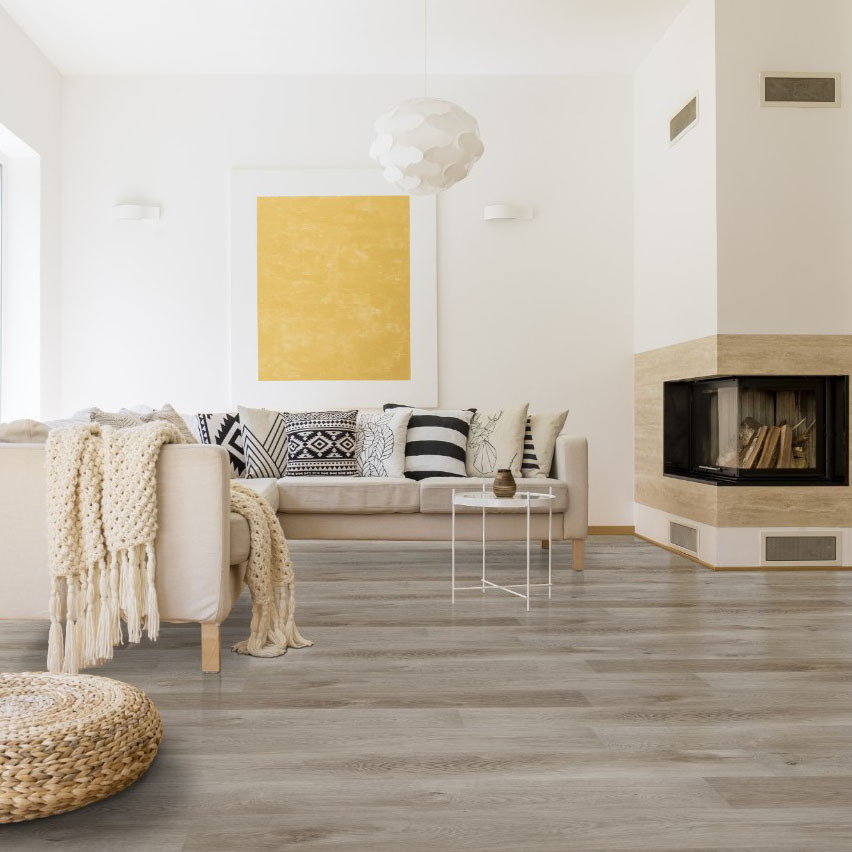 Just add your favorite people, and all's right with the world. Whitfield Gray from the Prescott Collection.
The very definition of versatile, Everlife is fifty options strong. There's Cyrus and Prescott lines - both 100% waterproof 7x48" planks that interlock into place. And Dryback Flexible Gluedown versions: Katavia, Glenridge, and Wilmont, featuring 6"x48" and 7"x48" tiles. Bonus point? The entire collection includes coordinating trim, which is ideal for creating seamless interiors.
Life-Proof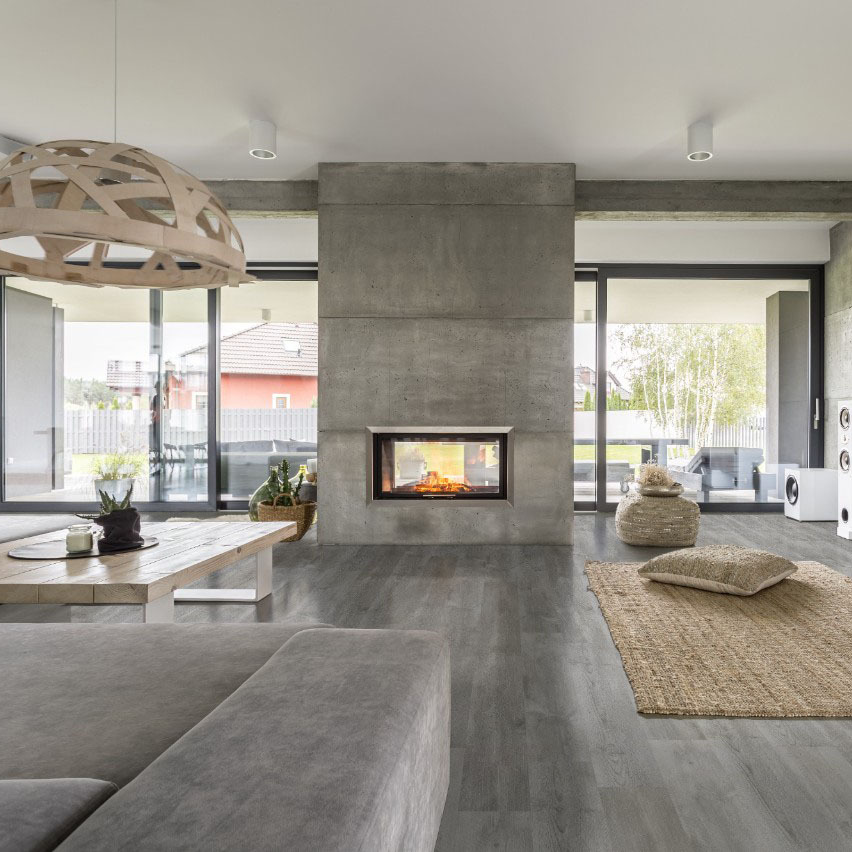 Waterproof Rigid Core Katella Ash from the Prescott series is our thickest option, at 6.5mm.
Whether you're a family of eight or two, there's just no going wrong with floors that resist stains, scratches, and dents. Another given? When guests arrive for the holidays, your appreciation of low-maintenance surfaces will be at an all-time high.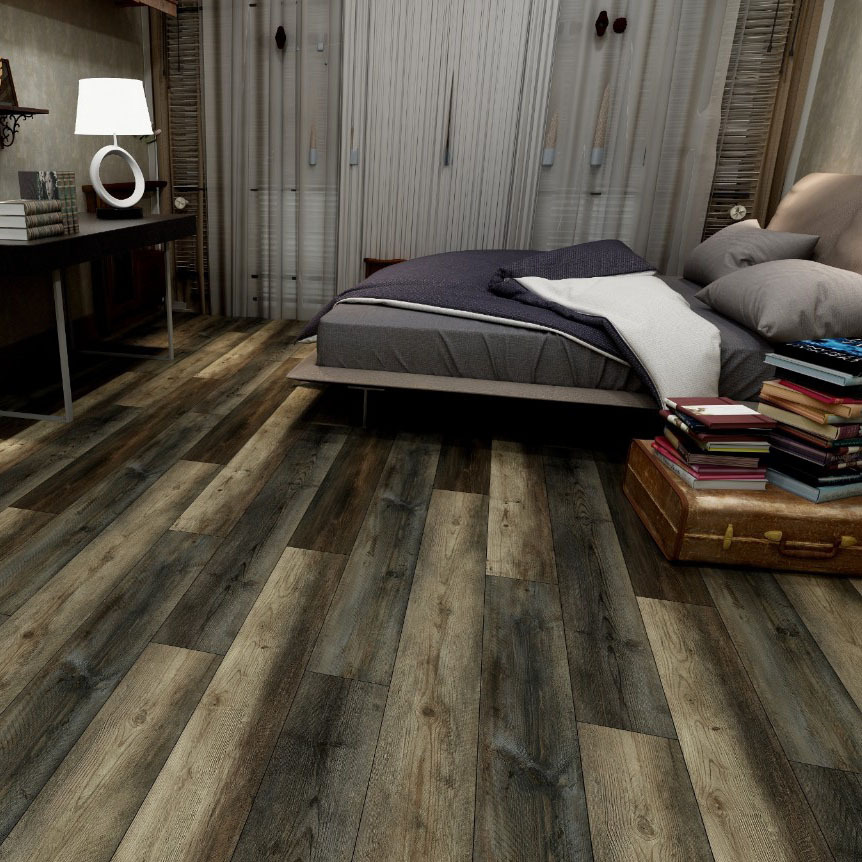 Single-handedly proving that carpet in the bedroom is so over, Stable from the Cyrus Collection is the flooring equivalent of the warm and fuzzies.
Let's face it: there's nothing like sticker shock to kibosh your hopes of hardwood floors – especially when it comes to pricing reclaimed barn woods (hello Vermont). Keeping the dream alive, Everlife brings irresistible trends into I've-got-this territory: from the beauties once beyond your budget to the continuous aesthetic of a whole-house installation.
See Everlife On Your Floors, Virtually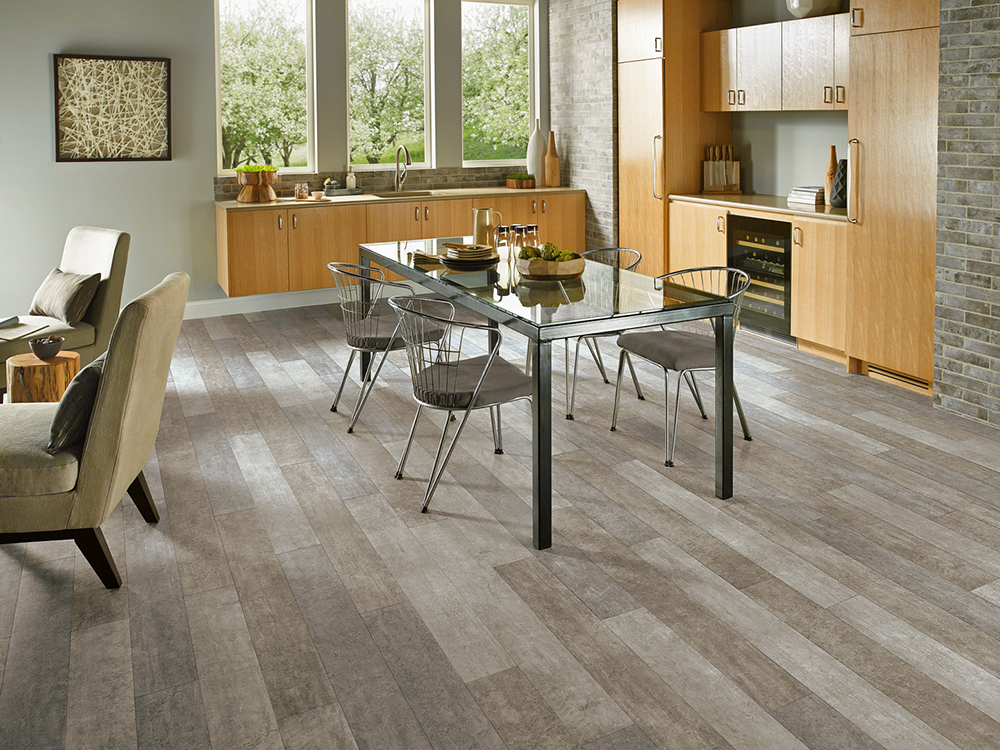 Good design is always in style, image courtesy of Pinterest.
Why settle for imagining what your favorite LVT will look like when there's Augmented Reality Tool at your fingertips? Just upload a photo of your room and get a digitally rendered image of your space in seconds. Like floors with drama? Look for solid tones, and heavy blends of color in bold statement classics – like the reclaimed wood look, Weathered Brina – of the Cyrus collection. Tap the button 'See this on my floor' under the product image. If you're in the "gray-until-I'm-ninety" camp, give the tool a whirl using Whitfield (Prescott Series), Woodrift (Wilmont Series), and Coastal Mix (Glenridge Series). Oh, and be sure to share the results with your design co-conspirators.
DIY. How, Exactly?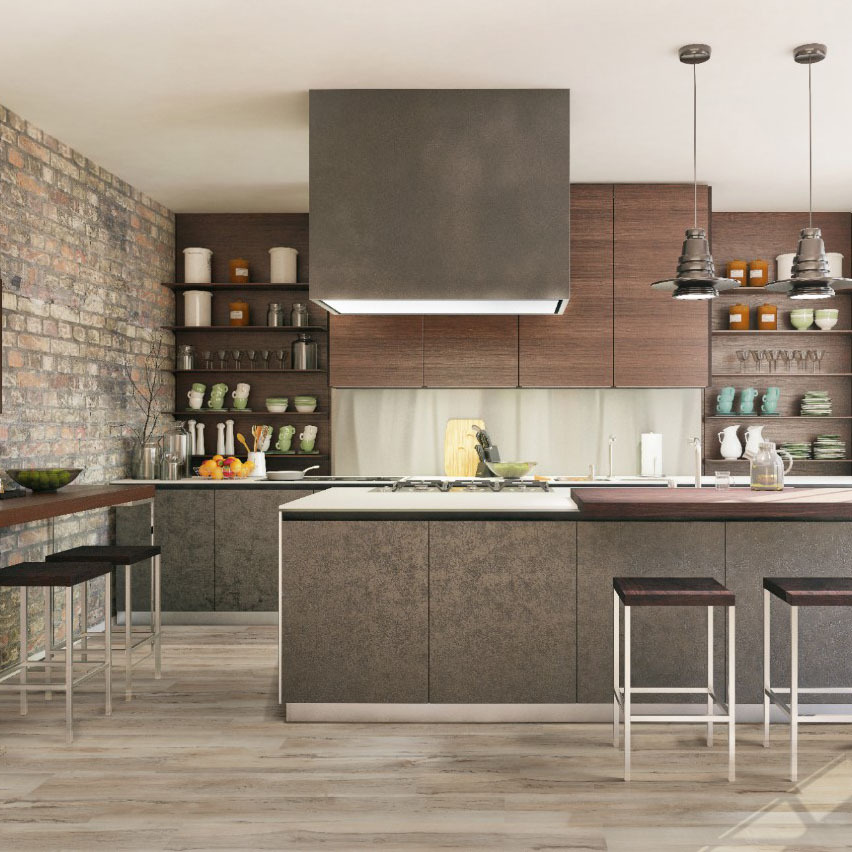 Quiet and comfy underfoot, meet Akadia from our Cyrus collection.
Here. There. Everywhere. Our waterproof Rigid Core collections, Cyrus and Prescott, are designed for wet zones like kitchens, baths, laundry rooms, and basements. What's more, it's also a DIY project in the making. The easy-to-place locking system features pre-attached backing for a streamlined installation. (Bypassing underlayment? Yes, please!) If you're itching to replace builder grade floors, you'll be happy to know you can install these click and lock beauties directly over existing floors - with little to no prep. Save even more time and money by wrangling them up when you move: planks are just as easy to unlock.
More on Everlife LVT
Everlife LVP Indoor/Arterra Paver Outdoor Collection
Got Trim? A Guide To Everlife Luxury Vinyl Tile Accessories
Easy Installation With Everlife Luxury Vinyl Tile
Everlife Glue Down Vinyl Flooring And Luxury Vinyl Plank Flooring
READ MORE ABOUT WOOD LOOK TILE:
Where to Find Luxury Vinyl Tile Flooring That Looks Like Wood Flooring
The Best Porcelain Tile That Looks Like Birch Wood
the Most Realistic Wood Look Tile Available Today