M S International, Inc., is a member of the U.S. Green Building Council (USGBC). Stile® Porcelain slabs currently qualifies for LEED credits in some areas where the Leadership in Energy and Environmental Design (LEED) program is available.
The program creates national standards and rating systems for green building and design. Environmentally conscious builders, designers, and architects focus on green building and voluntary LEED projects.
Green building has led to revolutionary innovation and creation in the fabrication, design and building of structures across the country. Sustainable products for construction are being incorporated into the initial design and planning process allowing architects and builders to maximize LEED points.
At MSI, we embrace green building, sustainable products, and environmentally friendly actions. Focusing on the environmental impact has spurred our innovation of many products, including Stile® Porcelain slabs. We believe that it is our responsibility to provide our customers products that meet LEED designations.
The USGBC is a non-profit coalition of building industry professionals. They seek to improve the environmental quality of buildings and communities. The USGBC has set the leading national standard for green building: The LEED Green Building Rating System. LEED is a voluntary consensus-based national standard developed by the USGBC to support and validate green building design, construction, and operations.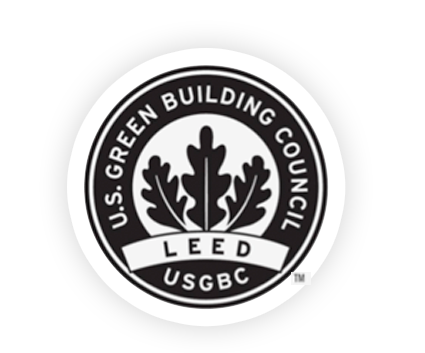 LEED points may be accredited when using Stile® Porcelain.
Recycled Materials Content (MR Credit 4): Minimum of 40% pre and post-consumer recycled content (12.5% post- consumer)
Low Emitting Materials (EQ Credit 4.3): Stile® Porcelain does not contain or emit any VOCs or harmful fumes
Innovation and Design (ID Credit 1): Stile® Porcelain slabs are 6mm thick and are considered innovative products that decrease pollution through waste, installation, and transportation conservation.