Stile® Porcelain slabs are large-format, porcelain panels that are suitable for virtually every interior and exterior design project including flooring, accent walls, countertops, showers, backsplashes, and fireplace surrounds. Lightweight, yet durable, Stile® Porcelain slabs are ideal for both new installations and remodeling projects because they can be installed over existing surfaces. The material allows you to create a beautiful new look, in a fraction of the time and for a fraction of the cost associated with buying and installing stone slabs and tile.
If your home, commercial property, RV, or boat needs a quick and cost-effective way to spruce up walls, countertops, showers, flooring, or other surfaces, Stile® Porcelain Slabs from MSI provide the perfect solution. The 6mm thickness weighs a fraction of traditional tile. The porcelain slabs are significantly easier to cut and install than standard tile; the slab's light weight makes it suitable for a wide range of design projects.
The 118"x59" and 126"x63" slabs add low-maintenance, easy-clean style to kitchens, baths, and outdoor rooms. MSI's Stile® Porcelain slabs are smooth, impervious to germs and bacteria, and are rated for food safety. In addition, Gauged porcelain resists stains from nail polish, food coloring, wine, coffee, and tea.
One of the drawbacks of standard tiles is the distracting number of grout lines that can disrupt a surface's streamlined appearance. With these large format gauged porcelain slabs, you can create a near seamless appearance that promotes a sense of overall elegance.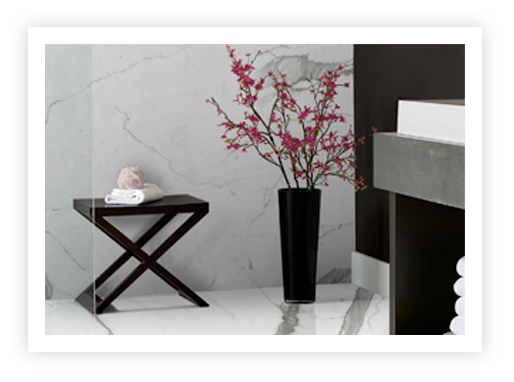 Stile® Porcelain slabs from MSI are easy to maintain, lightweight, and a fraction of the cost of natural stone slabs.
Impervious to germs and bacteria
Rated for food safety
Resists stains
118"x59" and 126"x63" slabs limit grout lines
Ideal for remodeling projects—can be installed over existing surfaces
Perfect for countertops, showers, flooring, accent walls, and backsplashes