MSI's Dryback Glue-Down Collection Of Wood Look Luxury Vinyl Flooring
August 28, 2023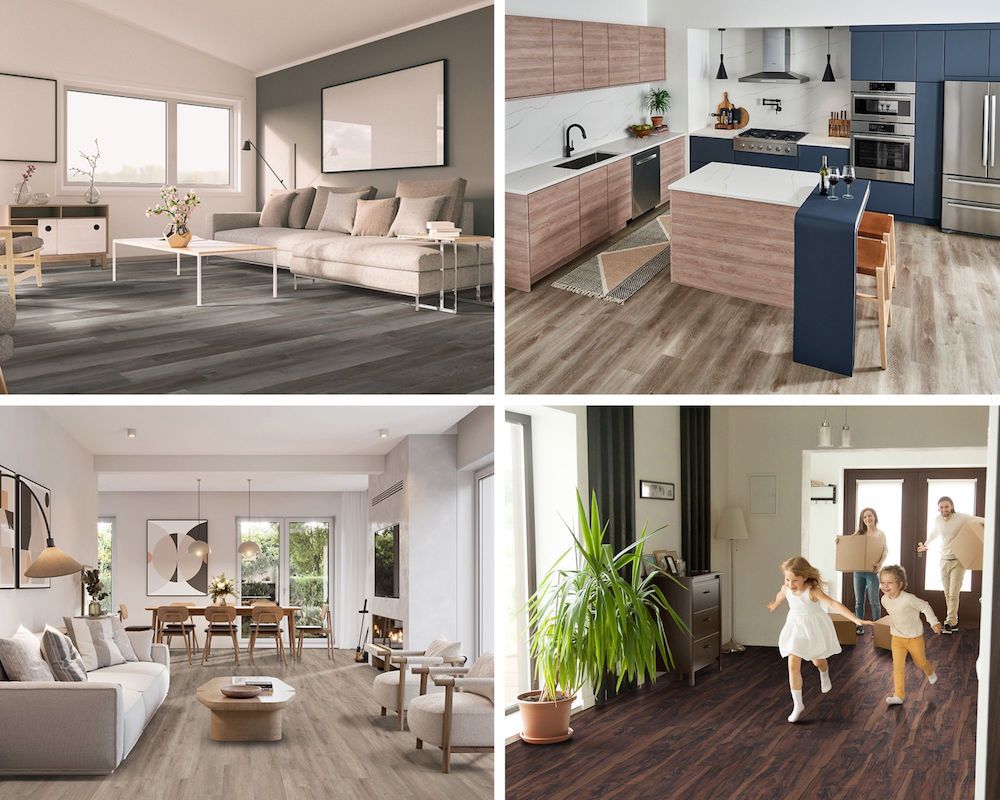 In interior design, flooring is more than just a functional necessity—it's an essential element that defines the ambiance of a room. Enter our collection of glue-down wood look luxury vinyl flooring. This remarkable innovation seamlessly blends the timeless beauty of wood with the cutting-edge technology of modern vinyl flooring.
Discover the Benefits of Dryback Glue-Down Luxury Vinyl Planks
To create elegant and practical living spaces, Everlife® Luxury Vinyl Flooring is an ideal choice. With state-of-the-art advancements like our CrystaLux™ protection layer and gorgeous wood details, these collections of luxury vinyl plank flooring seamlessly combine aesthetics and functionality for beautiful, carefree floors.
The glue-down method is a robust installation approach for luxury vinyl flooring. Rather than interlocking planks, a special adhesive firmly attaches them to the subfloor. This ensures stability and helps preserve the flooring's natural characteristics. While glue-down installation guarantees lasting results, consider professional installation for the best outcome.
Unlike traditional hardwood, these luxury vinyl planks are waterproof, making them an excellent alternative to natural wood flooring in moisture-prone areas like bathrooms and kitchens. Plus, their adhesive installation method ensures durability and allows for easier single-plank replacement.
Another factor that sets dryback LVP apart from other types of vinyl plank floors is its versatility in design. Unlike the click-and-lock systems used to install some LVF, these planks can be laid in any pattern or direction, giving you more creative freedom.
These luxury vinyl planks are also environmentally conscious, with low VOC emissions and no phthalates, to promote a safe indoor environment. Dryback LVP flooring combines design, convenience, and sustainability to redefine modern flooring options.
The Glenridge Luxury Vinyl Plank Collection
The Glenridge Collection embodies effortless elegance. This versatile plank showcases a stunning assortment of genuine hardwood-look styles protected by our CrystaLux™ protection layer. These luxury vinyl planks measure 6" x 48" and are available in a spectrum of hues. Glenridge is ideal for anyone seeking signature wood aesthetics without compromising performance.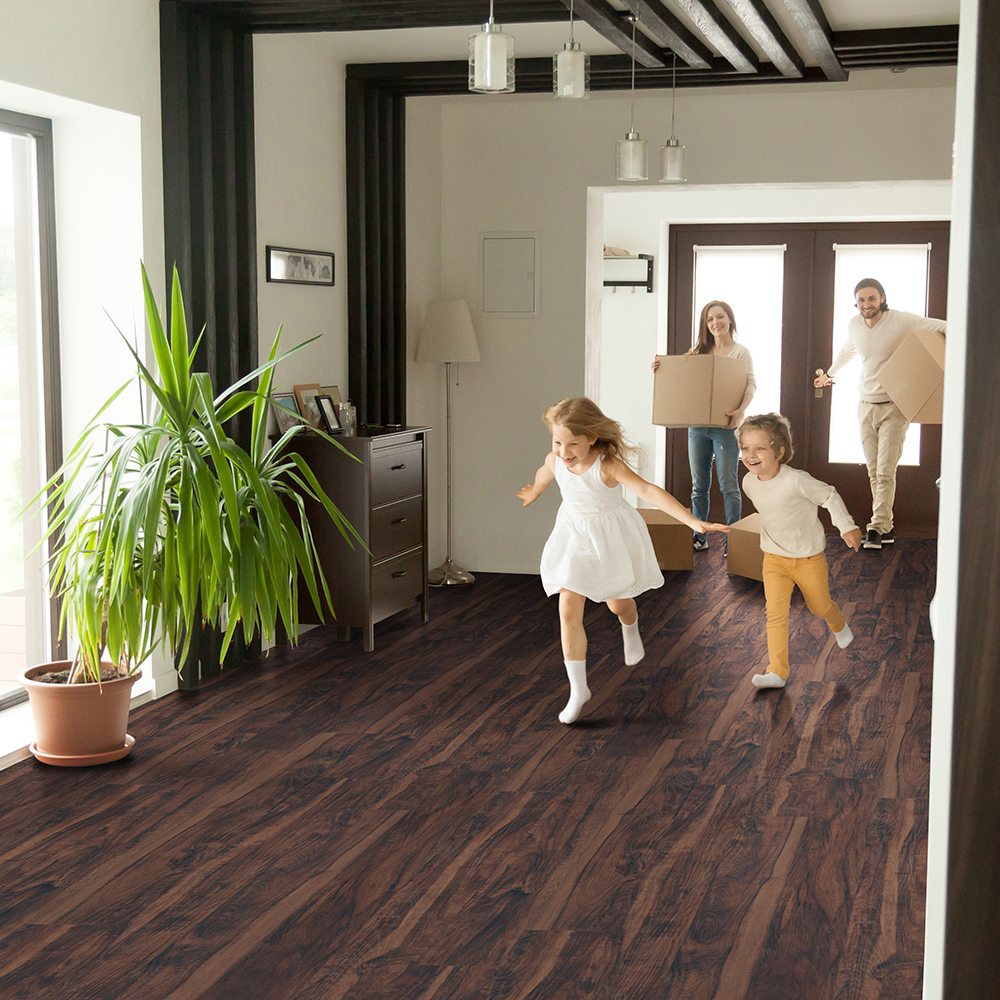 Burnished Acacia® Luxury Vinyl Planks
Burnished Acacia® planks from the Glenridge Collection mirror the allure of natural wood with deep browns and intricate grains. These waterproof vinyl planks can withstand the rigors of daily life, making them great for many applications, including tricky areas like basements. With the CrystaLux™ protection layer, this flooring solution is functional while radiating style. Coordinating trim pieces, including end caps, stair noses, reducers, and T-molding, complete the look with finesse.
The Katavia Luxury Vinyl Plank Collection
The Katavia Collection offers luxury living without the premium price tag. These 6" x 48" vinyl planks, fortified by CrystaLux™, present an array of wood-look styles, from rustic charm to refined elegance. Engineered for all grade levels and compatible with residential and commercial spaces, Katavia flooring introduces an enduring freshness that holds up even in high-traffic areas.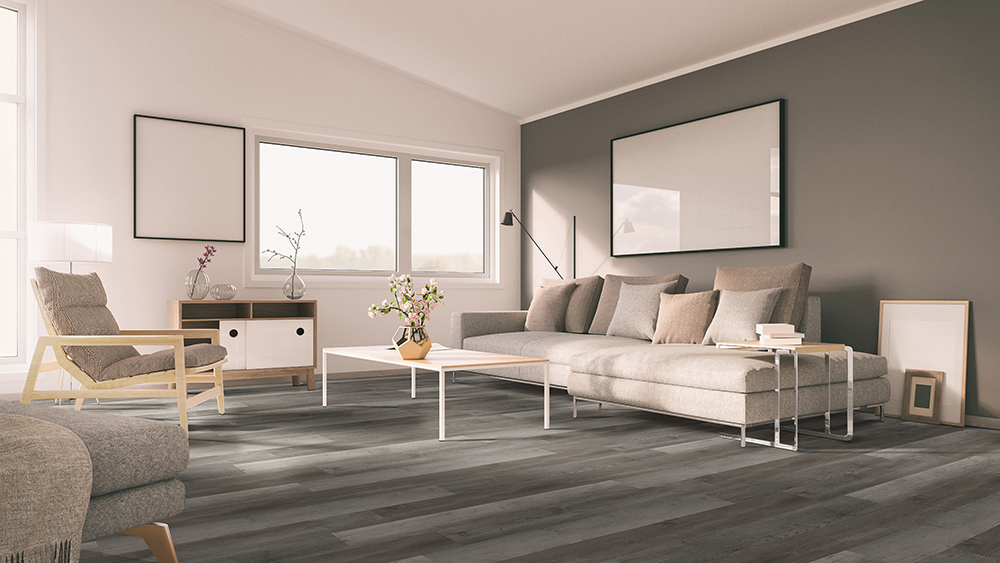 Woodrift Gray Luxury Vinyl Planks
Embodying the essence of the Katavia Collection, Woodrift Gray planks exhibit a weathered-wood appearance. The gray background with well-defined knots and grains adds depth and character to any environment. This dryback glue-down flooring, suitable for various settings, embraces the 6mil CrystaLux™ protection layer, safeguarding against daily usage. The blend of low-maintenance functionality and trendsetting charm caters to active households.
The Wilmont Luxury Vinyl Plank Collection
The Wilmont Collection celebrates the warmth of wood without the upkeep. Its 7" x 48" dimensions and CrystaLux™ protection layer create an inviting ambiance, making it a fitting choice for spaces. The collection features an array of genuine wood looks in desirable colors, ensuring an inviting atmosphere. Whether for home or commercial use, the Wilmont Collection imparts the richness of wood while offering a high-quality and easy-to-maintain solution.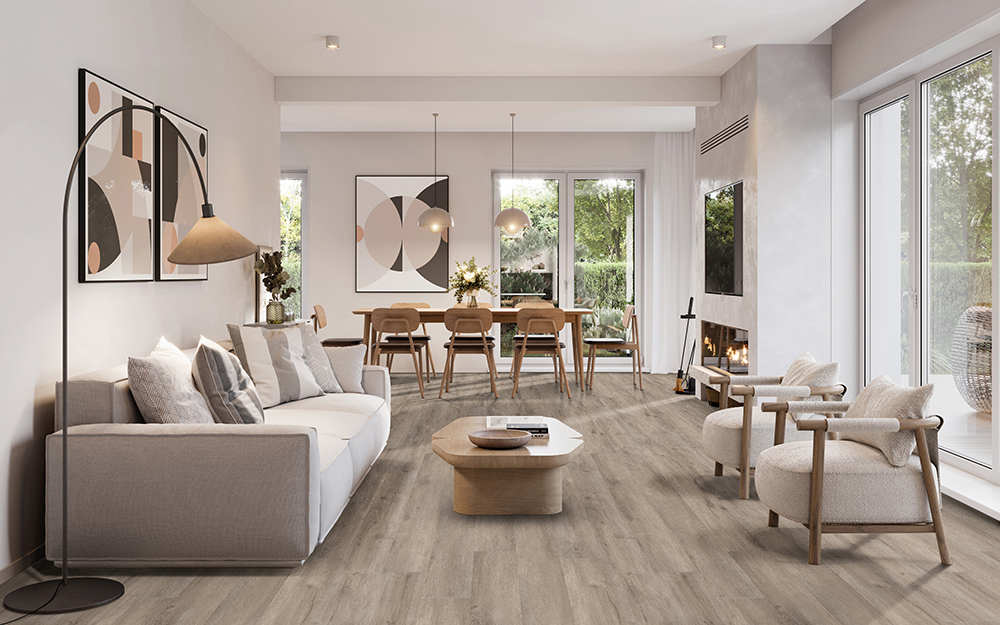 Twilight Oak® Luxury Vinyl Planks
A shining example from the Wilmont Collection, Twilight Oak® planks feature a soft gray backdrop accentuated by delicate white accents. Its subtle graining and natural-looking knots deliver an authentic weathered-wood aesthetic. Our innovative 20mil exclusive commercial grade CrystaLux™ protection layer ensures longevity, making these 7" x 48" dryback glue-down planks a wise investment. Coordinating trim pieces contribute to a polished finish.
The Acclima™ Luxury Vinyl Plank Collection
The Acclima™ Collection sets a new standard in convenience with its "no acclimation" technology, enabling same-day hassle-free installation. These 7" x 48" glue-down vinyl planks create sophistication, boasting natural knots and grains reminiscent of genuine wood. Acclima™ LVP flooring is water-resistant, features our exclusive CrystaLux™ protection layer, and comes with a 25-year limited residential warranty. This creates stunning floors for high-traffic areas such as kitchens, living rooms, bathrooms, and entryways.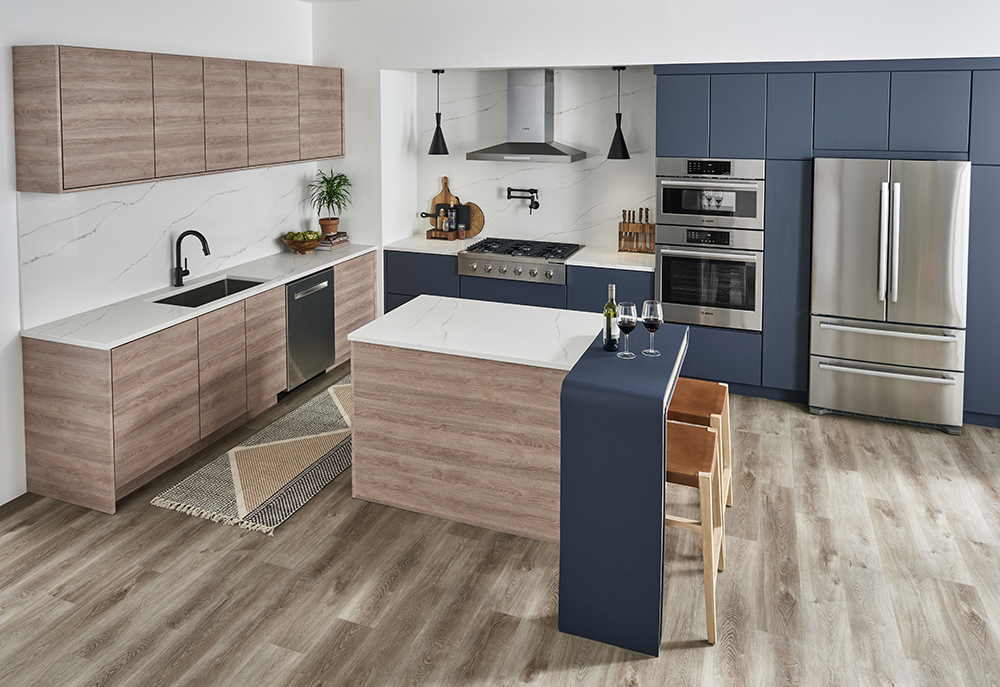 Whitfield Gray® Luxury Vinyl Planks
As part of the Acclima™ Collection, Whitfield Gray® planks embody elegance and the convenience of its signature "no acclimation" technology. With gray hues and light knots, this LVP flooring radiates luxury while providing durability and water resistance. Whitfield Gray® marries elegance and endurance in perfect harmony. Trim pieces like end caps and T-molding are also available for the finishing touches.
Find the Perfect Wood Look for Your Space
Our dryback glue-down wood look LVF collection combines trendsetting wood aesthetics with unrivaled performance. From the Glenridge Collection's signature wood designs to Acclima's™ swift installation, each series delivers a unique advantage that caters to diverse styles and preferences. Whether you want to elevate your home or enhance a commercial property, these flooring solutions offer the perfect blend of innovation and sophistication.
Ready to embark on your flooring journey? Chat with us online, visit one of our showrooms, or contact an MSI authorized dealer to learn more about our luxury vinyl plank collections.
Learn More About Luxury Vinyl Flooring Countertops
7 REALISTIC WOOD LOOK PLANKS FROM THE EVERLIFE® LUXURY VINYL FLOORING COLLECTION
DURABLE AND AFFORDABLE DRYBACK GLUE DOWN LVP FLOORING
COMPARING WOOD LOOK TILE AND LUXURY VINYL PLANKS - WHICH IS RIGHT FOR YOU?
BEAUTIFUL STONE-LOOK LUXURY VINYL TILE FEATURING MSI'S PIETRATECH™ TECHNOLOGY