Should You Replace A Water Damaged Wood Floor With Luxury Vinyl Tile?
February 01, 2021
Water damage can be extremely stressful — especially when it leads to property damage. When your wood floors are exposed to excess water, there's a good chance you'll need to schedule a professional repair or replacement. But if you opt for replacing your floors, should you replace them with hardwood or a water-resistant flooring option like luxury vinyl tile? Today we're going to walk through how to determine if your wood floors have been compromised and which replacement flooring is the right choice for your home.
How to Identify If Your Wood Floors
Have Water Damage
Before deciding if you need to repair or replace your hardwood floors, you need to determine if the planks have been compromised with water and moisture. Identifying water damage should be relatively easy because of the telltale warning signs. Here are four identifying characteristics to look for when evaluating the physical damage of your wood floors:
Cupping – When water or moisture is present in wood, the wood will expand. Because of the expansion, you will be able to see that the planks are no longer laying evenly — often with the sides of each plank sticking up higher than the center of the wood. This warping of the floors can sometimes resolve itself if the moisture is minimal, but when exposed to excess water, the damage is likely permanent.
Crowning – If the center of your hardwood planks is holding excess moisture, you will notice that the planks will show signs of crowning. This happens because the center of the planks expands and rises because of the water damage and dip down along the edges of the hardwood planks. This damage will be permanent if the source of the water isn't treated and you will need to choose a flooring replacement.
Buckling – Although less common, you should still be on the lookout for buckling in your hardwood floor because it can mean that there is also damage to the subfloor. Look for wood pieces that have detached from the subfloor, causing bumps and an uneven surface. Buckling occurs when your wood floors are exposed to severe water damage and replacement is usually the only option.
Staining – If the wood is exposed to water, you may notice that there are discoloration and staining throughout the planks. When performing your examination, you may notice white stains or black stains which indicate two different types of damage. If white stains are present, it indicates that the water damage isn't extreme and the floors have a higher chance of being repaired. However, if black stains are present this means that the wood flooring has absorbed the water and damaged the interior of the planks. While black stains aren't impossible to remove, they can be quite difficult and replacement is often the best option.
Splintering – When wood is exposed to water, the planks often expand in place. While this can cause buckling and cupping, it can also cause splintering around the edges of the planks as the wood swells. Look for cracks, splinters, or jagged edges on your wood planks that might indicate there is a moisture issue.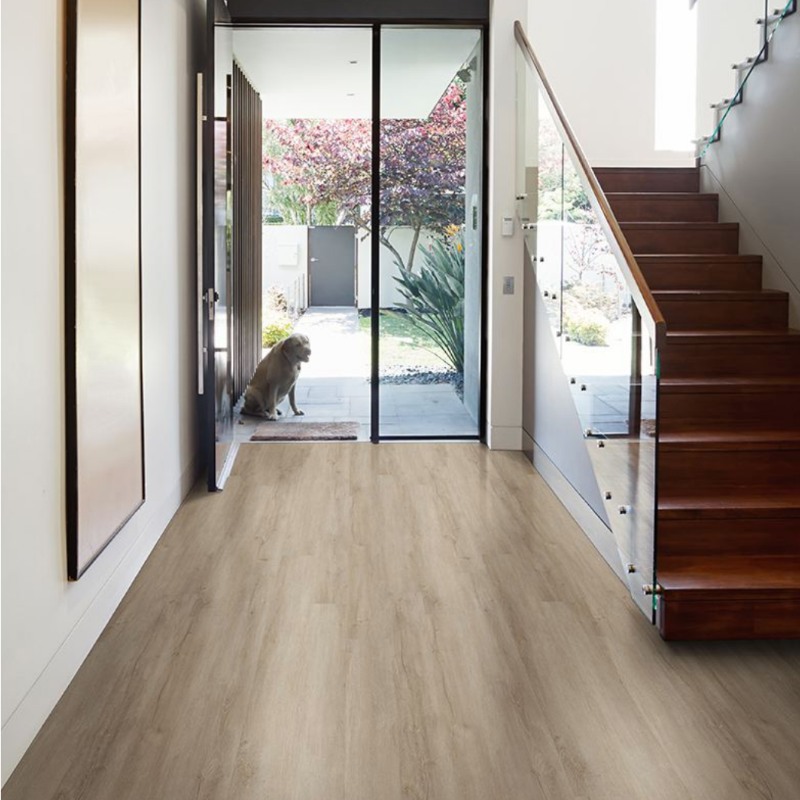 If you discover water damage while examining your hardwood floors, you'll also need to check the condition of the subfloor underneath. Whether you choose to repair your existing wood floors or opt to replace them with a moisture-resistant option like vinyl plank flooring, the subfloor will need to be replaced if it has been compromised by water.
Should You Replace Your Floors with Vinyl Flooring?
Now that you've determined you need to replace your floors, you need to decide on what type of flooring you'd like to install. While hardwood floors look beautiful, you need to ask yourself if they can withstand the wear and tear you're going to throw their way. Nowadays, you can get the wood-look you crave but at a fraction of the cost with luxury vinyl tile. But is vinyl flooring really the best choice? Let's look at three of LVT's biggest benefits:

Water-Resistant
Water can wreak havoc on your wood floors — causing a multitude of issues that require repair or replacement. With luxury vinyl tile, you can have peace of mind knowing that your flooring is water-resistant and can withstand whatever demand is required of it. Whether your children tend to spill or you've dealt with a constantly leaking dishwasher, you'll never have to worry that your floors are damaged when exposed to water. LVT provides you with beautiful wood-like floors for many years to come that won't require replacement because of water damage.
Ease of Installation
You already have a lot on your plate from dealing with water damage. You don't need a stressful home improvement project added to your never-ending to-do list as well. Vinyl is a popular choice in many households because of how easy installing vinyl flooring is — making it possible for most homeowners to install on their own! Because vinyl flooring offers a click installation feature, you can easily interlock the planks together to create the wood-look appearance of your dreams.

Durability
While hardwood floors might seem like the tougher option, LVT is more resistant to everyday wear and tear — it's scratch, dent, and water waterproof. Don't stress about those large family gatherings you like to throw around the holidays, your children that are constantly running around the home, or the new puppy you're bringing home in a few weeks. You can rest easy knowing that your replacement floors will be able to hold up to pets, children, and more. And with proper vinyl flooring care and maintenance, your new luxury vinyl tile will look as good as the day it was installed for many years to come.
The luxury vinyl tile benefits are endless, which is why countless homeowners have opted to replace their water damaged hardwood floors with vinyl flooring. From being easy to install and water-resistant to kid-proof and low-maintenance, installing luxury vinyl flooring is a no-brainer.
More on Quartz Countertops
Should You Replace A Water Damaged Wood Floor with Luxury Vinyl Tile?
Luxury Vinyl Tile Pros and Cons - Wood Look Vinyl Flooring Vs. Real Wood Flooring
Why Large Format Luxury Vinyl Planks are Popular
Considering Installing Luxury Vinyl Flooring? Read This First!
How To Clean Your Luxury Vinyl Flooring To Keep It Looking New
One of the reasons luxury vinyl tiles are so popular is because they can be installed in nearly any indoor space, regardless of what's already on the floors. You could get started today and be done in just a few days – and with professional, polished results. If that sounds attractive to you, read Luxury Vinyl installation best practices for optimal results.
Are you still deciding which vinyl flooring is right for you? Learn the differences between Luxury Vinyl Plank and Luxury Vinyl Tile. LVT Flooring provides upscale looks for homeowners of all incomes. Learn more about the latest Luxury Vinyl Tile trends and styles.