Pet-Friendly Flooring Options: Luxury Vinyl Tile Vs. Stone And Porcelain Tile
October 05, 2020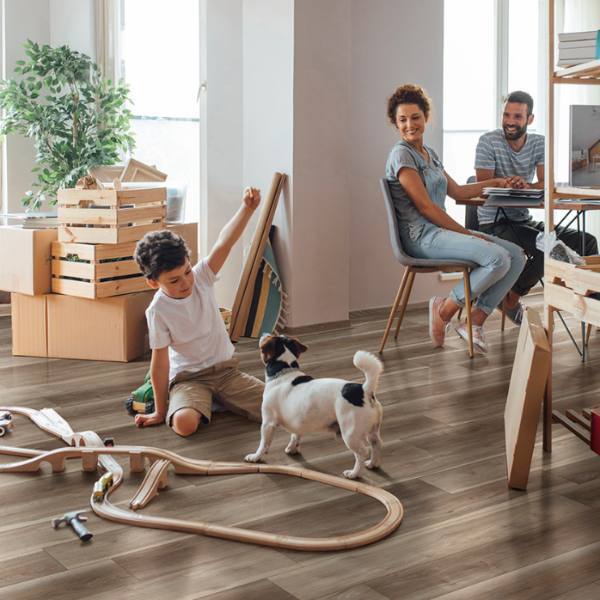 When you're a pet parent, it's important to pick a pet-friendly flooring material that's made to last. After all, these furry family members can cause a lot of chaos and destruction if your floors can't stand up to daily pet use. Even if your little fur baby is an angel, accidents to stains to scratches are bound to occur on those ruff days. Plus, just because you have a dog or cat in the house doesn't mean you should sacrifice comfort, too. We know that carpet and hardwood will have you barking up the wrong tree. That's why we've rounded up a few of our favorites like luxury vinyl tile, stone tile, and porcelain tile. These pet-friendly flooring options will give you a new leash on life and have you saying, "Dog-gone it, why didn't we realize that?"
Luxury Vinyl Tile
When it comes to luxury vinyl tile, you'll be asking how you ever lived without it? This fur-bulous flooring option really is one of the best pet-friendly materials you can install. That's because beautiful vinyl plank flooring is waterproof, so you won't have to worry about drool, spills, and pet accidents warping your floors like it would with real hardwood. Of course, you should always try to clean up as quickly as possible like with any flooring. It will look gorgeous for years to come since it wipes up easily and is resistant to stains and scratches, just a few of the many luxury vinyl tile benefits to enjoy. Plus, the softer vinyl is more comfortable and easier for everyone's bones and joints than hard tile, and it gets even better with the addition of radiant floor heating installed underneath that both toes and paws will love. For longevity, make sure to choose vinyl with a thicker wear layer with an aluminum oxide finish for even more durability.
To clean your luxury vinyl tile, daily use a broom or vacuum with the beater brush turned off so that dirt particles don't damage the floors. It's that simple. For weekly cleanings, use a Swiffer or mop with a bucket of just warm water or a small amount of pH-balanced dish soap, but be sure to check with your manufacturer for recommended cleaning products first. Then, use a clean wet mop to wipe off the solution and wipe dry. Check out the video below for more info on pet-proof, worry-proof luxury vinyl.
Ceramic or Porcelain Tile
With their many color choices and design styles, ceramic and porcelain tile are another purr-ty pet-friendly option. These versatile flooring materials wipe clean easily and are also resistant to stains and scratches. Some may even come with textured finishes, which is paw-some for helping little pups learn to walk instead of slipping on super slick floors. While ceramic tile will likely have some water absorption, porcelain tile is waterproof. But, if you do have any cat-astrophes on your floors, know that the grout will always be susceptible to dirt and stains unless it's sealed. Another downside to tile is that it can be quite cold in the winter months, which may leave your dogs and cats in mew-sery. One way to combat the cold surface is to utilize thick rugs and pet beds throughout.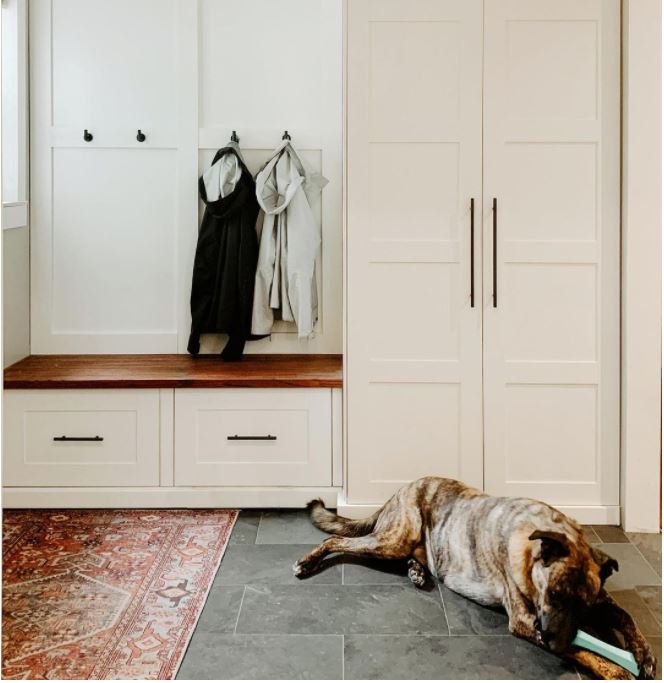 For keeping your tile tidy, vacuum or sweep it to grab any pet hairs or dirt. For ceramic tile, use a mop and a bucket filled with hot water and 1/2 cup of vinegar with 1/2 tablespoon of dish soap. Make sure not to add too much soap since the extra cleaner will make your ceramic floors look dull. First, mop with the soapy water, and then mop again using clean hot water. Let the floors air dry or wipe dry with a towel to help pick up any leftover dirt. For porcelain tile, use a damp mop or large sponge and a bucket of 1/4 cup white vinegar or a gentle tile approved cleaner mixed with one-to-two gallons of hot water. Use water to wipe off your solution and dry with a towel.
Natural Stone Tile
One of the most purr-fectly luxurious and attractive pet-friendly flooring options is natural stone. From marble to travertine to slate, there's nothing like the real deal, and the hard surface will be more likely to handle the scratches from clawed feet. However, with its high style comes higher maintenance, as natural stone may not be water or stain resistant. Again, as with any tile, the grout will always be susceptible to pet messes and muddy paws if not sealed. Natural stone will also be colder and more uncomfortable to relax on such a hard surface.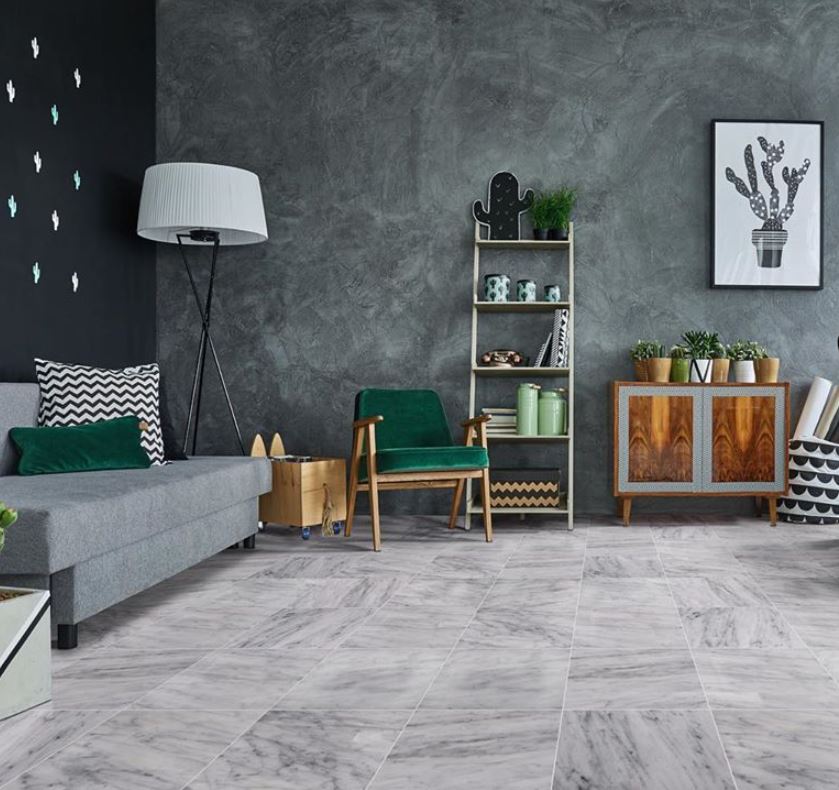 To keep your stone sparkling, vacuum up any dirt, dust, and pet hair without activating the rotator brush. Use a small amount of neutral pH dish soap or all-purpose cleaner in a bucket of warm water when mopping your floors. Avoid anything acidic like lemon juice or vinegar, as this could damage the surface, or any abrasive cleaning materials to keep your stone from getting scratched. Make sure to change out the solution if it gets cloudy and let air dry. With natural stone, you'll need to reseal your floors according to manufacturer recommendations.
Best Pet-Friendly Flooring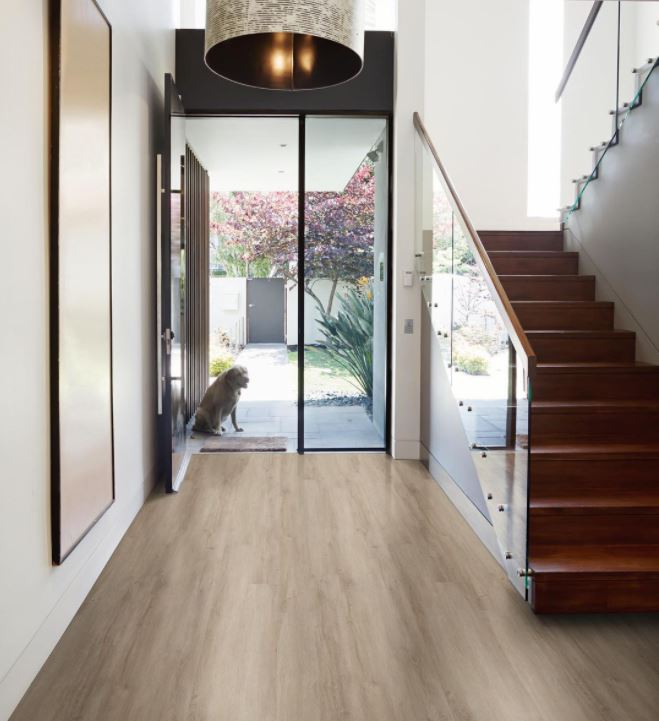 When you pick a pet-friendly flooring material, you'll want to raise the "woof" since it ends up saving you money in the long run. Knowing that it will stand up to pet use and last longer will also save you lots of stress. That sounds purr-fect! But, one of these flooring types has a bit of a leg up on the competition. Luxury vinyl tile is waterproof, a softer surface, and requires little vinyl flooring care and maintenance. We think you'll love these wood- and stone-look tiles and planks fur-ever! Don't let furry feet, dirty paws, and slobbery tongues ruin your floors when you really can't go wrong with one of these pet-friendly floor tile options. Now you can enjoy your fur babies and your floors even more!
more on luxury vinyl tile
Can Vinyl Plank Flooring Be Used in A Garage?
Why You Should Consider Luxury Vinyl Tile Flooring
Where to Find Luxury Vinyl Tile Flooring That Looks Like Wood Flooring
Installing Luxury Vinyl Tile in the Bathroom
One of the reasons luxury vinyl tiles are so popular is because they can be installed in nearly any indoor space, regardless of what's already on the floors. You could get started today and be done in just a few days – and with professional, polished results. If that sounds attractive to you, read Luxury Vinyl installation best practices for optimal results.
Check out this luxury vinyl tile pricing guide to learn more about costs. And here are some options on where to purchase Luxury Vinyl Tile.
READ MORE ABOUT THE BENEFITS OF PORCELAIN TILE
Mimic the Look Of Nature with Porcelain Tile
Mix And Match Porcelain And Ceramic Floor Tiles
Modern Sophistication with Polished Porcelain Countertops
Old World Encaustic Tiles Take On A Modern Look with Porcelain Tile