From The Kitchen To The Playroom Luxury Vinyl Tile Always Performs
May 25, 2020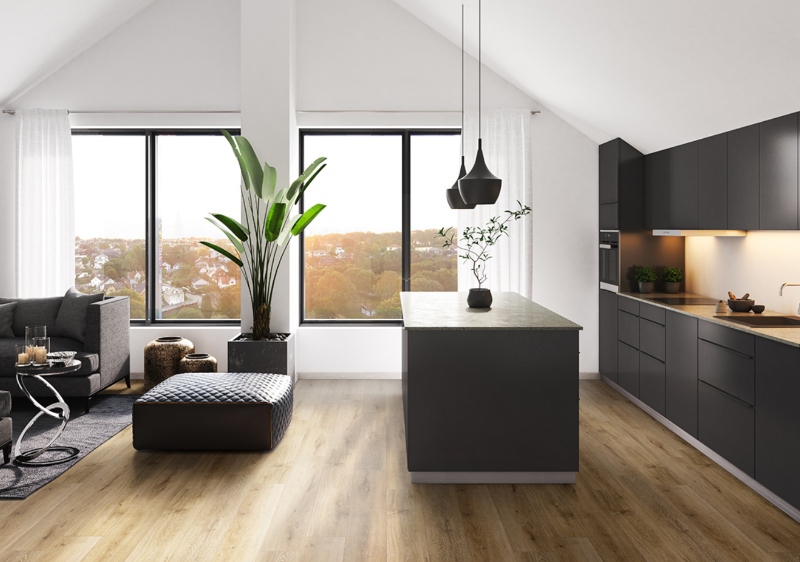 Flooring has the power to breathe new life into a space, but the beautiful new look will only last if it's a high-performing floor. That's never truer than with specific rooms of the home that need durability more than others. While wood and stone are stunning, they do require constant maintenance that also costs a pretty penny. A better option that stands up to the tough expectations of homeowners is luxury vinyl tile.
Today's options for LVT look and feel like real hardwood and natural stone. The 3-D printing and texturizing techniques create styles with the surface characteristics so similar to the wood grains and rough stone faces found in natural materials. Plus, the thicker, long-lasting vinyl you see with the luxury line is a vast improvement over the vinyl sheets and stick tiles of years past. Let's learn more about why luxury vinyl tile is the perfect high-performance flooring for the most demanding rooms.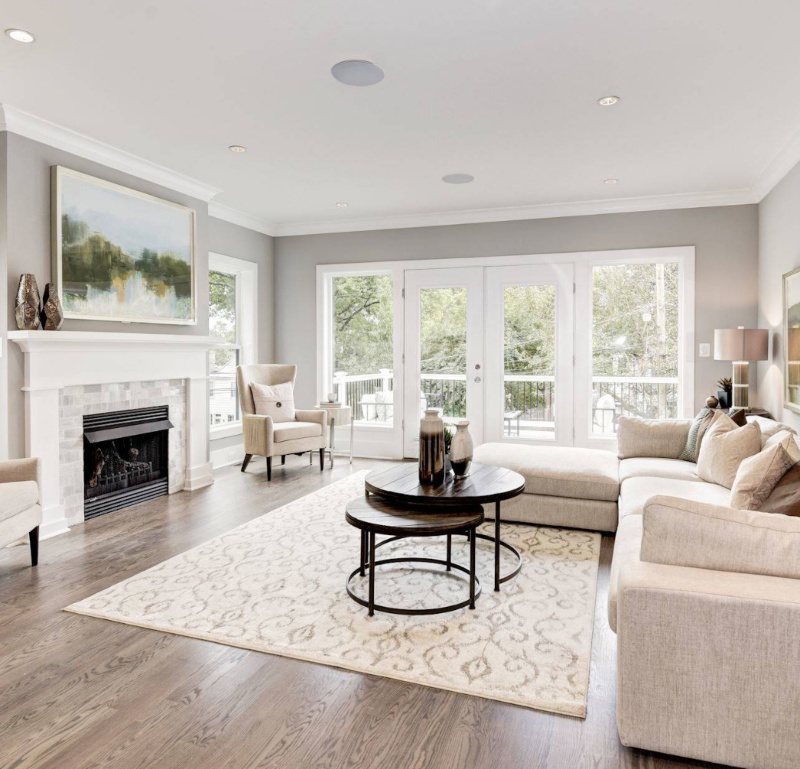 Photo Credit: Houzz
Kitchens and Dining Rooms
One of the busiest rooms of the home is typically the kitchen, so its flooring also needs to stand up to the daily challenges this cooking space experiences. Depending on your family, it may see the highest traffic in the entire house. Whether it's in the kitchen or an informal eating area or formal dining room, you'll be dealing with everything from spills and stains to objects falling to chairs sliding across the floor.
Since this hub of the home is often the place to be for entertaining guests or sharing a meal with family for the holiday, it should also have tough flooring that's also aesthetically pleasing. Luckily, LVT flooring comes in a wide range of stunning colors and styles and features a durable top wearlayer that can handle the spills, splashes, and occasional breaks that happen in the kitchen.
Since kitchens are one of the most expensive rooms to renovate, it can be a more affordable option than its natural counterparts, so it can also help you stay on budget.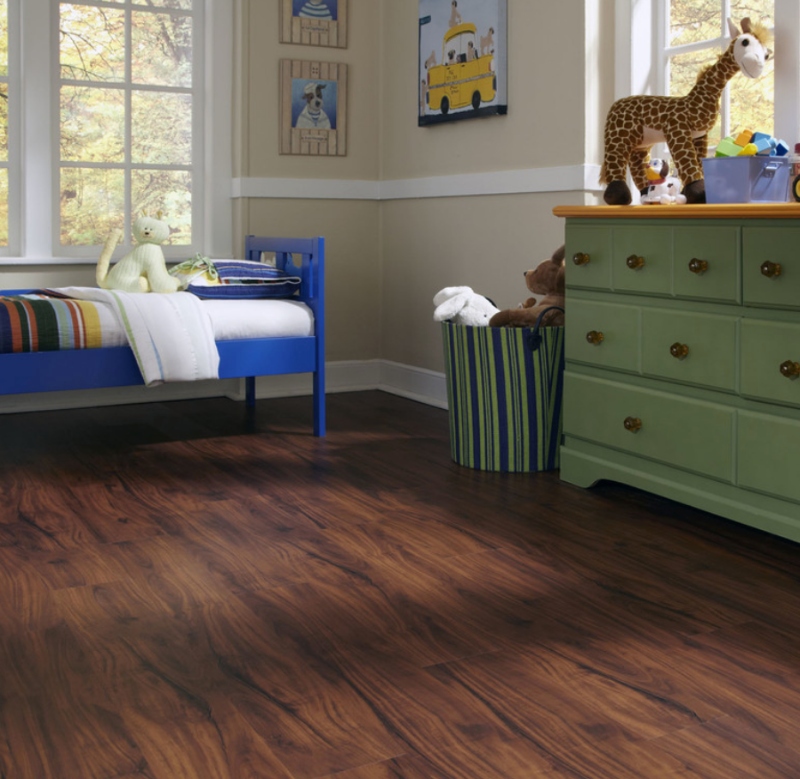 Photo Credit: Houzz
Entryways and Mudrooms
The entryway or foyer sees a lot of traffic, from visitors stopping by to family members going in and out of the house on the daily, and so does the mudroom if that's the place where you put on and take off your shoes. Needless to say, both entrances to the home will get a lot of dirt and mud tracked inside, so the flooring must be durable and easy to clean. That's why luxury vinyl tile is so perfect for these busy areas. The water-resistant flooring that looks like natural stone or wood will last and give guests an impressive first impression.
Living Rooms and Great Rooms
Many consider LVT for their living room but might not for other spaces, at least until now. While it can be utilized throughout the home, it's particularly ideal for living spaces. That's because they typically get low-to-moderate foot traffic, so spills and other messes may not happen quite as often as in other rooms. This means that you'll likely experience the full 10- to 20-year life cycle in your living room before it requires a replacement.
You can keep it looking like new by sweeping or vacuuming your floors on a regular basis. A little soap and warm water is all you need to mop up a spill or stain on the surface. One thing to note is that if your living room, great room, or any other room receives a lot of natural light, then consider adding curtains to help block some of the sunlight, at least during peak hours, since it can discolor the floors over time.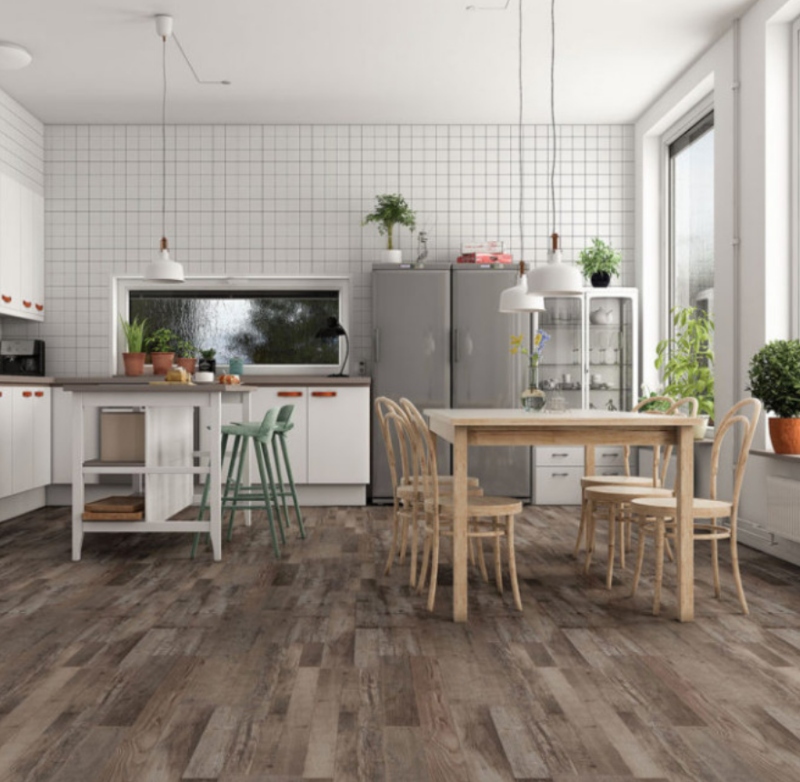 Photo Credit: Houzz
Bathrooms
The bathroom is a high-moisture area where real hardwood isn't wanted. But, luxury vinyl plank or tile flooring is perfect for these washrooms since the ultra-durable, water-resistant material is no match for the drips and splashes that happen in the tub or shower. It's also easy to install, so it makes for a great DIY project no matter how small or big your bathroom may be.
Playrooms and Bedrooms
If you're lucky enough to have a dedicated playroom for your little ones, then durability, comfort, longevity, and indoor air quality might be just a few things you may be concerned about. If not, then it's also something to seriously consider when it comes to bedrooms since that's where we spend not only a lot of time playing but also approximately one-third of our lives sleeping, or at least trying to.
Babies, toddlers, and kids certainly can be messy, whether they're spilling their bottles, dropping food, or splattering paint during an art project, but vinyl plank flooring can handle it all since it's easily wipeable and water-resistant. The material is certainly softer than hard tile, but soft rugs or kid-friendly mats can be added to create a more comfortable surface that will also help protect your precious kiddos. Not only will it look beautiful when installed, but it will also be able to transition with your aesthetics once your playroom is no longer needed or your little ones are ready for a big-kid or teenage room makeover.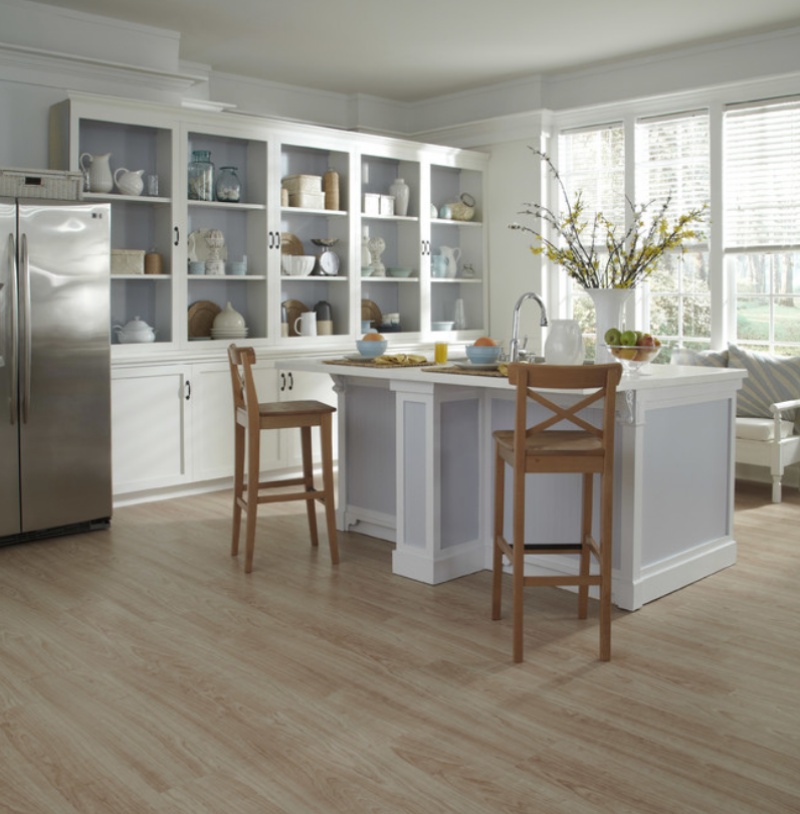 Photo Credit: Houzz
Additionally, vinyl is an excellent choice for those who need healthy air and suffer from allergies, specifically dusts mite allergies. That's because the solid surface won't trap mites and harbor their waste. Instead, any dust can be swept or wiped up to help keep symptoms at bay. When concerned about indoor air quality, be sure to select a product that's third-party certified like the GREENGUARD Certification that ensures products have met its rigorous standards for low VOC emissions.
Tough Materials
You may be surprised that LVT performs much better throughout the home than you predicted. It's one of the easiest, most realistic ways to get the look of natural stone or hardwood but in a tougher material that will hold up to the daily tasks of any room in the house. Plus, it comes with many luxury vinyl tile benefits, such as being installed in rooms where moisture is concern or requiring very little upkeep. So, where will you install it next?
More on Luxury Vinyl Tile
Should You Replace Your Second Floor Carpet with Luxury Vinyl Planks?
See How Plank Luxury Vinyl Flooring Transformed These Rooms
How Luxury Vinyl Flooring Differs from Standard Vinyl
Is Luxury Vinyl Tile a Good Investment?
One of the reasons luxury vinyl tiles are so popular is because they can be installed in nearly any indoor space, regardless of what's already on the floors. You could get started today and be done in just a few days – and with professional, polished results. If that sounds attractive to you, read Luxury Vinyl installation best practices for optimal results.
Are you still deciding which vinyl flooring is right for you? Learn the differences between Luxury Vinyl Plank and Luxury Vinyl Tile. LVT Flooring provides upscale looks for homeowners of all incomes. Learn more about the latest Luxury Vinyl Tile trends and styles.