MSI's Improved Kitchen Visualizer Showcases The Latest Quartz Colors, Backsplash Tiles, And Luxury Vinyl Flooring
August 30, 2023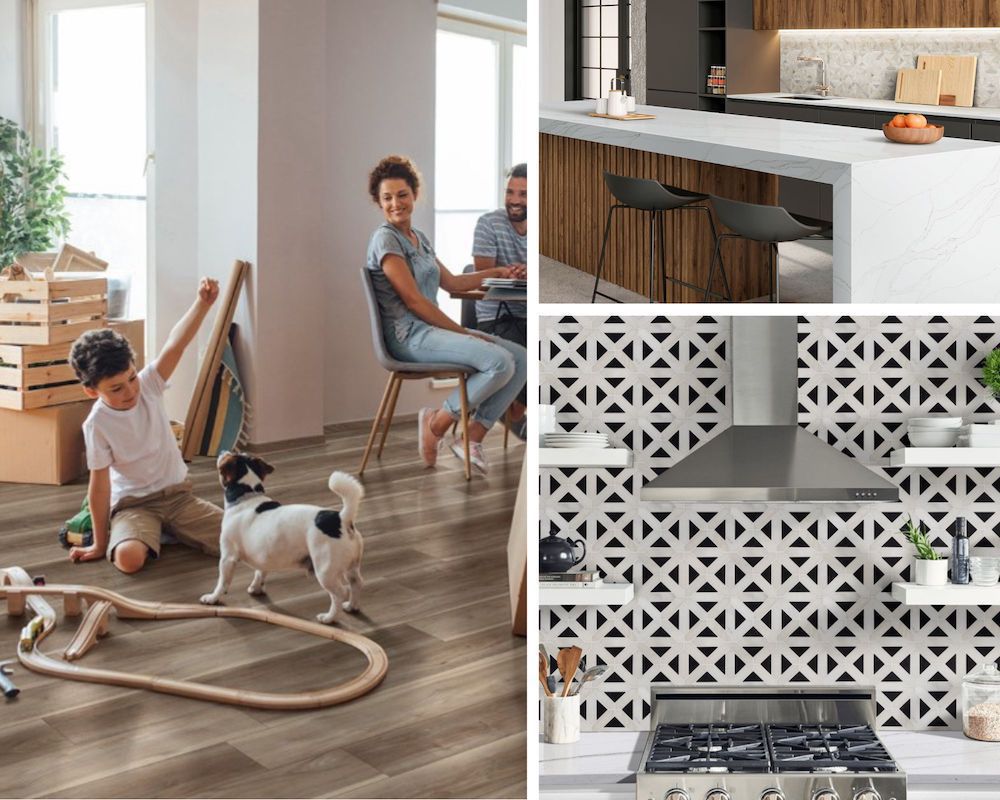 When designing your dream kitchen, visualizing the perfect combination of colors, textures, and materials can be challenging. That's where our Kitchen Visualizer tool comes in. This revolutionary feature enables you to bring your imagination to life like never before.
Since its inception in October 2013, the Kitchen Visualizer has transformed how homeowners and interior decorators approach kitchen design. With nearly 8 million users and a staggering 61 million designs created, it has firmly established itself as an essential aid in the design process.
With the latest update, we enhanced the Kitchen Visualizer to include our most popular quartz countertop colors, captivating backsplash tiles, and a collection of Everlife® Luxury Vinyl Flooring. We also incorporated the latest trending cabinet colors to further guide your design journey and achieve a cohesive look.
Let's explore some of the newest additions to the Kitchen Visualizer and learn how this handy feature can inspire your next project.
Countertops
A kitchen countertop is is more than just a functional surface; it's a focal point that sets the tone for the entire space. Exploring the latest quartz countertop colors with our Kitchen Visualizer has never been easier. This feature helps you create a more accurate representation of your vision by seeing your countertop selections come to life.

Among the new quartz colors, Calacatta Goa™ is an eye-catching choice. This striking quartz countertop material features a warm white background adorned with thick russet veining that adds elegance and charm to any room. Its multi-layered design adds visual depth and interacts beautifully with light, thanks to our proprietary LumaLuxe™ formulation. Calacatta Goa™ is a long-lasting and versatile option that redefines sophistication.


Inspired by nature's beauty, Calacatta Izaro™ boasts a creamy soft white landscape with gentle strokes of brown and golden veins. This premium natural quartz takes the classic look of marble and infuses it with the practicality of quartz. Its durability, low-maintenance properties, and design flexibility make it a fantastic surface for dynamic households.


Backsplash & Wall Tiles
Backsplashes and wall tiles are the perfect canvas to add artistic flair and texture to your kitchen design. With the Kitchen Visualizer, you can experiment with different patterns, textures, and tile materials to find the perfect solution that complements your kitchen's aesthetic.
Crafted in Italy from Carrara marble, Tetris Florita Blanco Tile is a masterpiece of soft white tones and complementary grays. This encaustic tile exudes elegance with its delicate blend of colors and patterns addinng an element of creativity to any space. Try using Tetris Florita Blanco as a kitchen backsplash or accent wall in the Kitchen Visualizer to see how you can coordinate these tiles with other surfaces for a unique yet cohesive look.


Retro Fretwork Marble Tile takes the power of black-and-white marble to a whole new level. The striking black-and-white marble combination in a retro lattice pattern makes this tile a statement piece. With standout marble tiles like these, seeing how they appear in your space can spark your imagination and inspire a brilliant overall kitchen design.


The Kenzzi Tahari Porcelain Encaustic Tile is a fusion of beauty and practicality. These tiles feature a mesmerizing blend of taupe, black, and white with a geometric and floral pattern, making it a versatile choice for backsplashes, accent walls, and more. This tile is durable and low maintenance, with a handcrafted appearance that adds a touch of individuality to your kitchen.
Flooring
Flooring is the foundation of any space. With the Kitchen Visualizer, you can explore the extensive selection of newly added luxury vinyl flooring options to ensure seamless integration between your floors and the rest of the kitchen.
Highcliffe Greige® Luxury Vinyl Planks offer the charm of authentic wood with natural gray and creamy beige tones intertwined with subtle knots and grains. These luxury vinyl planks are waterproof and protected by a commercial-grade CrystaLux™ layer, ensuring longevity and durability even in high-traffic areas. With an easy-install locking system and custom-designed beveled edge, Highcliffe Greige® is just one of the many colors available for this luxurious and convenient flooring.
Unleash Your Creativity with the MSI Kitchen Visualizer
Our updated Kitchen Visualizer tool opens a world of possibilities for designing your ideal kitchen. You can discover countertops that redefine style and durability, backsplash tiles that invite artistic expression, and luxury vinyl flooring that balances aesthetics with practicality.
Whether searching for inspiration or about to embark on a kitchen renovation, the Kitchen Visualizer allows you to explore and experiment before making final decisions.
Ready to begin your design journey? Chat with us online now, visit an MSI showroom, or contact an authorized MSI retailer near you. Let us help turn your dream kitchen into a stunning reality.
Learn More About Luxury Vinyl Flooring Countertops
TRANSFORM YOUR KITCHEN WITH POPULAR DESIGN UPGRADES: LUXURY VINYL FLOORING AND MORE!
HOW TO CHOOSE THE RIGHT TYPE OF LUXURY VINYL FLOORING FOR YOUR HOME AND LIFESTYLE
AFFORDABLE HOTEL FLOORING AND BATHROOM COUNTERTOP UPGRADE IDEAS
THE BENEFITS OF STONE LOOK LUXURY VINYL TILE VS. NATURAL STONE