Luxury Vinyl Tile Vs. Porcelain Tile
November 16, 2020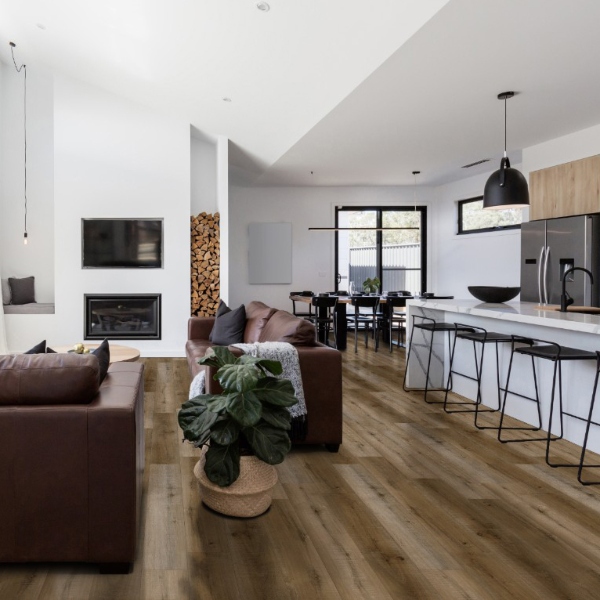 How can you compare two flooring products that are both excellent choices? Porcelain tile and luxury vinyl tile have much in common, and many benefits to recommend them: affordability, ease of care, and durability, just to name a few.
However, the two are very different in many ways as well. Due to these differences, there are certain areas where one product shines far above the other — and depending on your needs and individual preferences, there's a lot to consider before making your choice.
Installation
Are you a DIY-er? If you're planning to install your flooring yourself, LVT might be a better option. For one thing, Luxury vinyl tile is more forgiving when installed over sub-floors that are less than perfect, so it needs less preparation. It's relatively easy to install,as each plank clicks together, and trimming to fit only requires nothing more than a strong utility knife.
Porcelain tile requires more tools for proper installation, such as a wet saw, grout, spacers, etc. It is a rigid material, so there's a learning curve involved with dropping it into place just right. Because it needs specialized cutting equipment, fitting porcelain tile around obstacles such as outlets, vents, plumbing, and appliances can be a time-consuming challenge. When comparing prices, be sure to include the cost of professional installation in your porcelain tile flooring estimates.
Repairing Damage
Although both porcelain tile and LVT are extremely durable, accidents happen. Luxury vinyl tile may tear or warp under extreme circumstances. Porcelain tile may chip, particularly around the edges of the tile. It can also crack if something heavy is dropped on it.
There's a benefit to choosing tile flooring over some of the alternatives, such as sheet vinyl or carpet — all you need to do is replace the affected piece instead of replacing the entire floor. However, because vinyl plank flooring is typically installed by locking one piece into the next, replacing one plank may require uninstalling several planks to get to the damaged one. Porcelain tile is installed differently, so one tile can be replaced without disturbing the surrounding tile.
Warranty
If a manufacturer's warranty is important to you, LVT might be your best choice. While most porcelain flooring tiles are warranted against manufacturers' defects for a short period of time, top-quality luxury vinyl tile is often sold with a lifetime warranty for residential use, or a five- to ten-year warranty for use in commercial applications.

Pattern and Color Choices
Whether you're looking for the authentic look of wood planks or natural stone, both options recreate them down to the striated veining, wood grain, and even knots. Modern inkjet printing allows for just about any type of surface to be mimicked faithfully – but porcelain tile offers much more variety than luxury vinyl tile. That means it's easy to create a unique style all your own. LVT offers homeowners a wide variety of choices as well, all of which are beautiful and suitable for any décor, from subtle pale shades to bold, reclaimed barn wood complete with knots and weathered paint. But if you want to go beyond the standard wood-plank or stone-look tile, you'll want to browse manufacturers' porcelain tile galleries.
Better to Walk On
One of the best luxury vinyl benefits is its ability to reduce noise. Luxury vinyl tile absorbs noise from footsteps and other activities, while porcelain tile has no sound-reducing qualities at all. Many people also say it's nicer to walk barefoot because it has a warmer and softer feel. Others enjoy the cool, solid feel of porcelain. If you have young children, both types of tile are ideal because of their ease of cleaning and their durability. Since children spend a lot of time on the floor, though, the warmth and relative softness of LVT may make it a more child-friendly choice.
Waterproof
LVT and porcelain tile are both good choices for wet areas because they are both waterproof. That means they won't absorb spills or splashes, warp, or discolor. Flooring that is impermeable is also resistant to stains and will not harbor mold or mildew. However, this is where luxury vinyl tile has a slight advantage: Porcelain tiles have grout between them. Porcelain tiles do not need to be sealed to stay waterproof, but the grout does. Moisture probably won't damage the grout, even if it is not properly sealed, but it may cause discoloration or staining. Vinyl tiles fit tightly together, which prevents liquids from seeping in between them. Even if that should happen, though, the tiles themselves will suffer no damage. Vinyl flooring care and maintenance is a breeze.

Indoor/Outdoor
Use There are many reasons why you might want to use wood-look or stone-look tile outdoors instead of the real thing. While both LVT and porcelain tile are extremely durable, porcelain tile is the best choice by far for installation on balconies, patios, and more. Luxury vinyl tile is waterproof, so being rained on should not cause damage. Some manufacturers even claim that LVT is suitable for outdoor use. However, if your outdoor space sees temperature extremes such as freezing or hot, direct sun, it can warp or crack. LVT is also prone to damage over time from direct sun exposure. Porcelain tile, on the other hand, should last for decades no matter what the climate.
It's clear that no matter which product you choose for your flooring — LVT or porcelain — you will enjoy a beautiful, durable floor for decades. No two homeowners, homes, or lifestyles are identical, however, so it's good to have options. Consider carefully which features are most important to you, and which drawbacks you're willing to overlook, and you won't regret your choice.
More About Luxury Vinyl Tile
Luxury Vinyl Planks That Look Like A Real Wood Floor
Pro and Cons of Luxury Vinyl Tile
Does Luxury Vinyl Flooring Go Well with a Granite Countertop?
Signature Wood Look Luxury Vinyl Flooring Without the Worry
Would you like to learn more about Luxury Vinyl Tile? Read the Definitive Guide to Luxury Vinyl Tile to learn everything you need to know. And check out these vinyl flooring videos to learn more about LVT flooring styles, LVT installation, and maintenance.
Are you interested in Luxury Vinyl Tile for your home? Here are some options on where to purchase Luxury Vinyl Tile. And most LVT brands and manufacturers offer a search feature on their website to find luxury vinyl tile dealers near you.
READ MORE ABOUT THE BENEFITS OF PORCELAIN TILE
Introducing Bold New Porcelain Tile Pattern Looks
Introducing Our New Porcelain Floor Tile Collections
Is Porcelain the Best Tile For Shower Floors And Walls?