Luxury Vinyl Tile – The Glenridge Series
November 18, 2019
If you love the luxurious look of natural hardwood flooring, you are going to fall head-over-heels for our Glenridge series of luxury vinyl tile. Manufacturing advancements allow MSI to create vinyl plank flooring in realistic patterns and colors. MSI's Glenridge series offers 14 looks to complement virtually any décor. From rugged and grain-forward styles to more sleek and refined designs, we've got you covered.
And, unlike natural hardwood, our luxury vinyl tile flooring never needs sanding or refinishing. If you are installing it in a home, the Glenridge series offers a 25-year warranty and in a light commercial installation, an industry-leading 6-year warranty to ensure long-lasting beauty at a fraction of the cost of natural hardwood floors.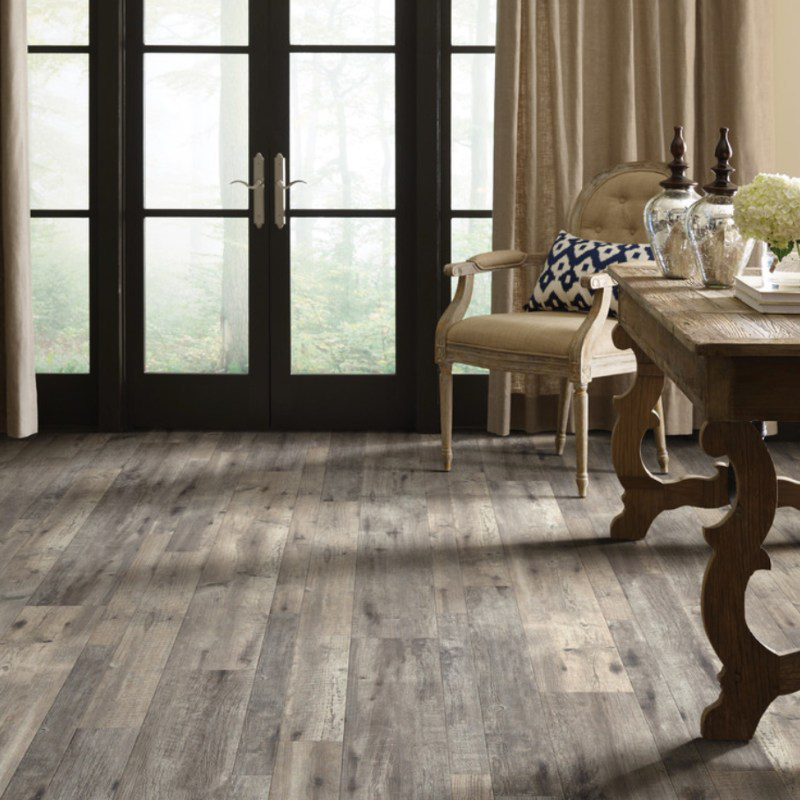 Coastal Mix
(Photo Credit: Houzz)
If your style leans towards rustic glam, our Coastal Mix may be the product you've been longing for. The collision of the rustic knots, imperfections, and heavy grains against refined, elegant furniture, and accessories create a vibe that is luxurious and welcoming. Glenridge luxury vinyl tile is a flexible glue-down product from MSI's DryBack Line. The wear layer protects against dents, stains, and scratches, making it ideal for rooms that open to the outdoors.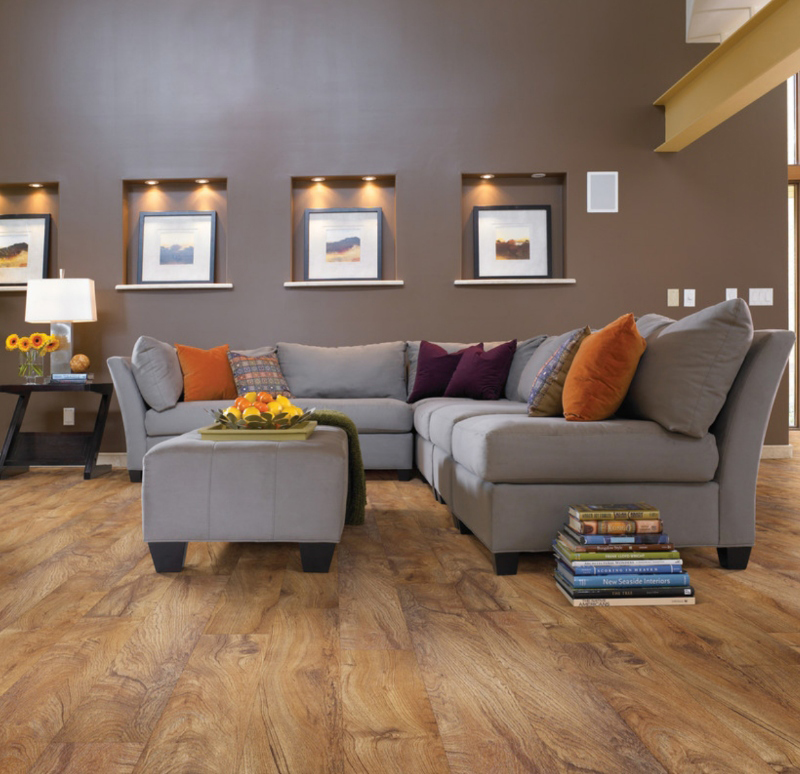 Saddle Oak
(Photo Credit: Houzz)
The tones and elegant graining of our Saddle Oak exude warmth and character. While the leading tone is undoubtedly warm brown, there is an underlying hint of cool grays. As you can see in this contemporary living space, the gray walls and furniture complement the floor effortlessly. LVT is an outstanding choice for rooms where you want to live without worry. Go ahead—spill a drink or your bowl of popcorn, you'll love how easy cleanup of life's everyday messes can be.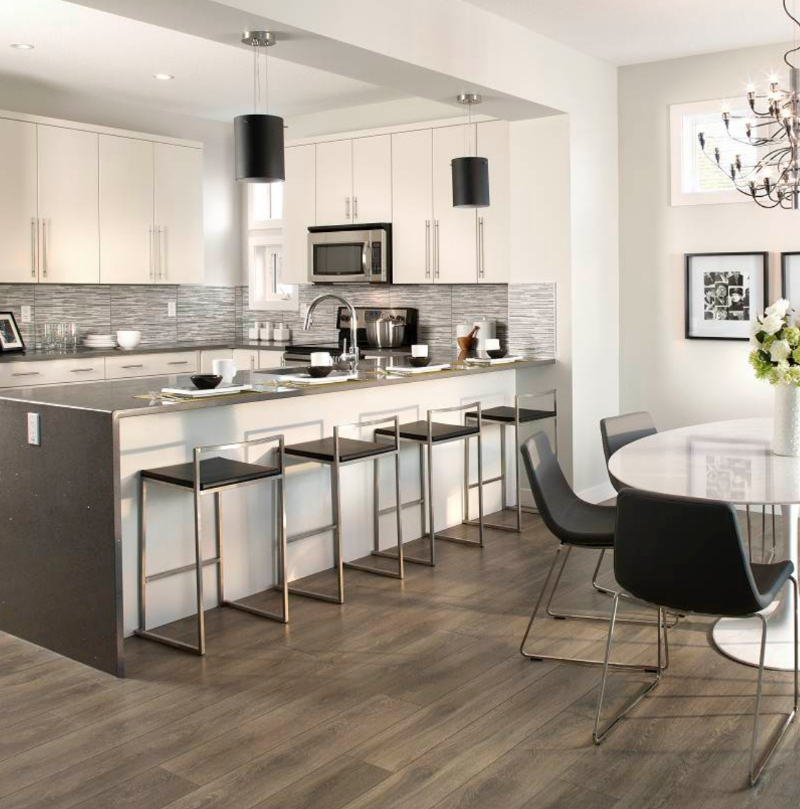 Charcoal Oak
(Photo Credit: Houzz)
If your kitchen is the heart of the home, you know accidents and spills happen—and let's not forget that natural hardwood doesn't stand up to overflowing dishwashers, leaking refrigerators, and other water catastrophes. But that isn't the case with luxury vinyl tile; LVT is resistant to water, and it cleans up beautifully. In this contemporary kitchen, our Charcoal Oak complements the gray and white kitchen, lending some warm and textural character to the space.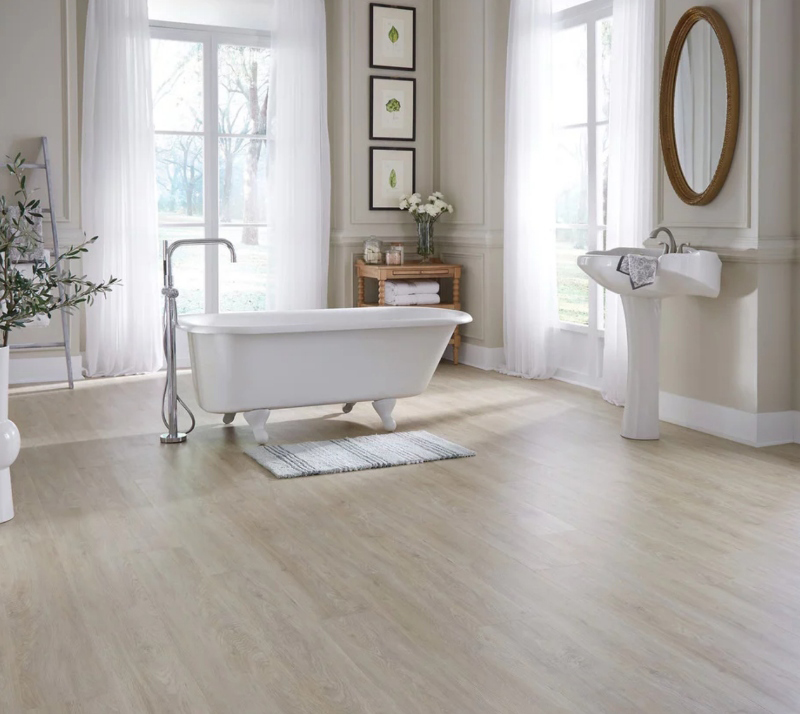 Bleached Elm
(Photo Credit: Houzz)
To show just how well our Glenridge series holds up to water, here is our Bleached Elm wall-to-wall in a luxurious master suite. The subtle grains and soft beige hue bring a layer of sophistication to this classically-styled bathroom If you are struggling to find the right flooring material for your master retreat, click on the link above and select "see this on my floor" to determine if this stunning vinyl tile that looks like wood is what your design needs.
The four modern tiles above are just a small sampling of the colors and patterns available in our Glenridge series of luxury vinyl tiles. The collection features a range of colors and patterns from the rich dark hues of burnished acacia to the dove gray hues in our Elmwood Ash. All of these tiles are approved for all grades in both residential and commercial properties. We welcome you to explore our inventory and "try-on" the colors that pique your interest.
Learn More About Luxury Vinyl Tile
Luxury Vinyl Flooring: Pros, Cons, Install, Cost
Installing Luxury Vinyl Tile in the Bathroom
Choosing the Best Luxury Vinyl Flooring for Every Room
5 Reasons to Use Luxury Vinyl Tile Flooring
Luxury Vinyl tile transitional pieces and trim are designed to complement the collection's luxury vinyl planks. For safety, a seamless flow, and a custom look, combine transitional pieces with trim. Learn more about Luxury Vinyl Tile accessories and trims.
Would you like to learn more about Luxury Vinyl Tile? Read the Definitive Guide to Luxury Vinyl Tile to learn everything you need to know. And check out these vinyl flooring videos to learn more about LVT flooring styles, LVT installation, and maintenance.