Luxury Vinyl Tile For High Traffic — Yes, You Can!
March 25, 2019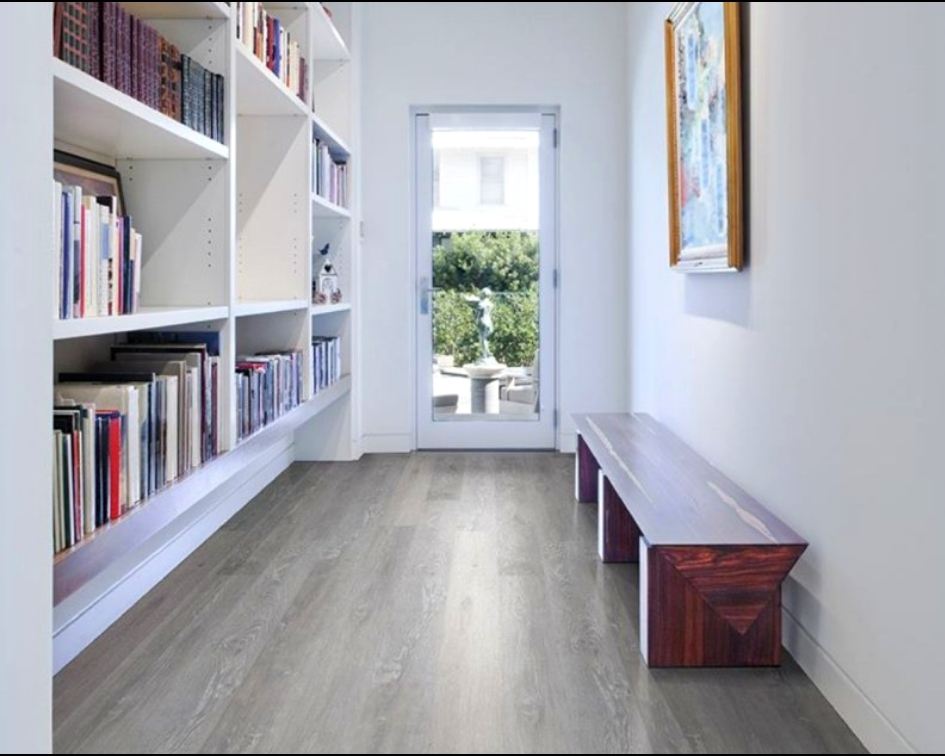 When most people hear the term "luxury vinyl tile," what comes to mind is the old-fashioned linoleum flooring or cheap-looking sheet vinyl so often found in yesterday's homes. These low-end alternatives are a terrible option for today's discriminating homeowners — but Luxury Vinyl Tile (LVT) is a different flooring material entirely.
Here's why you should take another look and seriously consider vinyl plank flooring for your home:
Appearance: Today's LVT is available in a wide variety of colors and designs. It can be printed to mimic natural stone, hardwood, ceramic, and other popular flooring materials.
Durability: Unlike sheet vinyl or low-end vinyl tiles, luxury vinyl tile is impressive in terms of durability. It is completely water-resistant, so it won't be damaged by spills or leaks. Luxury Vinyl Flooring has thick protective layers that prevent damage from dirt, scratches, and heavy traffic.
Ease of care: LVT does not require sealing to maintain its water resistance. All that is needed is daily sweeping with a dry mop, and occasional wipes with a wet mop to remove stubborn dirt and scuff marks.
Thickness/warranty: Not all LVT is created equal; you get what you pay for. Higher-quality LVT will have a longer warranty, and can be expected to have a longer life on your floors.
Value: Many homeowners are amazed at how LVT can replicate expensive flooring materials like stone and hardwood for a fraction of the price, while also delivering the durability that busy families need in high-traffic spaces.
We've selected a few of our most popular Luxury Vinyl Tile Flooring options for this article, and each has been chosen specifically for its ability to meet high traffic demands. Each example is backed by MSI's warranty, which may vary in length according to the type of product.
Saddle Oak Vinyl Tile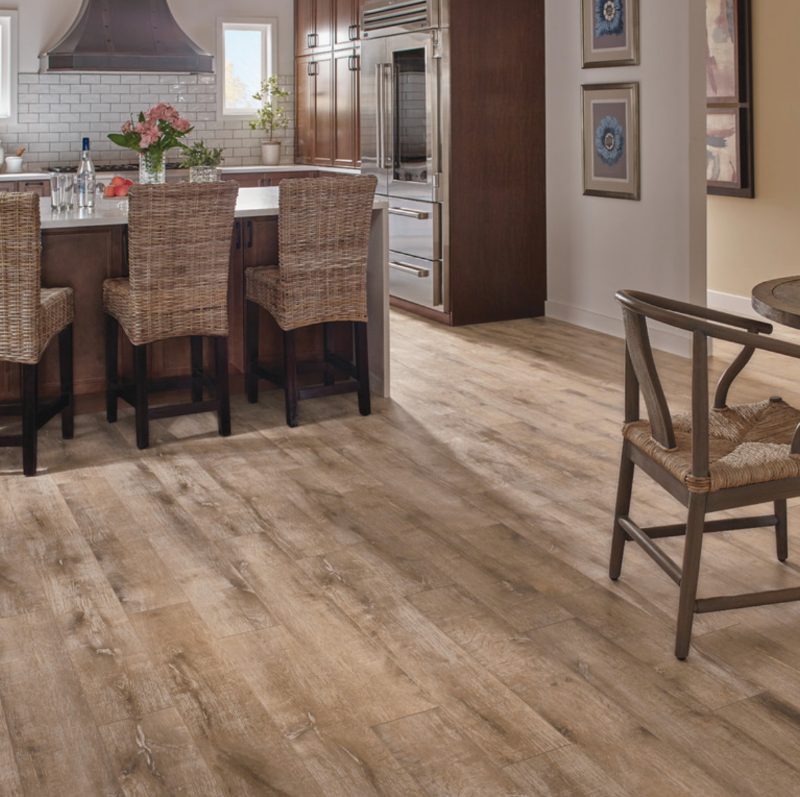 Get this look with MSI's Saddle Oak Luxury Vinyl Tile (Photo Credit: Houzz)
What makes a flooring option ideal for use in a kitchen? It should be waterproof, stain-resistant, scratch-resistant, and easy to keep clean and hygienic. Saddle Oak Vinyl Tile ticks all of those boxes while still offering the cozy, comfortable look of expensive hardwood.
Finely Vinyl Tile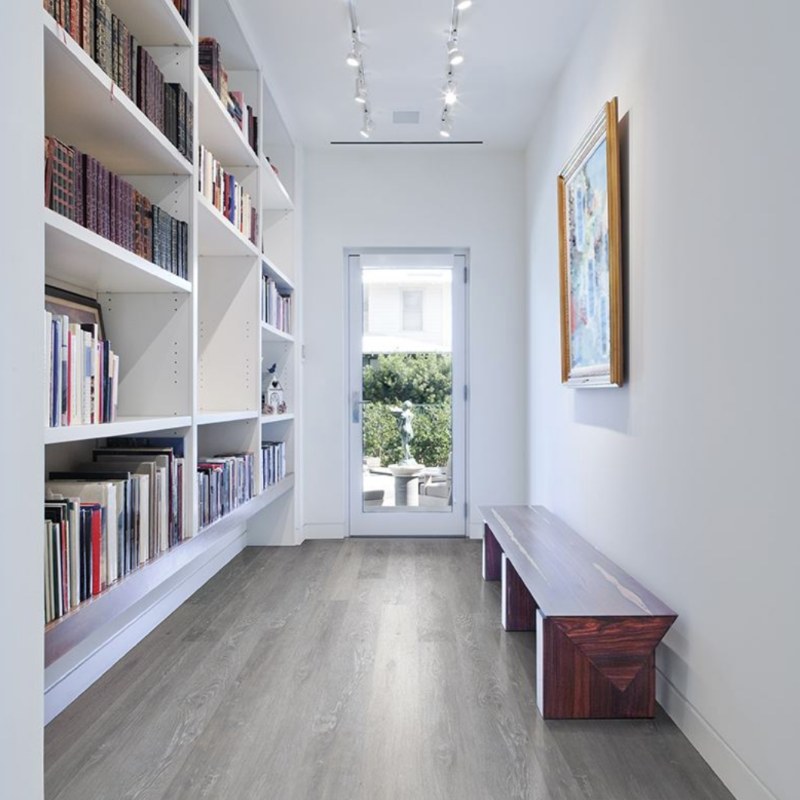 Featured: Finely Luxury Vinyl Tile
Sophisticated rooms call for elegant flooring. With Finely Vinyl Tile, you can have a subtle gray-shaded wood-grain plank floor that elevates any room design. Despite its elegance, you never have to worry about spills or muddy paw prints spoiling the scene.
Fauna Vinyl Tile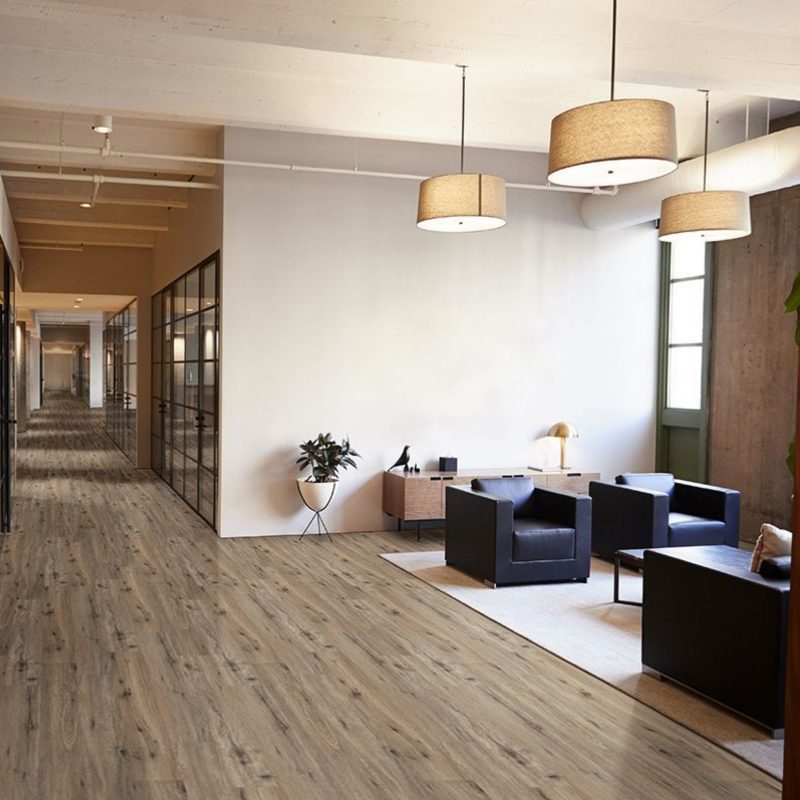 Featured: Fauna Luxury Vinyl Tile
LVT that replicates hardwood flooring is one of the most popular options. Fauna Vinyl Tile exemplifies this, with an authentic-looking wood-grain pattern complete with knots. This luxury vinyl tile is manufactured with several variations in tile patterns, so even if you're covering a large space the result will appear realistic.
Jatoba Vinyl Tile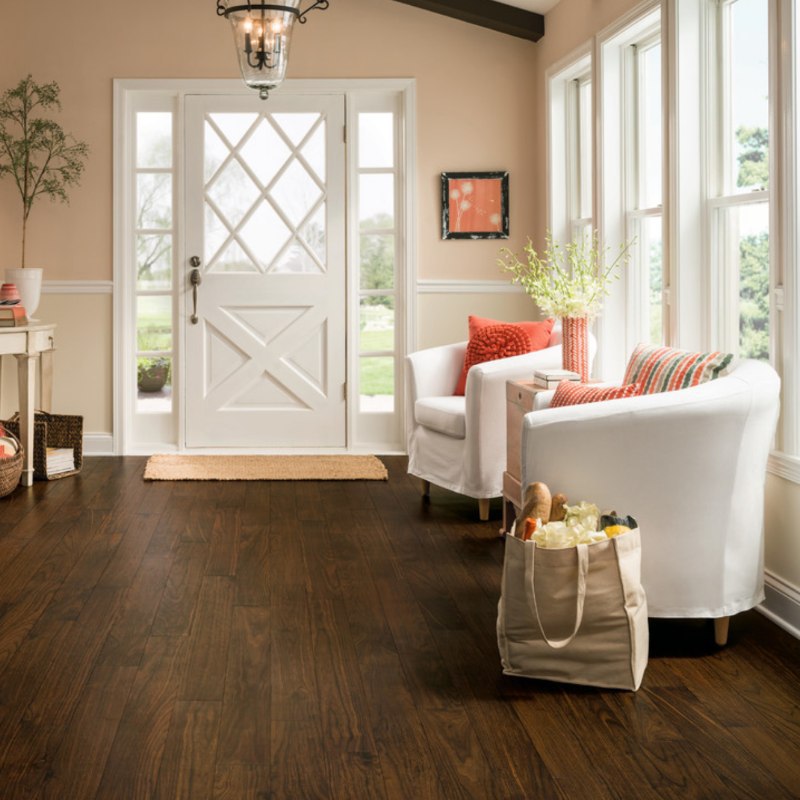 Get this look with MSI's Jatoba Luxury Vinyl Tile (Photo Credit: Houzz)
Jatoba Vinyl Tile helps you create a serene, designer space where you can relax. Its dark wood grain provides beautiful contrast with the lighter-colored elements of the room. Thanks to MSI's warranty, you have one less thing to worry about, making this a blissful space indeed.
Elmwood Ash Vinyl Tile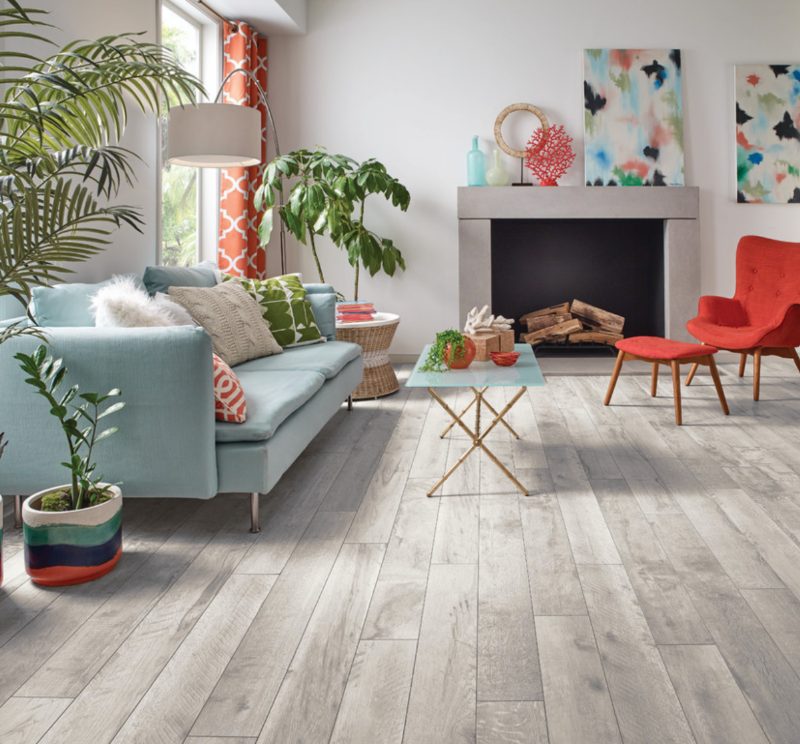 Get this look with MSI's Elmwood Ash Luxury Vinyl Tile (Photo Credit: Houzz)
One of our favorite features of hardwood flooring is its ability to match every type of décor — and vinyl plank flooring does that even better, creating rooms you can really live in and not just admire from afar. Rustic Elmwood Ash Vinyl Tile is right at home in a colorful, contemporary setting.
LVT is going to change your mind about vinyl floor tiles. When you see it in action, the first thing you'll think of is not the vinyl flooring of the past — it will be "wow, that looks amazing!" Browse MSI's gallery to learn more about the tile featured here and our many other colors and patterns.
More on Luxury Vinyl Tile
Breaking Down the Cost of a DIY Install of Luxury Vinyl Tile Flooring
Genuine Wood Looks in Luxury Vinyl Tile
The Cyrus Series - Easy Install Luxury Vinyl Tile
Luxury Vinyl Tile vs. Hardwood Flooring: Only You Know the Difference
One of the reasons luxury vinyl tiles are so popular is because they can be installed in nearly any indoor space, regardless of what's already on the floors. You could get started today and be done in just a few days – and with professional, polished results. If that sounds attractive to you, read Luxury Vinyl installation best practices for optimal results.
Are you still deciding which vinyl flooring is right for you? Learn the differences between Luxury Vinyl Plank and Luxury Vinyl Tile. LVT Flooring provides upscale looks for homeowners of all incomes. Learn more about the latest Luxury Vinyl Tile trends and styles.