Outdoor Oasis: Sun Soaked Patios
September 01, 2016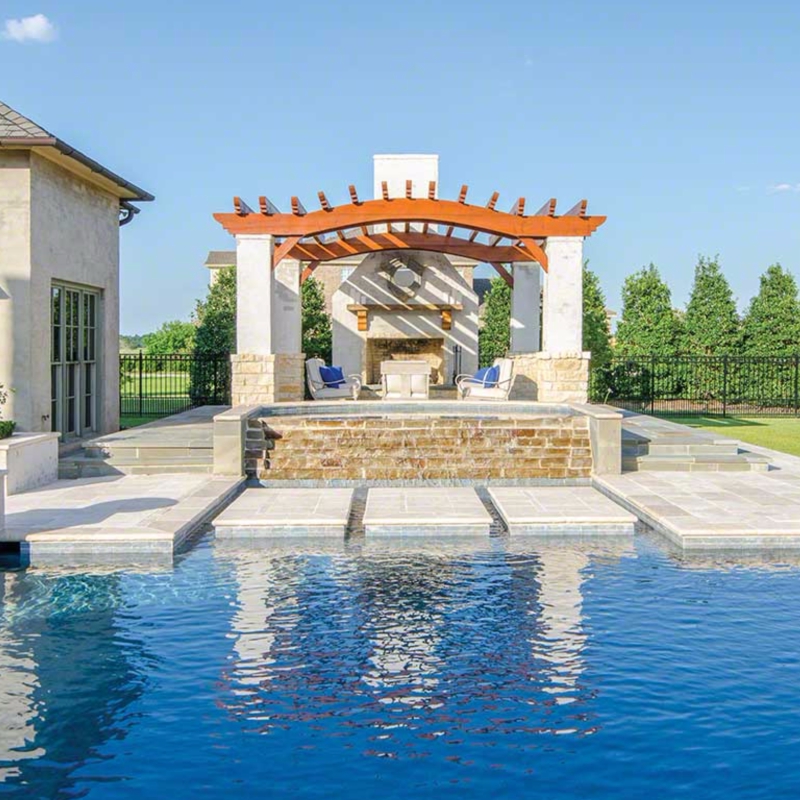 If you wish you spent more time outdoors, entice yourself by creating an inviting outdoor patio. And there's nothing quite like hardscape for constructing the framework of your sun-soaked patio.
A perfect patina or whitewashed stone can allow you and your guests to escape to an exotic location, right in your own backyard. Whether you select classic travertine pavers for a pool, stone-look porcelain tiles for a garden, or contemporary stacked stone for a feature wall, the right materials can give you your dream patio. So get ready to soak up the sun, because after checking out these stunning inspirations, you'll be inspired to reimagine your own outdoor space.
Fireplace Focal Point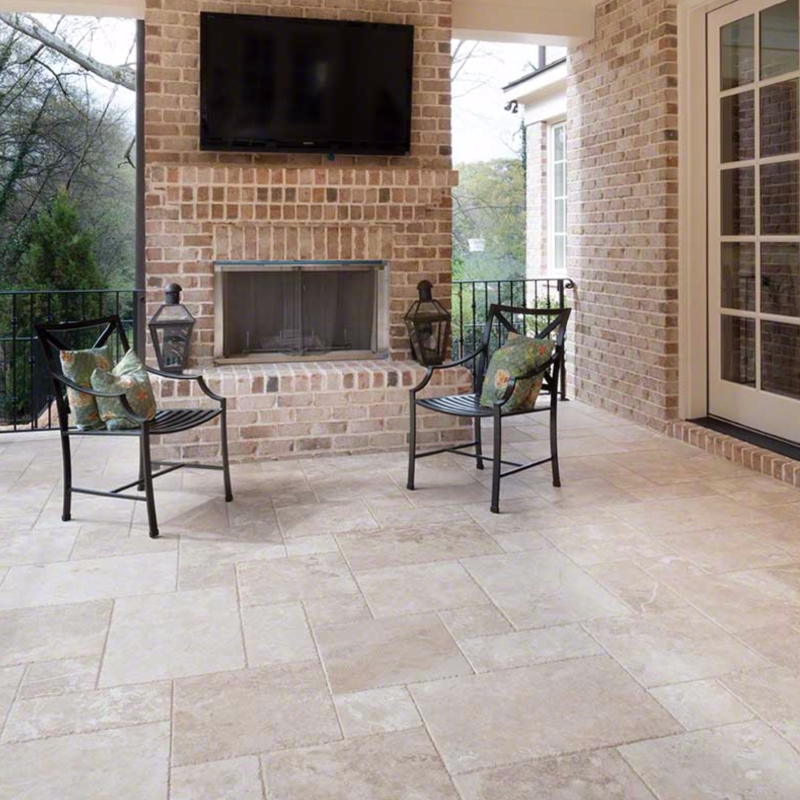 Featured: Tuscany Beige Travertine
This patio features a traditional brick fireplace as the focal point. Tuscany Beige, a travertine tile in the Versaille pattern, beautifully complement the toned-down brick with its warm beiges and soft golds. It adds natural texture and tonal variation to the space, without being overpowering.
Contemporary Outdoor Kitchen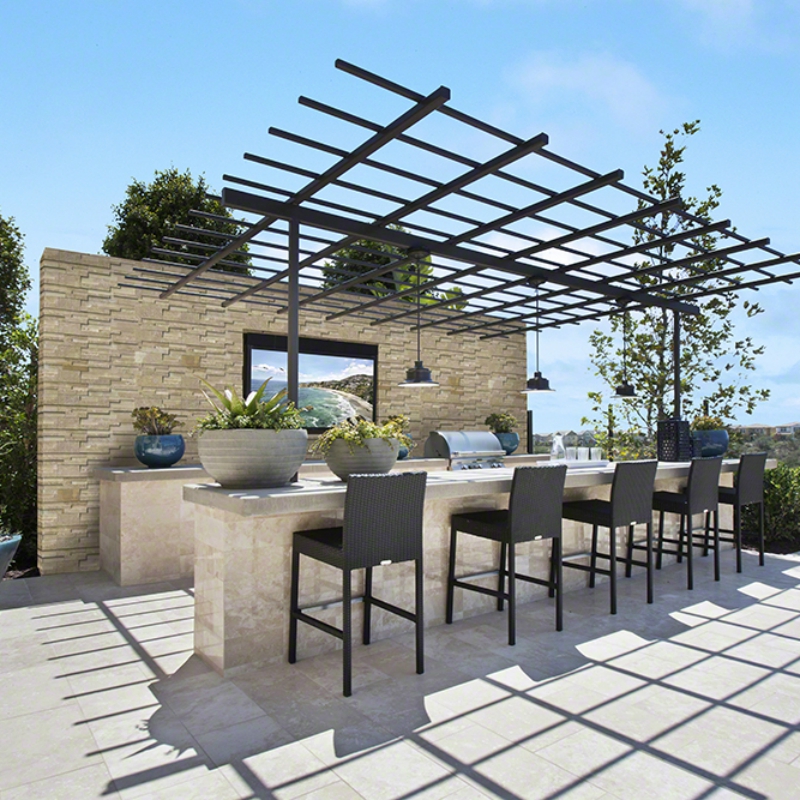 Featured: Durango Cream 3D Honed Stacked Stone
Who wouldn't entertain more with an outdoor kitchen like this! A bar with seating for five and a built-in grill make for the perfect gathering place. The bar stools and lighting coordinate with the dark-colored pergola, which draws the eye toward the stunning feature wall, complete with built-in TV. Durango Cream 3D Honed Stacked Stone panels add interest and texture to this contemporary space, and the warm beige tones marry well with the neutral flooring and countertops.
Tuscan-Inspired Courtyard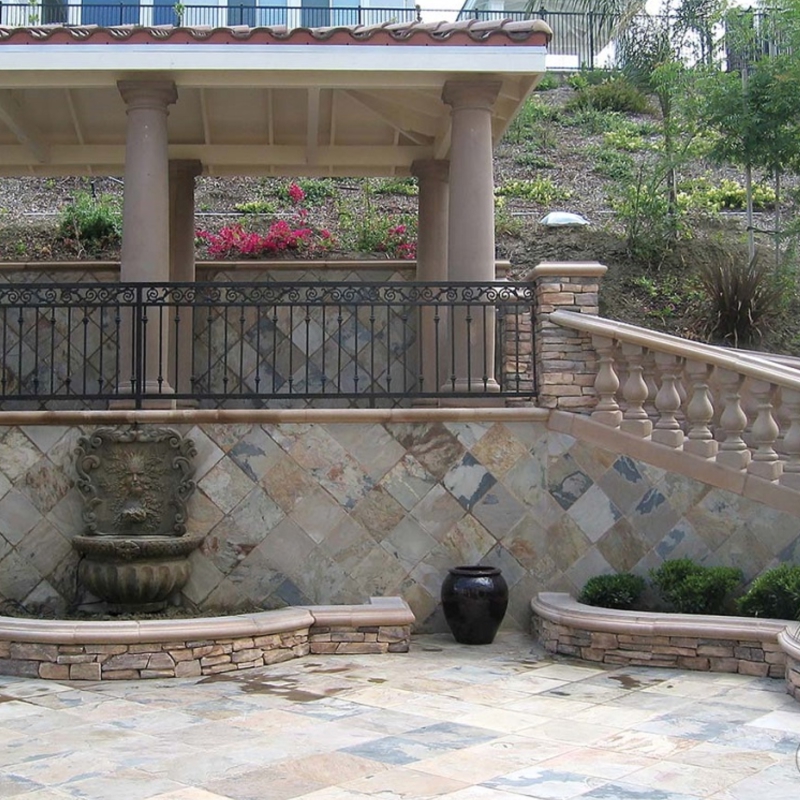 Featured: Autumn Slate Tiles
This courtyard is right out of an Italian villa! The blend of natural stone, statuesque columns, and black wrought-iron gives this space a Mediterranean feel. Autumn Slate Tiles come in a variety of rich colors, and the diagonal wall installation draws attention up to the second tier.
Old-World Garden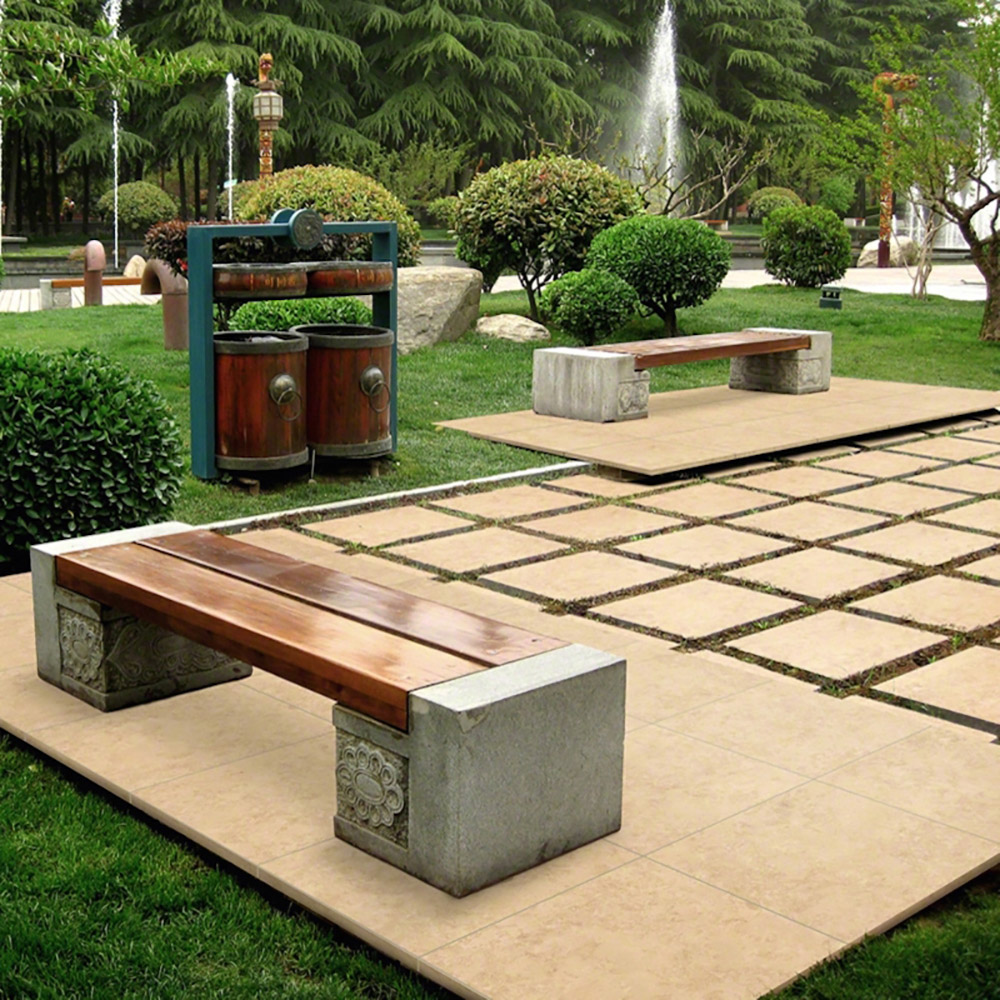 Featured: Petra Beige Porcelain Pavers
If you love gardens that beautifully blend old-world charm with a modern edge, this inspiration is for you! Lush greenery pops against warm elements like wood benches, barrels, and Petra Beige Porcelain Pavers. Reminiscent of natural stone, these large-format porcelain tiles and the grid-like pavers add a contemporary vibe to an overall rustic design.
Relaxing Pool Oasis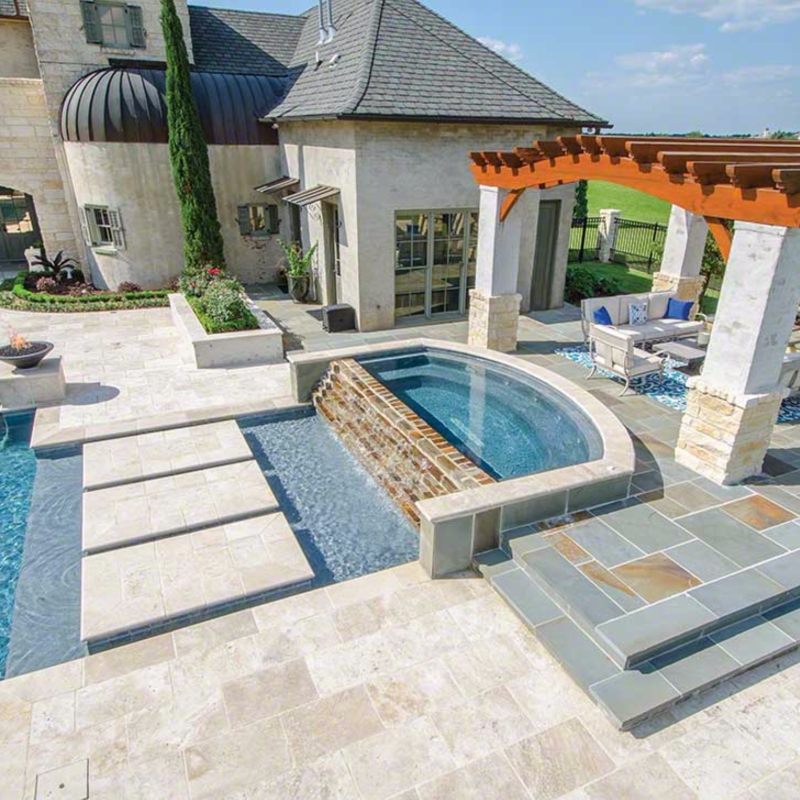 Featured: Tuscany Beige Tumbled Travertine Pavers
Imagine yourself relaxing poolside in this chic and calming outdoor oasis. Add an elevated spa and dedicated seating area, and there's something for everyone. The hardscape includes Tuscany Beige Tumbled Travertine Pavers, whose warm cream and tan add rustic sophistication and class to this unbelievable backyard. Travertine tiles surround the pool, creating a finished look and safe surface, while the bullnose finish of Tuscany Beige Pool Copings provides a smooth edge for swimmers to grab onto.