Granite Countertops Add Value To Your Home
February 28, 2018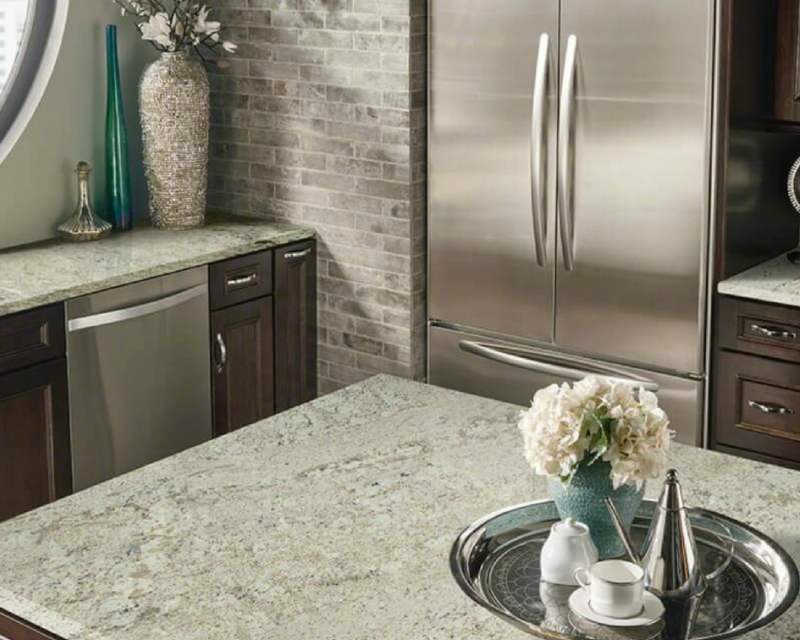 Home remodeling is big business—so much so that it requires several television channels, not to mention and designers galore just to keep up with demand. Maybe you're ready to jump into the reno frenzy, too, and are wondering if you can do the work yourself or hire it done. But whether you desire to undertake a DIY remodel yourself or hire a contractor, something you will have to do yourself is to select the finishes for your project. And when it comes to making these big choices, keep three essential guidelines in mind:
1. Countertops, floors, backsplashes, and cabinetry should be durable, easy to clean, and low maintenance.
2. Renovations should add immediate value to your home.
3. You should love the end result!
If you are an avid watcher of home buying shows on television, no doubt you've heard the dismay in homebuyers' voices when they encounter something other than granite counters in a kitchen. That should tell you something about where an investment is likely to pay off.
Let's face it, a kitchen is the heart of a home; it is where we start our days, and often where we end them. As the hub, kitchens play host to spilled juice and wine, hot skillets, art projects gone awry, and large family dinners with simmering and spattering pots. So it pays to think about the abuse your family will dish out on whatever kitchen countertop you choose.
Granite countertops are considered the most durable of all of the natural countertop surfaces available. They are resistant to heat, scratching, etching, and staining—making them perfect for even the hardest working kitchen. Virtually every color of the rainbow can be found in this natural stone, as well as patterns that range from simple and clean to more artistic and dramatic.
And don't forget that since granite is what many homebuyers yearn for, it can immediately boost the value of your home. If you are looking to sell your home, sale listings including the keywords "granite counters" sold for 4% above the expected value, and 38 days sooner than the competition!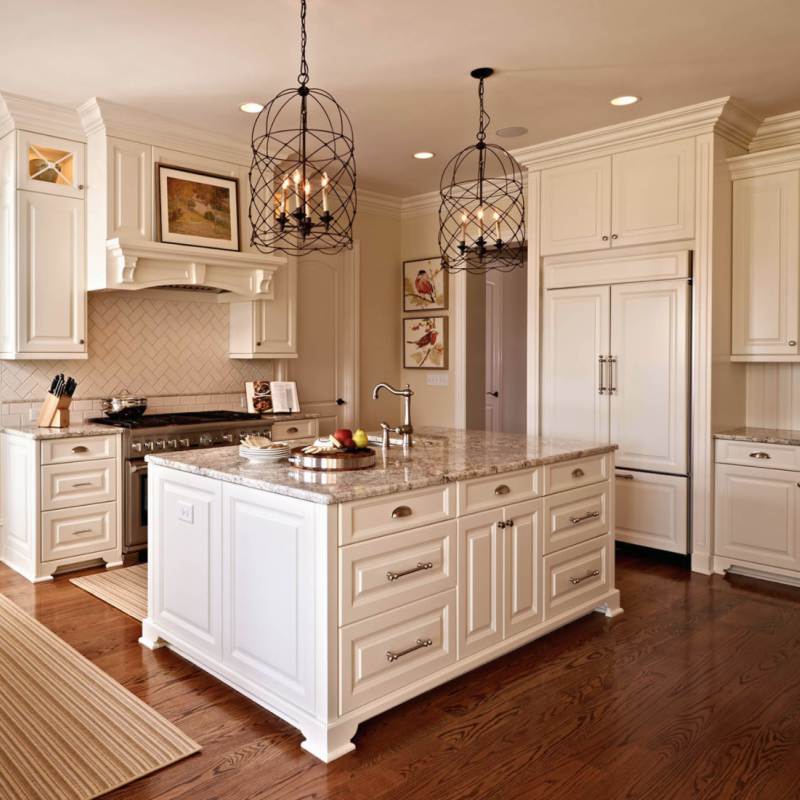 Recreate a similar look with MSI's Avalon White Granite (Photo Credit: Houzz)
From a return on investment stance, white kitchens are always a hit. This custom kitchen is no exception, with outstanding choices made by the homeowners. Cabinetry up to the ceiling, an oversized range and custom refrigerator, classic herringbone backsplash, hardwood floors, and large island topped with Avalon White Granite—homebuyers will adore all these features, and might be ready to put in a bid after one room! This kitchen hits all the marks of a successful kitchen remodel; it is both beautiful and durable enough to handle daily life with ease.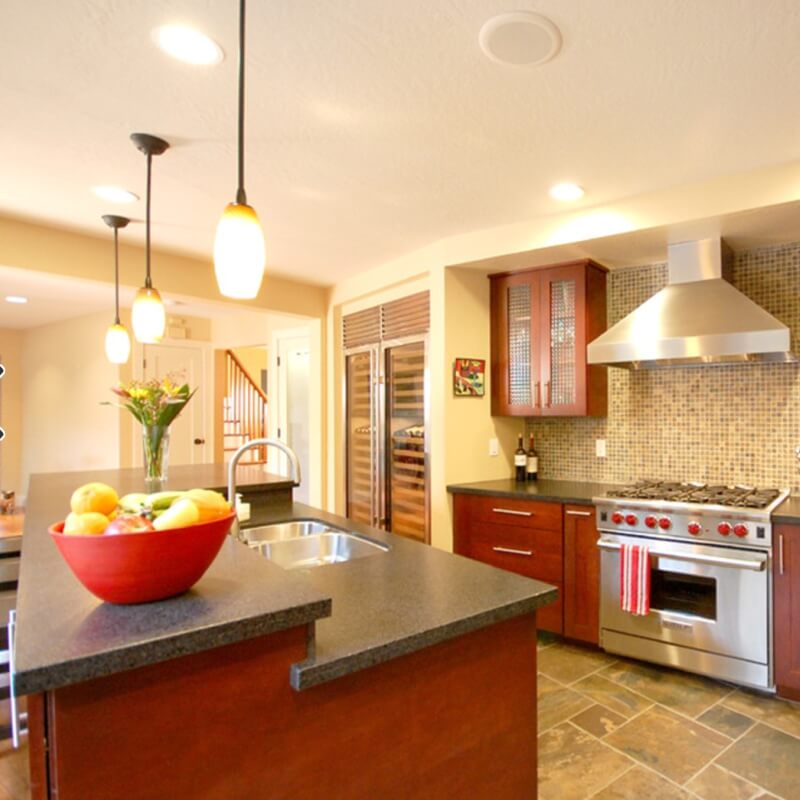 Get a similar look with MSI's Cambrian Black Granite (Photo Credit: Houzz)
Still, white kitchens aren't everyone's taste, and that's fine, too! Here, gorgeous cherry cabinetry and commercial-look appliances lend a contemporary, utilitarian edge to this kitchen, while still retaining a warm and inviting feel. Here, the beauty of sparkling Cambrian Black Granite in a brushed finish provides the elegant grounding element this space needs, cladding both countertops and island. The effect is unified and cohesive. When remodeling with granite countertops, remember that each element—appliances, lighting, floor, backsplash, cabinetry, and countertops—must complement one another and be of the same quality for the design to work.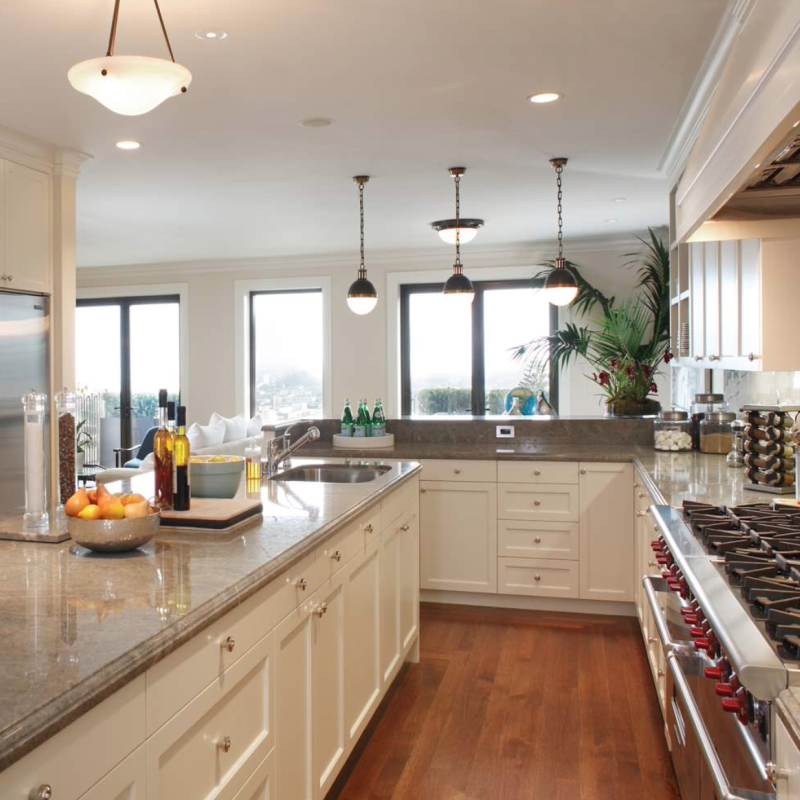 Create this look with MSI's Nevasca Mist Granite (Photo Credit: Houzz)
Granite countertop colors also reach far beyond black and white. Take Nevasca Mist Granite, the star of the show in this beautiful, well-appointed kitchen. The countertop reads as a neutral in this space, but its hints of beige, grey, and bordeaux in a gorgeous pattern make it perfect for an extra-large island. The length-wise hardwood planks draw the eye along the island countertop and out the large windows beyond.
Speaking of the great outdoors, one of the benefits of granite slabs is that they are durable enough to be installed in outdoor spaces, making them perfect for true indoor/outdoor living. Just envision the design harmony you could enjoy by linking the two spaces together with the same granite on countertops, bar tops, and even outdoor tabletops.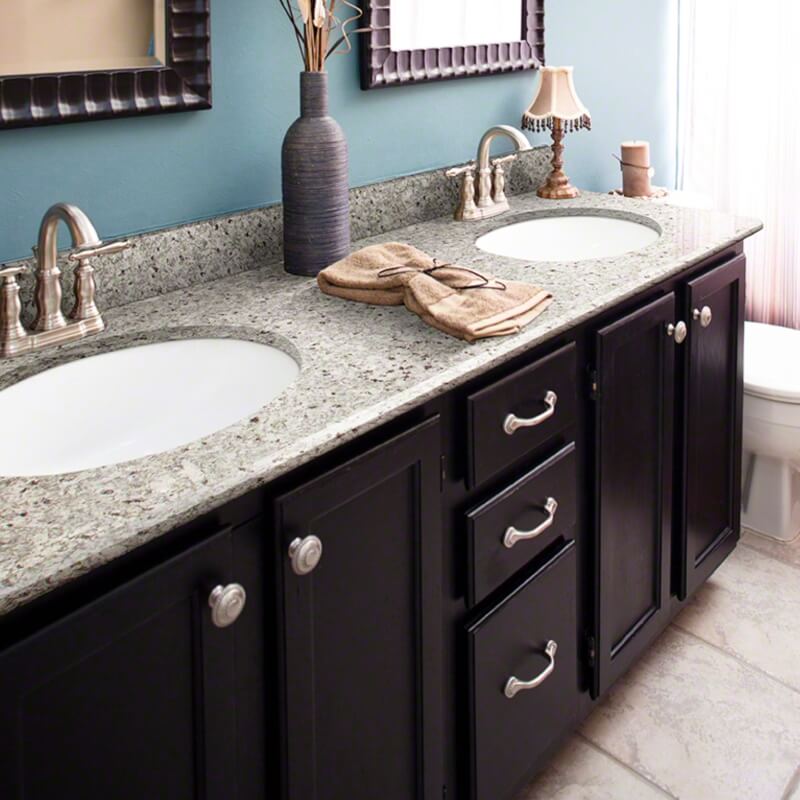 Reinvent this style with MSI's Moon White Granite (Photo Credit: Houzz)
Granite is a no-brainer for kitchens, indoor and out, but let's not forget how the natural stone is a perfect fit for bathrooms. Like the kitchen, most family bathrooms take quite a daily beating. Beauty products and appliances can damage laminate-type countertops, but rest assured that granite can stand the test of time in both style and in durability. In this chic bathroom, Moon White Granite rests atop a luxe ebony vanity cabinet, bringing out the unique coloring and beauty out of the natural stone.
Get this look with MSI's White Ice Granite (Photo Credit: Houzz)
In our next featured bathroom design, White Ice Granite provides a timeless surface that perfectly complements the warm natural stone backsplash. Subtle flecks of steel grey and black, set against a gorgeous icy white, is perfect for design styles from traditional to modern. The look of this bathroom can always be updated to reflect your evolving style by swapping out your accessories or even backsplash, changing the look without requiring a significant renovation.
Gorgeous kitchens and bathrooms set the tone for a home, and are two of the savviest remodels to get the best return on your investment. But remember, they have to be more than just beautiful—they have to stand up to the daily wear and tear of a busy home. In both respects, granite is a clear contender.
As a natural stone, each granite slab has its own unique character. Plus, granite's durability just can't be beat, making it perfect for countertops in indoor and outdoor kitchens, as well as busy bathrooms. In addition to boosting the value of your home, granite is a feast for the eyes, lasts a lifetime and has timeless appeal. If you're ready to see more, check out MSI's entire Granite Countertop Collection, and start making your design dreams come to life!
READ MORE ABOUT GRANITE COUNTERTOPS
Forget Laminate! Get the Real Deal with Granite Countertops
Granite Colors That Always Look Clean (Even When They Aren't!)
Granite Colors That Create A Calming Bathroom