The Versatility Of Granite
January 24, 2018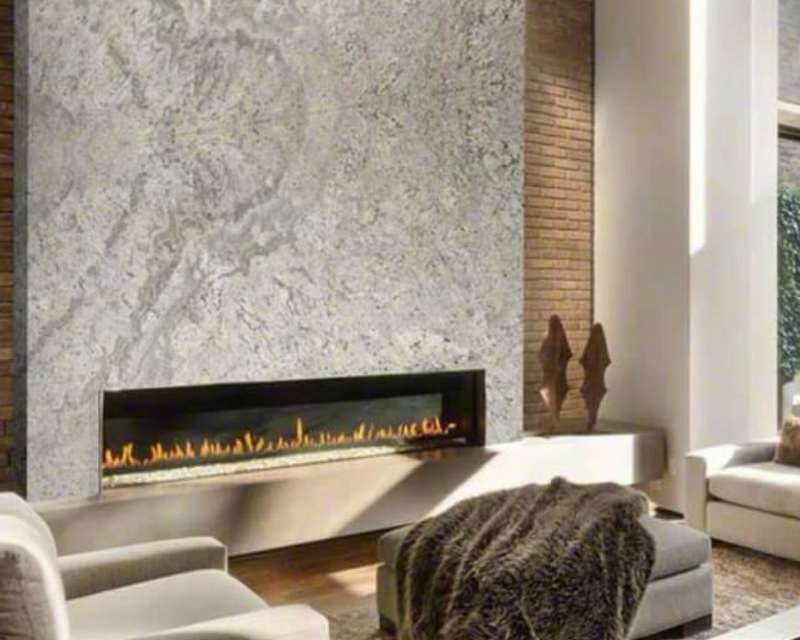 There are many reasons to fall in love with granite — from the gorgeous colors, to the solid feel and character, and even its incredible durability — which is why it's such a popular surface within the home, year after year. Even if you're not currently in the market for new granite counters in your kitchen or bath, there are still many ways you can incorporate granite into your home décor. In fact, we've put together a group of creative uses for granite that will inspire you to discover your own.
Copenhagen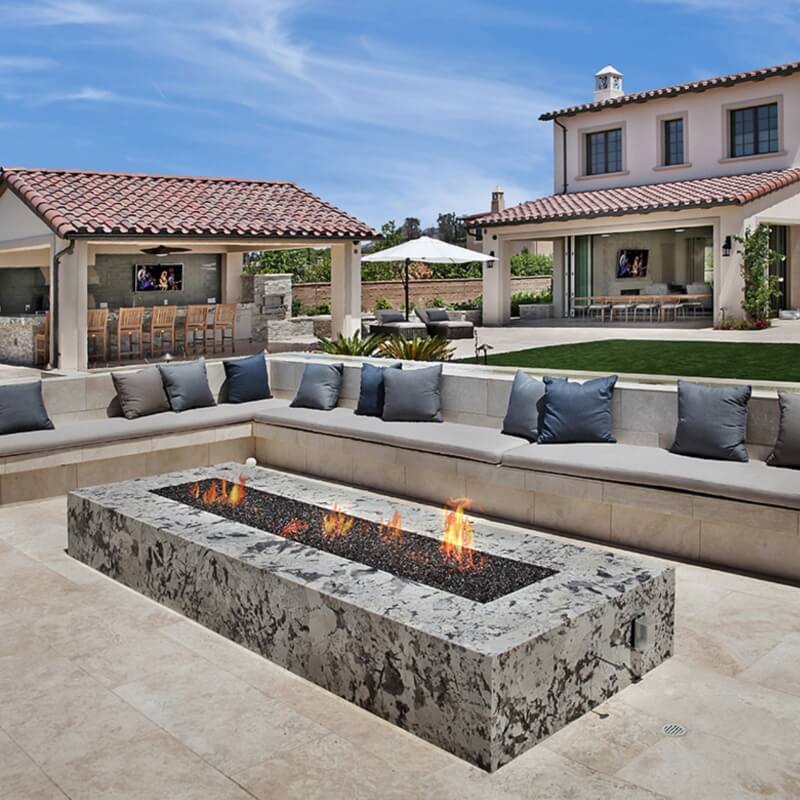 Featured: Copenhagen Granite
The same qualities that make granite an ideal kitchen countertop also make it a great choice for outdoor applications as well. That is, it's incredibly durable — in fact, it's one of the best choices for outdoor kitchens. Here, you can see the beauty of Copenhagen Granite in this cozy outdoor living space, surrounding a convenient propane-fueled fire feature. Even if your climate has freezing weather, this granite hardscape element will continue to provide years of enjoyment.
Roma Imperiale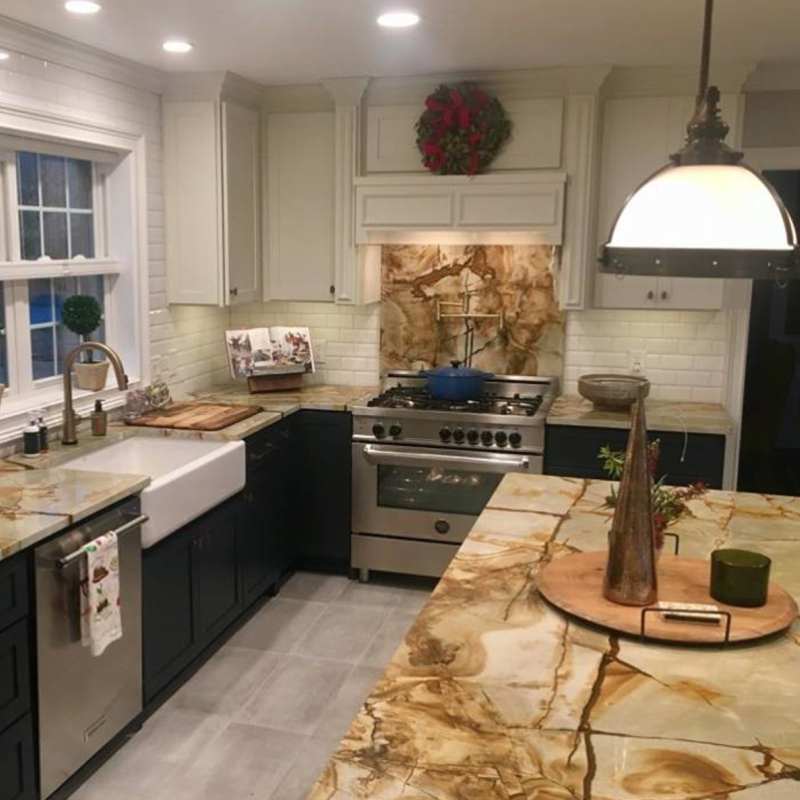 Create this look with MSI's Roma Imperiale Granite (Photo Credit: Houzz)
Your kitchen backsplash, even if it's made of solid granite slabs, does not need to match your countertop. In fact, when you choose a bold granite pattern such as Roma Imperiale Granite, you might not want it to completely take over the room. In the kitchen shown here, with matching granite countertops, it works beautifully — but if you prefer a bit less drama, confining it to your backsplash, perhaps just over the range as shown here, converts your backsplash into a work of modern art, adding a contemporary element to your home.
White Supreme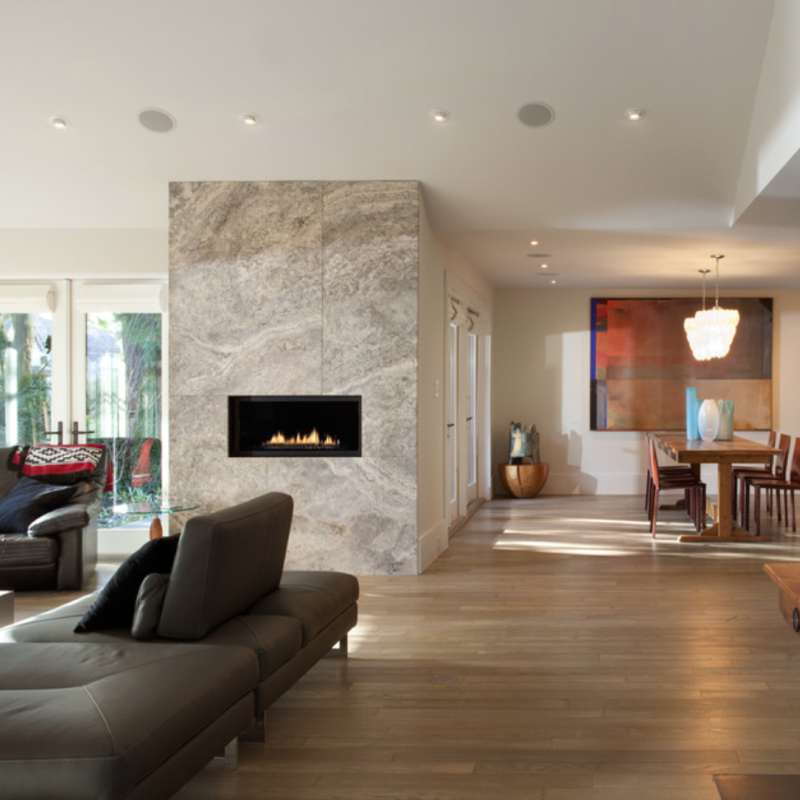 Get this look with MSI's White Supreme Granite (Photo Credit: Houzz)
Granite is known for its unique patterning, which ranges from subtle to bold and often looks its best when installed in large spaces such as this feature wall. White Supreme Granite features veins of pale to mid-tone gray on a creamy white background, two shades that blend easily with other décor. It's equally at home in a contemporary setting or a traditional design.
Blue Pearl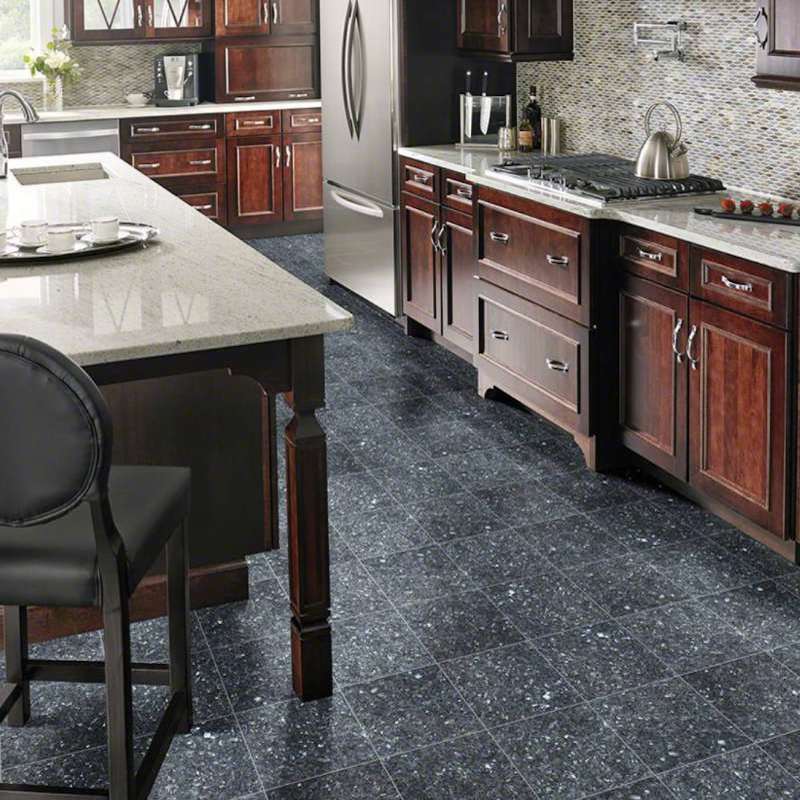 Featured: Blue Pearl Granite
Looking for a type of flooring that's nearly indestructible, can stand up to heavy foot traffic, repels spills, drips, and muddy dog paws — and looks gorgeous while doing it? This Blue Pearl Granite tile flooring is just one example of what granite can do for your kitchen, bath, or any other room of your home, in ways besides granite countertops. Granite, like any natural stone, needs sealing to activate its superpowers, but it's an easy once-a-year application.
Imperial Gold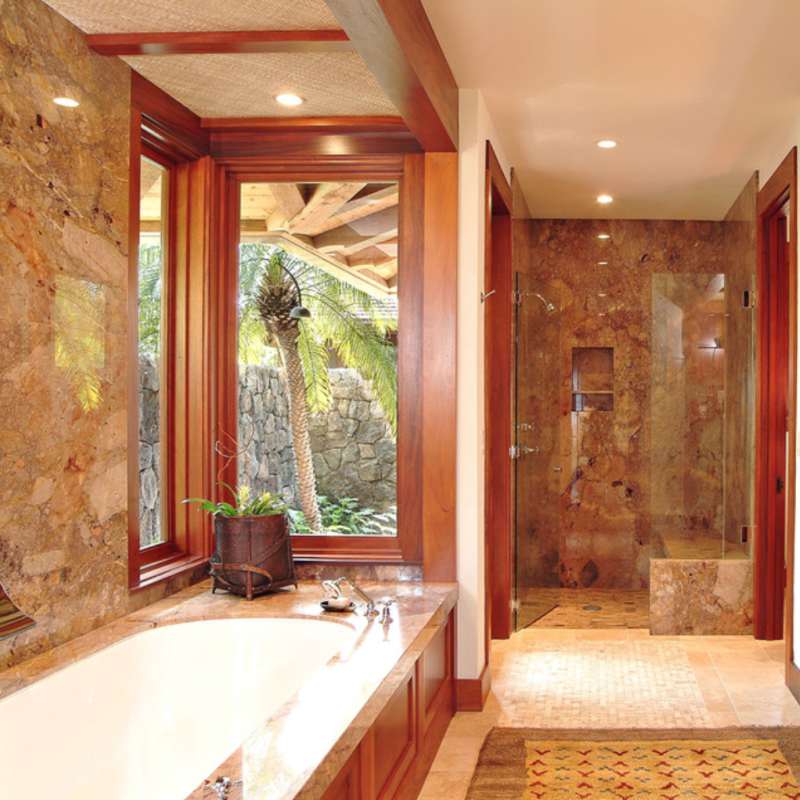 Recreate this look with MSI's Imperial Gold Granite (Photo Credit: Houzz)
Bathrooms and showers these days are so much more than a place to get washed up and do your hair and makeup. The modern trend turns them into relaxing, opulent spa retreats. Imperial Gold Granite on these shower walls is a great example of how granite transforms the room from blah to brilliant. As long as the stone is sealed regularly, cleaning will be a breeze.
If these delightful decorating ideas have got your mind churning with possibilities way beyond granite countertops, you'll want to pop over to MSI's web galleries to browse the entire collection of granite colors. With so many colors and patterns available in this versatile surface material, you'll have a great time creating interiors that are truly one-of-a-kind.
Read More about Granite Countertops
6 Granite Tile Floor Inspirations for Natural Luxury
3 Reasons Granite Countertops Are the Toughest
5 Granite Countertop Edge Profiles That Perfect Your Design
Before You Choose Laminate Countertops, Read This!
READ MORE ABOUT GRANITE COUNTERTOPS
The Most Pinterest-Worthy Granite Kitchens
The Perks Of Granite Countertops
The Right Way to Use Two Granite Colors In the Kitchen