Current Obsessions: Using Accent Walls To Add Instant Architecture
November 04, 2016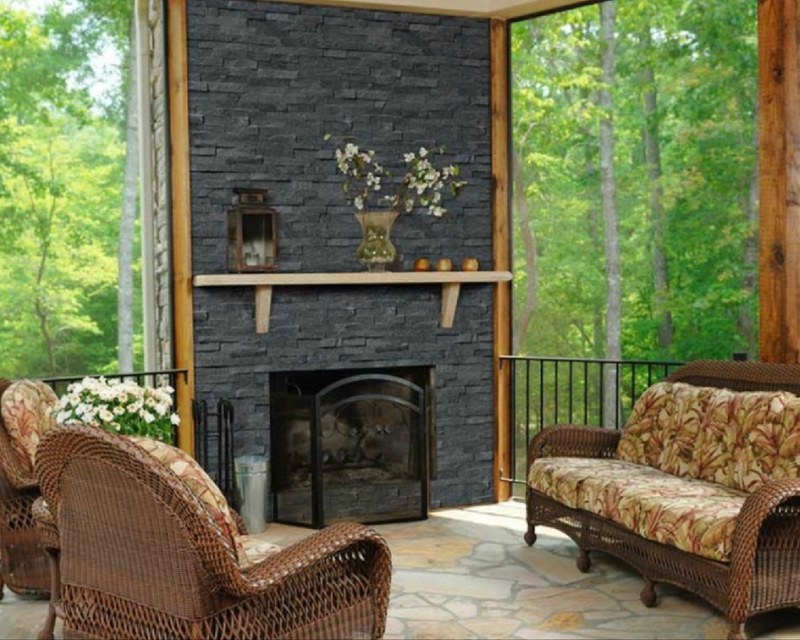 When you want to create character and add warmth to a room with timeless appeal, create a feature wall using stacked stone. These touchable ledger panels offer compelling opportunities for accents both inside and outside the home. The modular, puzzle-like design results in an easy installation that can be completed by industry professionals and DIYers alike. No matter what type of stone you select, whether that's slate, quartzite, travertine, or even marble, you'll end up with a stunning accent wall that adds instant architecture.
MSI is thrilled to add to their already popular natural stacked stone collection, so here are five rustic to modern rooms that will leave you wondering which wall you should redesign.
Golden Living
Featured: Arctic Golden Panel Stacked Stone
When adding textural interest to a rather large wall like in this living room, you want to pick something that's not too trendy. While some may opt for porcelain tile, why not use the real thing? The neutral tones in the Arctic Golden Panel Stacked Stone won't overpower the design. The mixture of white and gold quartzite in this floor-to-ceiling installation gives this wall a slight pattern that works beautifully with the gold and white furnishings. The natural element allows for the minimal accessories to stand out.
Dynamic Dining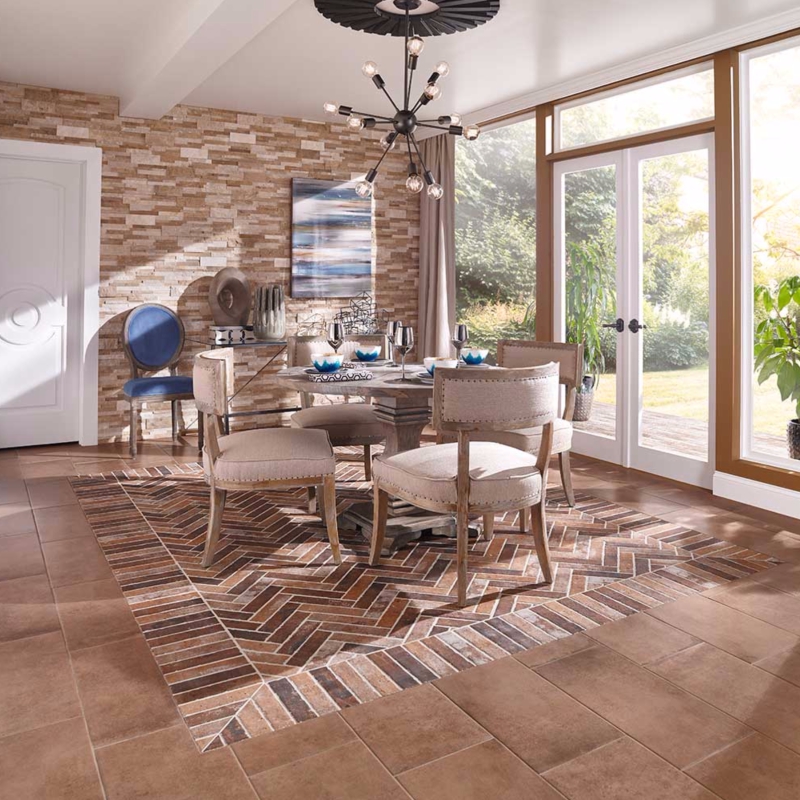 Featured: Casa Blend 3D Multi Finish Stacked Stone
This dining room is filled with delicious texture, but since it's mostly in a monochromatic palette, it doesn't overload the senses. In addition to the mix of tile, warm woods, and hard metals is the accent wall featuring beige and soft cream travertine pavers. Made from Casa Blend 3D Multi Finish Stacked Stone, the staggered mix of honed and split-face finishes enhances the organic feel of the room.
Extreme Entertaining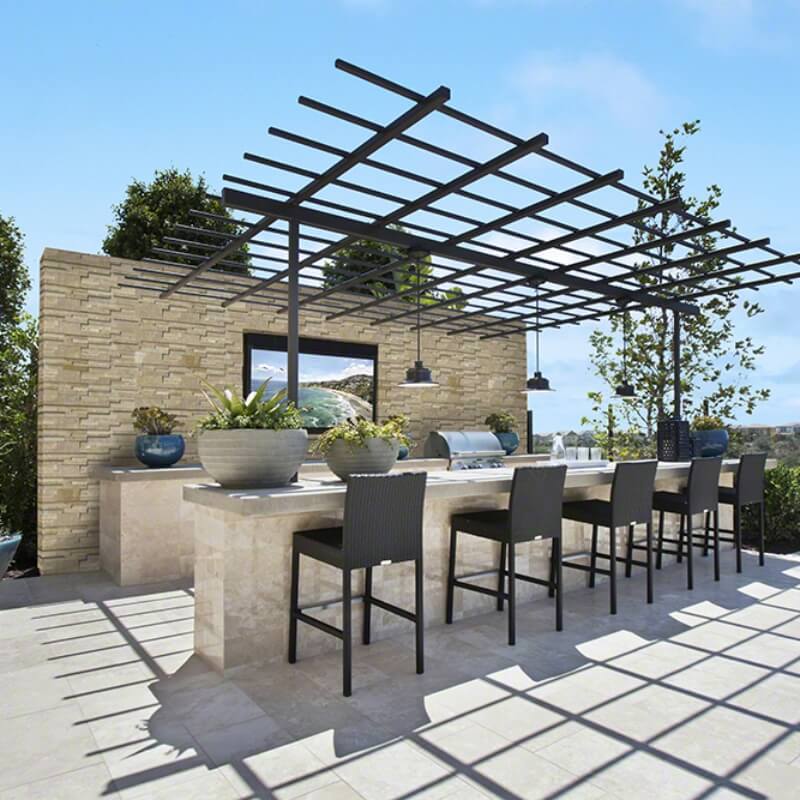 Featured: Durango Cream 3D Stacked Stone
Define your outdoor entertaining area by building the perfect accent wall. This dream outdoor space not only includes a built-in barbeque and plenty of room for seating, but the travertine feature wall makes the perfect backdrop for installing a large TV. The warm beige tones of the Durango Cream 3D Honed Stacked Stone panels add a cool, contemporary twist and combine well with the rest of the neutral stone throughout. Both homeowners and guests will be able to nosh on some tasty snacks, enjoy the fresh air, and watch the game without getting distracted by whatever's behind that beautiful wall.
First-Rate Fireplace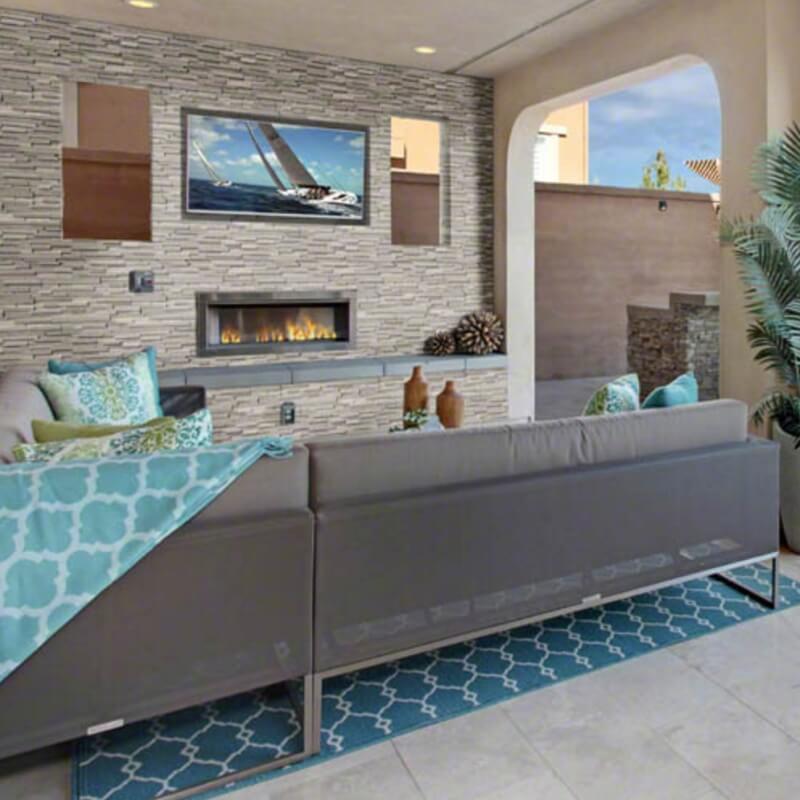 Featured: White Oak 3D Stacked Stone
Make your covered porch a real extension of your living room. This outdoor area not only has a built-in fireplace, but it also has a built-in bench so that you can easily get cozy and warm. Using natural stone like White Oak 3D Honed Stacked Stone panels to accentuate the fireplace amplifies the luxuriousness of this stylish space. The off-white marble ranges in depth and dimension and results in a stunning, contemporary look.
Lengthy Backsplash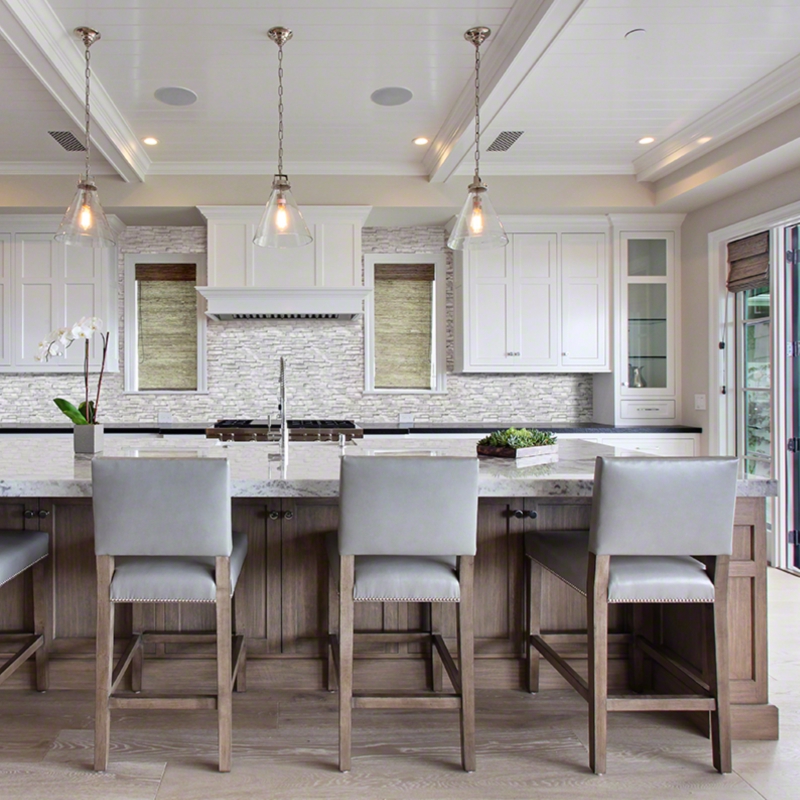 Featured: Calacatta Cressa 3D Stacked Stone
This charming kitchen includes a mixture of rustic and traditional design styles. One element tying it all together is the use of marvelous marble stone veneer. The light colored countertop on the large island draws the eye right to the Calacatta Cressa 3D Stacked Stone, and instead of stopping it at a few measly inches, this wall makes more of a statement by carrying it all the way up to the ceiling. The soft gray veins in the ledger panel pieces work well with the soothing colors, yet the smooth clean lines add a bit of a modern touch to the traditional cabinets.
When you're ready to add an architectural accent to your living room or kitchen wall, consider the possibilities stacked stone offers. MSI's stacked stone visualizer makes it simple for you to see what your dream space could look like.