Tile Style: Make A Statement Wall
August 30, 2016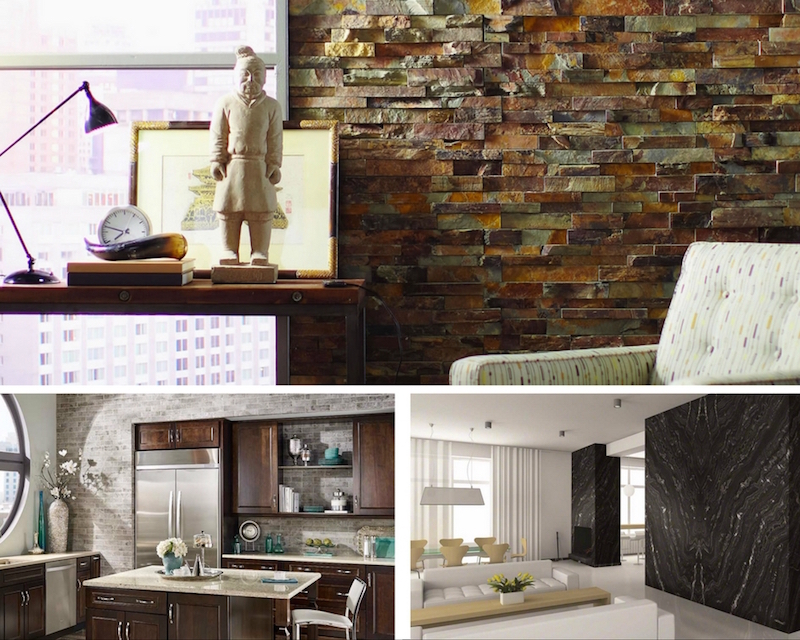 Every element in your home's design—color, shape, and texture—makes a statement about you. However, a statement wall, a defined area that stands out from the room's overall design, broadcasts your individual style. Many homeowners accent a wall with paint, selecting a complementary hue on the opposite side of the color wheel. But to create a rich and luxurious centerpiece, consider accenting a wall in your home with brick, stacked stone, granite, marble, or even ceramic tile.
Brick and Stone Add Texture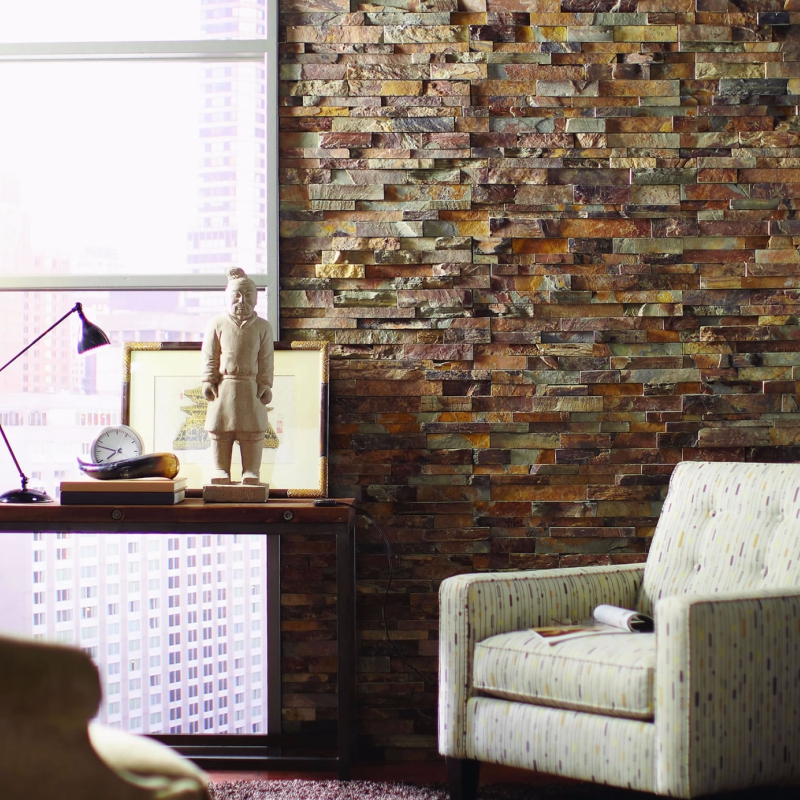 Featured: California Gold Stacked Stone
At once timeless and contemporary, a brick or stone tile wall warms your entire room, giving it character and texture. Give your kitchen a country feel, or make your bedroom warm and cozy by adding a brick accent wall in any of a wide range of colors. Or consider a natural stone material such as California Gold, which combines rustic colors to make a bold yet natural statement. Stacked like brick, these rugged, natural slate ledger panels combine deep browns, grays, and hints of rust. They're ideal for fireplaces, kitchen backsplashes, planter walls, and pools.
Varied Hues Create Depth and Movement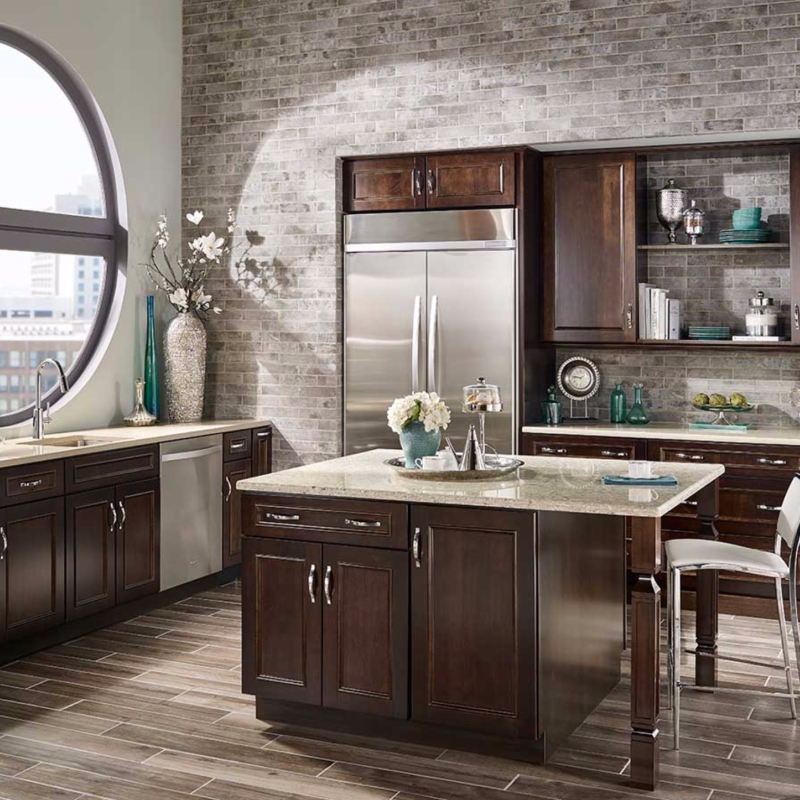 Featured: Taupe Porcelain
Multi-hued accent walls dance under the right lights, bringing out the many colors, textures, and movement of natural stone. Set recessed lights above accent walls to coax out shadows created by raised areas of the stone, or shine a spotlight on the wall to highlight the varied colors. Taupe Porcelain Tile from the Capella collection features soft grays and taupes, along with a softened texture and shading that evokes aged brick. These stacked brick tiles are versatile and can be used for many accenting purposes, such as highlighting the wall beneath your breakfast bar or making your bathtub surround a feature.
Natural Colors for Subtle Wow-Factor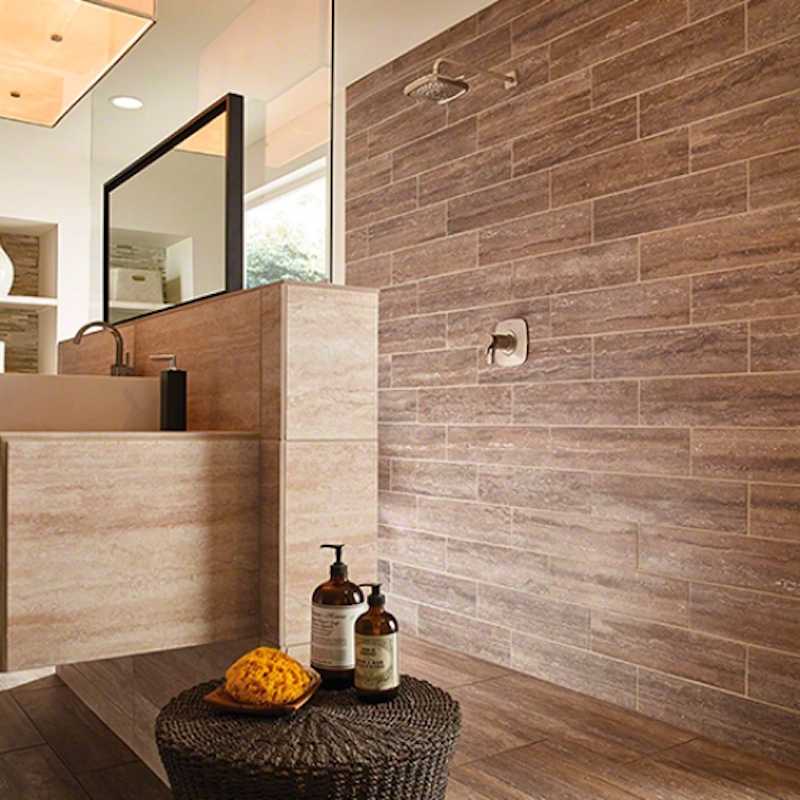 Featured: Veneto Noce Porcelain
Porcelain tiles with the look of natural carved stone can create a dramatic accent wall without overwhelming the room. Natural browns, creams, grays and taupes create a relaxing yet visually interesting atmosphere. For example, Veneto Noce Porcelain Tile resembles natural, vein-cut travertine with their warm beiges, hints of creams, and grays, and look at home in both contemporary and traditional designs.
Timeless Stone Walls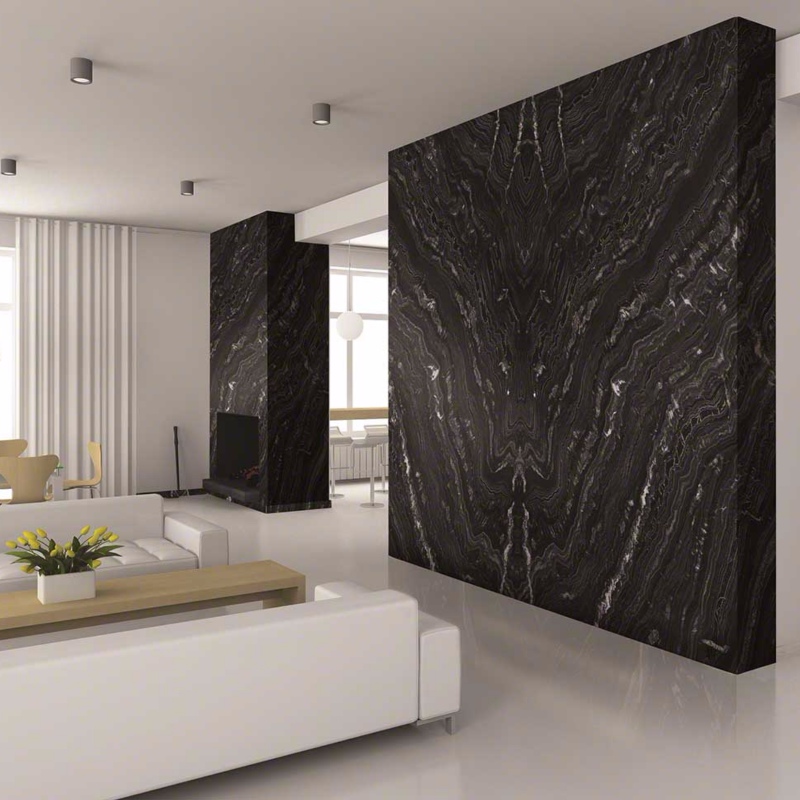 Featured: Agatha Black Granite
Renewable materials harvested from the earth are durable and on trend, and come in any color found in nature. Increasingly, designers are turning to clay bricks, honed granite slabs, and rough-hewn quarried stone to create backsplashes and fireplace walls, or to play up any area that needs a special touch. Agatha Black Granite countertops are bold and gorgeous, hosting light gray and white veins that dance on a black background. Top your kitchen island with this natural material, or accent your outdoor entertainment space with this sturdy and beautiful stone.
Stone Adds Value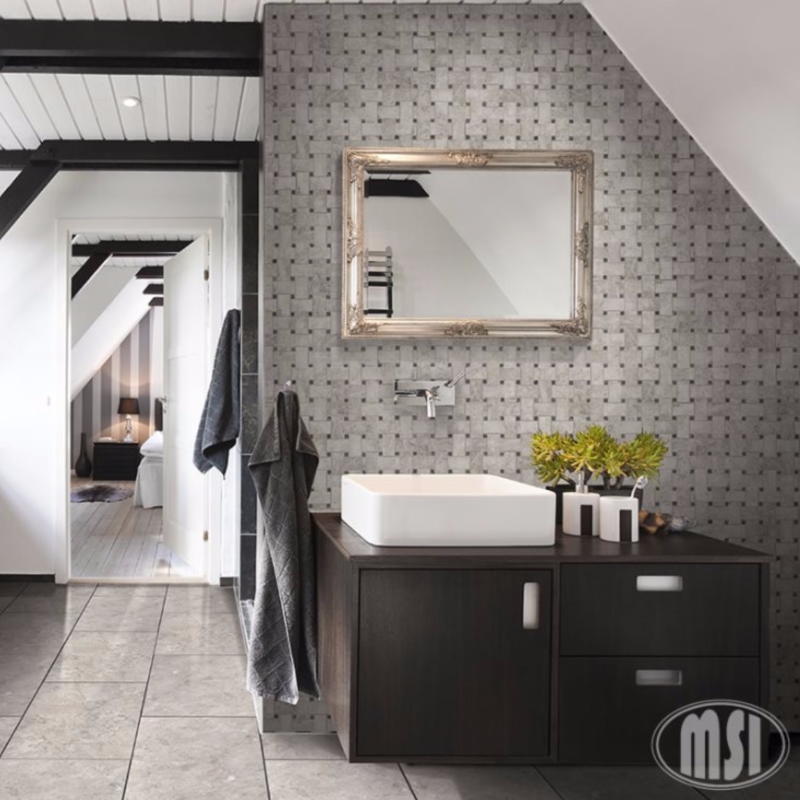 Featured: Tundra Gray Basketweave Mosaics
Nothing looks so rich and luxurious as marble and granite, both of which add real value to your home. Even small accents of polished granite or marble added to a ceramic tile design make a feature wall or shower stall visually pop. Tundra Gray Basketweave Pattern Mosaics features tiny squares of elegant natural marble in a woven pattern, adding a warm, welcoming feel to kitchens and baths.
When you're ready to make a statement in your design, check out MSI's Inspiration page, and kick-start your creative process!