Inside Out: Designing Your Outdoor Spaces
April 18, 2016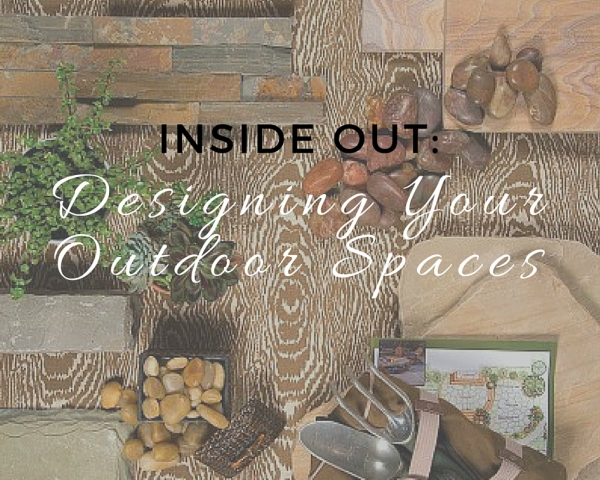 Love spending time outdoors? Creating an enjoyable outdoor living room is the perfect way to extend your living space and enjoy those summer days and nights. Spring is finally here and you're already visualizing a new backyard design scheme with room to relax, swim, grill, and entertain.
You've spent the winter thumbing through landscape design magazines and pinning your favorite ideas on Pinterest, now it's time to hone in on the top needs for your next outdoor project and get started on building the backyard oasis you've always wanted. What will you create?
Kick Back and Relax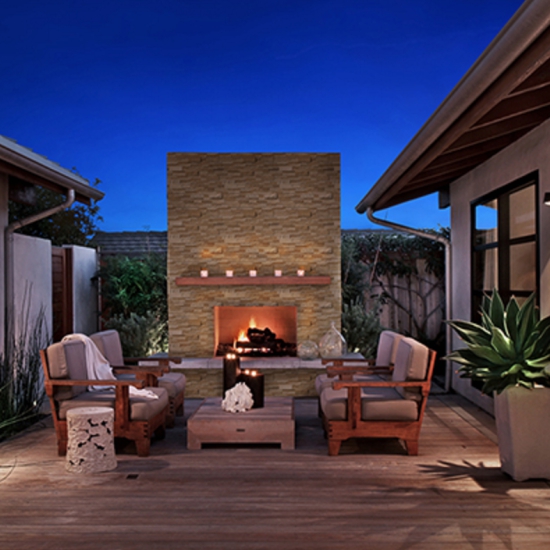 Featured: Casa Blend 3D Honed Stacked Stone
Plan and approach your exterior space as you would any other room in your house. Want a comfy place to relax? Arrange it like a living room. Position armchairs around a coffee table and build in a fireplace, if you can. Stacked natural stone ledger panels are a great option to consider when planning an outdoor space that needs character without being too fancy and touchable texture adds architectural details that won't disappoint.
The courtyard in the outdoor living room above is transformed into an open-air living space that serves as another room in the house due its design and functionality. The space is warm and inviting and ends up being the gathering place at every social event or the perfect place to unwind after a long day.
A well-designed swimming pool is the focal point of your backyard and can turn your space into the outdoor oasis of your dreams. Whether you prefer a lap pool for exercise, a serene place to read by, or a lively spot to entertain, a swimming pool will offer luxury living right at home.
There are many options to consider when deciding on your pool decking. Have you ever thought of natural stone pavers for the pool surround? Natural stone can be soft and classic or bold and vibrant depending on the stone you choose. Natural stone pavers are available in a variety of colors and provide a look that pairs beautifully with exterior landscapes. Pool copings and wall caps are also available to finish off the project with ease.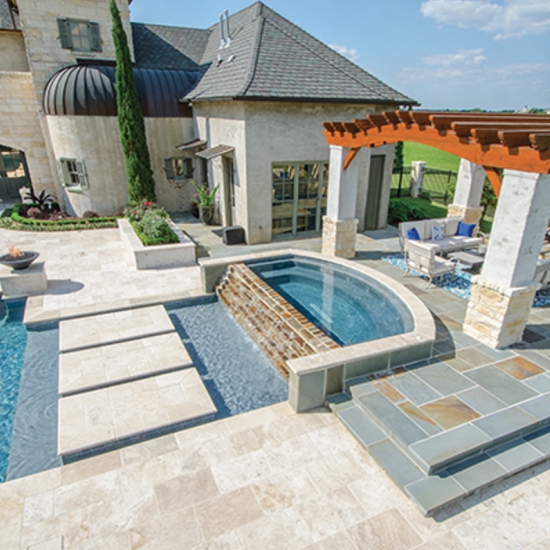 Featured: Tuscany Beige Tumbled Pavers and Pool Copings
Perhaps you want to try something new like porcelain pavers? Inciting an exterior flooring revolution, porcelain pavers offer a high-style and super durable design solution. This new generation of pavers opens up a world of possibilities in outdoor design.
Life of the Party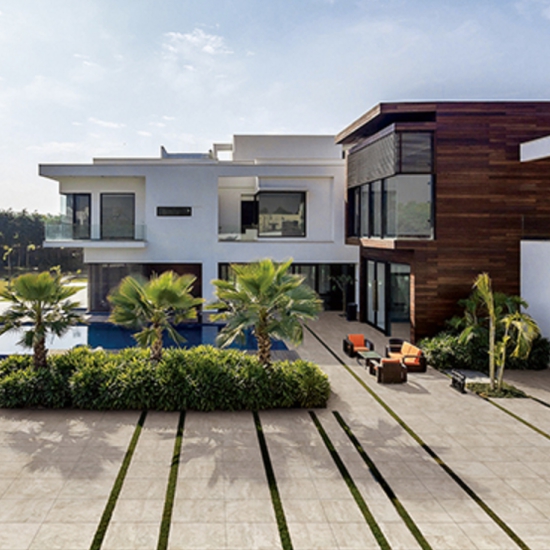 Featured: Tierra Ivory Porcelain Pavers
Many homeowners around the country will raise a glass in honor of spring! Whether it means the kickoff of cookouts or wine tasting soirées with friends, let's celebrate the arrival of warm weather with some fabulous outdoor kitchens!

Featured: Babylon Gray Quartz, Rustic Gold Stacked Stone, and Tuscany Beige Tumbled Pavers
As we take a leap from the inside out, entertaining is top of mind for many when planning dream spaces. Exposure to the elements can be harsh so it's best to choose materials that will stand the test of time. In the outdoor kitchen above, a balance of natural stone and quartz products make for a killer combination.
The quartz countertops, tumbled travertine pavers, and stacked stone pair well to give this laid-back space an open invitation for dining alfresco. The built-in grill is close enough to the hangout area to keep the chef feeling in the mix of the fun too.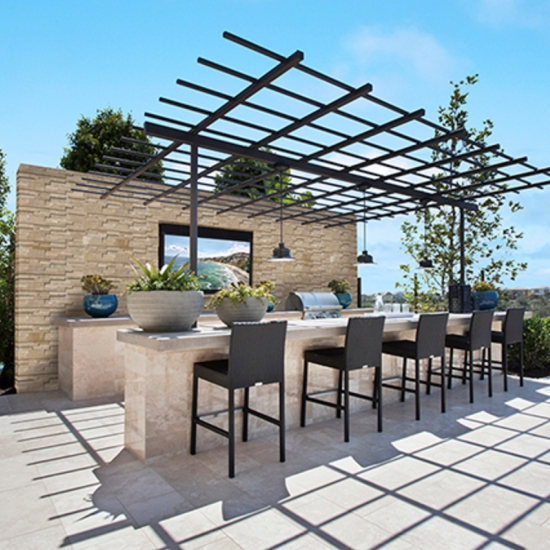 Featured: Durango Cream 3D Honed Stacked Stone
Belly up to this bar and grill for a guaranteed good time. The contemporary backyard space gives guests a gorgeous backdrop that boasts a big screen TV and dimensional accent wall. Adding an architectural detail like stacked stone will look beautiful and also create some separation from your neighbor.
Flame & Fire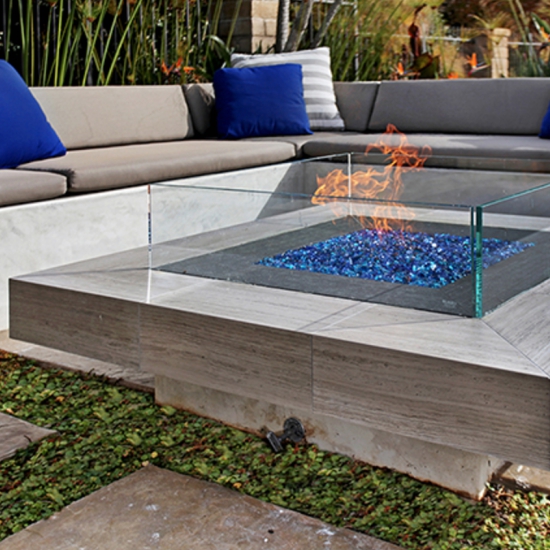 Featured: White Oak Marble and Tuscany Walnut Tumbled Pavers
Although spring is in the air, we all know that the chill of the night air can end a party early. Drawing friends and family together with its warm glow, adding the element of fire to your backyard will be the just-right feature you're looking for. Before committing to a plan, think about how you will use the fire feature.
Are you looking to create a backyard destination for gathering, or just a simple fire pit surrounded by Adirondack chairs? Another thing to consider is the architecture of your home. Your outdoor landscape should complement the style of your home with color, material, and overall shape. Take a look at a few of our favorite warm and cozy spots: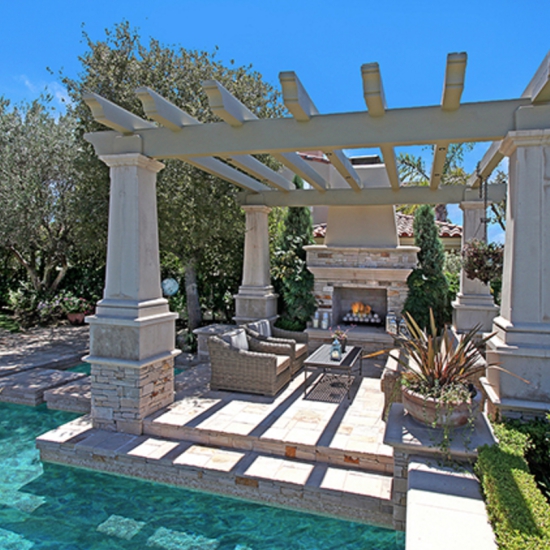 Featured: Tuscany Classic Micro Mosaic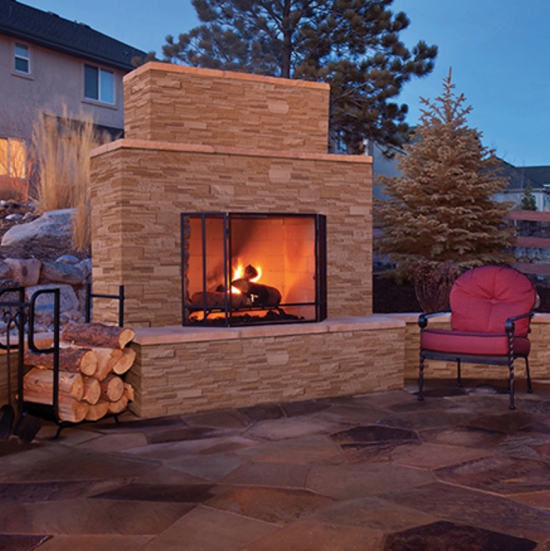 Featured: Casa Blend 3D Multi Finish
Whether you're planning a total overhaul or just a little sprucing up, the sky is the limit of potential projects that you can take on when comes to the exterior space of your home. A small accent wall water feature or grand outdoor kitchen can create an ambience that will give you a little slice of heaven right at home. For more inspiration, turn to our Outdoor Gallery and Stacked Stone Visualizer.