01/13/2017- M S International, Inc. Expands Q™ Premium Natural Quartz Palette with High-Demand Colors
01/13/2017
MSI, the leader in quartz surfacing, recently debuted a newly-expanded color palette to its Q™ Premium Natural Quartz countertop lineup, in conjunction with the brand's newly-releasedOne of the most versatile residential and commercial surfaces available, Q's high-performance line now offers more than 55 colors.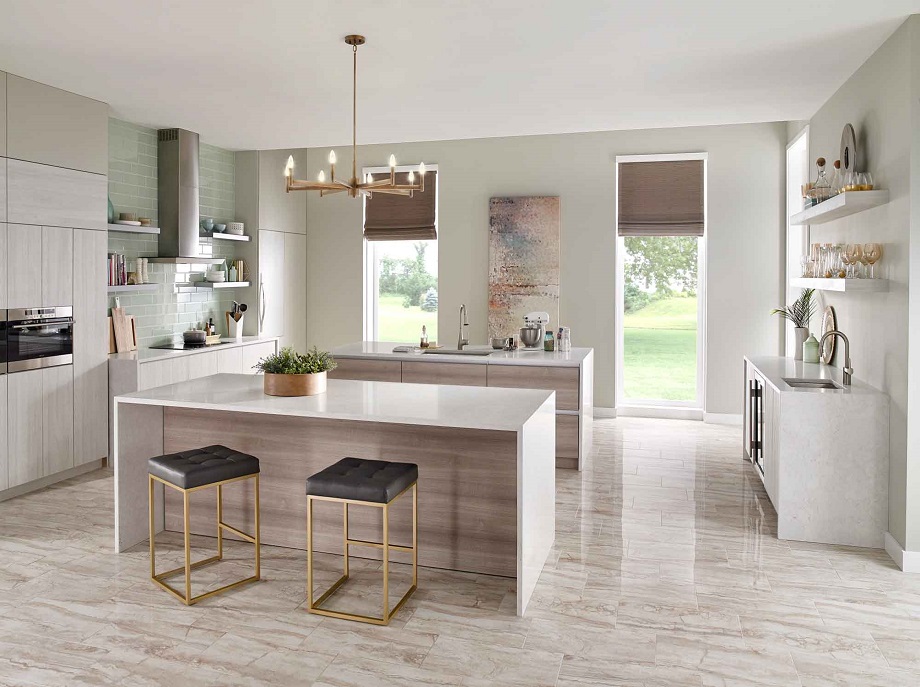 The industry's most innovative brand, Q Premium Natural Quartz, has introduced several new designs to satisfy designers and homeowners' extraordinary demand for contemporary white marble looks. "We just added nine of the top trending colors in the design world to make our latest collection the edgiest ever. Our new color palette includes highly popular white and gray hues—with some looks inspired by Italian marble," said Sam Kim, Vice President of MSI.
Q™now offers more than a dozen quartz countertops with white marble looks – each with realistic and state-of-the-art styling. From the rare and unexpected to the classics with a mod twist, these new designs feature a range of barely-there veining with subtle tones to dynamic striations with lots of movement. Statuary Classique and  Calacatta Verona  are among the newest and most popular white marble look-alikes to join the Q™ lineup.
On the brand's newly released video, Kim added, "We created our new Q video to help our trade partners make an informed decision on behalf of their clients and customers. From manufacturing and performance details to our strict quality assurance standards, the video hones in on why Q is North America's fastest growing quartz brand. Fabricators, builders, architects, and designers won't find a more trusted resource for all their commercial and home projects."
Q™ is low maintenance, stain-resistant, and nearly indestructible, and it's backed by MSI's best in class supply chain, a lifetime residential warranty, and competitive pricing. To see the video and learn more about Q Premium Natural Quartz, visit qfrommsi.com.
Founded in 1975, MSI is the leading supplier of Premium Surfaces including  flooring, countertops, decorative mosaics and wall tile, and hardscaping products. MSI's product offering includes an extensive selection of granite, marble, porcelain, ceramic, quartz, glass, quartzite, and other natural stone products. Headquartered in Orange, California, MSI also maintains distribution centers across the United States and Canada. MSI's product line is imported from over 36 different countries on six continents bringing the very best products to the North American Market. The company maintains an inventory of over 125 million square feet of material. For more information on MSI, visit:www.msisurfaces.com