04/21/2017 - M S International, Inc. Releases Eight New Q™ Premium Natural Quartz Colors
04/21/2017
M S International, Inc. (MSI) is proud to announce the release of eight new Q™ Premium Natural Quartz colors: Blanca Arabescato™, Blanca Statuarietto™, Calacatta Laza™, Carrara Caldia™, Carrara Marmi™, Midnight Majesty™, and two Concrete-Finish options: Babylon Gray Concrete-Finish™ and Midnight Majesty Concrete-Finish™.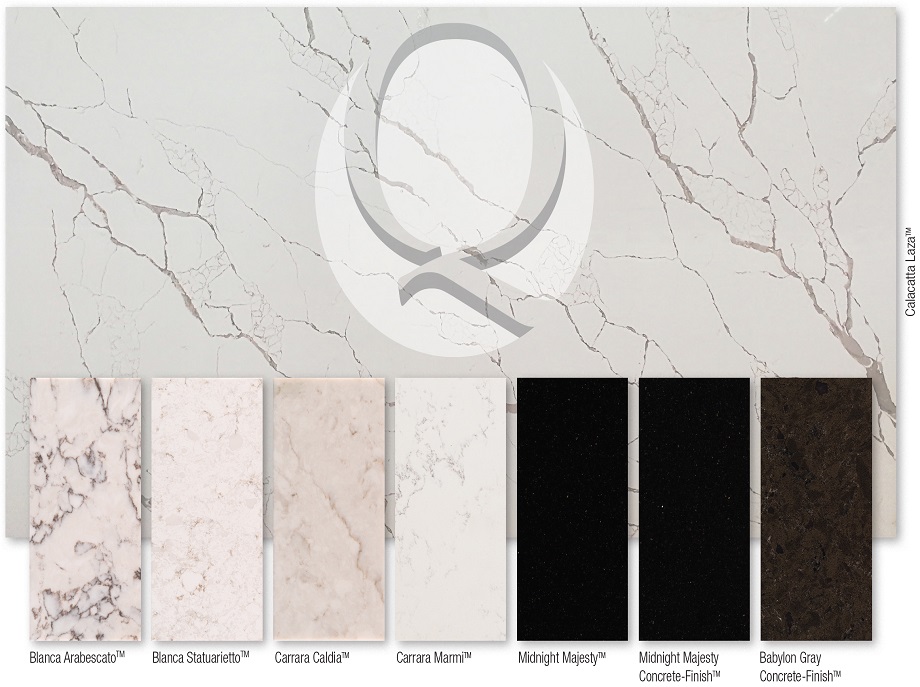 The continued popularity and growth of MSI's Q™ collection prompted this exciting new wave of styles, which are offered in both 2CM and 3CM slabs. From the whispery veining of Carrara MarmiTM — an unprecedented builder-friendly value option — to the elongated ones in Carrara Caldia™, and the dramatic movement in Calacatta Laza™, each of these selections take a style cue from luxurious white marble, right down to the realistic, authentically through-body veining. Equally impressive are MSI's new Concrete-Finish options. This stylish, trending finish features the look and feel of a concrete surface, while offering the same level of durability and maintenance-free nature of MSI's high-gloss polished finish.
Sam Kim, Vice President of MSI, comments, "Our Q™ Premium Natural Quartz collection is an industry trendsetter, but we never sit idle. The MSI Design Team is constantly tracking and predicting color preferences to keep our Q™ Premium Natural Quartz collection fresh." He adds, "With Quartz being the most popular kitchen countertop material, and trending up, there couldn't be a more exciting time to debut these next-generation Q™ colors."
Whether it's the heightened realism and elongation of veins in new Italian white marble looks, or cutting-edge, concrete-finish options, MSI's new QTM colors give designers, architects, and builders even more options for creating dreamlike spaces for their clients.
MSI's Q™ Premium Natural Quartz collection now includes over 60 non-porous, stain-resistant, highly durable, and low maintenance options. Additionally, this innovative quartz brand is competitively priced, backed by MSI's best in class supply chain, and comes with a lifetime residential warranty. What's more, the entire collection is Kosher certified.
Explore the entire Q™ Premium Natural Quartz line,  or watch this video  to learn more about North America's fastest growing quartz brand.
Founded in 1975, MSI is the leading supplier of premium surfaces in the U.S. - including flooring, countertops, decorative mosaics and wall tile, and hardscaping products. The company offers an extensive selection of granite, marble, porcelain, ceramic, quartz, glass, quartzite, among other styles. Headquartered in Orange, California, MSI has distribution centers across the United States and Canada and maintains over 125 million square feet of inventory, imported from over 36 different countries on six continents. For more information on MSI, visit : www.msisurfaces.com