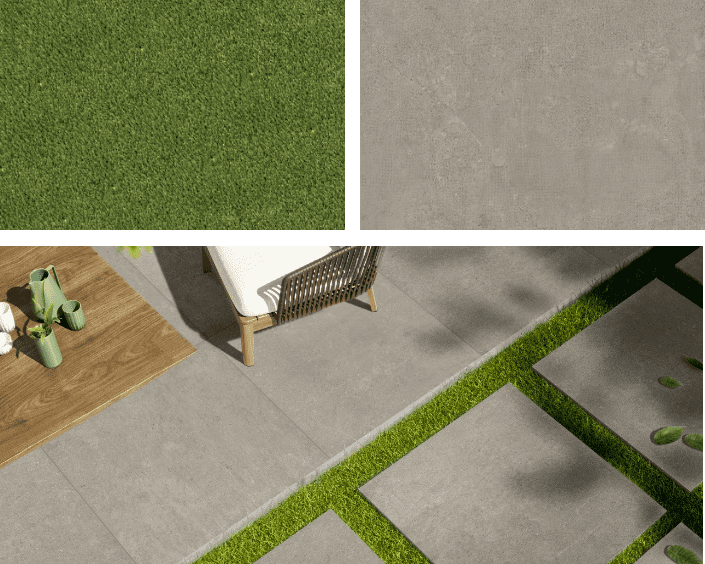 HAVE THE BEST YARD ON THE BLOCK
WITH ARTERRA® PORCELAIN PAVERS + EVERGRASS™ ARTIFICIAL TURF
Create the perfect outdoor living space with Arterra® Porcelain Pavers and Evergrass™ Artificial Turf. There are tons of different designs you can make with these two materials. What better way to add value to your residential or commercial space than by creating a beautiful outdoor living area?
PAVERS + TURF DESIGN IDEAS FOR OUTDOOR LIVING
Get inspired by our gallery of paver and turf applications and create something that's uniquely you. From pool areas to pathways – upgrade your outdoor living space with Arterra Porcelain Pavers and Evergrass Artificial Turf today.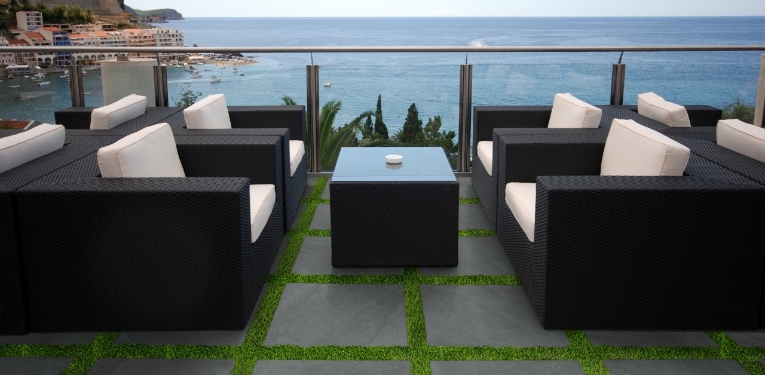 DO UP YOUR ROOFTOP TERRACE
Elevate rooftops and balconies with elegant, yet versatile paver and turf combinations by creating unique patterns for one-of-a-kind landscapes.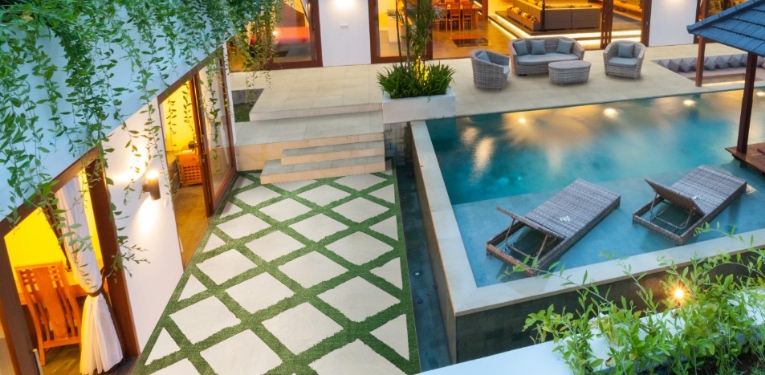 DESIGN A POOL PARADISE
Add a splash of refinement to your pool surrounds with distinct Arterra Porcelain Pavers and Evergrass Artificial Turf designs to help brighten up your backyards welcoming and playful environment.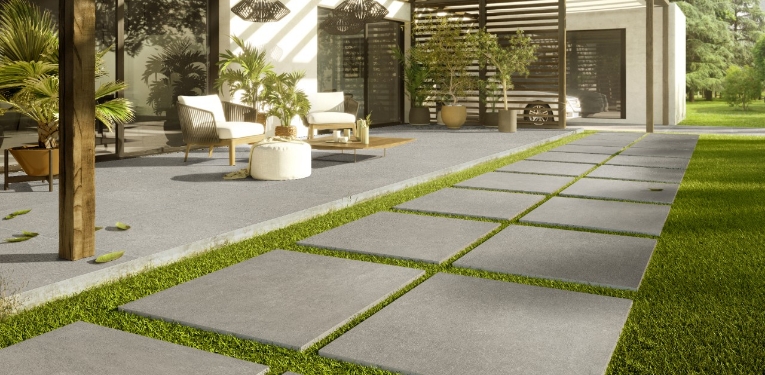 PAIR IT WITH A PATIO
Create paths throughout your property with unique paver and turf patterns to help beautify your walkways from the front to back. With worry-free surfaces, this complementing duo can withstand even the most rambunctious visitors.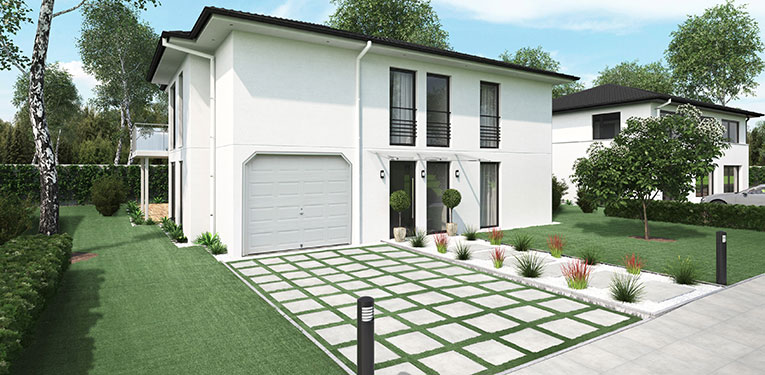 STEP UP THE CURB APPEAL
Say farewell to ruining any natural grass on the driveway from car tires and other traffic with the installation of EverGrass Artificial Turf + Arterra Porcelain Pavers. This duo provides the perfect solution for driveways, so the grass between each paver always remains perfectly green and lush. Impress your neighbors and boost curb appeal with this long-lasting attractive and durable combo, rain or shine.
WHY ARTERRA® PORCELAIN PAVERS + EVERGRASS™ ARTIFICIAL TURF WORKS
EASY-CARE & DURABLE
With everlasting protection, this delightful turf and paver duo provides worry-free surfaces to combat the test of time through even the most high traffic days. Plus, you never have to worry about your kids or guests bringing in any wanted dirt after a long day out on the terrace.
---
ALWAYS IN STYLE
There's nothing like the look of fresh green grass and bright hued stone to help keep your property always looking its best. Don't let wilted, dry grass and faded rocks ruin the aesthetic of your home. Install Arterra Porcelain Pavers and Evergrass Artificial Turf to keep your residential or commercial property looking fresh for years to come.
---
BUILT TO LAST
Steer clear from any re-seal applications, stains and fades with the built to last materials found in this artificial grass and porcelain pavers. Exceeding industry standards, this built-to-last duo adds peace of mind with its high slip-resistance whether the ground is dry or wet.
---
Environmentally Friendly Solution
This complementing duo offers an environmentally friendly solution for hardscapes with Arterra® Pavers being made from recycled materials, while EverGrass™ Turf features state-of-the-art draining capabilities. This turf is engineered with a high-drainage system that encourages urban runoff water to be soaked into the ground, instead of draining directly into the storm drain, which eventually makes its way to the ocean.
---
Safer Surface
With the EverGrass™ Turf + Arterra® Pavers combination, during heavy rain or frequent watering, the build-up of surface water on the pavers quickly diverts into the turf, to help resist any liquid pooling on the hard surfaces. Simultaneously, the water then drains from the turf through a storm drain or other spillage area.
STACK STONE + PAVER LOOKS
An array of stacked stone panels and matching pavers to deliver a seamless look.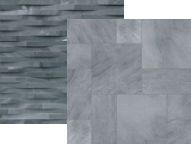 LUXURY VINYL + PAVER PAIRINGS
Rich wood hues carry warmth from the interior to the exterior.