The Perfect Luxury Vinyl Tile For Commercial Applications
September 10, 2021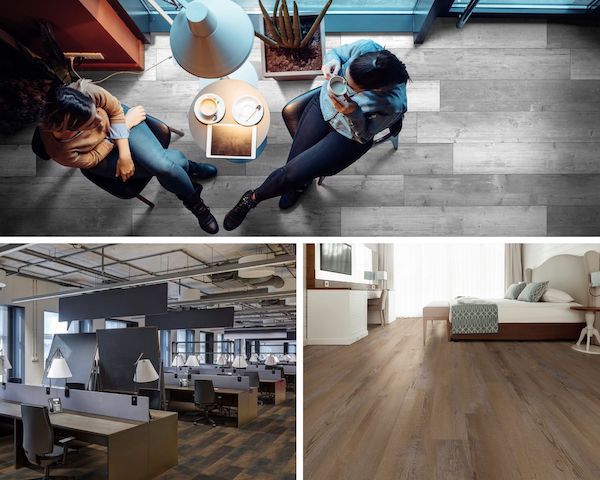 Designed to meet the demands of various commercial applications, luxury vinyl tile is just as popular for retail stores, hospitality, offices, and schools as it is for personal residences. If your LVT is 100% waterproof, then it can be installed anywhere on the property and will hold up to high-traffic needs. Not only is it low maintenance, which helps with cleaning costs, but also it is extremely durable, so you and your customers can enjoy a beautiful floor for many years. Read on to learn what LVT can do for your commercial space as well as which luxury vinyl products from MSI are perfect for the job.
Handles Heavy Foot Traffic
Some businesses see heavy foot traffic 24/7, so your floors need to withstand pretty serious wear and tear on the daily. Luxury vinyl tile flooring offers the warm look of real wood but with the durability needed to withstand the constant high traffic needs of places like hotels, restaurants, and stores. The urethane-based wear layer is what helps your planks resist scratches, stains, and dents, and LVT does it better than ceramic tile or real wood.
Creates an Inviting Look
With its range of realistic hardwood-inspired styles, LVT creates an attractive look that both your customers and employees will greatly appreciate. No matter what design style you have or dream about, you'll find a product to suit your commercial brand aesthetic, whether it's vintage, traditional, farmhouse, coastal, contemporary, or modern. You can choose from various colors like light blonde shades to rich mahogany hues to dark gray tones to complement your interior design plan.
Provides Added Comfort
One of the downsides to flooring types like hard tile is that they're also hard on the body. But, with luxury vinyl planks, they're comfortable because they provide more give than tile and typically include an attached backing for click-lock products. This is beneficial for the health and well being of your employees, especially in industries where workers, or customers waiting in long lines, have to stand for long periods of time.
Keeps Renovations on Schedule
Vinyl flooring will help you stay on schedule with minimal disruption to your business. One of the biggest benefits of luxury vinyl tile includes the easy installation methods. With rigid-core LVT, you'll have quick installs completed since the planks simply click together. This means that you can do it yourself no matter your flooring skill set or hire a professional. Your decision may depend on how large of an install is required as well as if your budget allows. Installing vinyl flooring also doesn't require any adhesives or costly tools. However, if you do decide on a glue-down LVT, then you'll want a professional to get the job done right because it involves more subfloor prep and precision when laying planks.
Comes in Cost-Effective Options
Whether you're picking new floors for new construction or an update, we know that flooring can be an expensive selection. However, LVT helps keep renovations in line with the budget with a wide range of cost-effective options. Longevity is one consideration to make when comparing flooring type costs, as carpet may initially be cheaper but needs to be replaced frequently.
Offers a Sanitary Workplace
While many luxury vinyl tile products are 100% waterproof, others are at least water resistant. Not only does this allow owners to remodel just about any area or level of the property, but also it allows for a sanitary flooring surface, which is key for restaurant, hospitality, and healthcare industries.
Speeds Up Cleaning Routines
You and your cleaning crew will love the easy vinyl flooring care and maintenance. Unlike carpet that needs to be shampooed and air dried or tile that becomes super slippery when wet, LVT just needs a dry sweep with a broom or vacuum with no beater bar on or a damp mop for a deeper clean. That's it!
Commercial LVT from MSI
MSI offers three commercial-rated LVT products perfect for remodeling your school, healthcare facility, retail store, hospitality, food service, or commercial office space. Let's take a deeper dive into the details below.
The Andover Series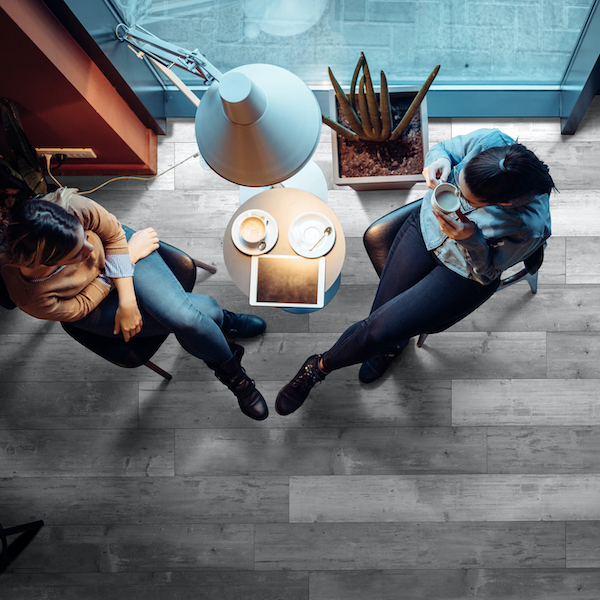 Offering modern convenience and luxury style, the Andover Series from MSI's Everlife Luxury Vinyl Tile Collection features 7x48" planks with an easy-install locking system for quick remodeling projects. The 100% waterproof series comes in a wide range of inspiring styles, including transitional, coastal, and contemporary. These planks are perfect for various commercial applications thanks to its super durable 20-mil commercial-grade wear layer. The painted beveled edges add more dimension, while the pre-attached backing creates quiet comfort underfoot. They're backed by 10-year limited commercial and 15-year limited light commercial warranties.
The Prescott Series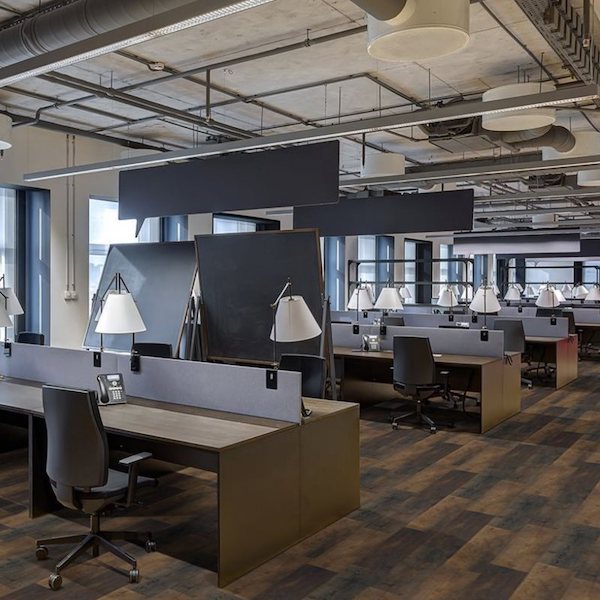 With its subtle hues like creams, grays, and browns, the Prescott Series from MSI's Everlife Luxury Vinyl Tile Collection comes in the largest color selection range for commercial installations. The 100% waterproof LVT also comes in 7x48" planks with a 20-mil wear layer for extra protection against stains, scratches, and dents. Because of its easy-install locking system and attached pad, you'll be able to quickly transform your property with a simple yet quick installation. You'll also feel at ease with a 15-year limited commercial warranty and 20-year limited light commercial warranty.
The Wilmont Series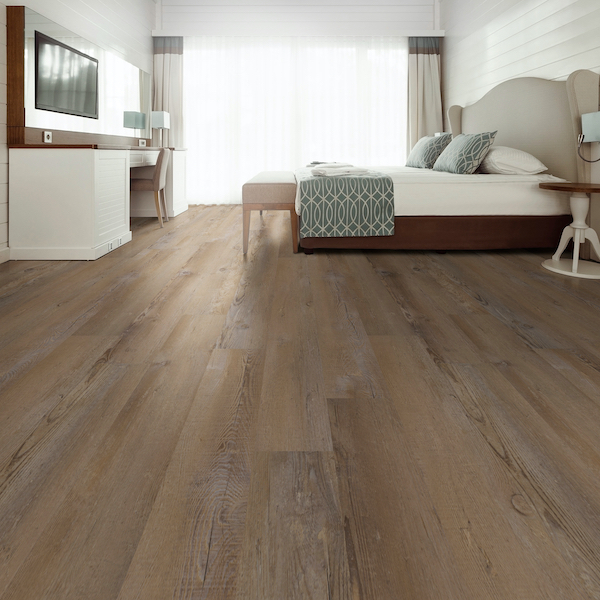 With a variety of genuine hardwood-inspired styles to choose from, the Wilmont Series from MSI's DryBack Line is a flexible glue-down LVT with a different installation process. Since the product is glued directly down to the wood or concrete subfloor, you'll want to start with a smooth, level surface before gluing any planks to ensure a seamless installation. The 7x48" planks come with a 20-mil wear layer for durability and are best suited for large spaces. They also come with a 5-year commercial warranty and 10-year light commercial warranty.
Choose Affordable LVT
We know that remodeling can be costly, but having beautiful floors doesn't have to break the budget. When compared to the cost and upkeep for real hardwood or the high installation cost for ceramic or porcelain tile, luxury vinyl flooring is an affordable option that will give you the look of real wood or natural stone without the worry of maintenance.
If you still need more information about LVT before making a decision, then we've got you covered with the pros and cons of luxury vinyl tile. At MSI, we offer a wide range of colors and styles to choose from to perfectly suit your commercial needs.
More on Commercial Flooring
Top Reasons Porcelain Tile Is The Best For Commercial Use
The Commercial Side Of Porcelain Tile
Hotel Flooring 101 — Stylish Commercial Flooring That's Comfortable And Durable