Is Luxury Vinyl Tile Better Than Laminate?
July 17, 2020
More homeowners are adding wood-look flooring to beautify their abodes, but with so many realistic options available, you may need some direction on whether you should feature lifelike luxury vinyl tile (LVT) or laminate. Both popular picks are durable, more affordable than real wood, and easy to install; however, they do come with some crucial differences. If you're considering either one of these flooring choices for your next project, then you'll want to learn about the pros and cons of LVT versus laminate. Use this guide to help you determine which features are most important for your home and lifestyle needs.
Luxury Vinyl Tile Pros
Luxury vinyl tile is a man-made product that provides the look and feel of natural materials like wood, stone, and so much more at a more affordable price than the real thing. Whether it's luxury vinyl planks or square tiles, they typically are constructed of four layers that include a top wear layer that protects against scratches and dents, a beautiful print layer that creates the look of the LVT, a solid vinyl core for durability and moisture resistance, and a backing layer for added comfort and greater ease on joints and feet. The technology for LVT has become so good that people often mistake luxury vinyl plank flooring for laminate.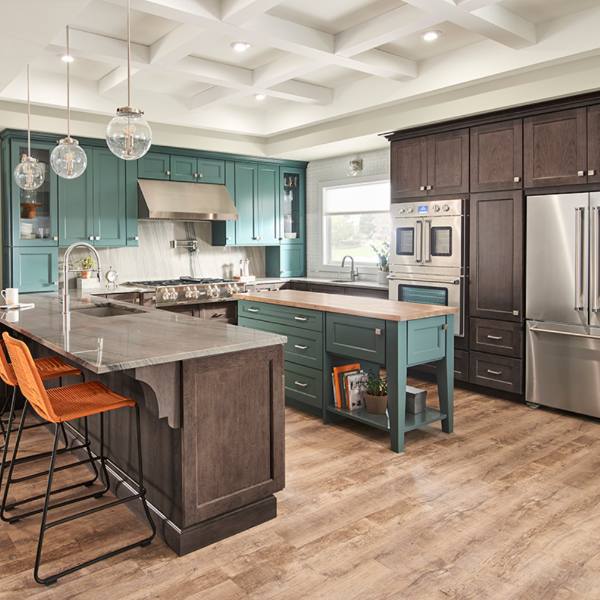 When you choose LVT, you'll enjoy more luxury vinyl tile benefits than with laminate. One of the biggest pluses to vinyl is that many options are either moisture-resistant or 100% fully waterproof. Unlike laminate that isn't waterproof and needs additional subfloor protection, LVT can be installed in water-prone areas like kitchens, bathrooms, and basements. The click-lock tiles are very easy to install and can even be completed by DIY-ers, which will save you even more money on installation costs. The virtually no-maintenance flooring is easy to care for by daily sweeping or vacuuming with the beater brush turned off or occasional damp mopping and does not require any special cleaning products unlike with its natural counterparts. And, for the eco-conscious consumers, there are environmentally friendly options like the ones with GreenGuard certification.
Laminate Flooring Pros
Laminate flooring is also a man-made product, and, in fact, it's actually the first hardwood alternative that's been on the market since the 1970s. The cost-effective option provides the look of real wood without the high price and maintenance, even more so over vinyl, and it even comes with realistic surface details that can mimic the looks of hand-scraped, embossed, or distressed hardwoods. Laminate planks are also typically comprised of four layers, but they don't provide any give or movement unlike vinyl. The wear layer provides protection from scratches to stains, the print layer creates the wood look, the base layer is usually made from either high-density fiberboard (HDF) or medium-density fiberboard (MDF), and the backing layer serves as the backbone of the planks.
Similar to luxury vinyl, laminate also features a click-lock installation system for easy installation and is one of the biggest draws for selecting this floating flooring option. It's easy to keep clean by sweeping, vacuuming, or mopping without ever needing to wax the floors, and the durable wear layer makes it a good choice for those with messy kids and pets or high traffic needs. It can also be installed on top of radiant heating systems for warmer floors during those cold months.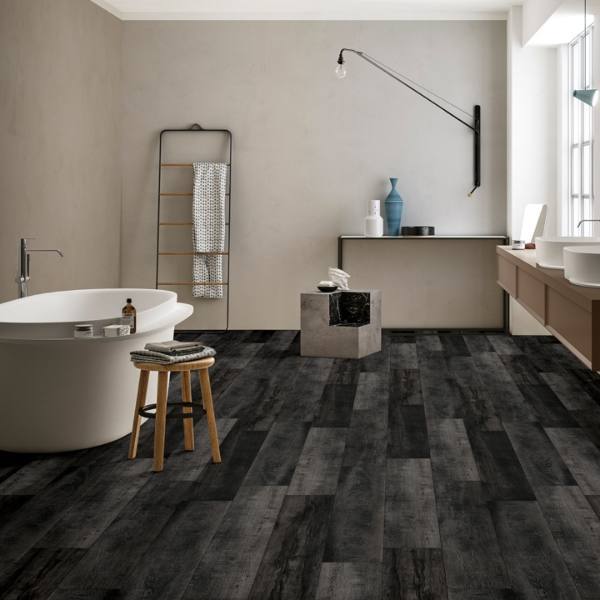 Luxury Vinyl Tile Cons
One of the downsides to having luxury vinyl flooring that's also waterproof can be the price. Even though some may be cheaper than real hardwood, the high-end luxury vinyl will cost a little more than high-end laminate. However, the added cost usually means a waterproof core and thicker wear layer for more versatility and durability. If you do opt for a lower-priced vinyl, then you'll likely get lower-quality LVT as well. It just won't hold up well to busy kids, rambunctious pets, or constant high traffic use.
Additionally, vinyl comes with several installation method options, from peel and stick vinyl to glue-down to floating to loose lay, and if your large room, staircase, or budget requires glue-down vinyl, then know that it will be more difficult to install and may require a professional installer, which can add to the overall cost.
Even though vinyl flooring care and maintenance is easier, some homeowners will always prefer the look and feel of real hardwood to any wood-look style. Some say that vinyl feels quite different to the touch, so that's something to consider whether that's a personal preference or for possible resale later on.
Laminate Flooring Cons
Because laminate isn't as water-resistant as vinyl, it's more limited in terms of where you can place it. Since bathrooms or basements are more prone to major water spills, leaks, or even flooding, you'll want to skip laminate in these areas. That's because it only offers some water protection from top to bottom instead of bottom to top. So, a pool of water sitting on your laminate is likely going to damage them. However, a vapor barrier and underlayment is always best to add if there are concerns about moisture for your subfloor.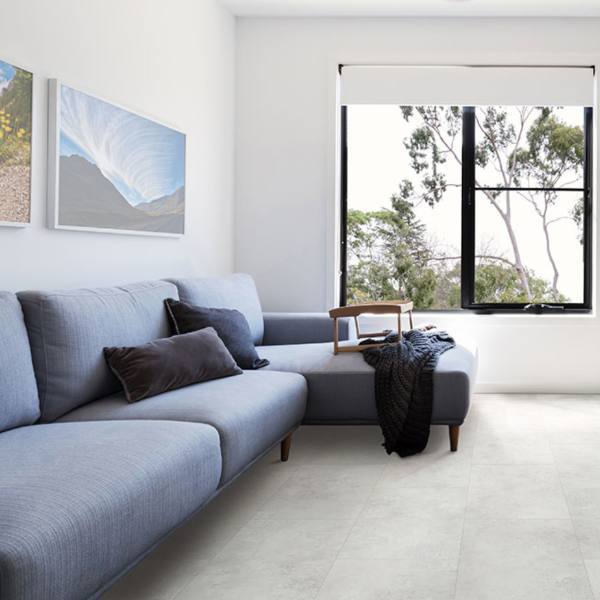 Proper installation is important since a poor one could create a hollow sound when walking on your laminate floors. Even though you should have detailed instructions, you may want to consider a professional installer to finish the job. Yes, that will add to the cost, but you want floors to be quiet underfoot, and adding a quality underlayment will also help with sound absorption.
Which One Will You Choose?
Both LVT and laminate offer beautiful flooring options that are more affordable than adding real hardwood to your home. While they're both tough, luxury vinyl holds the upper hand with its low maintenance, extreme durability, and waterproof- and moisture-resistant benefits. Not only does this allow you to add the vinyl tile or planks in more rooms, but it also allows you to install it on more floors like in moisture-prone basements. Now, you can choose your brand-new LVT floors with confidence!
More on Luxury Vinyl Tile
What Is the Difference Between LVP And Luxury Vinyl Tile Flooring?
Does Luxury Vinyl Tile Look Cheap?
Signature Wood Look Luxury Vinyl Flooring Without the Worry
Is Luxury Vinyl Flooring in The Bathroom A Good Idea?