Popular
Luxurious Rooms Featuring White Quartz, Marble And Stacked Stone
August 15, 2016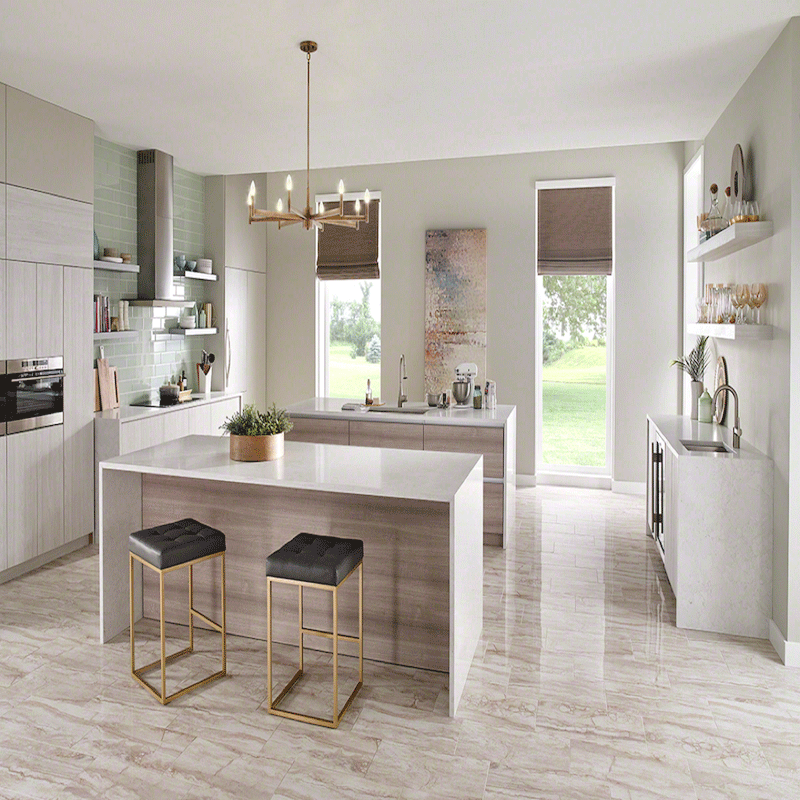 Featured: Marbella White Quartz and Pietra Bernini Bianco 12x24
Once upon a time white color schemes fell out of Main Street favor. But the cotton-hued neutral is back in a big way. And where would we be without this bright, clean, and fresh ivory classic? From the crisp white palette of a modern living space to the milky-hued interiors of a farmhouse, we love how this 50-shade staple runs hot and cold, old school and on-trend, relaxed and sophisticated to give us the ideal backdrop for any design. And we're not the only ones clamoring for white…Benjamin Moore and Sherwin-Williams selected white shades (Simply White and Alabaster, respectively) for their 2016 picks.
Nothing says bright, fresh, and clean like shades on the vanilla spectrum – and no color is as impeccable at making cozy quarters feel airy, lightening a dim room, playing up or down features, and adding breathtaking contrast.
To make decorating with the fairest shade in the swatch book a little easier, we asked our in-house experts and trade partners to share a few of their savviest tips.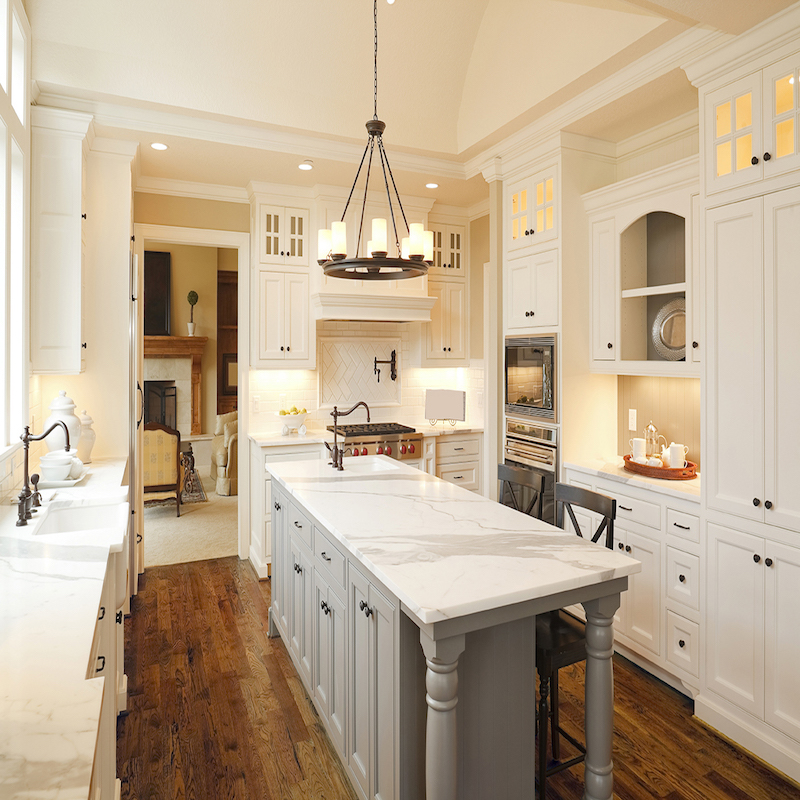 Featured: Calacatta Gold Marble and Highland Park Whisper White 3x6
#1 Play Up Texture in Neutral Territory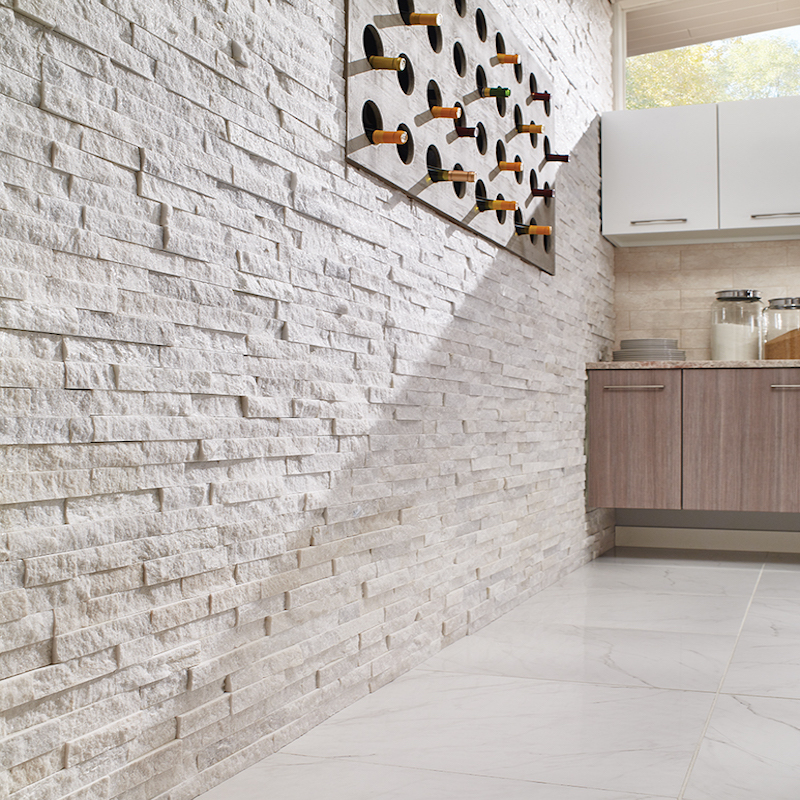 Featured: Arctic White Splitface Stacked Stone and Aria Bianco 24x24
The monochromatic white-on-white kitchen – the very one setting the design world abuzz – takes good design to the next level by enhancing a room's best qualities, and creating a relaxed, Zen vibe. With its fresh and clean appearance, white is a natural in the kitchen, but take the ethereal look too far and your space will have a clinical, one-note look. The fix? Mix and mingle textures, patterns, and styles to inject contrast, warmth, and dimension. (Monochrome rooms beg for experimentation!)
Our favorite way to add dramatic contrast to a white kitchen is to marry the old with the new. Pair marble countertops—the epitome of chic right now—with painted white cabinets, a rustic farm table, stainless steel appliances, and a textured backsplash. Underfoot, Travertine flooring in Roman Veincut completes the look.
#2 Focus on Quality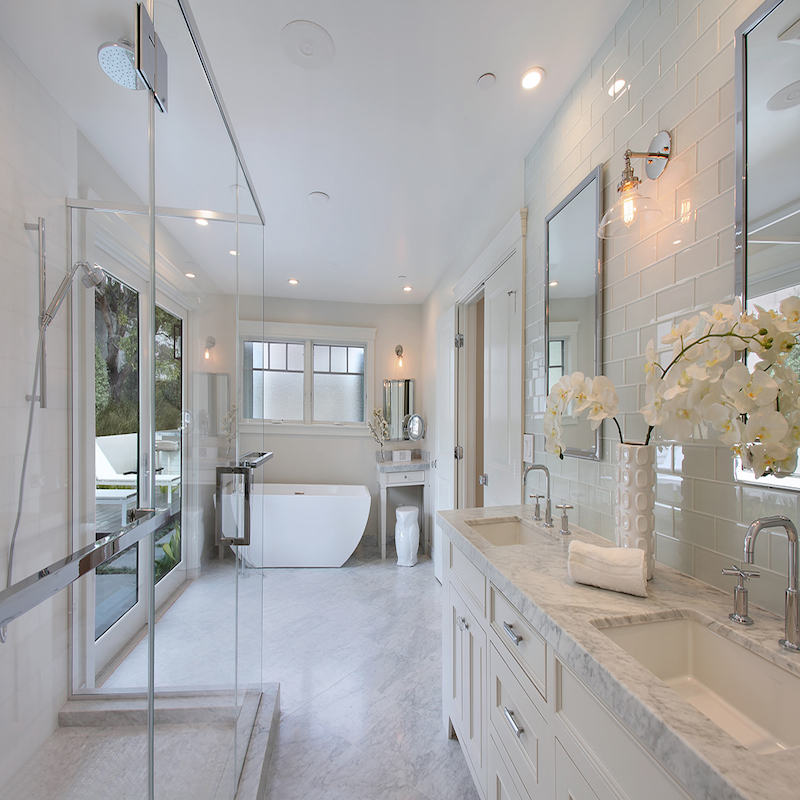 Featured: Carrara White Marble
Since pale shades reflect more light than saturated colors, furnishings and raw materials like white marble wall tile, granite-top kitchen islands, hardware and lighting — jump to the foreground. So if you're dreaming of a white chef's kitchen, opt for quality materials. High-gloss surfaces like polished porcelain tile and stainless steel converge with industrial-chic elements (hello metal barstools) to give kitchens and bathrooms an upscale edge.