08/16/2017 - M S International, Inc. Releases Exciting New Product Line, STIK Wall Tile™
08/16/2017
M S International Inc. ("MSI"), North America's Leading Supplier of Premium Surfacing Products, recently released an exciting new product line, STIK Wall Tile™.
The edge of innovative, STIK Wall Tile™ has a convenient peel and stick backing that allows homeowners to achieve high-style looks quickly and easily — no grout or mortar needed. Complemented by a video that covers the installation process step-by-step, STIK Wall-Tile™ is nothing short of a DIYer's dream.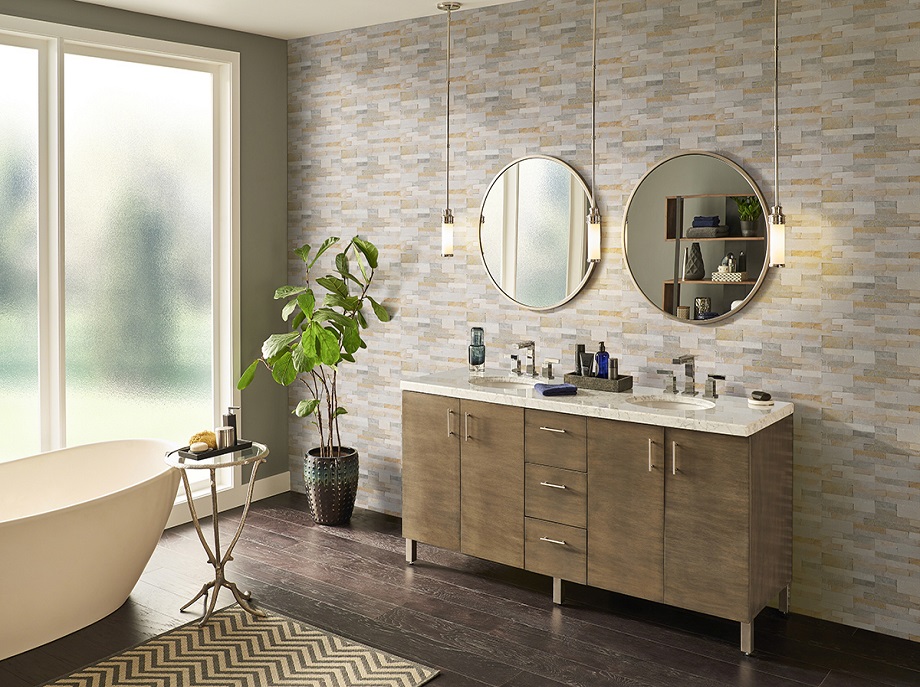 Not only convenient, MSI's STIK line is also on-trend, reflecting some of today's most popular looks in a variety of authentic stones — including marble, slate, travertine, and quartzite. Offered in honed and splitface finishes, with hues ranging from gorgeous whites and grays to warm golds and sleek charcoal, STIK Wall Tile™ works with a palette of color schemes and decors. From trendy white marble and 3D styles to mini stacked stone and more, these gorgeous mosaics coordinate with a wide range of other natural stone, porcelain, and ceramic tiles in MSI's inventory.
STIK is an ideal choice for customers wanting to refresh a kitchen backsplash, create a bedroom accent wall, or add unexpected detail to bookshelf insets or nooks — quickly, easily, and affordably. With its heavy-duty adhesive, STIK Wall Tile™ stands the test of time even in the busiest homes and light commercial environments.
Emily Holle, MSI's Director of Trend and Design comments on this unrivaled collection, "Unlike many peel and stick options on the market, our backsplash tile collection is designed with natural stones. In just a few hours, you can achieve a polished designer look at a fraction of the cost. With styles for every aesthetic, our ultra-chic STIK Wall-Tile™ lineup reflects MSI's commitment to affordable luxury."
The collection is available in several exciting options: Arctic Storm Interlocking 3D, Calacatta Cressa Interlocking 3D, Emperador Blend Splitface, Emperador Splitface, Gold Rush Veneer, Golden Honey Veneer, Midnight Ash Veneer, Roman Beige Splitface, White Quarry Interlocking 3D, and Winter Oak Veneer.
Explore the STIK Wall Tile™ Collection and view the installation video. Then look at these inspiring STIK WallTile™ applications and learn more about this trendsetting line.
Founded in 1975, MSI is the leading supplier of Premium Surfaces including flooring, countertops, decorative mosaics and wall tile, and hardscaping products. MSI's product offering includes an extensive selection of granite, marble, porcelain, ceramic, quartz, glass, quartzite, and other natural stone products. Headquartered in Orange, California, MSI also maintains distribution centers across the United States and Canada. MSI's product line is imported from over 36 different countries on six continents bringing the very best products to the North American Market. The company maintains an inventory of over 125 million square feet of material.
For more information on MSI, visit: www.msisurfaces.com.