10/05/2021 - MSI Unveils 100% Worry-Free, Waterproof Flooring With the Latest Everlife Collection
10/05/2021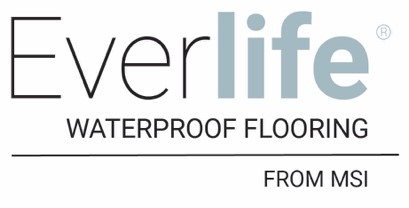 ORANGE, CALIF. (PRWEB) OCTOBER 05, 2021
M S International, Inc. (MSI), the leading supplier of flooring, countertops, wall tile, and hardscaping products in North America, is excited to announce the expansion of the Everlife® Brand. MSI first brought you a worry-free lifestyle with Everlife® LVT. Through LVT's great success, MSI is extending selections to include the newest, on-trend SmithcliffsTM Waterproof Laminate, WoodhillsTM Waterproof Wood, and porcelain & ceramic tile products to round out the depth of assortment offered through this unique collection.
With over 45 years of industry experience and proprietary innovations to provide unparalleled durability and waterproof performance, MSI delivers confidence, backed by lifetime residential and comprehensive commercial warranties for added peace of mind. Everlife® flooring collections are designed to be maintenance-free, never needing any resealing or conditioning for the life of the product.
The Everlife® Collection encompasses an exclusive portfolio of 100% worry-free and waterproof products in a wide variety of colors, including the following product categories:
Luxury Vinyl Tile (LVT)
Durable and easy to maintain, Rigid Core LVT offers an ideal thickness for hassle-free installation over existing flooring. No acclimation is needed – buy today, install today. Stone core construction delivers extreme dent resistance and stability, so your floors stay beautiful longer. MSI proprietary CrystaLuxTM technology offers industry leading durability against wear & tear, fading, scuffing, as well as lifetime warranty against dent on our flagship PrescottTM series. Everlife® LVT also offers an industry-first, indoor-LVT-to-outdoor-Arterra®-Paver coordination, to achieve a seamless indoor-outdoor look. Furthermore, Everlife® LVT delivers another industry-first innovation with exclusive, PietraTechTM finish on its TrecentoTM tile designs that offer authentic looks & feel of stone never before seen in the industry. In addition to the rigid core offerings, Everlife® LVT features a comprehensive line of dryback flooring, with mass production capabilities for jobs of any size.
Smithcliffs Waterproof Laminate
This next-generation waterproof laminate features patent-pending, DryLuxeTM waterproof technology from top to bottom. A rarity in the laminate industry, SmithcliffsTM comes with extra-thick 2MM premium acoustic & comfort pad attached, saving time and money for the installers and homeowners alike.
Woodhills Waterproof Wood
Authentic, high-end wood flooring that is hand-selected and crafted, combining artisan craftsmanship with MSI-proprietary engineering. WoodhillsTM features MSI exclusive DryLuxeTM technology, with stone core and pre-attached acoustic & comfort pad, delivering a luxury wood that offers the same convenience & appeal of rigid core LVT. Installing and maintaining a real wood floor has never been so easy and worry-free.
Waterproof Porcelain & Ceramic Tile
Versatile and elegant, Tile flooring and wall surfaces offer the ultimate durability for today's demanding applications. With MSI's tiles, seamless integration of the indoors & outdoors are possible, with products that are designed to be used on any surface—indoor, outdoor, and wall—wet or dry. MSI tiles also feature select SKUs with ZeroSlipTM technology—an engineering feat that offers exceptional slip resistance for peace & safety. Now featuring comprehensive commercial warranties, along with lifetime residential warranty on Porcelain, as well as 25 year residential warranty on Ceramic, MSI Tiles offer irresistible combination of ultimate versatility, designer-select looks, and worry-free value proposition.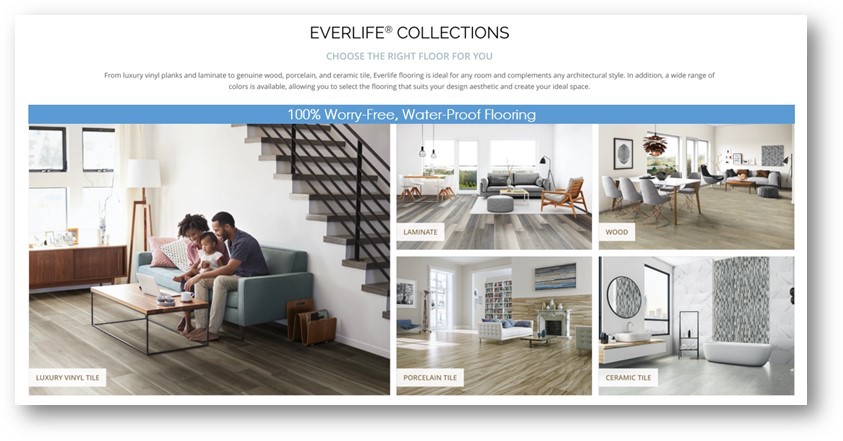 "MSI continues to offer the latest innovations that make Everlife® Worry-proof flooring possible," said Sam Kim, Senior Vice President, MSI. "Providing customers with 100% worry-proof solutions with the expansion of our Everlife® product offerings is a gamechanger—in particular, elevating laminate to the levels of rigid core in both performance and sales potential, as well as offering luxury wood in an easy-install format as well as 100% waterproof through our innovations in the DryLuxeTM technology."
To learn more about the Everlife Collection and MSI's entire product assortment, visit https://www.msisurfaces.com/
About M S International, Inc. (MSI)
Founded in 1975, MSI is a leading supplier of flooring, countertop, wall tile, and hardscaping products in North America. Headquartered in Orange, California, MSI maintains over 30 state-of-the-art showrooms and distribution centers across the U.S. and Canada. MSI's product line includes an extensive offering of quartz, porcelain, ceramic, LVT, natural stone, and glass products imported from over 37 countries on six continents.