11/30/2015 - M S International announces it will be exhibiting at the Kbis Show
11/30/2015
M S International is thrilled to announce that it will be exhibiting at the Kitchen and Bath Industry Show held January 19-21st at the Las Vegas Convention Center in Las Vegas, Nevada, booth #S4027. MSI is excited to be part of a show that is known for assembling the best and brightest in the industry showcasing products and materials that will adorn kitchen and baths around the world. KBIS is a perfect place for MSI to showcase its most innovative products that are trend forward and one of a kind in the marketplace.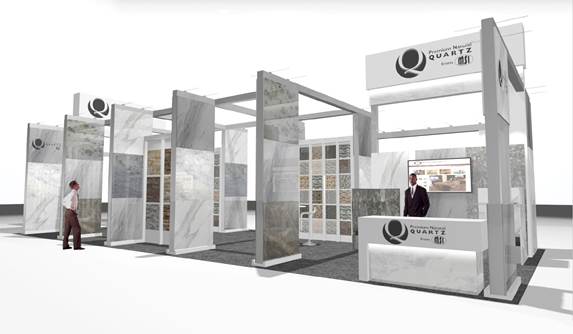 MSI will exhibit a new custom designed booth showcasing several of its brands and many of the specialty products MSI is known for at affordable prices.STILE™ Thin Porcelain MSI's latest brand will be introduced at KBIS this year. STILE™ transforms surfaces with high-style, lightweight, and ultra-thin porcelain panels offering the beauty of natural stone with the brilliance of porcelain.Q Premium Natural™Quartz will also display several new colors that have recently been added to the line. Inspired by home interior trends from around the world, MSI's design team has developed 11 new unique colors that are sure to impress. Be sure to also take notice of the robust mosaic tile line and stacked natural stone ledger panels that are among one of the most popular looks in the industry.
Raj Shah, Co-President of M S International, on MSI's presence at the show, "The economic rebound, significant product innovation, a dynamic trend and design environment and large technological breakthroughs have caused unprecedented growth in the kitchen and bath industry. In order to participate in this growth, it has become imperative for MSI to exhibit its products and innovative sales tools at KBIS in order to cultivate and build partnerships with leading kitchen and bath professionals. Ultimately, MSI is looking to make surfacing products more affordable and accessible for the end consumer and KBIS is the perfect venue to accelerate this goal."
MSI invites your coverage as they head into KBIS 2016 and hope to see you all at the show for a grand tour of the newly designed booth. Booth # S4027.
About M S International, Inc. Founded in 1975, MSI is a leading nationwide distributor of flooring,countertop decorative mosaics and wall tile, and hardscaping products. Headquartered in Orange, California, MSI also maintains distribution centers across the United States and Canada. MSI's product line includes natural stone, porcelain, ceramic, glass and quartz products imported from over 36 countries on six continents. The company maintains an inventory of over 125 million square feet. For more information, visit /.