02/15/2017 - M S International, Inc. Updates & Expands Bay Area Showroom and Distribution Capabilities
02/15/2017
M S International Inc. ("MSI"), North America's LeadingSupplier of Premium Surfacing Products, recently updated and expanded its Bay Area Showroom and Distribution Center.
MSI has doubled the size of its Bay Area Showroom and Distribution Center. Today, it boasts more than 500 surfacing products displayed and inventoried throughout 5,600 sq. ft. of stunning showroom space and approximately 160,000 sq. ft . of total warehousing space. Impeccably styled, new displays and creative installs allow consumers to get hands-on with the products and easily envision them in their homes.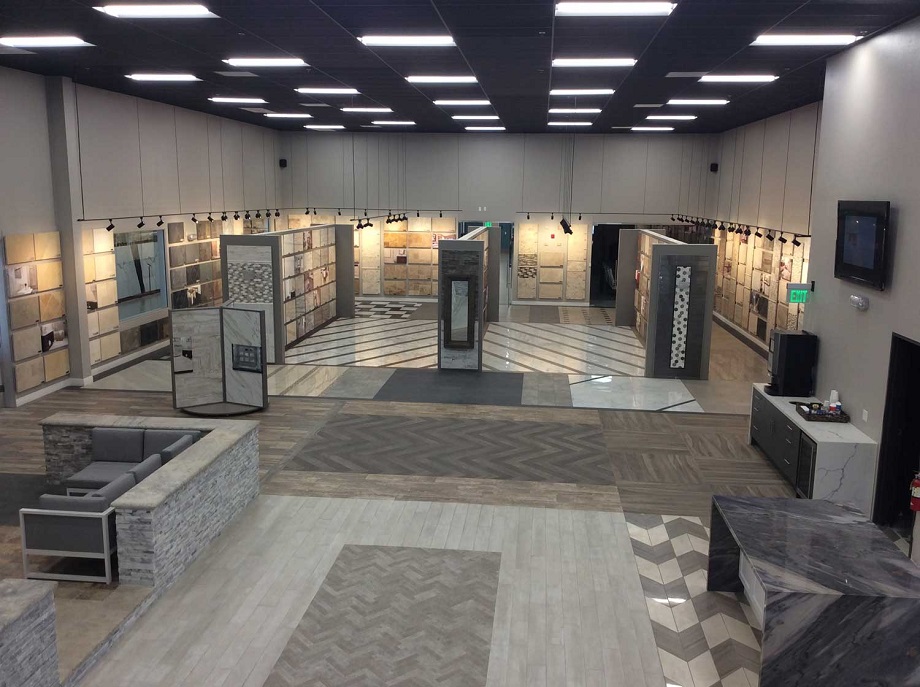 New decorative mosaic fixtures further enhance the shopping experience, making it easier than ever to browse over 300 distinctive tiles. An additional 1,500 sq. ft. Q™ Premium Natural Quartz Slab Gallery was also installed — showcasing North America's fastest growing line of quartz countertops, including several on-trend white and gray colors.
Underscoring MSI's commitment to customer service, the redesigned showroom includes new seating areas and work tables, as well as hosting space for seminars and various industry events. A spacious conference room provides a comfortable space for designers, fabricators, and staff to meet with customers.
In addition to the showroom, the warehouse received substantial upgrades. Raj Shah, President of MSI explains, "We doubled the warehouse size, thereby significantly increasing our overall stocking capacity for all of our product lines including flooring, countertops and hardscaping. In addition, we installed four more cranes—bringing the total number to eight—to improve operational functionality and fill orders more efficiently."
Reflecting on the numerous enhancements, Shah adds, "Our Bay Area Showroom provides everyone from builders to homeowners with a state-of-the-art facility in which to explore our vast selection of traditional, contemporary, and trend-forward surfacing products. We look forward to serving the local market for years to come."
An open house is scheduled for March 16, 2017. The public is encouraged to stop by and learn about all the exciting new products MSI has to offer. For an immediate introduction to the updated facility, they're invited to take a Google Tour . These advanced, 360-degree interactive virtual tours make it possible for consumers to browse the tile showroom, slab warehouse, Q™ Premium Natural Quartz Slab Gallery, and more — right from the comfort of their homes.
The Bay Area Showroom is located at:
22300-B Hathaway Avenue
Hayward, CA 94541
Phone: 510-921-5400
Founded in 1975, MSI is the leading supplier of Premium Surfaces including flooring, countertops, decorative mosaics and wall tile, and hardscaping products. MSI's product offering includes an extensive selection of granite, marble, porcelain, ceramic, quartz, glass, quartzite, and other natural stone products. Headquartered in Orange, California, MSI also maintains distribution centers across the United States and Canada. MSI's product line is imported from over 36 different countries on six continents bringing the very best products to the North American Market. The company maintains an inventory of over 125 million square feet of material.
For more information on MSI, visit: www.msisurfaces.com.