What Is The Best Countertop For An Outdoor Kitchen?
July 15, 2022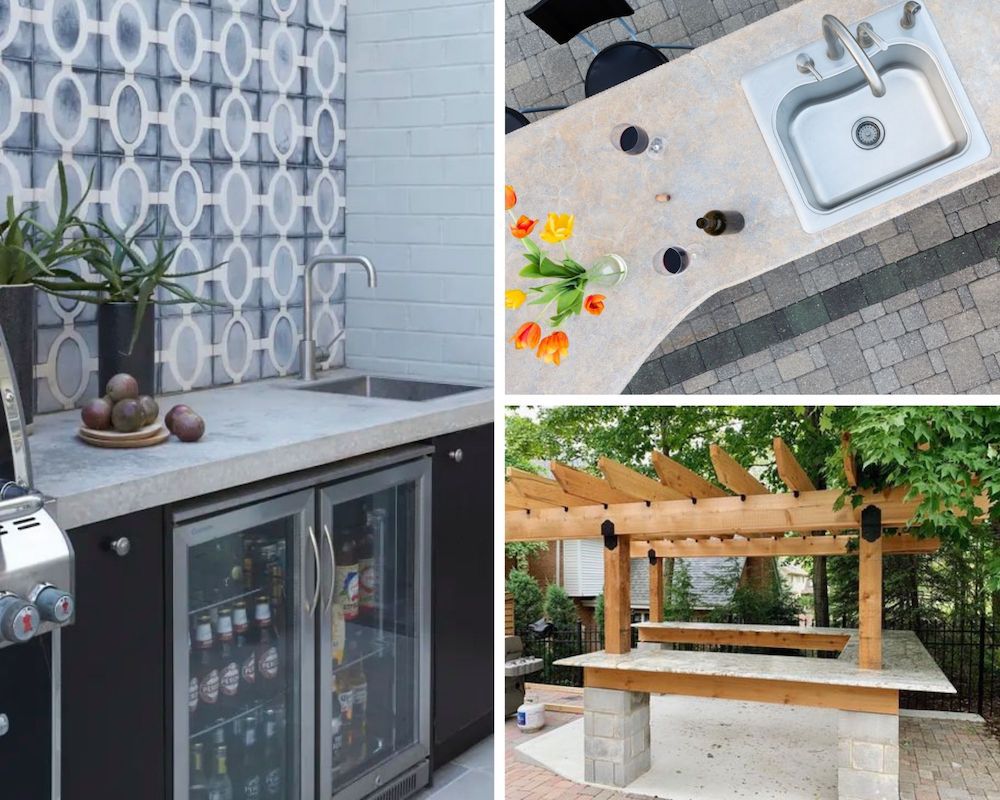 Every year outdoor kitchens become more popular, and for good reason. These kitchens bring indoor activities outside, creating an extension of your indoor living space. At the same time, they increase your options to entertain in a unique and fun way. With so many affordable luxurious options for countertops, making the right choice isn't the easiest thing to do. This short article will cover five gorgeous and efficient surfaces and why one is superior to all the rest.
QUARTZITE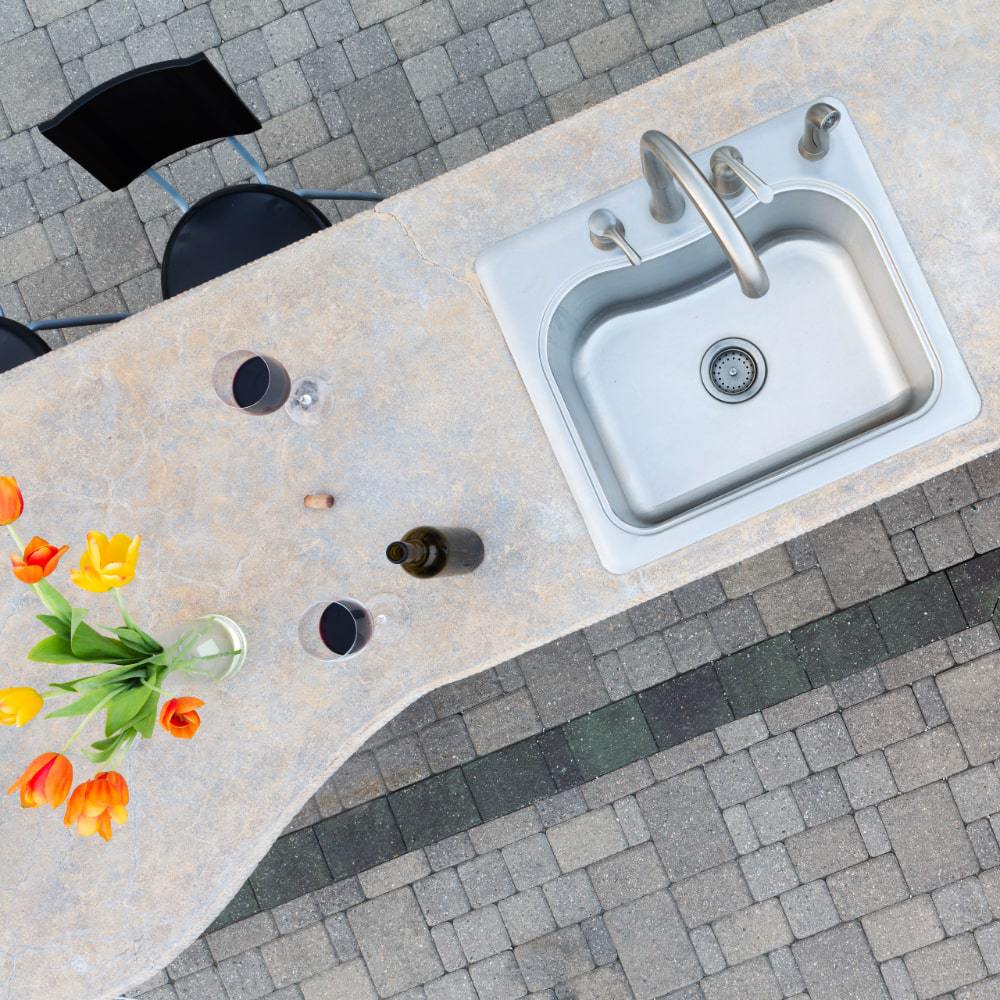 When putting together your outdoor kitchen, Quartzsite is an excellent option. It is important not to confuse quartzite with quartz, as quartz is not a good fit for outdoor settings.
A leading reason why quartzite is such a great option is it is almost impossible to differentiate from marble. And while quartzite is more durable and requires less maintenance than marble, it does require more maintenance than other premier surfaces like porcelain or quartz.
Once sealed, quartzite is more resistant to coffee, juice, and even wine stains. Additionally, after completing sealing or a regular scheduled resealing, this surface offers greater protection against scratching, though you should use a cutting board in your outdoor kitchen.

Take a look at this unforgettable outdoor kitchen utilizing MSI's Allure Quartzite for the countertop. It effortlessly adds color, personality, and the look of luxurious marble to the scene. Quartzite doesn't fade in the sun, but it will not stand up to hot temperatures from items such as your cooking tools.
PORCELAIN SLAB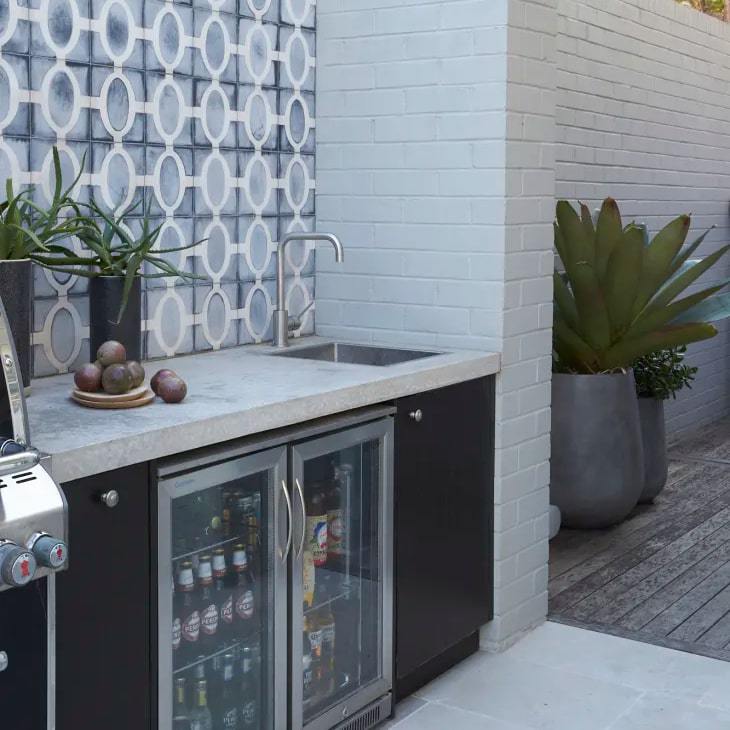 Photo Credit: @apartmenttherapy.com on Pinterest
Sometimes the best home improvements takes place outside the home. When considering the ideal premium surface for your outdoor kitchen, check out porcelain tile. Among the many benefits of porcelain slabs, you'll find seemingly endless colors and styles that allow the porcelain to mimic authentic natural stone.
As a nonporous surface, porcelain is tremendously durable, so much so that it'll stand up to decades of high-traffic wear and tear. It is also fade-proof and exceptionally low maintenance. Porcelain's nonporous nature allows you the option of prepping food directly on it without the worry of etching or staining. However, it is important to note that specific knives, such as those equipped with ceramic blades can scratch porcelain.
A porcelain slab like MSI's Carrara Polished will add luxury and sophistication to your outdoor kitchen. This glazed porcelain surface styled to imitate marble offers all the benefits of the latter without the higher price tag or ongoing upkeep.
SOAPSTONE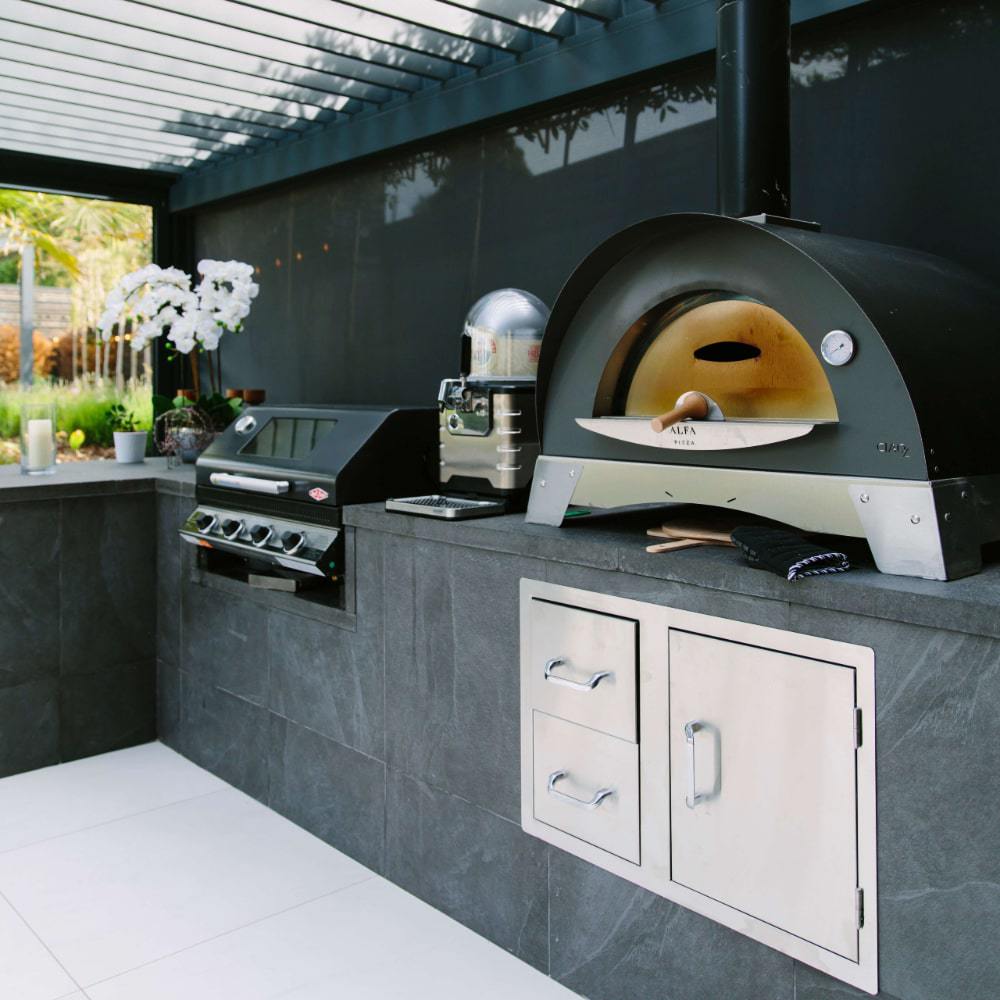 Photo Credit: @wm-design-ltd.co.uk onm Pinterest
With so many options for countertop materials for your outdoor kitchen, it's important to look at a wide variety of surfaces. Soapstone is nonporous and extremely compact. This means that, unlike other natural stones, it doesn't require sealing to keep those nasty stains at bay.
Sure, soapstone is highly compact and nonporous, but it's still quite soft. If you opt for soapstone in your outdoor kitchen, keep in mind that this premium surface can obtain unwanted scratches from sharp items. The good news is soapstone is incredibly easy to care for, and you can buff these scratches out. When it comes to heat resistance, soapstone has a high tolerance, so don't worry about placing hot pots or other cooking tools on it.

A fine choice for your outdoor kitchen is MSI's Black Soapstone Countertops. Durable, sophisticated, and with understated beauty, these irresistible black soapstone counters will make your outdoor kitchen a sight to behold. One downfall of black soapstone used outdoors is it soaks up the sun's warmth and becomes hot to touch. Keep this in mind as you plan your designs.
MARBLE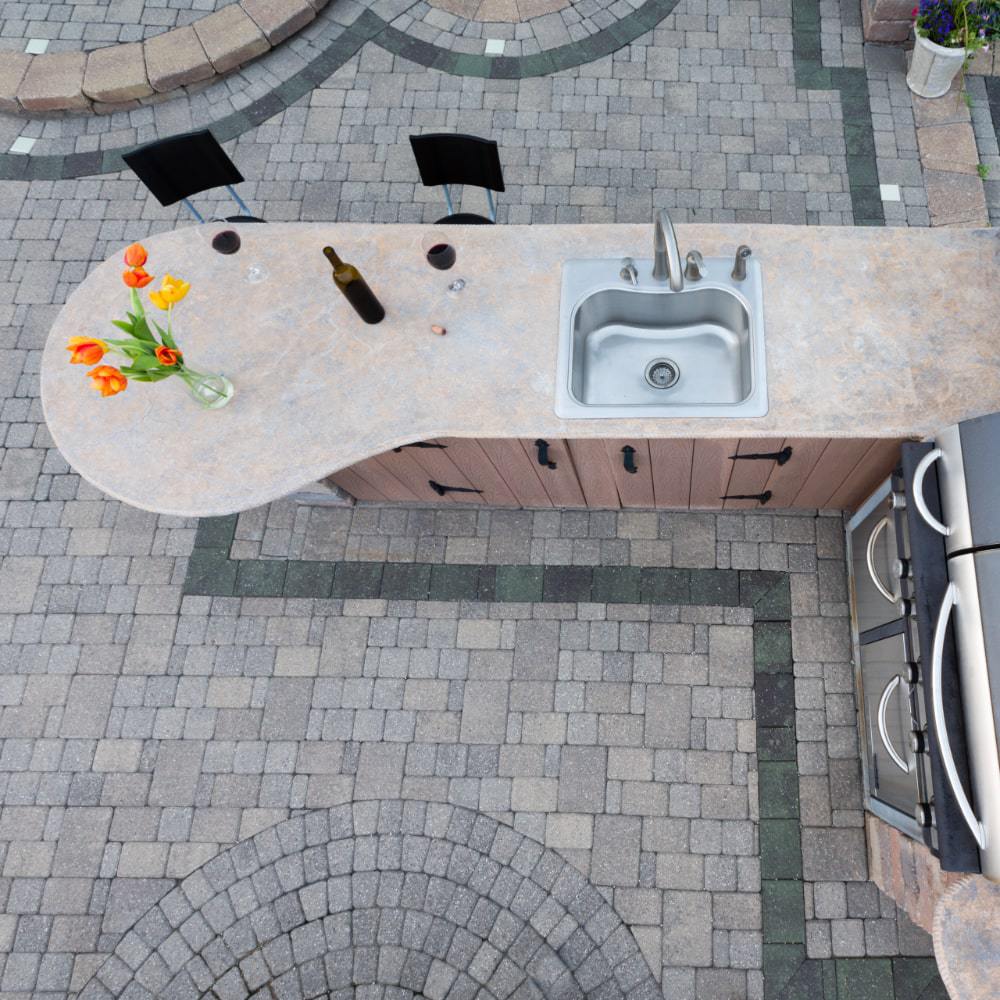 When it comes to luxury, marble has been the king of the mountain for ages. Indeed, marble is better equipped as a premium surface indoors though there are steps you can take to incorporate this lavish surface into your outdoor kitchen. You're working against the elements, and those elements are looking to wear away at the sealing used to protect your investment. To counteract this threat, you'll need to reseal the countertop regularly. If ongoing maintenance isn't your thing, look to marble countertops with a honed finish.
A top-notch choice for your outdoor kitchen is MSI's Crema Cappuccino marble. This elegant Stone from Turkey is a stunning ivory and golden marble with medium variations. It's available in honed, polished, and brushed finish slabs. Set your backyard up with a marble stone countertop like this, and you'll have the most elegant backyard kitchen for miles and miles.
GRANITE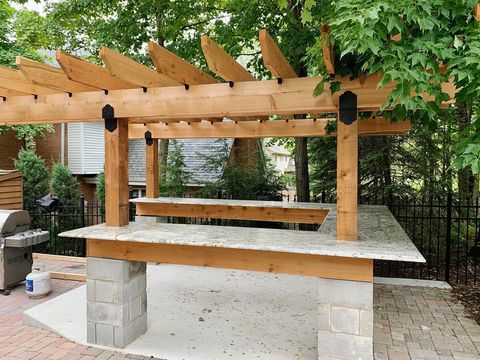 Photo Credit: @tcffactory on Instagram
As far as premium countertops go for your outdoor kitchen, we decided to save the best for last—granite countertops. Perhaps you've already Googled quartz vs granite or similar searches only to be left with more questions. It's understandable. That's why we're here to break it down for you.

As the premium choice for outdoor kitchens, granite countertops offer the durability necessary to stand up to the harsh outdoors year after year. Vital to outdoor performance and longevity, granite holds up well against an unforgiving sun or hot cooking tool.

Make sure to seal your granite countertop, so it becomes resistant to mold, mildew, and stains. And with so many granite colors to choose from, you'll have no trouble finding one that gels perfectly with your backyard design.

One awe-inspiring granite option is MSI's Azul Celeste Granite. Azul uses calming grays, dusted blues, silvers, and strings of charcoal to create a captivating surface. Use Azul Celeste to elevate your outdoor kitchen, and your family may have to convince you not to cook outside every night.

If you have any questions about creating a breathtaking outdoor kitchen using granite, quartzite, porcelain tile, soapstone, marble, or another premium surface, please give us a call, contact us online, or visit one of our showrooms. With so many styles, color choices, and surfaces to choose from, narrowing your selections can be an uphill climb. That's why our experts are ready to assist in bringing your dream outdoor kitchen to life.
Also, consider contacting us in real-time using our MSI website chat feature. Through this feature, we can answer any questions and provide more information. Finding this feature is easy—simply look to the bottom right of your screen on any page on the MSI website. Next, click the circle, and a chat box will pop up with an MSI agent ready to assist 24/7!