Breaking Down The Cost Of A DIY Install Of Luxury Vinyl Tile Flooring
March 28, 2019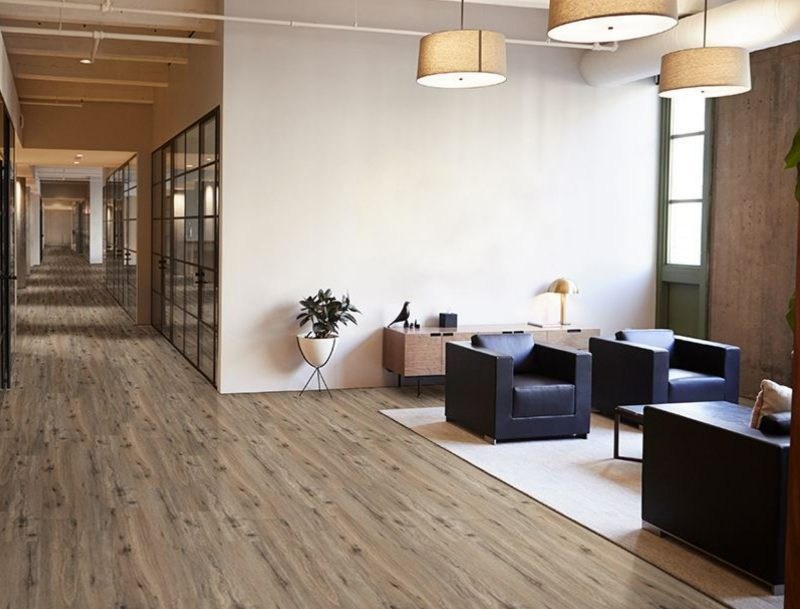 New flooring can make or break any design, but high-end or luxury-looking products can also break your budget. That's why many homeowners and designers alike are drawn to the durable, fashionable, and cost-effective features of luxury vinyl tile flooring.
This DIY-friendly material can completely transform a small bathroom or your entire home. And, you can enjoy even more savings thanks to its easy installation. Read on to learn all about the cost breakdown for installing LVT yourself.
The Cost of LVT Flooring
Depending on a few factors, the pricing for your new vinyl tiles may range from more affordable price points to higher-end costs that, surprisingly, come close to real hardwood. However, you still want to make sure you select a quality product that will last. Some features that affect the cost include the thickness of the vinyl tile or plank, the thickness of the wear layer, as well as whether or not it is 100-percent waterproof. While this extra waterproof core is something you definitely want in water-prone areas like kitchens, bathrooms, and laundry rooms, the luxury feature will add to the cost.
The prices for vinyl plank flooring are quite comparable. Vinyl tiles that look like real stone cost approximately $3.30 per square foot on average and range from just over $600 on the low end to nearly $6,000 on the high end. Vinyl plank flooring that mimics wood costs approximately $2.99 per square foot on average and ranges from almost $1,000 on the low end to nearly $5,000 on the high end. However, some luxury vinyl can cost up to $7 per square foot, which is more than double the costs previously mentioned.
The Cost of Installing LVT Flooring
Some of the main things to consider when breaking down the installation cost include the time it takes and the tools needed to get the job done. While your time is not exactly free, you can expect to save big by installing vinyl tile flooring yourself! Even better if you can get some help, as going alone could take you more time than it would to hire a pro.
Installation costs typically account for anywhere from 20 to 50 percent of the total LVT flooring costs, and that might not include the price to remove the old floors. Some contractors may charge $36 per hour to install your vinyl, which equates to an extra $3 to $10 per square foot. If you have old floors that you didn't remove yourself, then you might be looking at an additional $32 per hour to remove old floors. But, by you taking on the install yourself, you should end up with a little extra money in your pocket or a little more to spend on a higher-quality product.
For instance, to install 1,000 square feet of luxury vinyl tile or vinyl plank flooring, it will take an estimated 15 hours of labor. To have a professional install your flooring could cost just over $900 on the low end to approximately $1,500 on the high end. Those numbers vary considering where you live and what product you are using.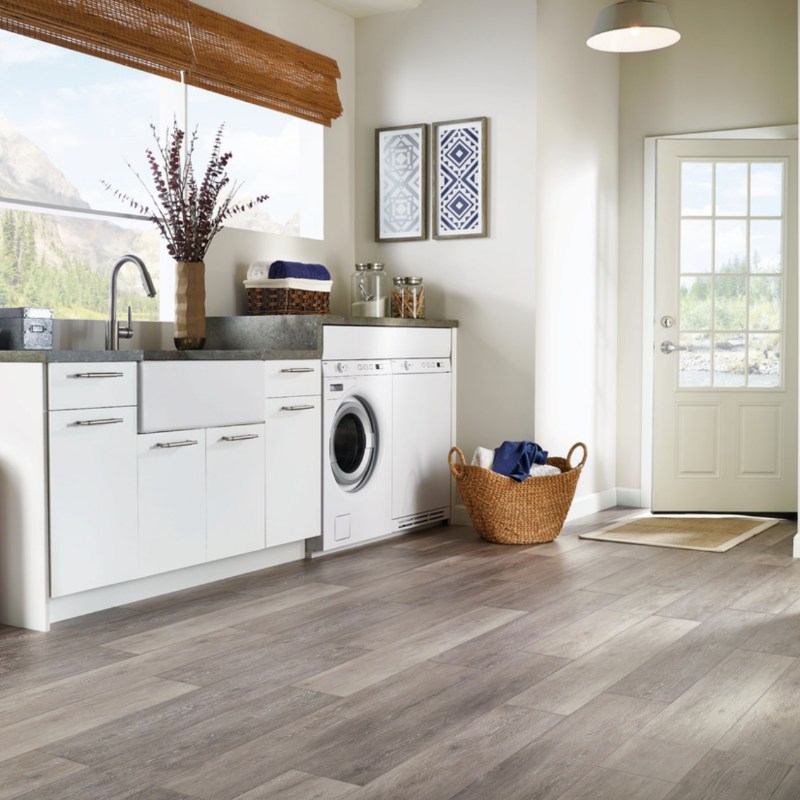 Create a similar look with MSI's Prescott Ludlow (Photo Credit: Houzz)
However, you should always weigh the options of a DIY versus hiring a professional. Some of the things they might do include buying your materials possibly at a discount, removing your old flooring, installing your new LVT, and getting rid of any construction materials left behind. If you feel confident in your DIY skills, then you should factor in things like disposal fees as part of your install.
Besides the cost of the actual luxury vinyl tiles, you will need to rent or buy tools to cut your LVT flooring if you do not already have them. This could add up to $800 in materials to your overall budget. In addition to your tiles, you will likely need:
Carpenter's square for measuring right angles
Cleaner
Embossing leveler to take care of an uneven subfloor
Goggles for safety
Hammer
Notched trowel to spread the leveler
Pencil for marking
Solvent to get rid of old adhesive
Sponge for cleaning
Tape measure
Utility knife for cutting
Additional Costs for LVT Flooring
You might not even think about these next couple of cost considerations for your vinyl flooring install, but you definitely should include them in your initial budget if you do find you need them. They include an underlayment and molding.
While a lot of LVT has an underlayment attached to the tile, some do not. This may cost approximately $26 per roll for 500 square feet of underlayment. It is usually recommended to purchase vapor barrier if your product does not include it so that it will prevent the diffusion of moisture through the floor. It will also add cushion and help reduce floor noise. For areas like basements that get really cold, you probably will want to use an insulated underlayment.
Molding and trim is also something that might not come to mind, but it certainly makes every floor look finished. If you had to remove baseboards during the install prep, then you will need to replace or even add baseboards to the room. New trim costs approximately $320 for 100 to 200 square feet on average. It could cost more or less depending on the type of trim or molding being used and how much you need. However, spaces like a kitchen or bathroom with lots of cabinets will require less molding than a living room with lots of wall exposure.
Since price is always crucial for any remodel or new build, it's important to use it as a starting point, and doing a DIY project can help if you get it done right. Plus, vinyl flooring is one of the most cost-effective materials available. Of course, you may be swayed toward something that suits your style aesthetic more than your price point, but trying to stay close to your budget with the Luxury Vinyl Flooring or vinyl plank flooring you choose is important. After all, you are trying to save on the installation.
More on Luxury Vinyl Tile
Luxury Vinyl Tile for High Traffic? Yes You Can!
Genuine Wood Looks in Luxury Vinyl Tile
The Cyrus Series - Easy Install Luxury Vinyl Tile
Luxury Vinyl Tile vs. Hardwood Flooring: Only You Know the Difference
A DIY project in the making, there's no easier way to replace laminate, tile flooring, or carpet than installing LVT (Luxury Vinyl Tile). From prep work and step-by-step instructions to tips, tools, and materials, follow these Vinyl Flooring Installation instructions for everything you need to know to achieve professional results. You could get started today and be done in just a few days – and with professional, polished results. If that sounds attractive to you, read Luxury Vinyl installation best practices for optimal results.
Would you like to learn more about Luxury Vinyl Tile? Read the Definitive Guide to Luxury Vinyl Tile to learn everything you need to know. And check out these vinyl flooring videos to learn more about LVT flooring styles, LVT installation, and maintenance.
Check out this luxury vinyl tile pricing guide to learn more about costs. And here are some options on where to purchase Luxury Vinyl Tile.4
Are you ready to get your DIY project started? First, find the perfect Luxury Vinyl Tile and Luxury Vinyl Plank flooring by reviewing MSI's expansive Luxury Vinyl Flooring Collection, then find and visit an MSI Luxury Vinyl Flooring Dealer in your area.