Get Ready For Summer With Modern Porcelain Tile
April 15, 2018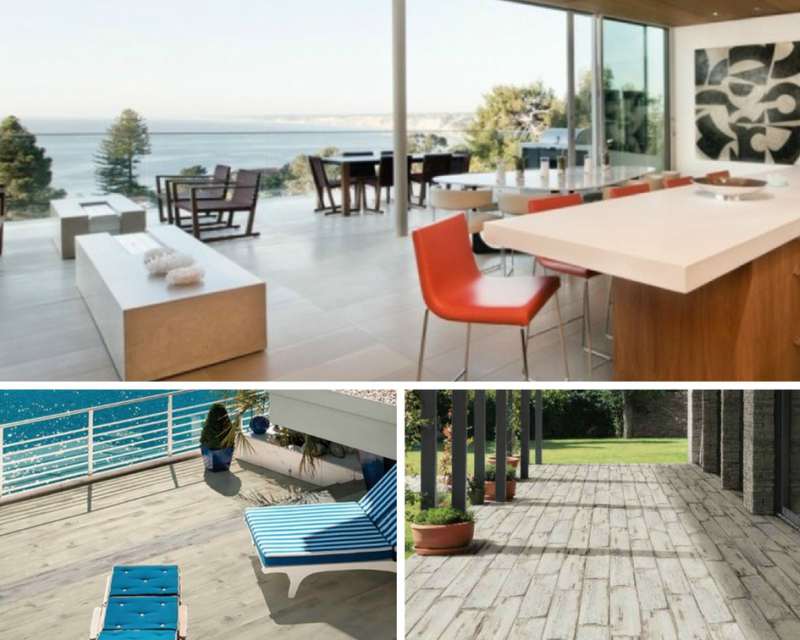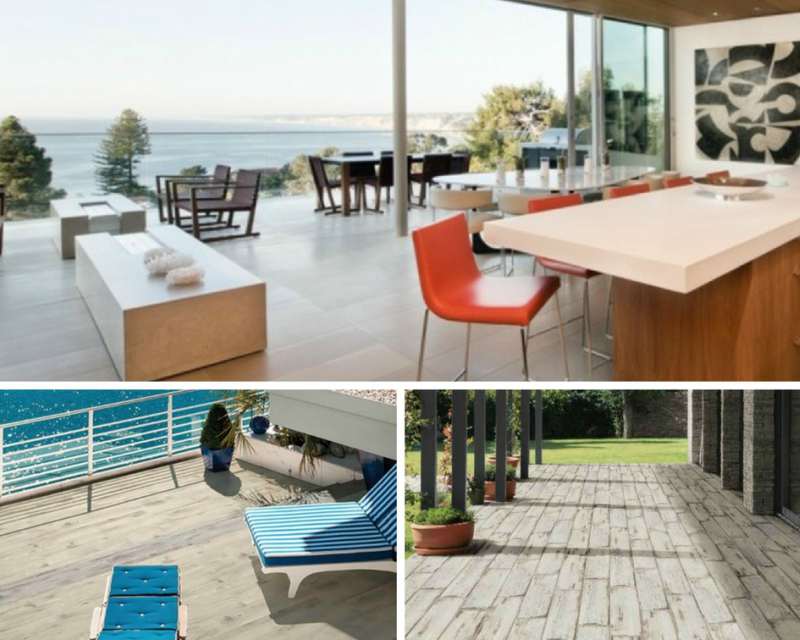 Sunny summer days will soon be approaching, and what better way to get ready for warm-weather fun than by upgrading your backyard with some creative outdoor entertainment ideas? Today's homeowners are embracing classic looks, but with a touch of fun. The idea is to create a unique designer style that's full of personality, without straying too far from the tried-and-true.
The best news? With porcelain tile, you can create all these fun yet elegant looks without busting your budget. And because of its durability, versatility, and affordability, porcelain is one of the best choices you can make—even if you want to outfit your entire backyard with tile. With that in mind, here are a few great hardscaping ideas to inspire your own backyard dreams.
Khaki Focus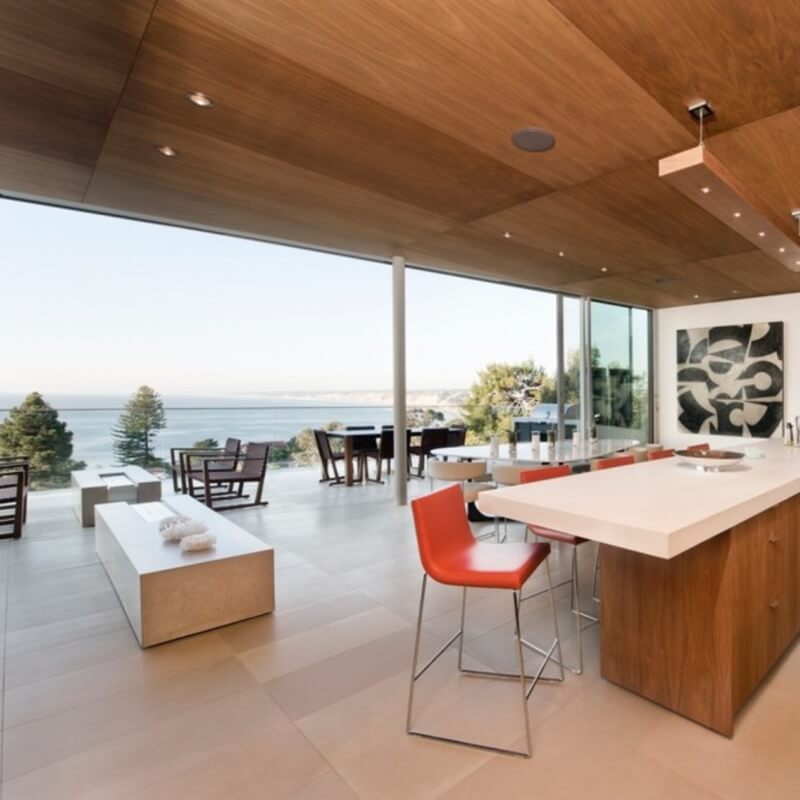 Create a similar look with MSI's Khaki Focus Porcelain (Photo Credit: Houzz)
A transitional outdoor living space is ideal, especially if your climate is mild year-round. These days, smart homeowners are expanding their living spaces by designing outdoor family rooms, complete with outdoor kitchens, dining areas, and entertainment systems. Even in less moderate climates, sliding glass doors can make these spaces practical all year round.
Use the same tile to transition from indoors to outdoors, such as sleek Khaki Focus Porcelain tile from MSI's Focus collection. This smooth, beige beauty is durable enough to stand up to the elements but elegant enough to complement indoor spaces as well. This tile is versatile and would complement any number of design styles. Here, it fits in perfectly with the modern aesthetic and makes for the perfect outdoor tile.
Tierra Ivory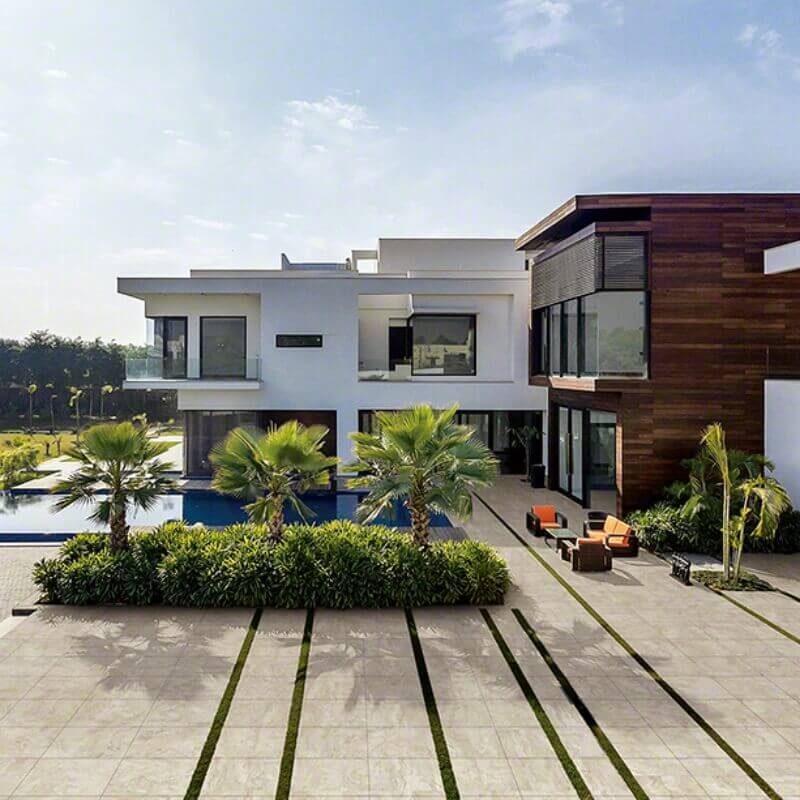 Featured: Tierra Ivory Arterra Porcelain Pavers
If your backyard or garden area is relatively small, consider using porcelain tile such as Tierra Ivory Arterra Porcelain Pavers to cover the entire area. Letting a bit of greenery peek through adds design interest but still keeps the space low-maintenance. In this photo, the grassy strips complement the rest of the landscaping and echo the clean, straight lines in the architecture. The result is a pleasing blend of natural elements and ultra-modern design.
Vintage Lace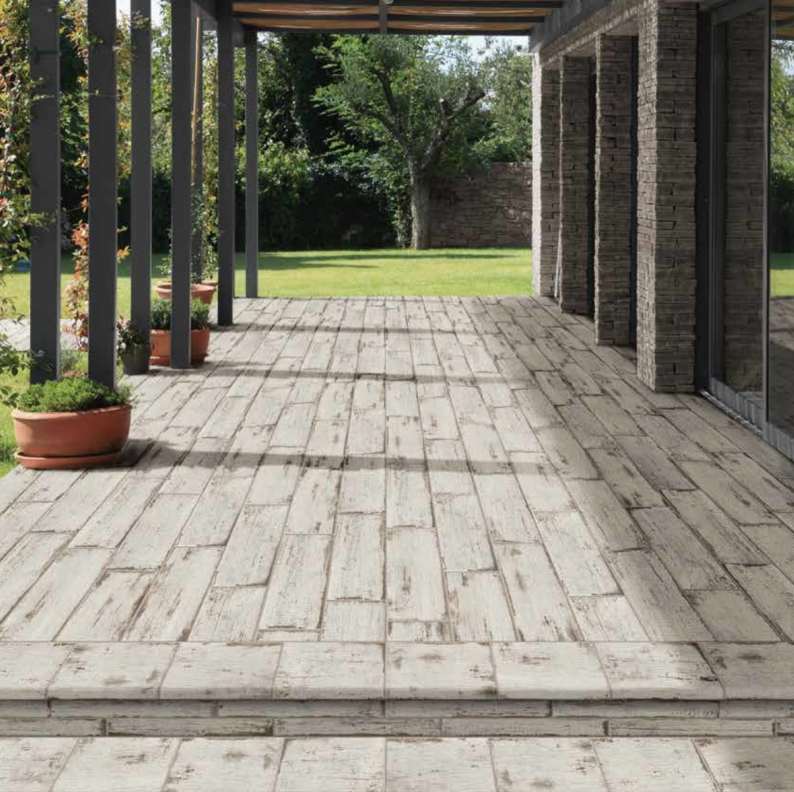 Recreate this look with MSI's Vintage Lace Porcelain (Photo Credit: Houzz)
Charmed by the look of a sweeping, wide porch crafted from worn, reclaimed barn wood? There's no denying that weathered planks add instant character. However, using reclaimed wood outdoors has its drawbacks. For one thing, unless properly treated and maintained, natural wood can fall prey to warping from moisture and termite damage. But never fear—Vintage Lace Porcelain wood-look outdoor tile solves both of those problems. Plus, it's a lot less expensive, not to mention far easier to find.
Quarzo Gray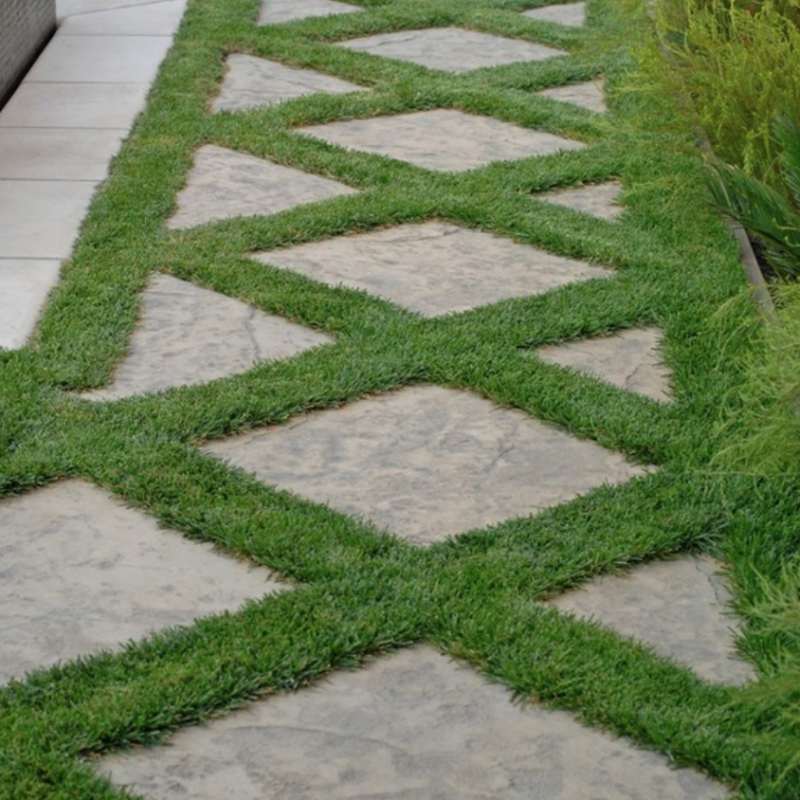 Create a similar look with MSI's Quarzo Gray Arterra Porcelain Pavers
(Photo Credit: Houzz)
With so many ways to integrate porcelain into your landscape, expressing your creative ideas is a cinch. Stepping stones may be an old-fashioned idea, but not when they are installed in a fun pattern such as this geometric masterpiece. These durable Quarzo Gray Arterra Porcelain Pavers closely resemble natural stone and resist damage from foot traffic, moisture, and weather extremes. Its glazed surface is slip-resistant as well.
Country River Stone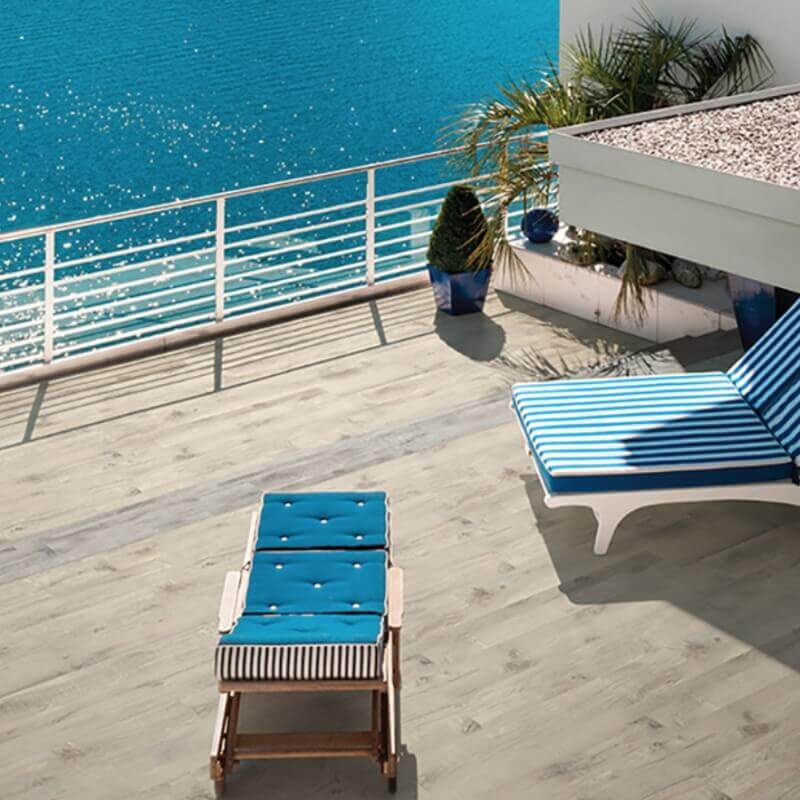 Featured: Country River Stone Porcelain
If you're lucky enough to have a large enough outdoor space for a deck, the design options are staggering. However, in order to get the upscale look you crave, you may have to invest in expensive high-end planks, only to end up with a wood deck that will need constant care.
But there is an alternative! With Country River Stone Porcelain wood-look tile planks, you can create that designer deck that won't leave you worrying about weather, maintenance, or splinters in your bare feet! Just hose it off each spring and you'll ready to go for the season.
Modern tile opens up a world of possibilities for your outdoor spaces, allowing you to create designs that would be impractical with other hardscaping materials. Porcelain tile that is approved for outdoor use is created with weather extremes in mind and comes with super-low maintenance needs.
Visit MSI's Arterra Porcelain Pavers page or our natural stone pavers page to see the endless options available!
READ MORE ABOUT OUTDOOR SPACES with PAVERS AND PORCELAIN TILE:
New Oversized Arterra Porcelain Pavers Make Outdoor Spaces Feel Larger Than Life
All About Outdoor Tile: Porcelain, Slate, Travertine, And Quartzite
Can Outdoor Porcelain Tile Withstand the Elements?