Outdoor Oasis: Outdoor Kitchen Delight
August 17, 2016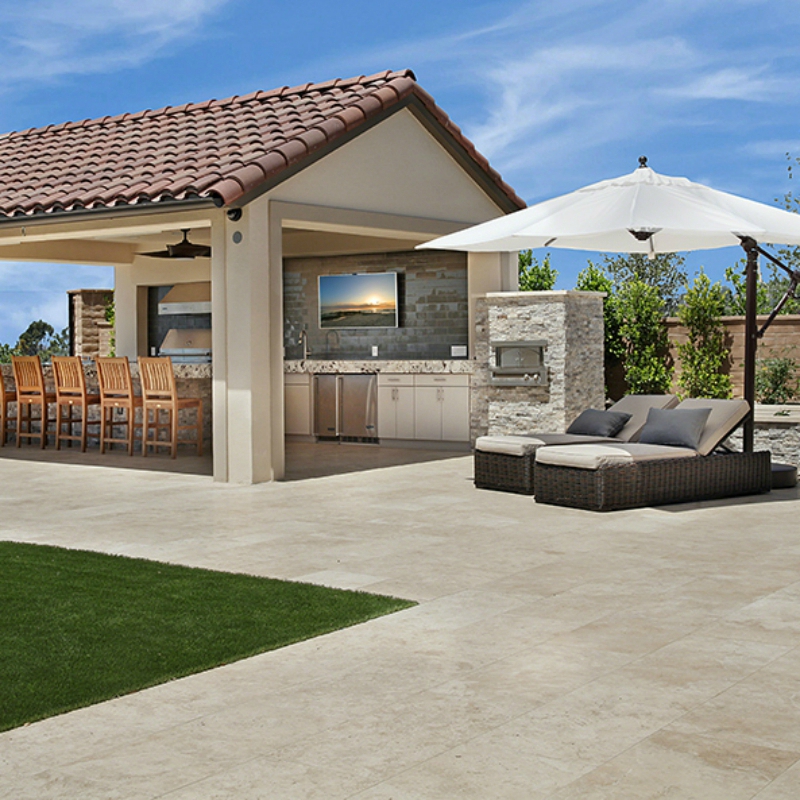 Summer is in full swing and there is no better way to enjoy the season than by cooking and entertaining outdoors. Ditch the old stand-alone grill and design a brand new outdoor kitchen that will impress your guests. A functional, well-designed layout is only the beginning. Durable granite countertops, stainless steel cooking essentials, and plenty of comfortable seating options are just a few must-have items to elevate any outdoor kitchen to an outdoor oasis.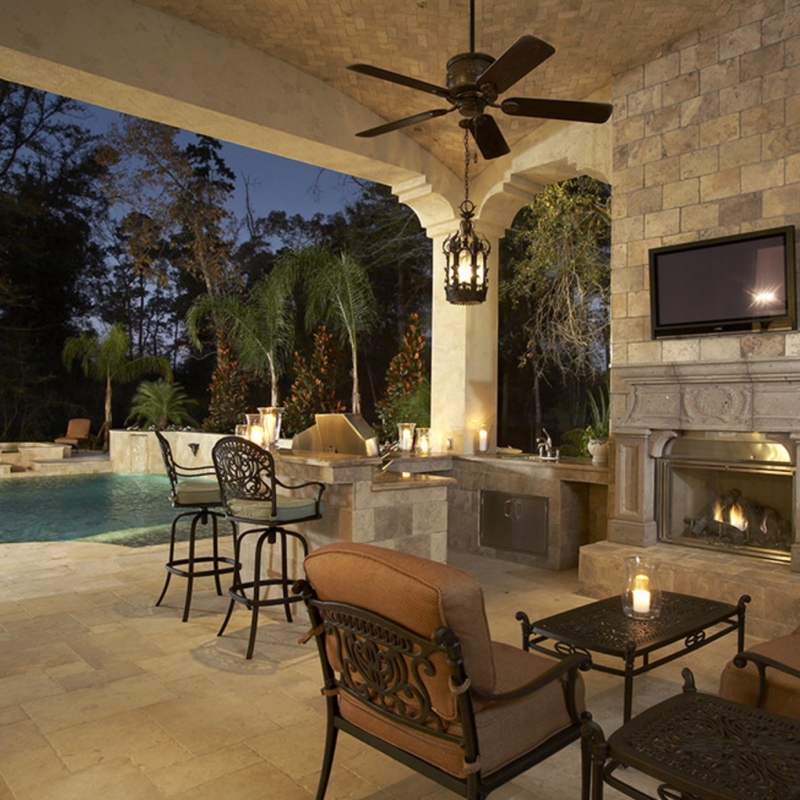 Featured: Tuscany Walnut Tumbled Travertine
The ideal outdoor cooking space will have plenty of counter space for meal prep, cooking and eating. Extra-wide, multilevel countertops are great for housing built-in grills and appliances, but still allow enough space to set out a buffet-style meal or accommodate guests who want to chat while you cook. If you have the space, consider an L- or U-shaped counter to separate the outdoor kitchen into zones for meal prep, cooking, eating and clean-up, while still managing to have plenty of room for gathering and serving.
Durable finishes are another key component of a successful outdoor kitchen design. Finishes should be able to stand up to the elements and the wear and tear of cooking and grilling. MSI's granite countertops are a preferred choice with homeowners looking for beauty and durability.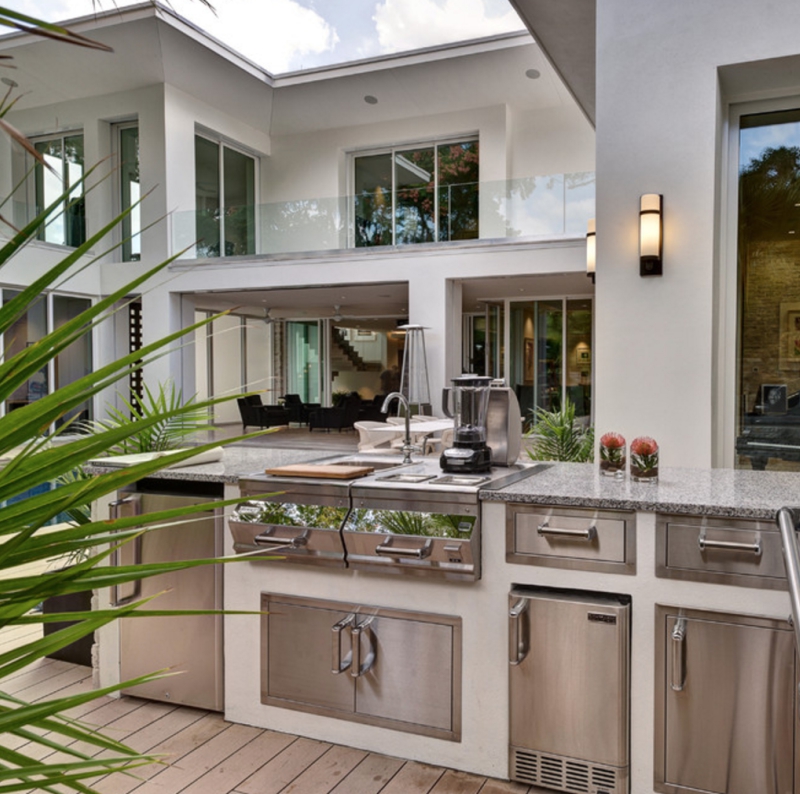 Featured: Andino White Granite
Not only are granite counters stain- and water-resistant, but they are also a natural material that blends well in an outdoor setting. Another fantastic option for outdoor kitchens is quartz countertops. Quartz has all the properties of granite but doesn't need to be resealed each year, making countertops composed of quartz virtually maintenance free. Quartz countertops can also withstand freezing temperatures—a must for cold climates.
Hardscaping surfaces can create a much-needed focal point in your outdoor design. Travertine tile or pavers, and rugged stacked stone are just some of the many options MSI offers. The rough-hewn texture of travertine makes it a slip-resistant material. It also has the added benefit of camouflaging scratches, a must for flooring on decks and patios. MSI offers many gorgeous colors of travertine tiles and pavers in various finishes, such as tumbled, honed, and chipped.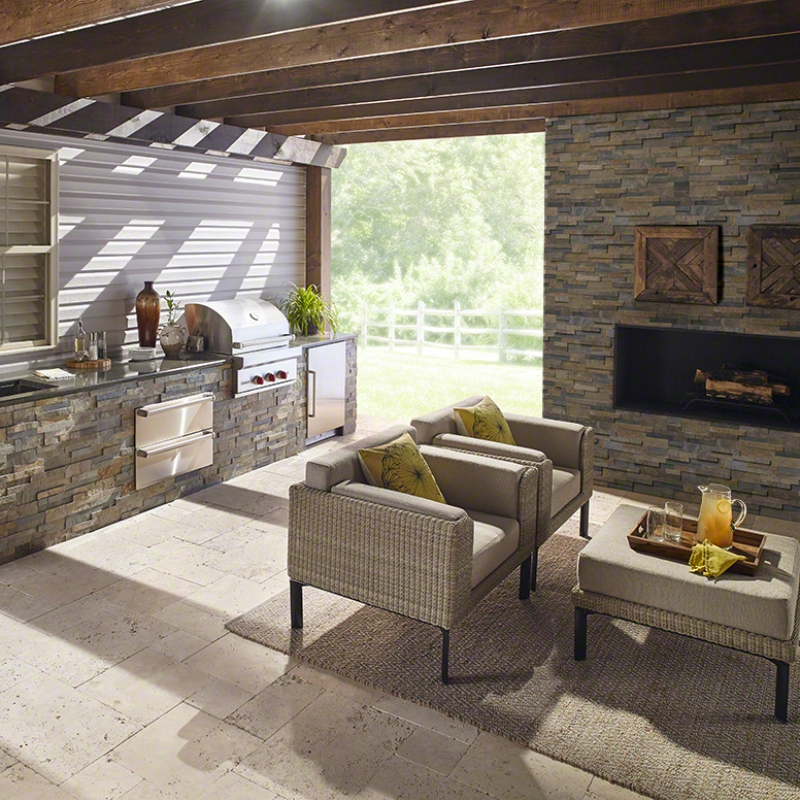 Featured: Babylon Gray Quartz
Stacked stone is another smart choice for outdoor entertaining areas. It is extremely durable and is the perfect cladding for your outdoor island or accent wall. The look of stacked stone adds instant drama to any space with its dynamic textured appearance.
Once you have your design down, you can begin to think about appliances. Non-corrosive stainless steel is the preferred finish for outdoor grills, sinks, stoves, and refrigerators, as it won't easily deteriorate over the years. An under-counter refrigerator is typically sufficient for an outdoor kitchen, but you may consider adding separate beverage coolers or an ice machine as well. Make sure to allow enough space between appliances in your layout so that someone grabbing a drink out of the cooler or washing their hands in the sink doesn't disturb the cook.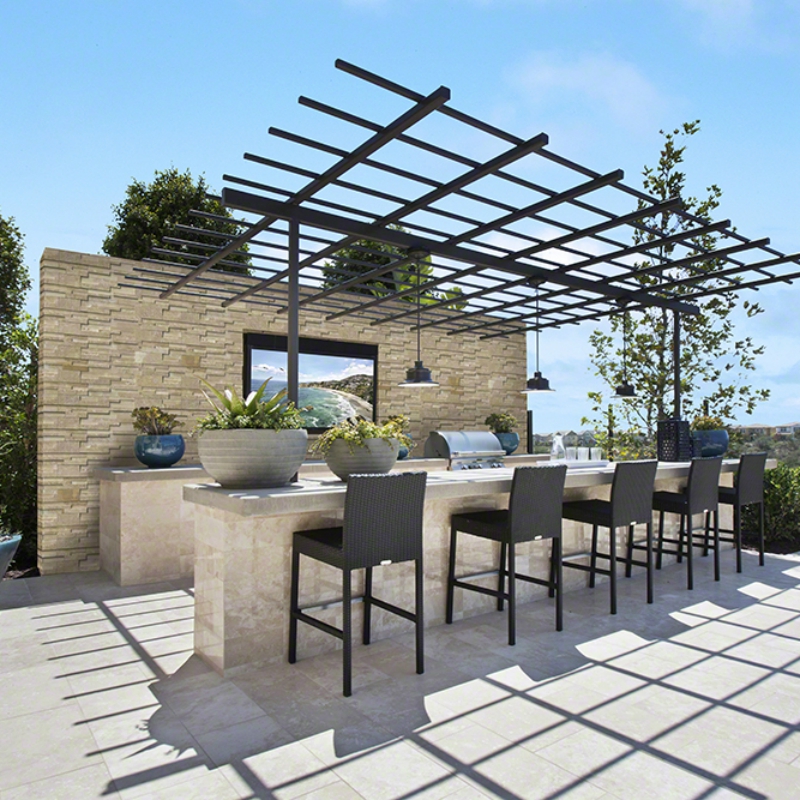 Featured: Durango Cream Stacked Stone
Last, but certainly not least, you will need to select the finishing touches of furniture and décor. Arrange your outdoor space like you would your interiors, creating seating groups for easy conversation, and adding coffee and side tables to set down drinks or books.
Vary your seating options to make sure you and your guests have plenty of places to relax. Lounge chairs are great by the pool, while a porch swing or teak daybed is a fun and unexpected option on a covered patio. Consider mixing bar and counter height seating to make sure everyone has a comfortable spot to eat.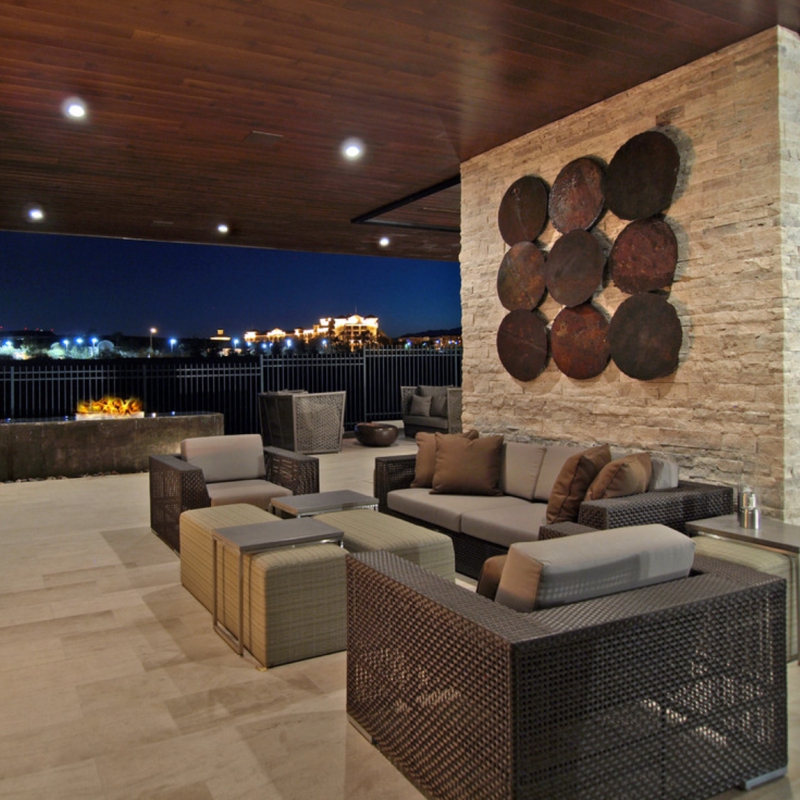 Featured: Roman Beige Travertine