Popular
Behind The Scenes: Creating Mosaics With MSI'S Design Team
March 03, 2015
Here at MSI, our design team is constantly on the lookout for inspiration to create exceptionally striking mosaic designs. Our designers travel the globe trendspotting, researching, and tracking trends. We put decades of hard-surface know-how into play, partner with industry experts, and consider design trends when we create custom mosaics crafted to bring distinction to new-construction and remodeling projects.
In business since 1974, MSI has kept its fingers firmly on the pulse of an evolving global marketplace to ensure our premium surfaces present classic motifs, fun shapes, and progressive patterns in innovative ways and high-fashion materials. One of the most important things our team, and our company as a whole, focuses on is producing unique and stylish creations that are on-trend yet timeless. We offer our customers stunning products they will love for years to come!
Our Mosaic Design Team is headed up by Trend & Design expert, Emily Holle, who finds much of her inspiration from her travels and study of textiles. Her strong background in textile design and love of ancient handmade techniques continues to influence her personal style and design aesthetic. She spends much of her work time musing on her next design while creating product collages and mood boards. Some of her latest inspirations are pictured below.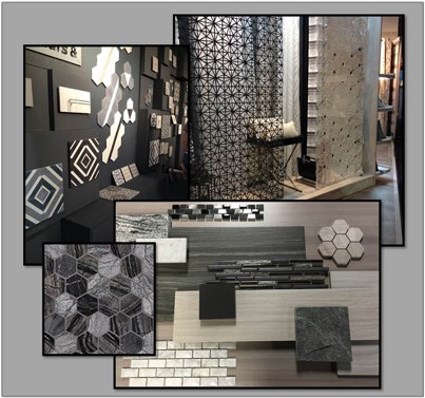 Creative Combinations
Our design team, a diverse group of people with backgrounds in textiles, interior design, and graphic design, takes inspiration from fashion, architecture, and nature. They attend and monitor international and domestic industry trade shows focused on new kitchen and bath products, hard-surface materials, textiles, and furnishings meant for use in residential and commercial installations and watch fashion runways to determine developing design trends. The team takes note of color forecasts, hot paint palettes, new textile patterns, and up-and-coming popular decorating styles to ensure our mosaic and backsplash designs complement and coordinate with the latest looks and design ideas trending on the horizon.
With the latest and greatest in mind, our skilled design team works with an array of manufacturers to create a diverse inventory of mosaic designs. They travel to international factories and spend days tweaking and perfecting their designs, playing with colors, hues, shapes, sizes, patterns, textures, and materials, paying attention to the very last details.
This attention to detail is illustrated by Emily's description of how the team created one of their newest mosaic designs: Diamante Brick.
"I wanted to create a contemporary mosaic look for our White Oak collection," Emily explains. "The initial mosaic design was inspired by mixed materials we had seen in the furniture market and featured varying pieces of white oak marble and metal. We created more texture and dimension by adding metallic silver resin chips imprinted with a basket-weave texture. And for more contrast, we inserted molten-textured glass pieces with metallic grey-painted backgrounds."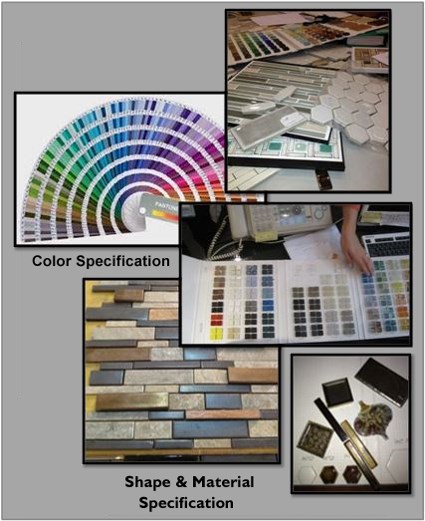 What This Means For You
You'll find mosaic designs that suit every design preference. From gem-like Ambrosia glass tiles to handcrafted Highland Park subway tiles, our mosaic designs fashion captivating compositions in cottage-to-contemporary kitchens and bathrooms.
Everest Interlocking mosaic design combines design's newest and most-favored neutrals, gray and white, in a mix of crackled porcelain and metallic painted slate. MSI's Henley black-and-white marble hexagon tiles remain a favorite for the high-impact compositions they create. Stained-glass Mochachino tiles provide a streamlined twist on hexagonal shapes and appeal to buyers with a modern sensibility.
Though shine, color, and shape are important considerations when buying tile, dimensional tiles, such as our Silver Aluminum collection, and ledger-inspired mosaics, like our Rustique 3D Interlocking tiles, grow ever more popular as they play into designers' interest in handcrafted looks and materials.
Our creative crew consistently produces eye-catching mosaics that allow you to compose artistic statements that reflect your personality. Although all of our mosaics can simply stand alone, we specifically design them to coordinate with other product offerings in our countertop and flooring lines, enabling an array of easy kitchen and bath options for a cohesive and stylish look. Check out our Perfect Pairings and Color Therapy blogs for more inspiration on how to create a beautiful space that reflects your personal style!