08/07/2017 - M S International, Inc. Updates and Expands Houston Showroom and Distribution Center
08/07/2017
M S International Inc. ("MSI"), North America's Leading Supplier of Premium Surfacing Products, recently updated and expanded its Houston, Texas Showroom and Distribution Center.
Already one of the area's largest showrooms of its kind, MSI has increased the size of its Houston facility by 25,000 sq. ft. The location now boasts more than 210,000 sq. ft. of on-trend surfaces—from tile and countertops, to slabs, flooring, and hardscaping. Throughout the expansive space new displays and creative installs inspire customers, while allowing them to get hands-on with the products and easily envision them in their homes.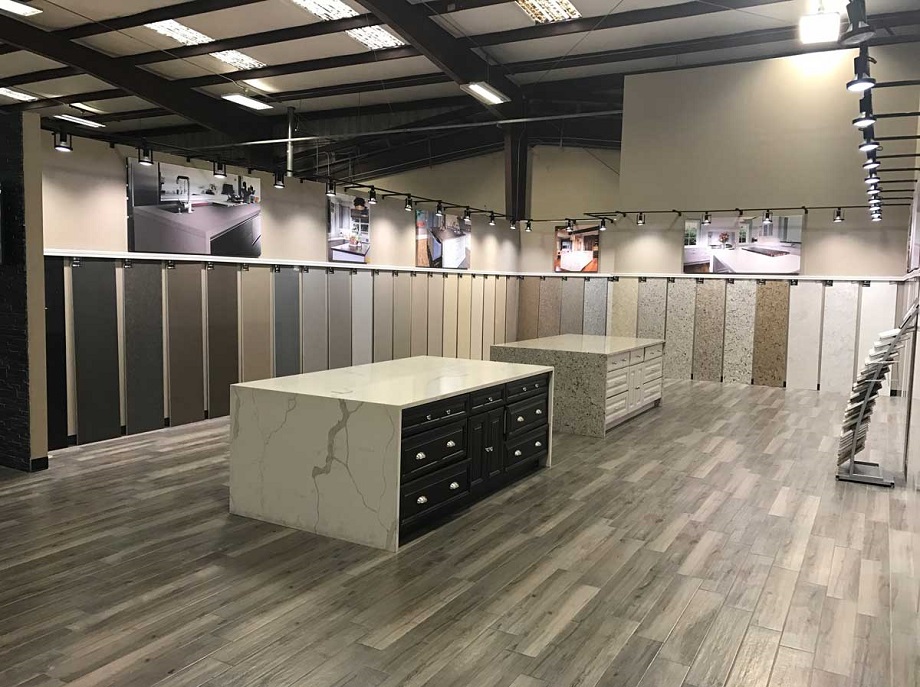 A highlight of the showroom is the thoroughly remodeled QTM Premium Natural Quartz gallery. Carefully designed with the shopping experience in mind, the gallery now displays even more of the QTM product line—including the latest color and style introductions. Houston's 10,000 sq. ft. hardscaping showroom also received significant upgrades, with walls now showcasing MSI's full line of ledger panels, and displays featuring a wide variety of natural stone and porcelain pavers.
Underscoring MSI's commitment to a superior experience, a will-call area helps expedite customer orders and a new service desk serves as the facility's hub—a go-to place for customer pick-ups and questions. Additionally, several departments now operate a second shift. This increases the facility's overall efficiency as employees unload incoming containers and stock trucks with the next day's deliveries.
Raj Shah, President of MSI, explains why taking upgrades through to the warehouse was an especially important aspect of the project, "Demand for our slabs in the Houston market is quite strong, so making upgrades to serve our customers with greater efficiency, while giving them more traditional-to-on trend choices was essential." He adds, "We've succeeded. The remodeled warehouse is state-of-the-art floor to ceiling, and includes an innovative narrow aisle racking system that has enabled us to increase warehouse inventory by a remarkable 30%."
In all, MSI's Houston location houses one of the largest, most diverse, and extensive inventories of flooring, countertops, and hardscaping in the region. MSI invites you to visit the facility and take a first-hand look at the industry's most trend-forward designs. For an immediate introduction, enjoy a virtual tour of the facility's backsplashes, tile flooring, ledger panels, and the slab warehouse, right from the comfort of home.
The Houston Showroom and Distribution Center is located at:
14777 Chrisman Road
Houston, TX 77039
Phone: (713) 570-7000
Founded in 1975, MSI is the leading supplier of Premium Surfaces including flooring, countertops, decorative mosaics and wall tile, and hardscaping products. MSI's product offering includes an extensive selection of granite, marble, porcelain, ceramic, quartz, glass, quartzite, and other natural stone products. Headquartered in Orange, California, MSI also maintains distribution centers across the United States and Canada. MSI's product line is imported from over 36 different countries on six continents bringing the very best products to the North American Market. The company maintains an inventory of over 125 million square feet of material.
For more information on MSI, visit: www.msisurfaces.com