04/27/2023 - MSI Wins 4 2023 Top Workplaces Culture Excellence Awards
04/27/2023
ORANGE, Calif. (PRWEB) April 27, 2023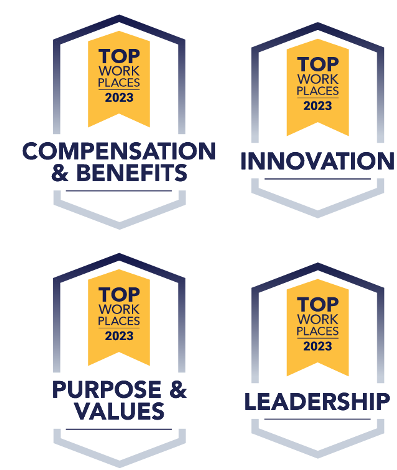 M S International, Inc. (MSI), the leading supplier of flooring, countertops, wall tile, and hardscaping products in North America, is pleased to announce that it has earned 4 Top Workplaces Culture Excellence Awards in 2023, being recognized for its Compensation and Benefits, Purpose and Values, Leadership, and Innovation. Issued by Energage, the research company with more than 16 years of experience surveying over 27 million employees at 70,000 organizations, Top Workplaces awards are based solely on employee feedback.
Top Workplaces Culture Excellence Awards are national awards honoring the country's best organizations that excel in specific areas of workplace culture.
Leadership
The Top Workplaces for Leadership award celebrates organizational leaders who inspire confidence in employees and the company direction. They listen to what matters most to employees and use that insight in decision making.
Innovation
The Top Workplaces for Innovation award recognizes organizations that have created a culture where new ideas are encouraged, which helps employees to reach their full potential and benefits performance.
Compensation & Benefits
The Top Workplaces for Compensation & Benefits award celebrates organizations that provide packages employees believe are fair for the work being done and compared to others in the industry.
Purpose & Values
The Top Workplaces for Purpose & Values award celebrates organizations that have successfully communicated the company mission and integrated those aspirations into the culture.
"We are very excited to win 4 more Culture Excellence Awards this year. We work hard to communicate our Core Values, Purpose, Vision, and Mission to all members of our team and are deeply humbled to be recognized for our innovation, leadership, and overall goal of supporting the lives and livelihoods of our MSI family," said Chris Courneen, MSI's Vice President of HR.
Top Workplaces awards are based on the results of a research-backed, 24-item employee engagement survey. "Top Workplaces is a beacon of light for organizations as well as a sign of resiliency and impressive performance," said Eric Rubino, Energage CEO.
To view available opportunities with MSI and join this high-growth team, visit https://www.msisurfaces.com/careers/.
To learn more about MSI's complete product assortment, visit https://www.msisurfaces.com.
About M S International, Inc. (MSI)
Founded in 1975, MSI is a leading supplier of flooring, countertop, wall tile, and hardscaping products in North America. Headquartered in Orange, California, MSI maintains over 45 state-of-the-art showrooms and distribution centers across the U.S. and Canada, with domestic manufacturing facilities for Q™ Premium Natural Quartz in Latta, South Carolina, and Premium LVT in Cartersville, Georgia. MSI's product assortment includes an extensive offering of quartz, LVT, tile, natural stone, and glass products imported from over 37 countries on six continents.