07/17/2023 - MSI Long Island Celebrates with an Open House for its Newly Remodeled Brentwood Location
07/17/2023
ORANGE, Calif. (PRWEB)July 17, 2023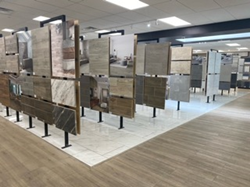 M S International, Inc. (MSI), the leading supplier of flooring, countertops, wall tile, and hardscaping products in North America, is thrilled to announce the completion of the newly remodeled MSI Long Island location in Brentwood, NY. To mark this significant milestone, MSI Long Island cordially invites customers and trade partners to join in the Open House Celebration on July 18, 2023, from 12 pm to 7 pm at 50 Heartland Blvd.
The Open House Celebration will be a captivating event, offering a diverse range of activities for all attendees. Guests will have the opportunity to enjoy food and drinks throughout the day, learn about new product launches, and take advantage of exclusive product offers. Furthermore, visitors can explore the redesigned space, showcasing an extensive product assortment. The newly remodeled area includes an impressive slab section, a climate-controlled countertop, wall, and floor tile showroom, and a state-of-the-art distribution center.
At MSI Long Island, customers can expect an unparalleled selection of premium products. The inventory boasts an extensive range of quartz, granite, marble, and other natural stone materials, featuring hundreds of colors and designs. Additionally, the showroom showcases a remarkable collection of backsplashes, wall and floor tiles, luxury vinyl flooring, as well as encaustics and mosaics. To enhance the customer experience even further, an interactive AR visualizer tool is available, facilitating easy product selection for various projects.
Premal Mehta, MSI Branch Leader shares, "We are excited to announce the grand reopening of MSI's Long Island location, featuring a stunning showroom renovation. Spanning tens of thousands of square feet, our newly revamped showroom is a testament to our commitment to providing customers with a remarkable shopping experience. With an extensive range of countertops, flooring, wall tile, and hardscaping products, we invite everyone to explore the vast assortment of high-quality materials that will inspire their next project."
Don't miss this opportunity to discover new product launches and the latest design trends in the industry. Join MSI Long Island on July 18, 2023, from 12 pm to 7 pm at 50 Heartland Blvd, Brentwood, NY 11717. For more information, visit MSI Long Island on the web or contact the showroom directly at (631) 918-4600.
The Long Island showroom is open six days a week, from 9:00 am to 5:00 pm, Monday – Friday and, from 9:00 am and 1:00 pm, on Saturday.
This remodel has allowed for more job openings in the local community. To learn more about open career opportunities, visit https://www.msisurfaces.com/careers/.
To learn more about MSI's complete product assortment, visit https://www.msisurfaces.com.
About M S International, Inc. (MSI)
Founded in 1975, MSI is a leading supplier of flooring, countertop, wall tile, and hardscaping products in North America. Headquartered in Orange, California, MSI maintains over 45 state-of-the-art showrooms and distribution centers across the U.S. and Canada, with domestic manufacturing facilities for Q™ Premium Natural Quartz in Latta, South Carolina, and Premium LVT in Cartersville, Georgia. MSI's product assortment includes an extensive offering of quartz, LVT, tile, natural stone, and glass products imported from over 37 countries on six continents.