07/05/2022 - MSI Introduces Traktion, A New Indoor/Outdoor Porcelain Tile Featuring Zeroslip™
07/05/2022
ORANGE, Calif. (PRWEB)July 05, 2022
M S International, Inc. (MSI), the leading supplier of flooring, countertops, wall tile, and hardscaping products in North America, introduces Traktion Calypso and Traktion Maven series – a beautiful, porcelain tile with exceptional slip resistance that may be installed indoors and out, creating a seamless transition.
Traktion series is a new addition to a wide range of anti-slip products at MSI (identified with the ZeroSlipTM label). "What sets Traktion apart from the traditional anti-slip technology is, the surface remains smooth when dry, and exceptionally anti-slip when wet," said Paulo Pereira, Senior Merchant at MSI. "Our Traktion Collection features a combination of unique properties, resulting in a high-performing, beautiful indoor/outdoor worry-proof tile."
Traktion is available in various natural textures and five colorways. This porcelain tile is highly water-resistant and easy to maintain. Additionally, the tile boasts MSI's proprietary ZeroSlip™, designed to provide exceptional slip resistance indoors and out.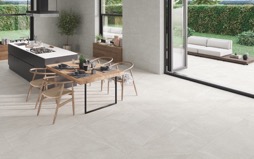 To learn more about MSI's complete product assortment, visit https://www.msisurfaces.com.
About M S International Inc.(MSI)
Founded in 1975, MSI is a leading supplier of flooring, countertop, wall tile, and hardscaping products in North America. Headquartered in Orange, California, MSI also maintains over 40 state-of-the-art showrooms and distribution centers across the U.S. and Canada. MSI's product line includes an extensive offering of quartz, porcelain, ceramic, LVT, natural stone, and glass products imported from over 37 countries on six continents.