12/11/2019 - MSI Announces Joint Venture with Spectrum Quartz to Build a Domestic State-of-the-Art Quartz Manufacturing Facility
12/11/2019
MSI, North America's leading distributor of countertops and hard surface flooring, proudly announces the establishment of a joint venture with Spectrum Quartz to create the leading quartz slab manufacturing production facility in the United States.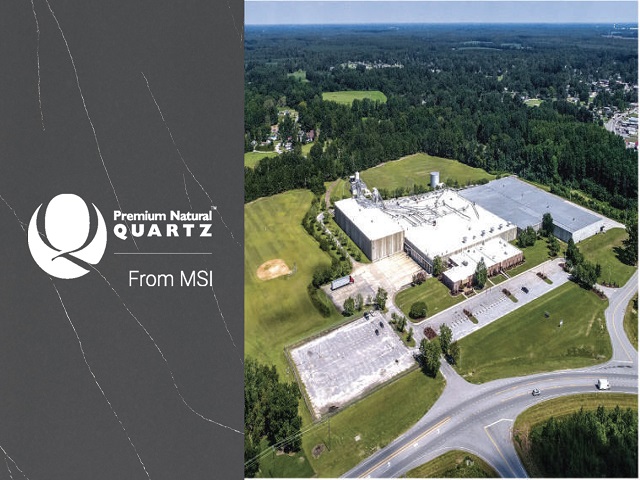 In May of this year, Spectrum Quartz (part of Hirsch Glass Corporation) announced plans to build a quartz manufacturing plant on a 42-acre site in Latta, South Carolina. MSI and Spectrum Quartz subsequently discussed combining the manufacturing expertise of Spectrum Quartz with the financial backing and sales and distribution network of MSI.
The team has been working tirelessly over the past several months to transform the existing 360,000 square foot building into a state-of-the-art quartz manufacturing facility. The first two quartz lines will begin their test production later this month, with commercial production expected in the first quarter of 2020. Two additional lines will be operational shortly thereafter with ample space for further expansion. The venture is expected to create hundreds of jobs and give a significant boost to the economies of Latta and Dillon County as a whole.
According to Rup Shah, President of MSI: "The future for quartz manufacturing in the United States is very bright. The demand for quartz continues to grow at double digit rates as quartz takes substantial market share away from other countertop surfaces. Even with this investment in manufacturing, demand will continue to exceed supply for the foreseeable future. We expect to focus on producing colors catering to the luxury segment of the market, adding to MSI's diverse palette of approximately 100 colors of Q Premium Natural Quartz. We believe that the combination of Spectrum's manufacturing expertise and MSI's unparalleled sales and distribution capabilities will create the leading North American quartz manufacturer."
Mr. Shah added: "We have worked with Alex Xie, President of Hirsch Glass Corporation and Spectrum Quartz for several years and we quickly realized the enormous potential of both parties working together on this venture. We share a common vision for the future of the U.S. quartz market as well as common core values. In addition, Spectrum Quartz not only has incredible manufacturing expertise but also patent protected technology that will allow us to create the next generation of innovative colors and designs."
About MSI:Founded in 1975, MSI is the leading supplier of premium surfaces in North America. MSI's portfolio of products include flooring,countertops, decorative mosaics, and wall tile, and hardscape products. The company offers an extensive selection of quartz, natural stone, porcelain, ceramic, luxury vinyl tile, and glass, among other materials. Headquartered in Orange, California, MSI has over 30 distribution centers across the United States and Canada and maintains over 200 million square feet of inventory. For more information, visit www.msisurfaces.com.
About Hirsch Glass Corporation: Established in 2005, Hirsch Glass Corporation designs and manufactures high-quality glass products, including tiles, mosaics and panels. In 2014, Hirsch Glass Corporation launched the Spectrum Quartz product line. Spectrum Quartz manufactures quartz slabs with unique aesthetics by utilizing its patent protected technology. With a variety of customers across the residential, commercial and hospitality industries, Spectrum Quartz features a wide selection of ready-to-use products for both traditional and modern designs around the world.