11/17/2007 - Manu Shah named Ernst & Young Entrepreneur of the Year
11/17/2007
ORANGE, Calif. - December 4, 2007 - M S International Inc. (MSI), the largest distributor of natural stone in North America, has announced that Manu Shah, chairman and chief executive officer, was named Ernst & Young's "Entrepreneur of the Year" in the Distribution, Manufacturing and Security category. The annual award recognizes those entrepreneurs who have demonstrated extraordinary innovation, financial success, personal dedication and community involvement over the course of the year.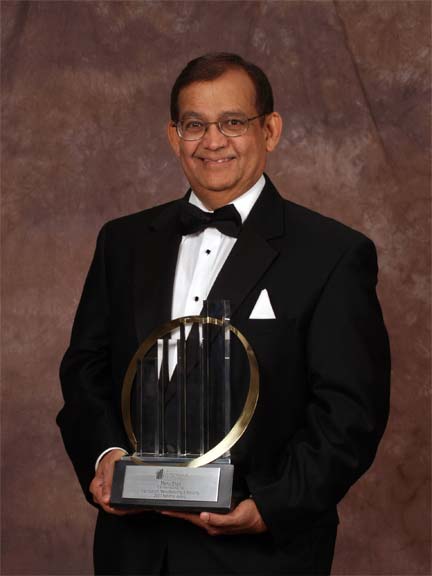 "For a man who came to this country with $3,000 in debt, this is a miraculous experience," said Shah, who started MSI in the basement of his home in 1975. "Natural stone has stood the test of time and remains the most visual part of a home - found in entryways, kitchen counters, master baths, fireplaces, columns, patios and landscaping. Natural stone endures as mankind's best friend and is an incredible job-creation machine. I would like to dedicate this award to the millions of people committed to hard work in this not-so-glamorous trade."
As CEO, Shah has consistently demonstrated commitment to the professional development of his employees. He spearheaded the development of a management training program at MSI which enables motivated, driven and innovative individuals - including those with limited college education or formal training - to have the opportunity to succeed and prosper. The program includes intensive mentorship and rigorous training designed to develop successful managers, including topics such as sales, purchasing, human resources, accounting, information technology, warehouse management and teamwork. The program has yielded many key management team members, who have grown through the ranks from hourly administrative positions.
A Commitment to Philanthropic and Professional Development
In addition to the management training program, Shah regularly contributes earnings generated from MSI to philanthropic organizations. In his native India, he developed a 20-bed natural cure hospital, a computer education center in an all-girls school and a computer education scholarship program. He also makes annual contributions to medical camps in rural areas of India. Locally, he donates to various charities in Southern California and was one of five major donors for the development of a $15 million multi-cultural center in Buena Park, Calif. that promotes non-violence.
Shah Named Ernst & Young "Entrepreneur of the Year"
Over the last 20 years, Shah has supplied the natural stone and served in the construction of more than 15 temples in the United States. Shah has also been intricately involved as both a supplier of natural stone and an advisor on more than 30 historic monuments across the country including the Vietnam Veterans Memorial in Washington D.C., the Astronauts Memorial in Fla., the California Vietnam War Memorial and the Go for Broke monument in Los Angeles, Calif.
Continued Growth Despite Downturn in Construction and Remodeling Markets
After emigrating from India, Shah and his wife started M S International in the basement of their home in Indiana, with the goal of making additional money to supplement Shah's income as a mechanical engineer. Realizing the potential for a natural stone business, Shah set to create a sustainable business model focused on providing innovative products and services. This effort has resulted in the company's continued growth, despite the recent downturn in the residential new construction and remodeling market.
The company, which relocated to Southern California in 1984, has expanded its business every year since it opened its doors 32 years ago and has seen incredible 100 percent growth in recent years. Today MSI has seven mega distribution centers, and employs more than 400 people. It also supports more than 2,000 customers in all 50 states as well as Canada and Mexico. "This award is truly a reflection of the ingenuity, hard work and consistent innovation of the entire MSI team," said Shah. "This includes our employees, our suppliers in more than 33 countries, and devoted customers across the world. We look forward to continuing to bring growth, creativity and efficiency to the natural stone industry."
About M S International, Inc.
Founded in 1975, M S International, Inc. (MSI) is the leading distributor of natural stone in North America. MSI's product lines include granite, slate, marble, travertine, sandstone, limestone, and other national stone products from more than 33 countries on five continents. Headquartered in Orange, Calif., MSI maintains distribution centers in New Jersey and in Atlanta, Ga., Chicago, Ill., Phoenix, Ariz., Dallas, Texas and Boston, Mass. with three additional branches scheduled for 2008. MSI also maintains purchasing offices in India, Brazil, Turkey and China. The company services a nationwide customer base, which includes over 3,000 leading retailers, wholesalers and fabricators of natural stone. For more information, visitmsisurfaces.com.