10/31/2017 - M S International, Inc. Opens New Showroom & Distribution Center to Serve the Cleveland, Ohio Market
10/31/2017
M S International Inc. ("MSI"), North America's Leading Supplier of Premium Surfacing Products, announces the opening of its newest showroom and distribution center located in Valley View, Ohio—a Cleveland suburb.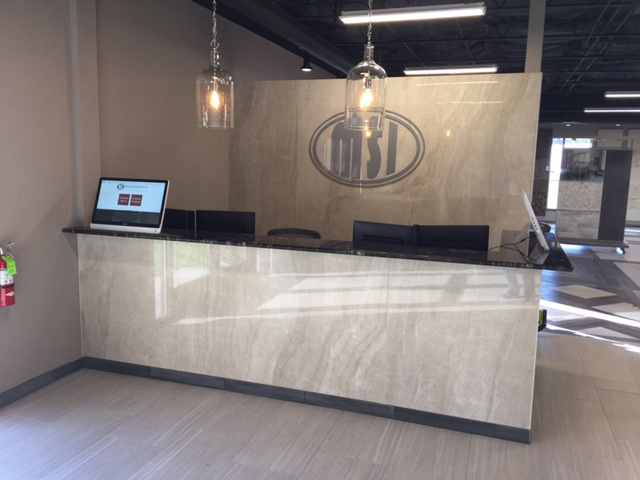 Carefully designed with the customer experience in mind, the showroom boasts a spacious layout, comfortable seating and meeting areas, and a pleasing aesthetic design. Throughout the space are numerous displays and creative installs which allow visitors to get hands-on with MSI's products and easily envision them in their homes.
Built in response to the growing demand for MSI products, the facility services not only the Cleveland area, but also the entire state of Ohio and western Pennsylvania. It features a modern 6,500 sq. ft. showroom complete with MSI's full line of on-trend porcelain and ceramic tile, natural stone, and over 150 decorative mosaics and wall tiles. Additionally, Cleveland is one of the first branches to display the company's new product feature pods, which make it exceedingly easy for shoppers to discover MSI's latest releases and trending surfaces. Bernini, Tektile, Domino, Country River, and Metallic Trends are just a few of the featured collections.  The branch also features some of our most exciting hardscaping releases—including our Arterra Premium Porcelain Pavers —which can stand up to Cleveland's harsh winters.
Complementing the showroom is a 48,000 sq. ft. slab viewing area situated under six state-of-the-art overhead cranes. Highlights of this space include more than 200 varieties of granite, marble, and other natural stone slabs—as well as a QTM Premium Natural Quartz gallery featuring all sixty-seven trending Q colors.
Rup Shah, President of MSI, comments, "While we have been servicing the Ohio market for years from out of state, our new showroom and distribution center allows us to bring to Ohio customers our full line of MSI's products supported by local sales, sales support, inventory, and delivery."
The Cleveland Showroom and Distribution Center is located at:
9501 Allen Drive
Valley View,Ohio 44125
Phone: 216-617-2200
Founded in 1975, MSI is the leading supplier of premium surfaces in the U.S. - including flooring, countertops, decorative mosaics and wall tile, and hardscaping products. The company offers an extensive selection of granite, marble, porcelain, ceramic, quartz, glass, quartzite, among other styles. Headquartered in Orange, California, MSI has distribution centers across the United States and Canada and maintains over 125 million square feet of inventory, imported from over 36 different countries on six continents. For more information on MSI, visit www.msisurfaces.com