10/22/2014 - M S International, Inc. Announces Release Of Countertop Edge Visualizer Tool
10/22/2014

M S International, Inc., a leading U.S. based distributor of countertops, flooring, wall tile, and hardscaping materials, releases online tool to assist customers in selecting the right countertop edge profile.

M S International, Inc. (MSI) is pleased to announce the release of their latest web tool, the Countertop EdgeVisualizer. This tool quickly renders customer choices on countertop edge profiles available for a variety of natural stone countertops. MSI encourages distributors, designers, and retailers to make this tool available on their website, and for customers to start considering their options early in the design process.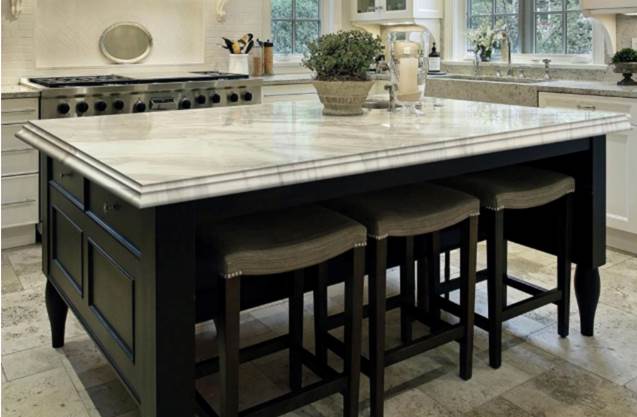 MSI's Countertop Edge Visualizer tool allows users to select from twelve popular countertop edge profiles including: Eased, Bevel, Half Bullnose, Double Radius, Bullnose, Double Bevel, Classic Ogee, Step Half Bullnose, Bevel Bullnose, Double Ogee, Triple Pencil and the Dupont Bullnose. The kitchen layout allows users to quickly visualize how their selection looks from a variety of angles in two different natural stones.Calacatta marble and Netuno Bordeaux granite are available as countertop options so that customers can see how different natural stone countertops look with different edge profiles.
Rupesh Shah, President of M S International, Inc. states "We know that it is difficult to visualize all of the details that go into kitchen and bath designs. To assist our customers, vendors, and distributors, we have launched a variety of web-based tools, and mobile apps to facilitate in creating designs reflective of the personality of the home. The Countertop Edge Visualizer tool is another step forward in helping our customers design the interior space of their dreams."
To get started, customers can visit MSI's Countertop Edge Profile page and quickly select from one of the 12 available profiles to instantly see the results in the kitchen. Retailers, designers, and fabricators can place MSI's suite of visualizer tools on their website, at no cost, allowing their customers the option to preview selections to aid in the decision making process. For more information on how to place MSI's visualizer tools on your website, visit www.msisurfaces.com/room-scene-visualizer-register/.
About M S International, Inc. Founded in 1975, MSI is a leading nationwide distributor of flooring, countertop,decorative mosaics and wall tile, and hardscaping products. Headquartered in Orange, California, MSI also maintains distribution centers across the United States and Canada. MSIs product line includes natural stone products imported from over 36 countries on six continents. In addition, MSI carries an extensive offering of porcelain, ceramic, glass and quartz products. The company maintains an inventory of over 125 million square feet. For more information on MSI, visit msisurfaces.com.