10/04/2016 - M S International, Inc. Announces Updates to Its Virtual Kitchen Designer Tool
10/04/2016
MSI's Virtual Kitchen Designer allows customers and homeowners to visualize a variety of product material combinations in different kitchen scenes. Ideal for both remodels and new construction, users can mix and match their choice of countertop, cabinet, floor tile and backsplash options. These instant renderings can be saved, emailed, and shared on social media.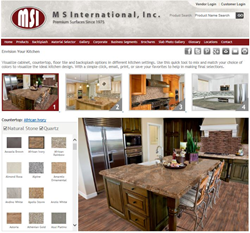 An already powerful and user-friendly tool, MSI has improved the visualizer with a new, sleeker design that provides an enhanced experience across desktop, tablet, and mobile devices. Key updates include: 
A cleaner look and a more intuitive design, ensuring users can quickly find and select the materials they want.
A new kitchen scene with dual angles, providing an incredible full room and close-up view (choosing a new backsplash that renders in both angles)
Enhanced mobile functionality, giving customers the freedom to design kitchens quickly and seamlessly—even when they're on the go.
Updated product assortment with the latest countertop, flooring, and decorative mosaics and wall tile options.
More countertop options than ever with the addition of the entire Q™ Premium Natural Quartz collection.
More than 37 million kitchens have been visualized with MSI's Virtual Kitchen Designer. Click here to see the Virtual Kitchen Designer's updated look. In addition to the online tool, the MSI Kitchen Visualizer App is available for iPhone and iPad and features all of the same functions of the web-based version.
Hundreds of retailers and designers use the Virtual Kitchen Designer in their showrooms and on their websites to help customers make important product and design selections. Other MSI design tools include a Bathroom Visualizer, Countertop Edge Visualizer, and Stacked Stone Visualizer. Industry professionals interested in installing these free visualizer tools on their websites can visit our Industry Tools webpage for more information.
Founded in 1975, MSI is the leading supplier of Premium Surfaces including flooring, countertops, decorative mosaics and wall tile, and hardscaping products. MSI's product offering includes an extensive selection of granite, marble, porcelain, ceramic, quartz, glass, quartzite, and other natural stone products. Headquartered in Orange, California, MSI also maintains distribution centers across the United States and Canada. MSI's product line is imported from over 36 different countries on six continents bringing the very best products to the North American Market. The company maintains an inventory of over 125 million square feet of material. For more information on MSI, visit: 
www.msisurfaces.com