MSI's Top 10 Zeroslip Porcelain Tile Products
February 07, 2022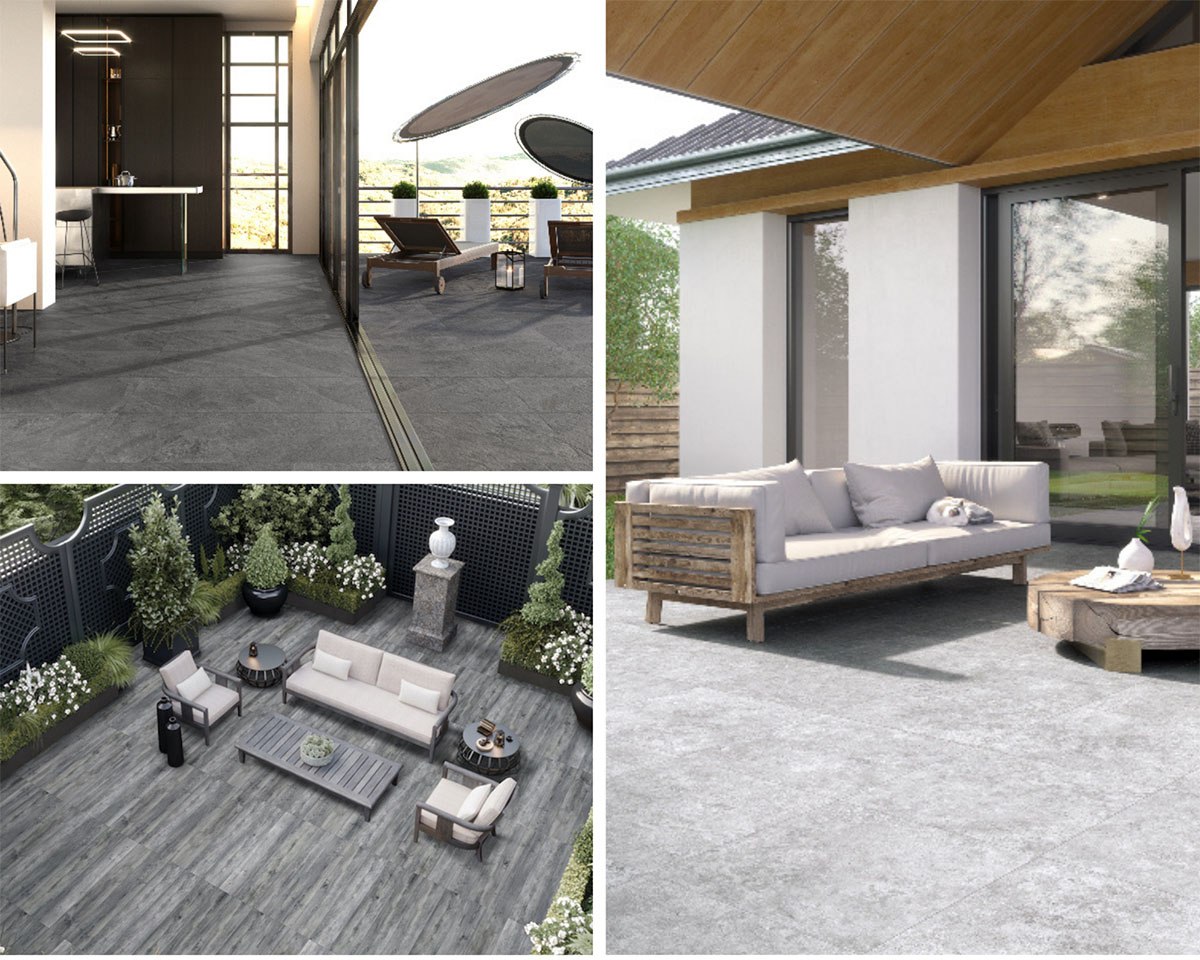 Adding the ideal porcelain tile to your design plans will make a huge splash in the beautification department. Of course, the benefits of these tiles don't end there. Porcelain is an incredibly durable surface more than capable of withstanding decades of wear and tear. Easy to clean, challenging to scratch, and waterproof, these premium surfaces also come in at a lower price point than the authentic wood or stone surfaces they mimic.

Now you can add the benefit of increased safety when you choose porcelain tiles equipped with MSI's ZeroSlip™ technology. Through this proprietary anti-slip technology, these tiles deliver a dynamic coefficient of friction (DCOF) value (the scientific measurement that specifies how much friction there is on level, wet flooring when walked upon) that surpasses the industry standard by at least 50%. This exceeds the DCOF of many of the most popular tiles on the market today.

Keep reading to discover our top 10 porcelain tile products equipped with ZeroSlip™ technology. Not only will they elevate the beauty of any space, but they'll also provide you with peace of mind when it comes to your safety and that of your family and guests.
LUNAR SILVER ARTERRA PAVERS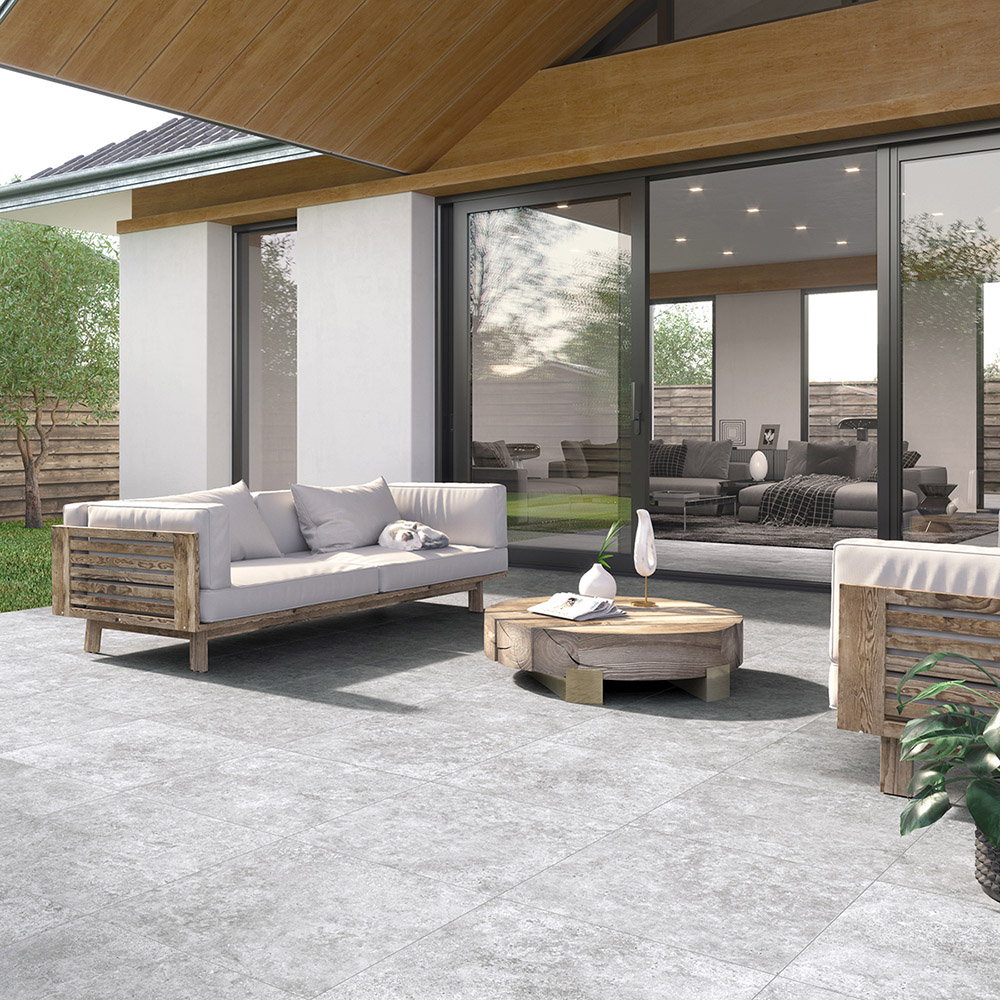 A great flooring option for indoor or outdoor use, Lunar Silver Arterra Pavers use lights grays and soft whites to create an on-trend, modern look. These large format tiles work well with any architectural style, and the added safety of ZeroSlip™ technology makes them ideal for taking advantage of the indoor/outdoor design trend.
These porcelain pavers create that gorgeous travertine look for less. They're also easy to maintain, frost-resistant, and highly durable.
MIDNIGHT MONTAGE ARTERRA PAVERS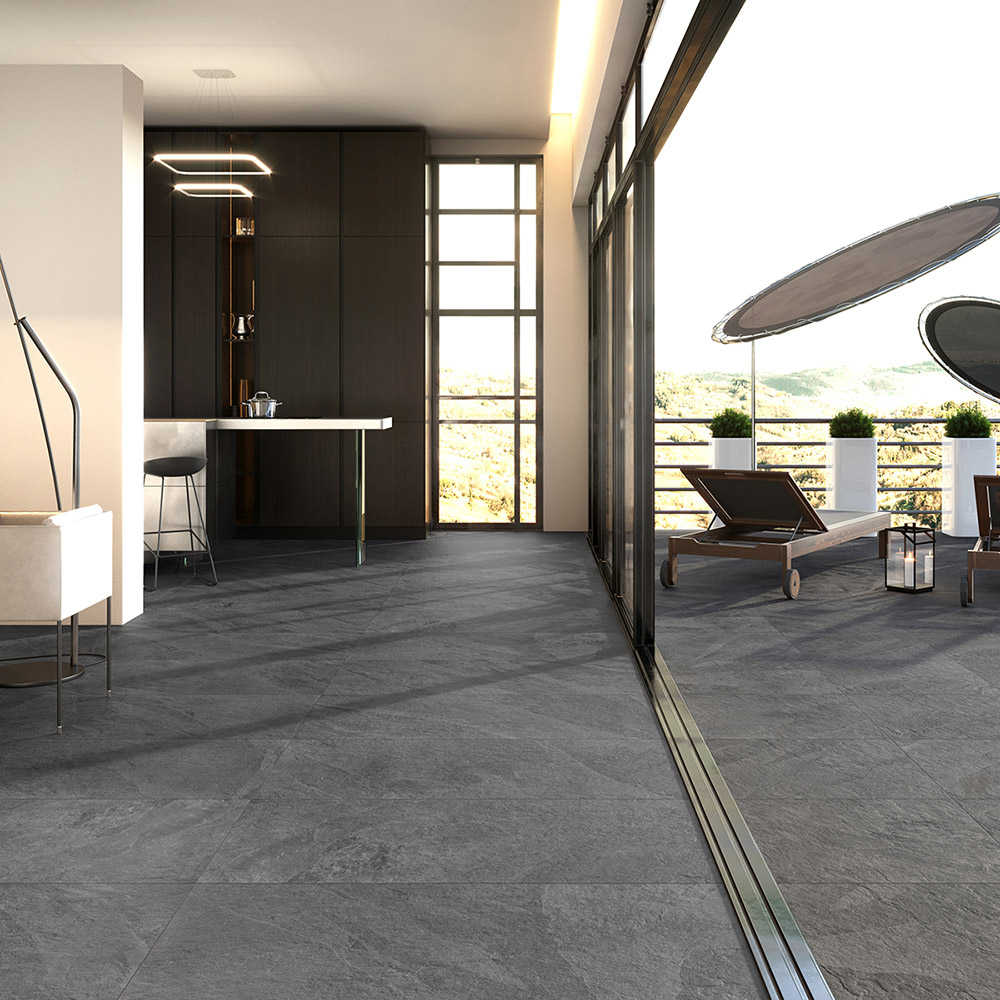 Midnight Montage Arterra Pavers are the ideal balance of timeless and modern. One glimpse of the slate-like look of these black pavers, and you know you're entering the realm of statement-making. Use these pavers indoors, on a pathway, or a patio, and you're sure to wow your guests. They have a mysterious low sheen and matte finish that gives them a natural appearance. Whether in residential or commercial spaces, you can't go wrong with these beauties.
QUARTZ WHITE ARTERRA PAVERS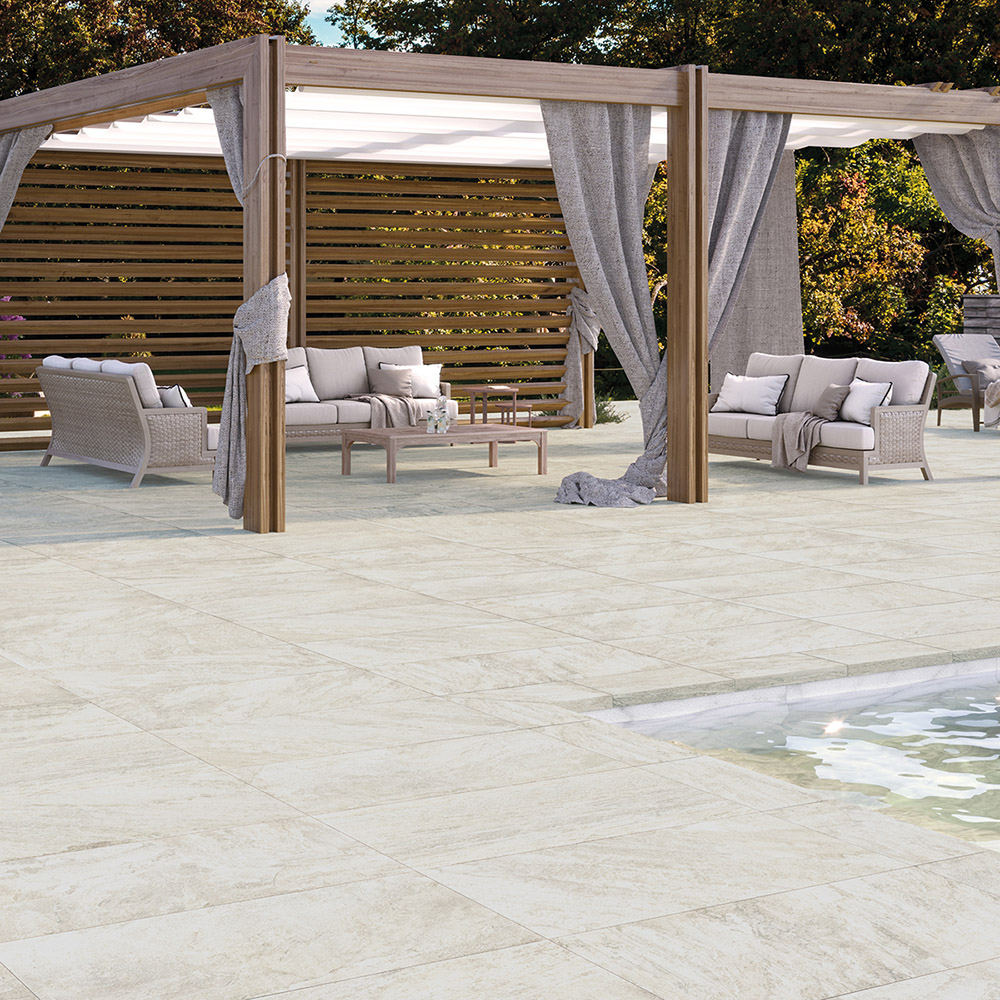 An understated merging of grays and whites lends a look of soft movement to these Arterra Quartz White Pavers. Their large 24"x24"x2cm format is great for creating tile patterns that make your indoor or outdoor flooring stand out. Here you get the sophisticated look of quartz in a sturdy porcelain paver. Add to that the stylish look of a matte finish and low sheen, and this choice is a no-brainer.
Pictured here in a pool setting looking absolutely breathtaking and equipped with MSI's proprietary anti-slip technology allows you to worry less about the safety of your poolside guests.
KATELLA ASH ARTERRA PAVERS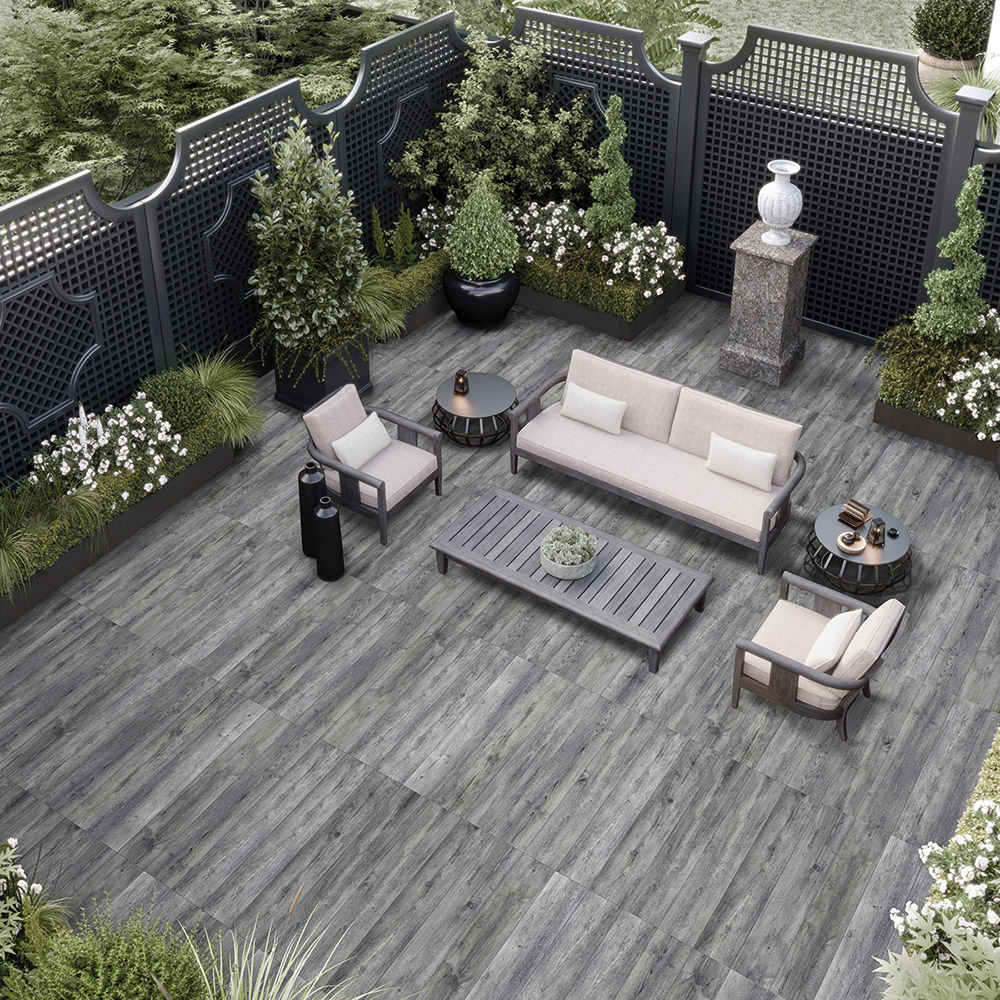 Katella Ash Arterra Pavers effortlessly bring the luxurious look of wood to indoor and outdoor spaces without the need for ongoing sealing or any of the other upkeep required from the real thing. With their striking gray backdrop and knots and graining, it's challenging to differentiate this porcelain floor for authentic wood.
Pictured here in a paradise like outdoor patio setting, these pavers are easy to maintain, durable, and work well in residential and commercial applications.
FAUNA ARTERRA PAVERS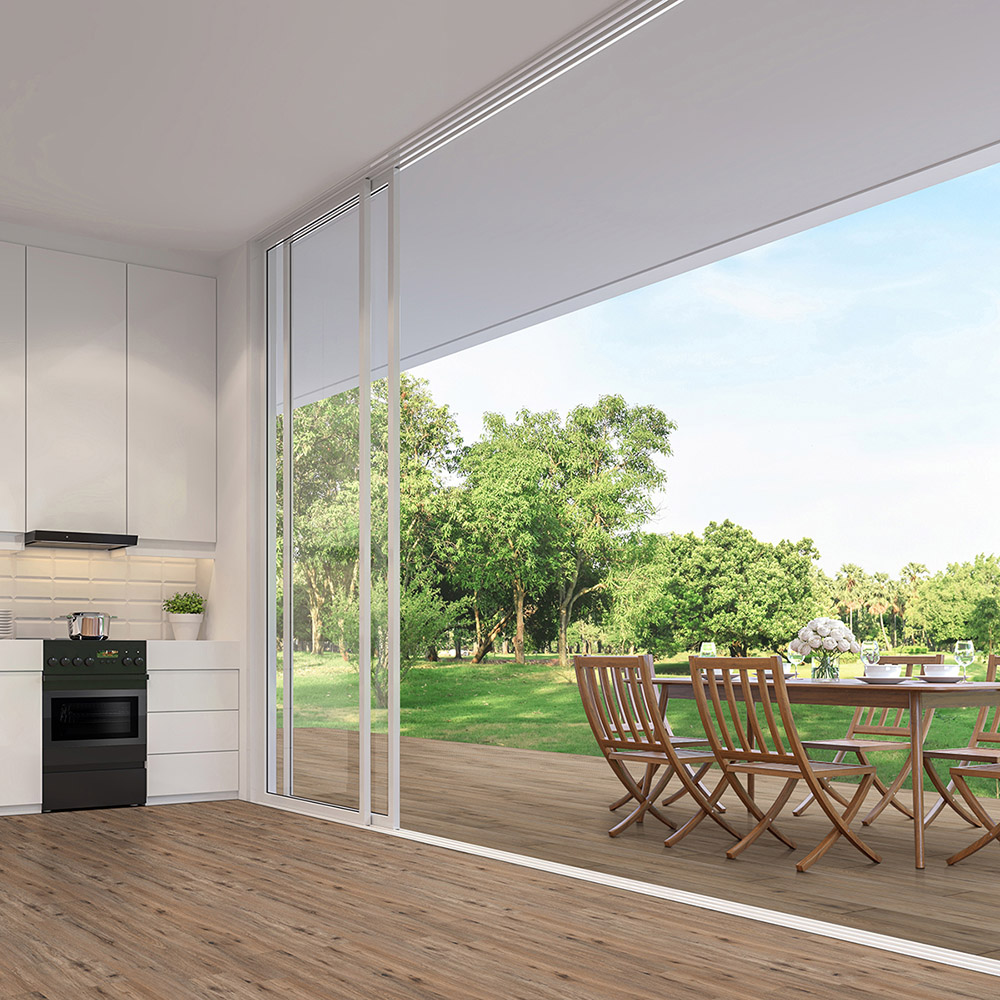 If you're weighing the pros and cons of porcelain vs. ceramic tile, it's important to note that while these premium surfaces are related, they are not the same. Porcelain is more durable than ceramic, making it more suitable for indoor and outdoor settings. A fine example is Fauna Arterra Pavers.
Check out how these warm and inviting wood look porcelain pavers upgrade this outdoor space with their cozy vibe. They are a top-notch choice for outdoor spaces and look equally impressive in indoor areas like kitchens, where real wood flooring is a bad choice due to the risk of water damage.
MYRA IVORY™ ARTERRA PAVERS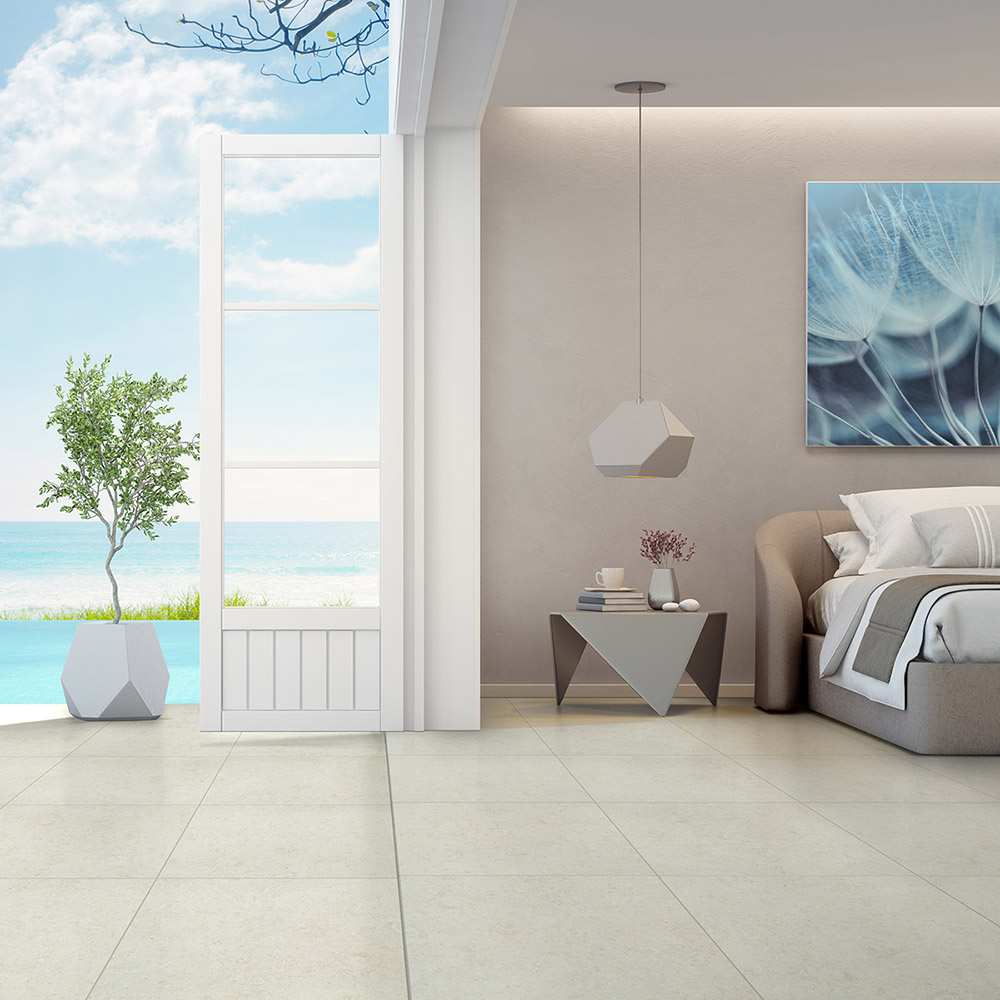 Straight out of Italy, the bright and sparkling Myra Ivory Arterra Pavers showcase a timeless beige background. These porcelain pavers bring a luxurious look to any space and work well for exterior and interior projects. Notice how this upgraded look transitions seamlessly from this indoor scene to the outdoor space. So close to the water, one might worry about safety, but with ZeroSlip™ technology, those worries quickly fade away.
TRUE BLUESTONE™ ARTERRA PAVERS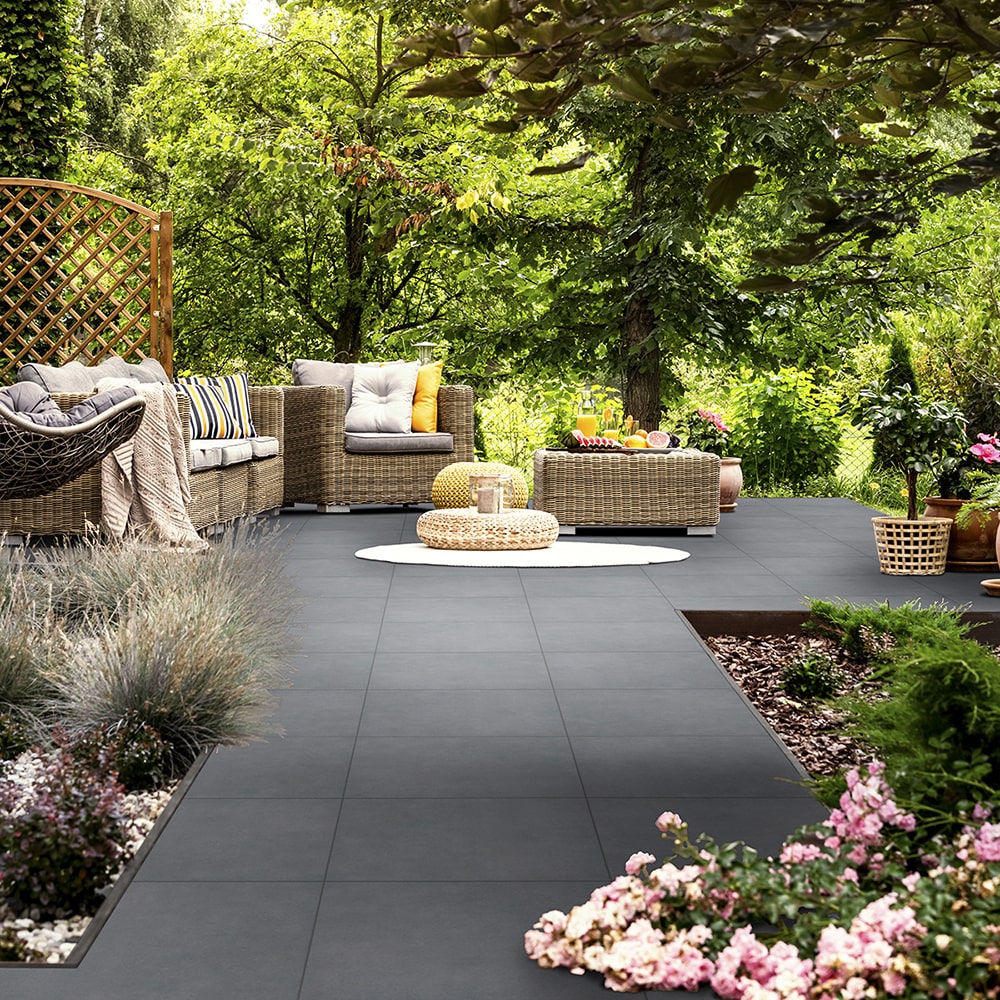 These mesmerizing True Blueston Arterra Pavers are relaxed yet sophisticated with their blue-gray shade and minimalist sophistication. In this scene, the matte finish combines with the large format to produce what looks like the surface of a dark boulder in a gentle forest. Use True Bluestone to bring a spa-like feel to your outdoor or indoor space. Everyone needs a space to breathe, and using these low-maintenance porcelain pavers to create such a relaxing space will not disappoint.
QUARZO GRAY™ ARTERRA PAVERS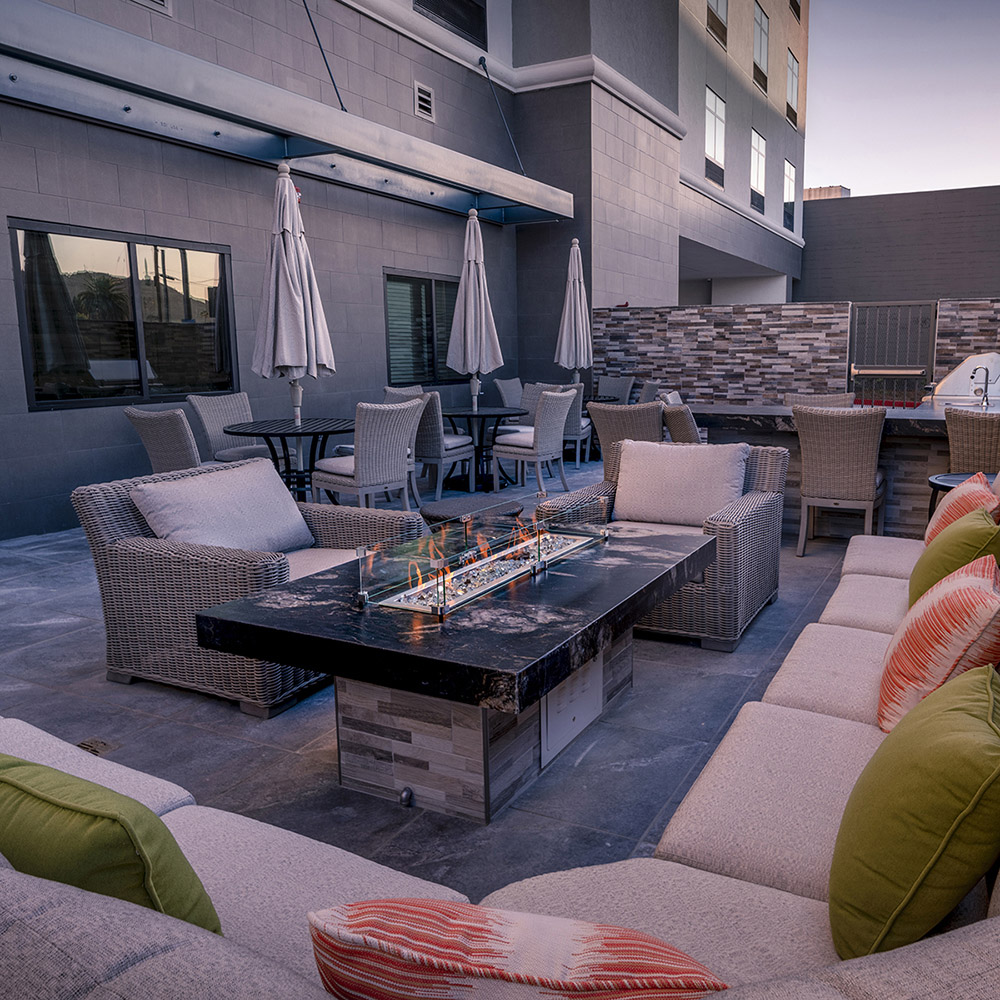 The natural stone look will never go out of style. A case in point is Quarzo Gray Arterra® Pavers with their hypnotic tonal variations. Whether you use these pavers in the kitchen, bathroom, around a pool, or in an inviting patio scene like the one pictured here, these pavers are statement makers. The Quarzo Gray takes this already attractive setting to the next level. With such a great-looking outdoor space, your guests will come from miles around to experience it.
ASTURIA CIELO PORCELAIN TILE

While real hardwood flooring and authentic stone will always remain on-trend, opting for the real thing with all the required maintenance and higher price isn't the ideal choice. With porcelain tile like Asturia Cielo, you capture the same look with benefits far beyond the savings.
These tiles use long black veining and gray shading against a buttery white background to add luxury to your indoor or outdoor spaces.
OXIDE IRON PORCELAIN TILE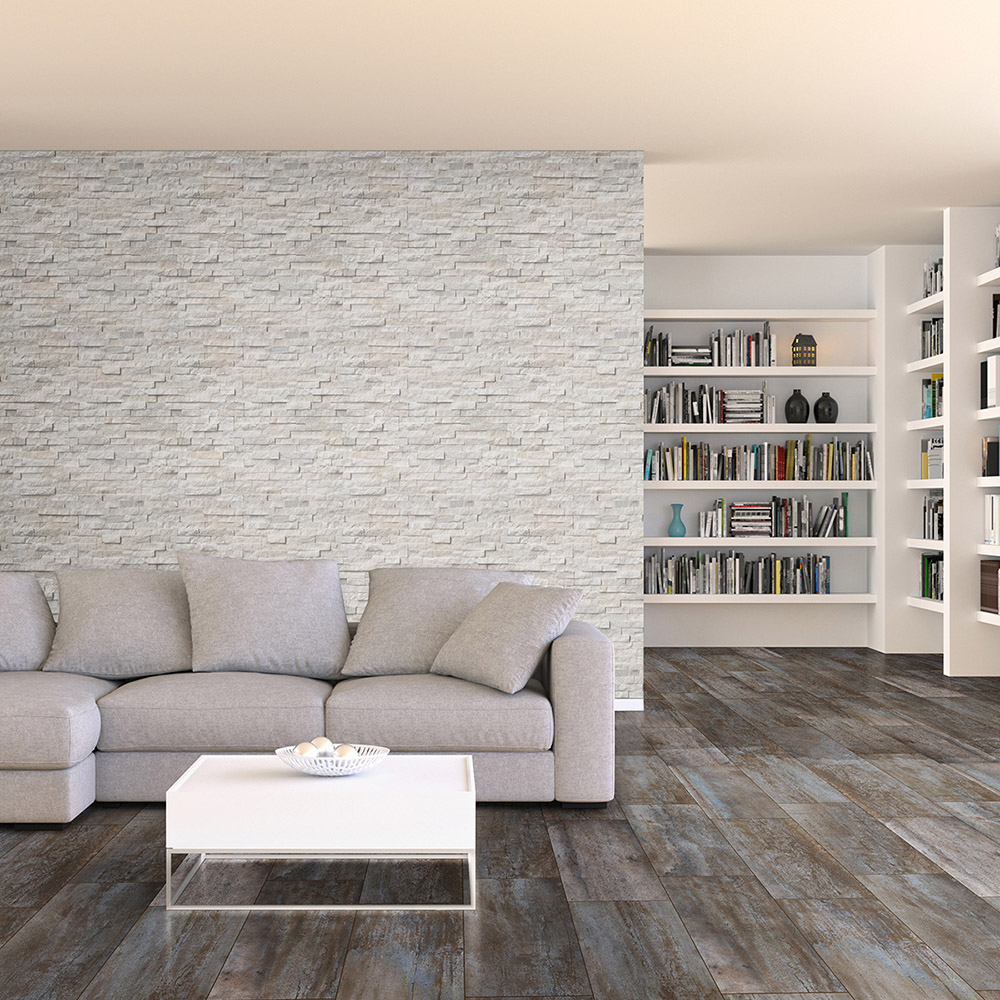 Closing out our list in the Oxide Iron. Using an exciting combination of brown and gray with an elegant matte metallic-look finish, these porcelain tiles go the distance, lending charm to residential and commercial spaces. Worn metal look flooring like this is full of character and serves as a great conversation piece. Go with this premium surface if you're looking to capture a look unlike anything in your neighborhood.
READ MORE ABOUT SLIP RESISTANT FLOOR TILES
9 Waterproof and Slip Resistant Porcelain Floor Tiles
Which Porcelain Floor Tiles Are Slip Resistant?