Luxury Vinyl Tile Or Sheet Vinyl: Which One Is Right For You?
July 12, 2021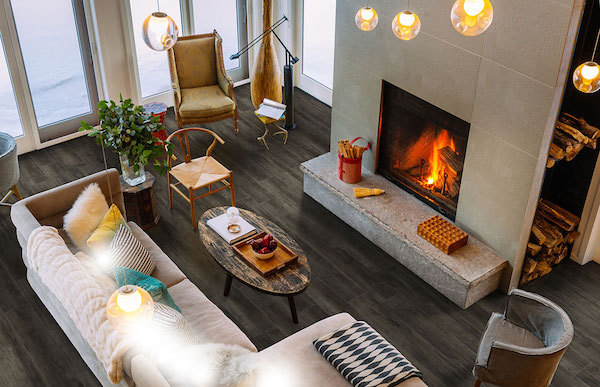 Vinyl flooring has come a long way since it's debut in the 1970s, and the high-quality flooring choice is not far behind hardwood and stone tiles as it continues to gain in popularity. While luxury vinyl tile and sheet vinyl sound similar, there are quite a few differences. In this guide, we'll cover main priorities of both products, such as materials, cost, installation, and more, to help you choose which one is right for your next project.
What Is Luxury Vinyl Tile vs. Sheet Vinyl Made Of?
Both luxury vinyl tile and sheet vinyl are made of similar materials, with the main component being vinyl. LVT consists of three to four layers. They include a tough protective wear layer, a digital film layer that creates the flooring design pattern and color, a thicker base of polyvinyl chloride (PVC) or stone mixed with PVC, and typically, but not always, an attached underlayment. The rigidness of the materials allows for a tongue-and-groove system where the planks easily click together. Because LVT floor tile has more vinyl, you get a product that's thicker with a more substantial appearance. Sheet vinyl is made from three layers that are bonded together. They include a protective wear layer, a digital film layer of PVC for the design, and a base layer made out of felt or other fibers.
Luxury vinyl flooring is available in tiles that simulate natural stone or ceramic and planks that mimic hardwood. LVT typically comes in 16x16" squares with other sizes available, while the luxury planks typically come in 48x4 1/2" sizes, with larger lengths and widths available. Sheet vinyl also resembles natural materials like stone and wood as well as other patterns and colors. The sheets come in either 6-foot- or 12-foot-wide rolls.
How Durable Is Luxury Vinyl Tile vs. Sheet Vinyl?
One of the biggest luxury vinyl tile benefits is its durability. Because LVT is thicker, it's estimated to last 25 years to a lifetime, while thinner sheet vinyl can last approximately 10 to 15 years. LVT is an excellent option for families with kids and pets since it doesn't easily scratch or scrape. Luxury vinyl can be disassembled in order to replace a damaged tile or plank, and the luxury vinyl tile care and maintenance is simple in order to keep it looking like new.
Sheet vinyl, on the other hand, is softer, which makes the material more prone to scratches, tears, and dents. Repairing these types of flooring are also not easy since they're made up of one or more large sheets, and replacing the entire flooring is typically what homeowners end up doing.
How Does Luxury Vinyl Tile vs. Sheet Vinyl Feel?
Because of LVT's thickness in terms of its vinyl and wear layer, the product can be embossed or even have beveled edges. Both of these features add a realistic feel to the stone-style tiles or wood-look planks. Many LVT products also come with an attached underlayment pad for extra cushion underfoot and better sound-blocking properties.
Sheet vinyl is thin, and that can create a flooring that's both cold and hard to walk on, particularly when applied to a concrete subfloor. The extra cushioning and better sound absorption from LVT is missing with sheet vinyl, and that's something to seriously consider depending on the needs of where you're installing your floors.

How Does the Price for Luxury Vinyl Tile vs. Sheet Vinyl Compare?
Of course, with a higher quality product comes a higher price tag. LVT costs more than sheet vinyl. Luxury vinyl tile sells anywhere between $2 to $7 per square foot, while sheet vinyl costs as little as .50 cents to $2 per square foot. If budget is a main concern, then sheet vinyl is the more affordable option; however, consider the lifespan and how often you'll need to replace the entire flooring before making your purchase. But, if you're leaning more towards LVT, then check out this luxury vinyl tile pricing guide to learn more about costs.
It's also important to consider the value flooring adds to your property. Luxury vinyl flooring is now more commonly seen as a more prestigious, higher-end product, as homeowners with million dollar properties are installing LVT over natural materials. Sheet vinyl, on the other hand, is viewed as value flooring, so it may not add much return on your investment, especially if you're trying to flip a property.
How Does the Installation for Luxury Vinyl Tile vs. Sheet Vinyl Differ?
Another major benefit to LVT is that it's an easy installation, even for DIYers. LVT typically uses a click-lock installation method where the vinyl flooring clicks together and floats over the wood or concrete subfloor with 1/4-inch spacers along the perimeter of the room to allow for expansion. Some types of luxury vinyl do come in the glue-down method where each tile or plank is glued down to the subfloor. This type of installation is more difficult and is better completed by a professional.
Floor preparation is key to a nice level installation, and that's even more important with sheet vinyl installations. That's because with a thinner product, the subfloor needs to be extremely smooth and level in order for the sheet vinyl to look and function right. It's also typically installed using a full glue-down method that glues the entire sheets to the wood or concrete subfloor. Sometimes, though, it can be installed gluing only the perimeter and seams, which would make it less secure but easier to replace later. Smaller rooms may require no seams at all to cover the space with completely waterproof flooring material. Since the sheets are more troublesome to work with, it's recommended that you hire a professional installer for any project using sheet vinyl.
Which One Is Right for You?
If you're able to budget for it, then choosing luxury vinyl tile or planks is worth the investment. In this guide to luxury vinyl tile, we've learned that not only does it look more realistic, but it also will last longer thanks to its thicker materials and durability. However, if you need the most cost-effective flooring, then sheet vinyl will work, especially in areas where there isn't as much foot traffic or that will benefit from a seamless construction. MSI offers a wide range of luxury vinyl flooring styles, colors, and sizes to suit your design aesthetic and application needs. To get started on your next project, check out where to buy Luxury Vinyl flooring.