What Exactly Is Luxury Vinyl Tile Made Of?
June 07, 2021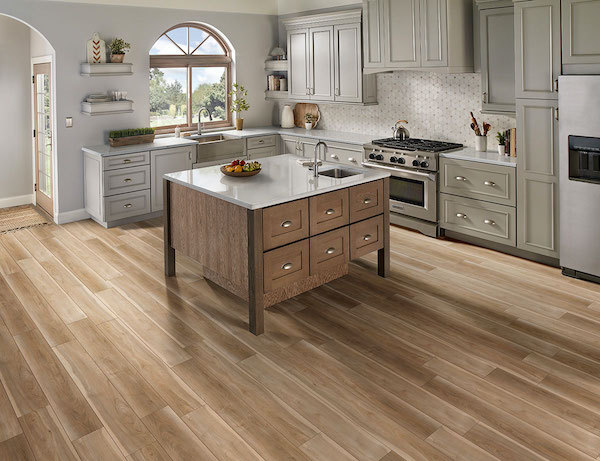 For years, luxury vinyl tile flooring has been considered one of the best wood-alternative flooring materials. It's more than a replacement for hardwood flooring, however. LVT imitates a variety of other flooring options as well, such as marble, travertine, and slate.
If you're considering LVT flooring for your home, you may have several questions about the product. For example, what exactly are they made of? Why should you choose luxury vinyl tile instead of the materials they imitate? How realistic is the look? And, most important of all, what is it about LVT that makes it so popular?
First off, luxury vinyl tile is nothing like the vinyl flooring of the past. Sheet vinyl, vinyl tile and wood-look plank flooring became popular due to its affordable price, and was a budget-friendly way to improve a room quickly. However, it is fragile and prone to gauging and tearing. It shows indentations from high heel shoes, pet claws, and heavy furniture. It requires a perfectly prepared subfloor, because it shows every tiny imperfection such as bumps, cracks, or debris. It also feels hard and uncomfortable underfoot, especially when installed directly over concrete.
In response to these concerns, manufacturers developed a new type of vinyl flooring — luxury vinyl tile, abbreviated as LVT. Unlike its predecessor, LVT is extremely durable. It has six to eight layers, so it is much thicker and more rigid. It's also more realistic than ever, replicating an incredible variety of wood varieties and colors so authentically that you'd have to look up close to see it's not real wood flooring. Stone-look LVT sometimes even contains real pulverized stone.
How is LVT made?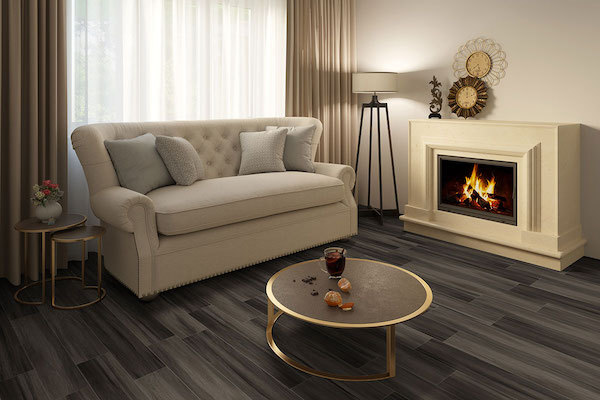 Here's the answer, layer by layer.
Clear Top Coat
This colorless urethane coating provides a long-lasting, maintenance-free shine. Some types of LVT also have a textured surface, which makes the wood-look planks even more realistic. It also provides a degree of slip-resistance, making it a great choice for kitchens, laundry rooms, and bathrooms.
Protective Clear Wear Layer
MSI's luxury vinyl tile is protected by CrystaLux, a patented wear layer that protects against damages such as dents, scratches, and stains, and makes vinyl flooring care and maintenance a breeze. This is the thickest part of the LVT plank, ranging from 4 mil to 40 mil. Typically, the thicker the wear layer is, the higher the price will be — but that also means the quality is better and the flooring will last longer.
For installation in homes, it's best to choose LVT with a wear layer no less than 8 mil. For commercial use and high-traffic areas, manufacturers recommend a wear layer no less than 20 mil.
Design Layer
The design layer is a thin vinyl surface that is printed with a pattern that realistically imitates a variety of products. This is most commonly wood grain, but other materials are replicated as well. Modern technology makes this printing process photorealistic, with a look that is almost three-dimensional.
Cushion Foam Layer
A layer of foam right beneath the design layer gives the flooring a slight cushion and a feeling of warmth, which makes LVT more comfortable underfoot than first-generation vinyl flooring and many other types of flooring as well.
Fiberglass Backing Layer
A layer of fiberglass gives LVT its rigidity and stability.
PVC Backing Layer
PVC vinyl on the bottom layer also contributes to the rigid durability of LVT.
Underlayment
Some types of LVT have an underlayment already attached to each plank. This gives LVT a sound-absorbing quality and contributes to a feeling of warmth underfoot. It also makes the flooring more forgiving if the subfloor is less than perfect, so minor issues such as cracks and bumps won't show through.
Additional underlayment can also be installed, promoting sound absorption. LVT is 100% waterproof, but in some installations it's beneficial to use an additional waterproof layer for added protection.
How is LVT Manufactured?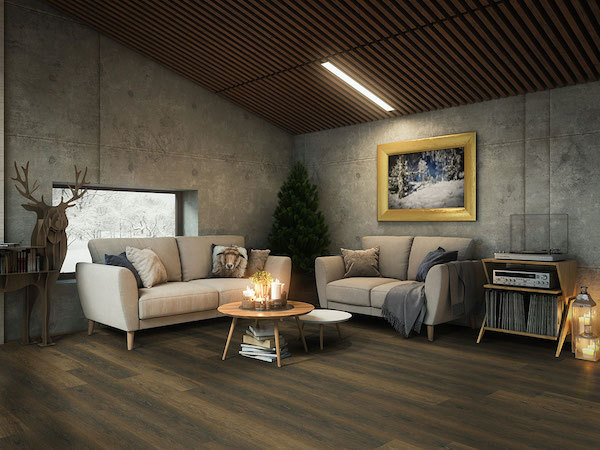 There are five basic steps in the manufacture of LVT:
1. Calendering: A series of heated rollers presses individual components of the LVT into a continuous sheet. These can be adjusted to produce the thickness desired.
2. Lamination: All layers are bonded together through the application of heat and pressure.
3. Embossing: If the LVT surface will be textured, it is embossed with engraved rollers. After this is done, the urethane top coat is applied.
4. Inspection: Each slab of LVT is inspected by technicians to make sure there are no defects.
5. Milling: The LVT slab is milled, cut into planks or other shapes. Then the product is boxed and shipped.
For even more information on LVT's construction and installation, check out these Luxury Vinyl Flooring Videos.
Benefits of LVT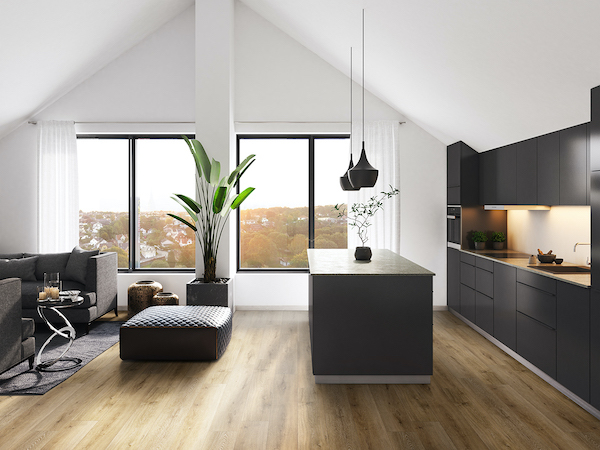 There are many reasons for choosing LVT instead of the other flooring types that it reproduces, such as natural stone and hardwood. For one thing, it's waterproof. This means you can install wood-look LVT in areas where real hardwood flooring would be problematic, such as bathrooms, mud rooms, or kitchens. Unlike natural stone, a luxury vinyl tile floor does not need sealing or any other type of maintenance to remain waterproof.
This worry-free easy care is only one of the luxury vinyl tile benefits, however. There's also the ease of installation. Many homeowners consider it a DIY project that can be completed in a weekend. If you choose to hire a contractor, the ease and speed of luxury vinyl tile installation will bring labor costs lower than many alternative types of flooring.
Finally, there's the cost. When you compare luxury vinyl tile to the types of flooring it replicates, the price will be much lower. Since the result will be beautiful and realistic, LVT is a great value.
It pays to have a thorough understanding of the materials you use in your home, including LVT. That way, you know exactly what you are purchasing, and you are better prepared to compare it with other flooring options — including the different grades and collections of LVT — and know you are making the right choice.
More on Vinyl Flooring
MSI Rigid Core Vinyl Plank Flooring - Low Cost, Durable Hardwood Looks
How To Measure Your Space for Luxury Vinyl Flooring