Does My Luxury Vinyl Flooring Need An Underlayment?
December 04, 2020
You have a lot of choices to make when installing new flooring, even after settling on luxury vinyl floorin. There are so many different colors and patterns to choose from. But once you've made those tough decisions for your Luxury Vinyl flooring, keep in mind that what's underneath the flooring is just as important as the surface!
An underlayment can be beneficial for any type of flooring, including luxury vinyl plank flooring. It can improve sound absorption, increase comfort underfoot, and prevent potential problems. An underlayment can be installed on any type of subfloor, including concrete or wood.
This article covers just a few reasons you'll want to invest in a quality underlayment to make the best of your new luxury vinyl plank flooring.
Sound Deadening
Any type of hard flooring will make more sound when it's walked on than soft carpeting. This might not be a problem for some people, but if you have active children or pets, things can get pretty noisy. If your floors and walls are thin, the sound will carry throughout the house. Underlayment can also absorb some of a room's ambient noise, such as music or conversation, much like carpeting does. Apartment or condominium dwellers can especially appreciate the value of sound deadening — you don't want your neighbors to hear every step you take or the vibration of a chair moving across the floor. In fact, for this reason, it is often required by condominiums' homeowner's associations.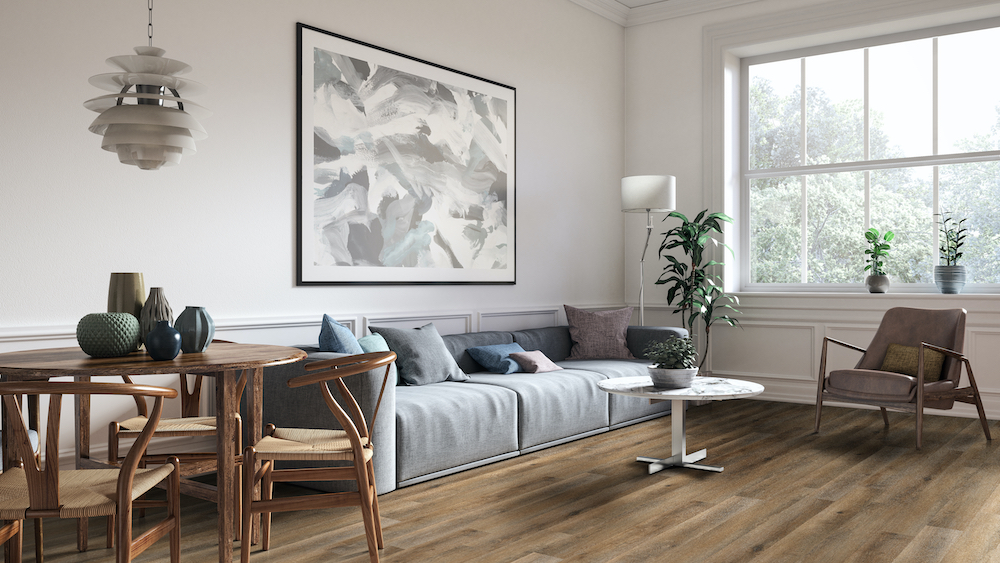 Blythe® Luxury Vinyl Planks
Extra Cushion
Hard flooring can be uncomfortable to stand or walk on for long periods of time — for example, if you are cooking or washing dishes. Parents of young children can also relate to the discomfort of sitting or kneeling on hard flooring. Underlayment can make luxury vinyl flooring more comfortable for young children who are learning to walk or crawl or playing with their toys. The extra cushioning can also offer some protection against injury if someone takes a fall. It might even provide just enough "give" to prevent an item from breaking if dropped on the floor.
Cold Blocking
If you live in a cold climate, you know that hard flooring can feel uncomfortable to bare feet compared to carpeting. Does that mean you're doomed to decades of wearing slippers and socks all the time or covering your floor with area rugs? One of luxury vinyl flooring's best benefits — along with easy vinyl flooring care and maintenance — is that it feels warmer underfoot than some of its alternatives, such as ceramic tile or stone. Using the proper underlayment under your luxury vinyl flooring can make a big difference, too. Underlayment can even function as insulation, blocking the winter's chill from entering the room and keeping the heat in, especially if you're installing it directly over concrete. It can easily transform a chilly basement into a comfortable living space.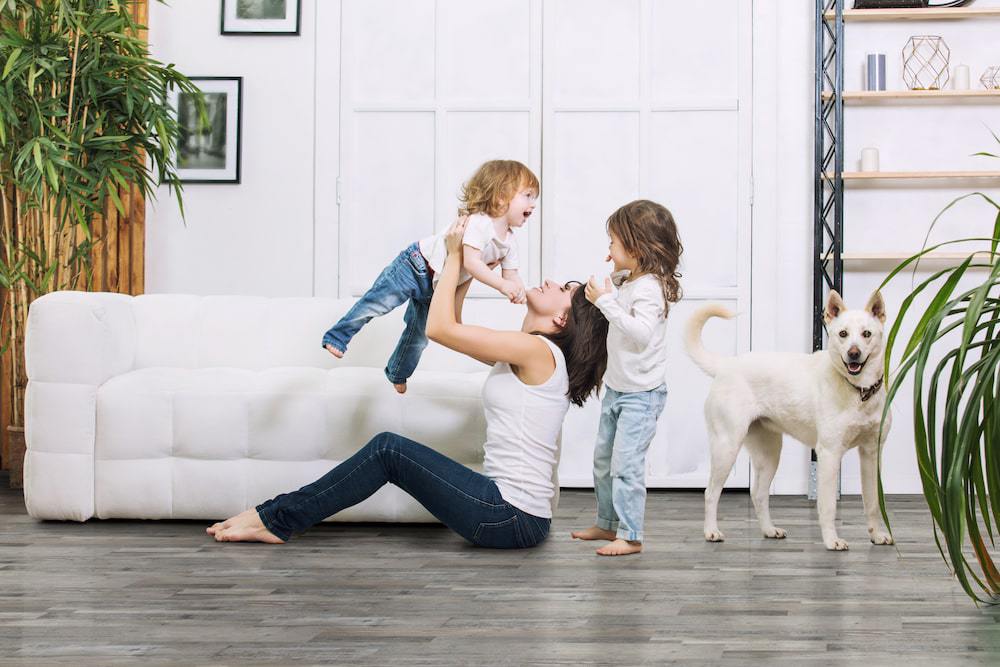 Mezcla Hill Luxury Vinyl Planks
Moisture Shield
Water-resistance is one of the most important luxury vinyl flooring benefits, but certain types of installations call for a bit of extra protection. If you are installing luxury vinyl planks in wet areas such as laundry rooms, bathrooms, or kitchens, installing a waterproof underlayment can give you extra peace of mind. If there should be a spill or a plumbing leak, you can be assured that the water will not penetrate into the subfloor and cause structural damage.
Furthermore, if you are installing vinyl planks directly over a concrete floor, a waterproof underlayment is essential. If water is allowed to pass through concrete, a chemical reaction can occur and ruin the vinyl tile flooring. It can also allow mold to grow beneath the flooring, which can create bad odors and even cause health problems.
Hide Imperfections in a Subfloor
Before installing any type of hard flooring, it's vital to have a subfloor that is properly prepared. Luxury vinyl flooring is more forgiving than other types of hard flooring when it comes to installation on a subfloor that is less than perfect. If you attempt to install ceramic or natural stone tile on a subfloor that is not well prepared, with no bumps, blemishes, cracks, or warping, every imperfection will show. However, even with vinyl flooring installation, it's important to have proper floor preparation. If it's not smooth, you can get a "popping Rice Krispies" sound when walking upon it.
Installing underlayment beneath the luxury vinyl planks can hide these imperfections so the result is a smooth surface with no "popping." And, it's much easier to install underlayment than do the work to get the subfloor absolutely perfect.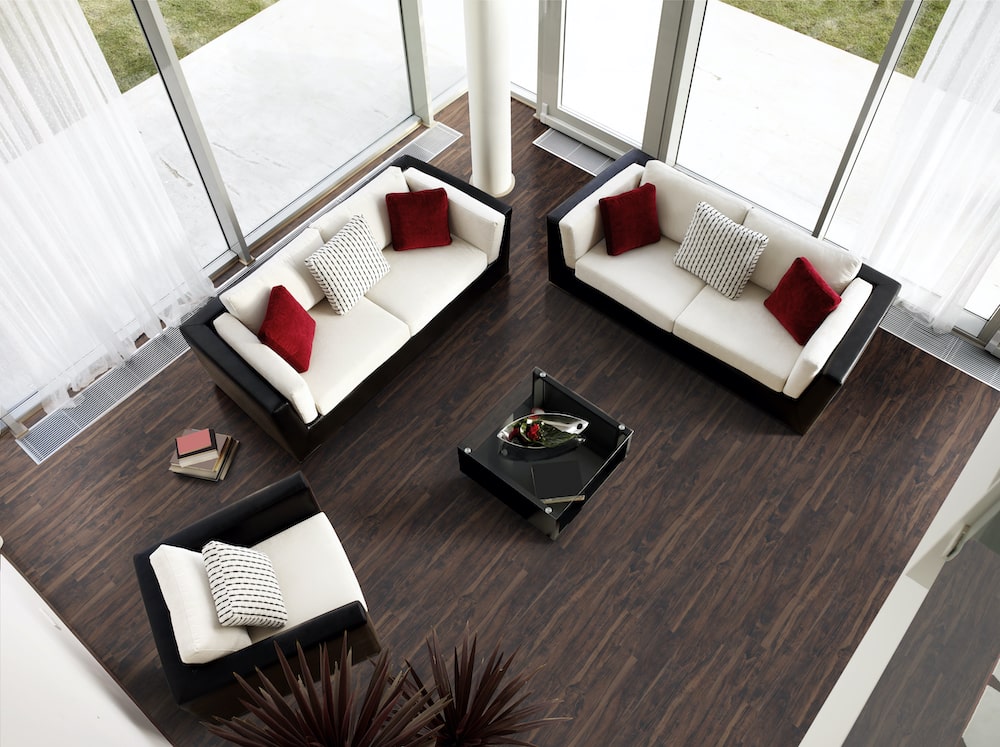 Burnished Acacia Luxury Vinyl Planks
Choosing the Right Underlayment for Your Flooring
There are several different types of underlayment for flooring installations:
Pre-attached: Some vinyl plank flooring has a layer of underlayment already attached. In this case, the only type of extra underlayment required is a moisture barrier, if installing in wet areas or over concrete.
Eco-Friendly Underlayment: This type of underlayment costs a bit more, but it is made from recycled materials and does not emit VOCs (volatile organic compounds) which impact indoor air quality.
Felt Underlayment: Offers superior cushioning and sound absorption, which makes it a good choice for apartments and condos. It is not recommended for installation over concrete or in wet areas.
Foam Underlayment: This is an economical and popular option, but in some areas, a moisture barrier is still needed.
Proper preparation is the key to getting the most from your new luxury vinyl tile floor, taking advantage of the features that make it such a popular choice — its sound absorption, comfort, water resistance, and ease of installation. Underlayment is a crucial part of that preparation, and now that you've learned more about it, you'll be sure to make the right choice.
LVT Flooring provides upscale looks in a low-maintenance package for homeowners of all incomes. Learn more about the benefits of Luxury Vinyl Flooring. And check out these vinyl flooring videos to learn more about LVP and LVT flooring styles, installation, and maintenance. Get more assistance by finding an MSI authorized dealer near you, visiting an MSI showroom, or chatting online with one of our helpful representatives.
More on Luxury Vinyl Flooring
There's More to Love With 8 New Everlife Luxury Vinyl Flooring Colors!
Low-Maintenance Luxury Vinyl Flooring: How to Keep It Clean
See How Plank Luxury Vinyl Flooring Transformed These Rooms
Luxury Vinyl Tile vs. Hardwood Flooring: Only You Know the Difference