Natural Hardscape Ideas Using River Rock
November 17, 2020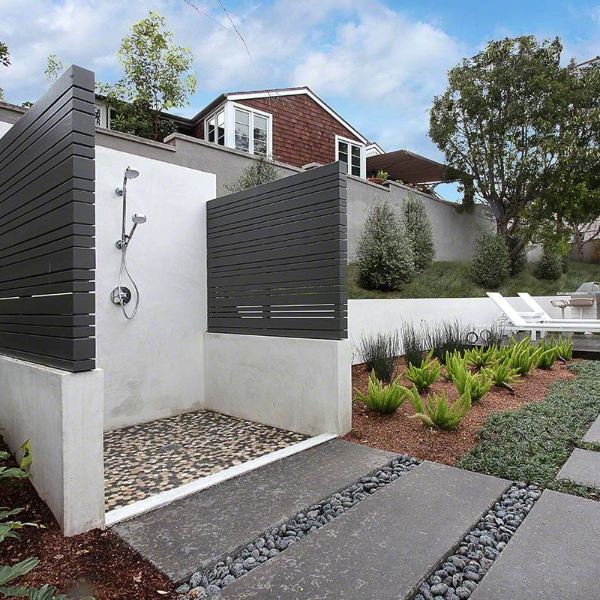 Are you looking for a way to improve the appeal of your landscape that is just as functional as it is good-looking? Consider the addition of hardscape elements using river rock. This humble, natural material lends itself to a variety of uses, allowing homeowners to try a wide range of creative ideas.
Its most common practical use is to create water features that divert water in a chosen direction, in order to prevent erosion or damage to a structure. Of course, there are other ways to achieve this, by using other materials and techniques — so why choose river rock instead? The answer is simple: for aesthetics! Since river rock is a natural product, it won't disrupt the charm of your outdoor spaces.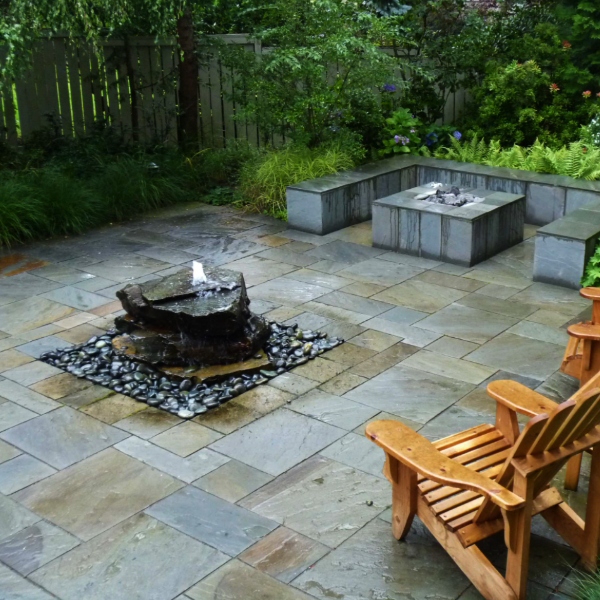 Photo credit: Houzz
Another benefit of using a natural material is that it's friendly to the environment. Everyone wants to use earth-friendly, "green" building materials whenever possible, and river rock in the landscape is just about as organic as you can get. Unlike plastic and other artificial landscaping materials, river rock won't break down and leach harmful chemicals into the ground. It also lasts for a very long time, saving you the expense, labor, and resources involved in replacement.
River rocks are available in a wide range of neutral tones, and also in both polished and unpolished finishes. You can also choose which size is right for your needs, from pebbles to boulders as big as your hand — this allows you to design your perfect look, whether you prefer an earthy style that blends in with nature, or something more elegant and dramatic.
Here are a few popular ways that homeowners are using river rocks in their landscape and hardscape designs.
Fire features
River rocks are, obviously, fireproof. That makes them ideal for building gas fire pits of all sizes, shapes, and styles. You could also use a layer of river rocks for added security underneath and around a free-standing wood-burning fire pit.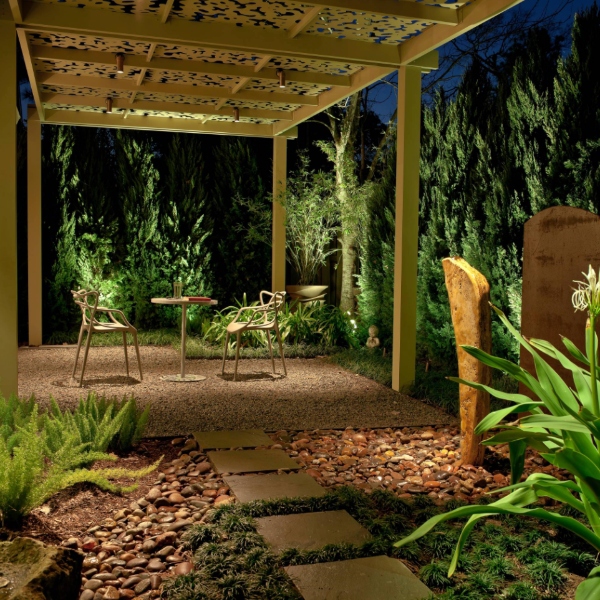 Photo credit: Houzz
Surrounding flagstone pathways
Once your stepping-stone or flagstone-paver pathway has been installed, river rocks can finish the look by filling in the spaces in-between the stones or creating a border. This also has the added benefit of blocking weed growth, making the pathway easier to maintain.
Surrounding plants and trees for drainage and weed control
River rocks can serve as an all-natural, permanent mulch, blocking weeds from taking over a garden bed and retaining moisture in the soil. They can also be used to direct water away from the area so that delicate plants won't be waterlogged when you have a heavy rainfall.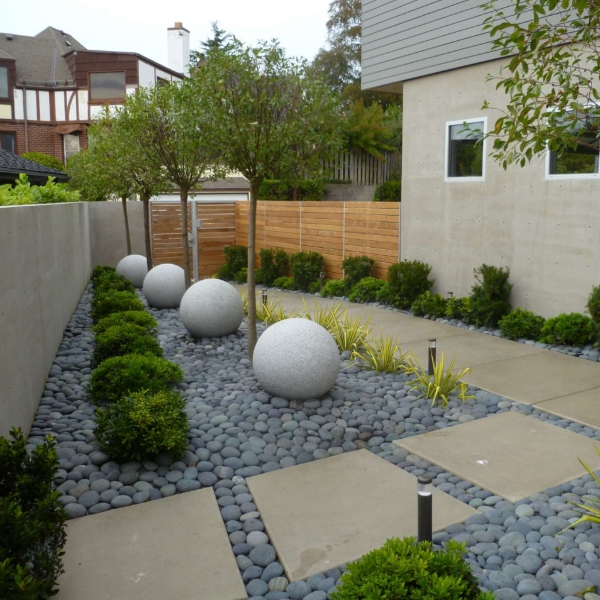 Photo credit: Houzz
Maintenance-free rock garden
Sometimes the best gardens are the ones that don't involve plants at all. First, lay down a sheet of landscape barrier fabric, which blocks weeds from working their way up from the soil. Then use your selection of garden rock, alone or in combination with other colors and sizes, to create an appealing home accent that will stay just as lovely without any work. A popular example of this is the Japanese-style zen garden. Alternatively, if your climate allows it, you could add slow-growing, low-maintenance plants such as cacti.
Creating water features
River rocks are a natural choice for using underwater when a ground cover is needed for a pond or fountain. They can be arranged in infinitely creative ways around flowing water, including the creation of waterfalls.
Underwater ground cover
River rocks can be added to the bottom of a pond to camouflage the lining. Not only will this improve the pond's aesthetics, but the rocks can also create a healthy habitat for koi, goldfish, frogs, turtles, and other water-loving creatures.
Create a pathway
Simple solutions are sometimes best, and landscape rock makes it a simple process to create a pathway with a minimum of preparation and labor. Choose a smaller-sized rock to make the path comfortable to walk on, and it will hold up to years of foot traffic. If the river-rock path should develop low spots or bare patches over time, simply add more rocks as needed.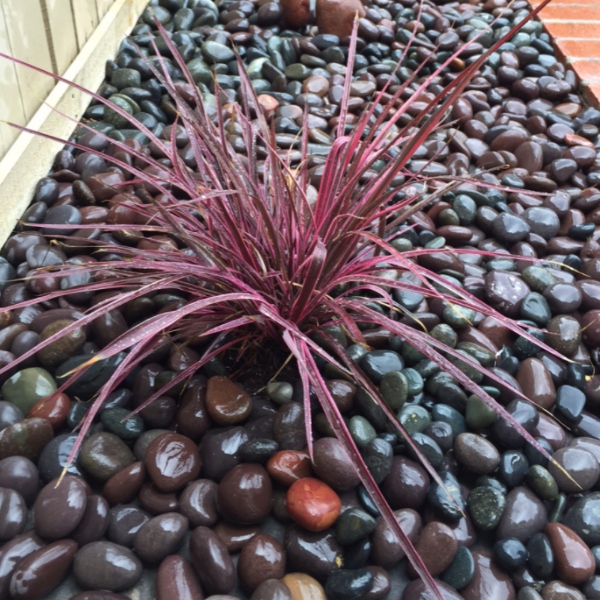 Photo credit: Houzz
Accents for plain, unappealing areas
If your landscape design just seems to be missing a little something, river rocks can bring it to the next level. Arrange rows or patches of bright white river rock to draw the eye to landscape features, or augment the effect of landscape lighting.
Permeable patios
Paved areas such as driveways, parking lots, and even roadways are being designed to absorb water instead of directing its runoff elsewhere. Allowing rainfall to be absorbed into your patio, pool deck, or other outdoor space is better for the environment and eliminates damage from erosion that may result from runoff.
Simulate running water
If you love the look of water features but your climate and topography make them difficult to achieve and maintain, you can use river rocks to simulate a small stream or creek. Simply place a generous layer of river rocks in a complementary shade where the water would otherwise go, lined with larger rocks and boulders to complete the look. You can take it one step further by building a small foot bridge across your stream of stones.
Increase the appeal of hard-to-manage spaces
Most homeowners have at least one trouble spot — that narrow strip along the house's north side where nothing will grow, a hillside that is difficult to mow, the edges of a driveway apron that keeps getting run over. Hardscaping with river stones can help you convert these eyesores into features.
As you can see, the ways in which river rocks can enhance your home's exterior and your landscape are limited only by your imagination!