Can Luxury Vinyl Plank Be Used For Garage Flooring?
October 08, 2020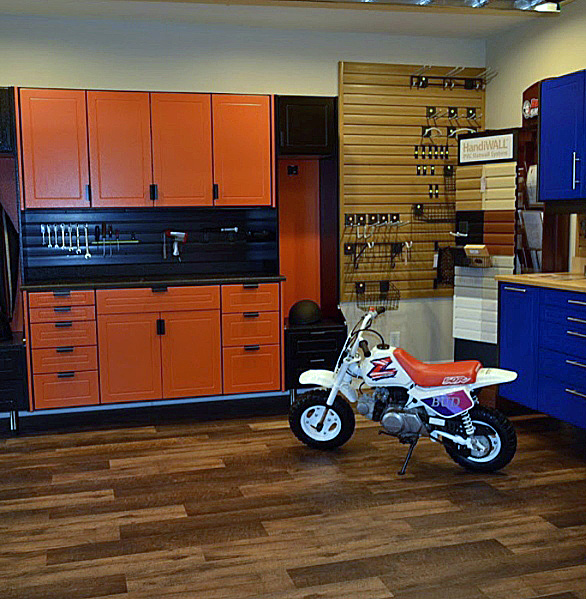 When you think of your home's garage, what's the first thing that comes to mind? For most, the garage is a dark and dingy space that's main purpose is to store your vehicles or offer additional storage. Whether you use your garage solely to protect your cars from the elements outside or you're transitioning the space into a workshop or man cave, you need to install flooring that makes the room versatile for any purpose. Look no further than vinyl plank flooring.
Luxury vinyl plank flooring offers both the durability and beauty that will take your garage to the next level. Instead of having bland garage concrete floors or floors covered with rubber mats, experience the multitude of luxury vinyl tile benefits by incorporating these wood-like tiles in your space:
Choosing your garage's flooring material doesn't have to be overwhelming — and it won't be once we share all the benefits you'll experience once you choose luxury vinyl flooring.
Why Install Vinyl Flooring in Your Garage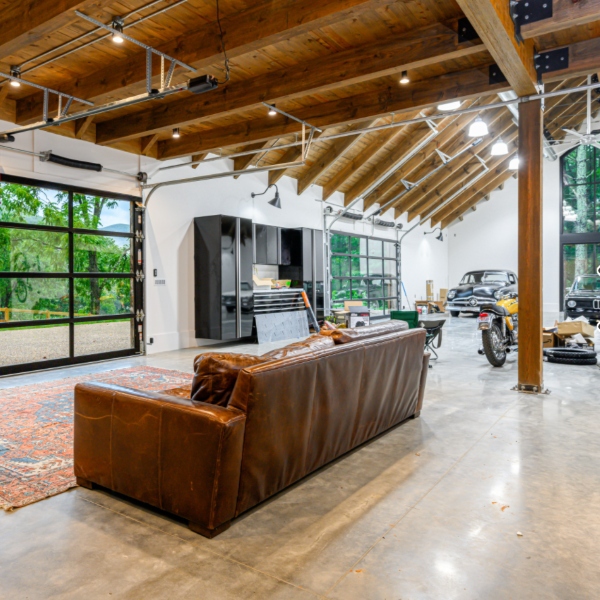 Photo Credit: Houzz
With so many flooring options, homeowners no longer need to settle on bland concrete floors for their garage. But with plenty of foot traffic and vehicle storage, you need a material that can withstand wear and tear while still looking luxurious. It may come as a surprise to some homeowners but vinyl flooring is a great choice for garage flooring for many reasons.
Let's take a look at why many homeowners have chosen to install vinyl floors in their garage.
Cost-Efficient Investment
Your homeowner is likely one of the largest investments you'll ever make. When taking on a home improvement project, you want to be cost-efficient without compromising on appearance and quality. That's why vinyl plank flooring has become such a popular choice for garages.
While vinyl plank flooring isn't the cheapest option on the market, it's an extremely cost-efficient option because of its longevity and lifespan. Because vinyl flooring is extremely durable — withstanding scratches, dents, stains, and more — you won't have to pay for costly maintenance or repairs. You can enjoy the beautiful wood-like appearance of your garage floors for many years to come.
Vinyl plank flooring is also easy to install on your own (more on this below!), which saves you money on the installation as well.
Luxury Appearance
Concrete garage floors are so old school — but you don't want to break the bank when installing new floors in your garage. Get an expensive look without breaking the bank by transforming your garage into a luxurious space with luxury vinyl plank flooring. The floor's wood-like appearance comes in a variety of grains, colors, tones, plank sizes, and more — allowing you to customize your garage flooring to your desired specifications. No matter the aesthetic you're trying to achieve, it'll be possible with vinyl flooring.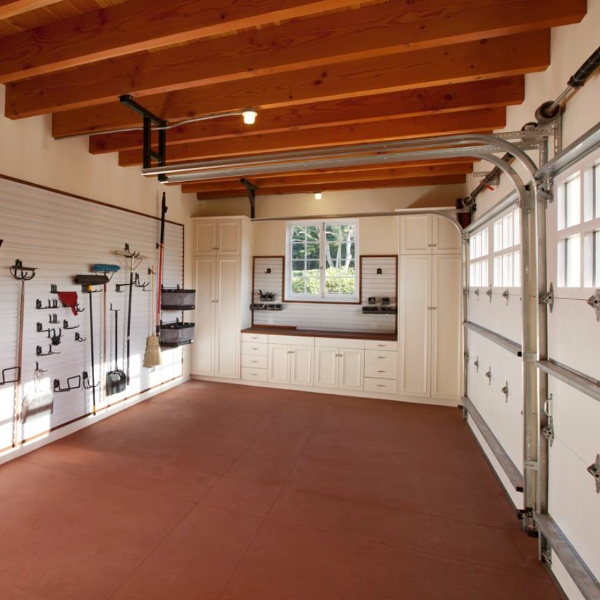 Photo Credit: Houzz
Versatile Space
If you're planning on using your garage as a multi-purpose space to hold your vehicles and be an extension of your home, vinyl plank flooring helps make the space more versatile. The wood-like finish can hold up to the elements brought in by your cars, but create a warm and comfortable space that can be used as a workout space, workshop, man cave, or any space your family needs more of.
You can choose from a wide range of colors, tones, and wood-like patterns to create a garage that is cohesive with your home's aesthetic inside.
Ease of Maintenance
Your garage not only gets a lot of foot traffic but also deals with real "traffic" as well, which means there is a lot of debris and dirt that makes an appearance on the floor. From muddy footprints to snow salt from tired, you need to be able to easily clean your vinyl plank flooring. Luckily, vinyl flooring care and maintenance aren't costly or time-consuming for most homeowners.
Vinyl flooring is nonporous, which means that dirt and dust won't be able to penetrate the surface. This means that tidying up the floor can be done with the simple swipe of a damp cloth. If oil or grease stains appear under your car, you can perform a deeper clean with a wet mop or steam cleaner. It's water-resistant properties mean that you can use water and steam to clean up any messes without worrying about water damage.
Simple Installation
When taking on a do-it-yourself flooring project in your garage, you don't want to use a material that is hard to install on your own. Vinyl plank flooring can be installed without causing you any headaches! You don't need much experience or any fancy tools to complete the installation.
Vinyl flooring is an ideal option for garage flooring because it can be installed directly on top of your existing floor. Before beginning the vinyl flooring installation, you'll want to ensure you're working with a clean, dry surface that is level. Any divots in the floor or leftover debris can prevent your vinyl flooring from laying flat on the ground. The planks have divots that interlock with one another, making it simple to lock your new vinyl plank floor in place.
Waterproof
Although your vinyl flooring won't directly come into contact with Mother Nature inside your garage, it needs to be able to stand up to the moisture that gets dragged in from feet and car tires. Vinyl plank tile is water-resistant, which means it's the perfect flooring option that can hold up to the elements that find their way into your garage. Choosing a non-waterproof flooring material can result in warping, mold growth, mildew, and cupping.
Durable
When choosing a material for garage flooring, you need something durable and able to withstand lots of wear and tear. With foot traffic, the weight of your vehicles, and the movement of tools like lawnmowers, luxury vinyl flooring will have minimal damage — preventing you from needing to replace your floor in a few years! With vinyl flooring, you (and your wallet) can rest easy knowing your floors won't stain, get scratched, or have insect-related damage.
more on luxury vinyl tile
Pet-Friendly Flooring Options: Luxury Vinyl Tile Vs. Stone and Porcelain Tile
Why You Should Consider Luxury Vinyl Tile Flooring
Where to Find Luxury Vinyl Tile Flooring That Looks Like Wood Flooring
Installing Luxury Vinyl Tile in the Bathroom