Can Quartz Countertops Be Used Outdoors?
September 04, 2020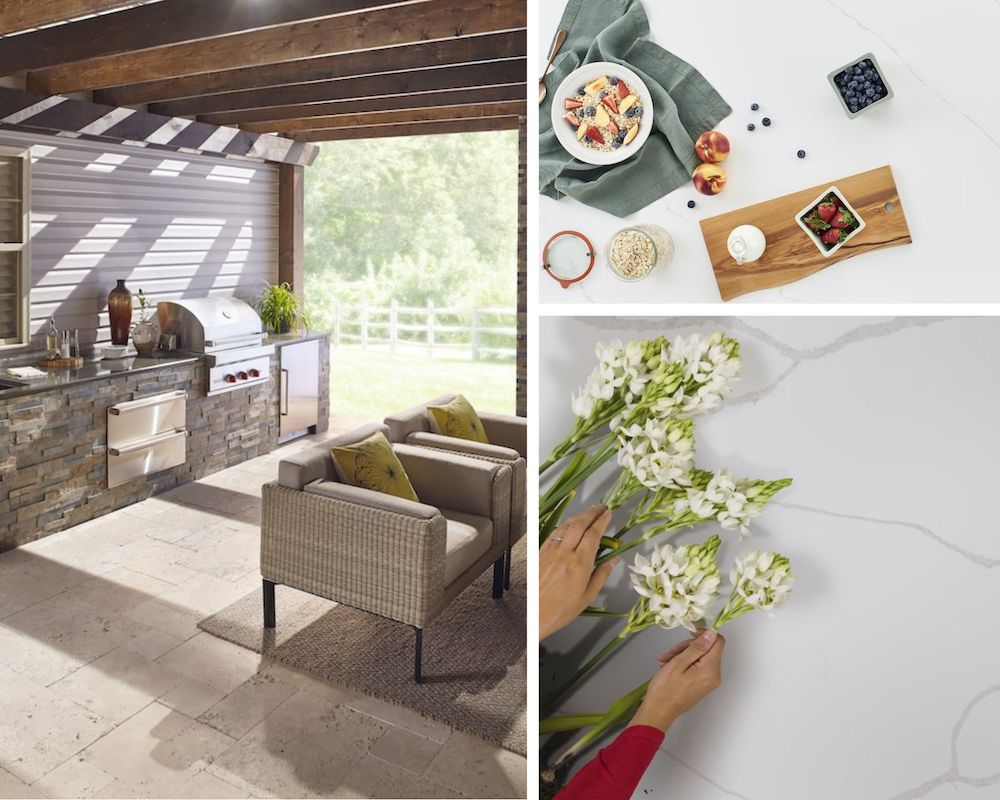 Quartz countertops have become a popular choice for homeowners over the past few years. Not only is quartz sleek and sophisticated, but quartz countertops are affordable and offer unmatched durability. While it has become a common choice for indoor kitchens, it leaves many homeowners wondering if quartz is an ideal choice for outdoor kitchens.
Let's take a look at some do and don'ts of installing quartz countertops in your exterior spaces. Our goal here is to guide you through the outdoor kitchen countertop selection process and help you determine if quartz countertops are the best fit.
Benefits of Installing Quartz Countertops Outdoors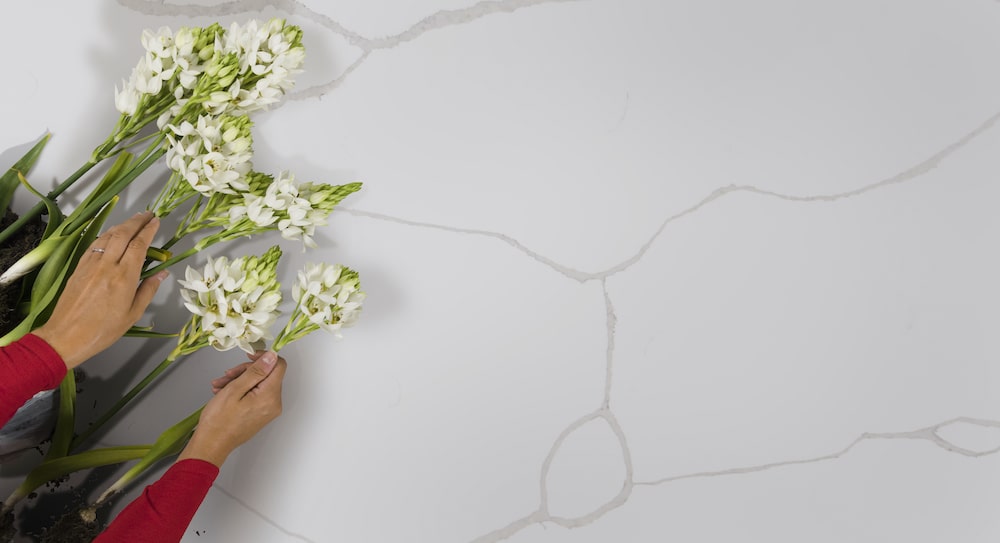 Calacatta Classique Quartz
As a homeowner, you want an affordable option that won't compromise quality. That's exactly what you get with quartz countertops. Let's take a look at a few of the benefits of choosing quartz over other countertop materials.
Durability
No one wants to install beautiful countertops, only to have them damaged in the coming months. Being exposed to the elements day in and day out, you need a countertop you can rely on. Quartz is a top pick among homeowners extending their outdoor living space because of its durability and ability to withstand Mother Nature.
With quartz countertops, you can have peace of mind knowing they're extremely difficult to crack, scratch, or chip. While small flaws can appear over time because of natural wear and tear, quartz countertops are a cost-effective, durable option for your outdoor kitchen.
Stain Resistant
Quartz is non-porous, which means that the material has no pores, stopping liquids from penetrating the surface. With porous materials like natural stone, liquids can enter through the countertop's pore and get under the surface. When this happens, you'll experience irreversible damage like staining and discoloration.
Considering your quartz countertops are going to be outside, they'll be exposed to morning dampness, rainstorms, and snow (depending on your location), along with everyday wear and tear like spills. Because of their non-porous properties, they'll repel liquid and limit staining and bacteria growth.
You still need to maintain your countertops to keep them looking as good as they did on the day they were installed. While quartz countertops are stain-resistant, they can still be stained —avoid putting bleach, permanent markers, paint, nail polish remover, and similar products in contact with your countertops.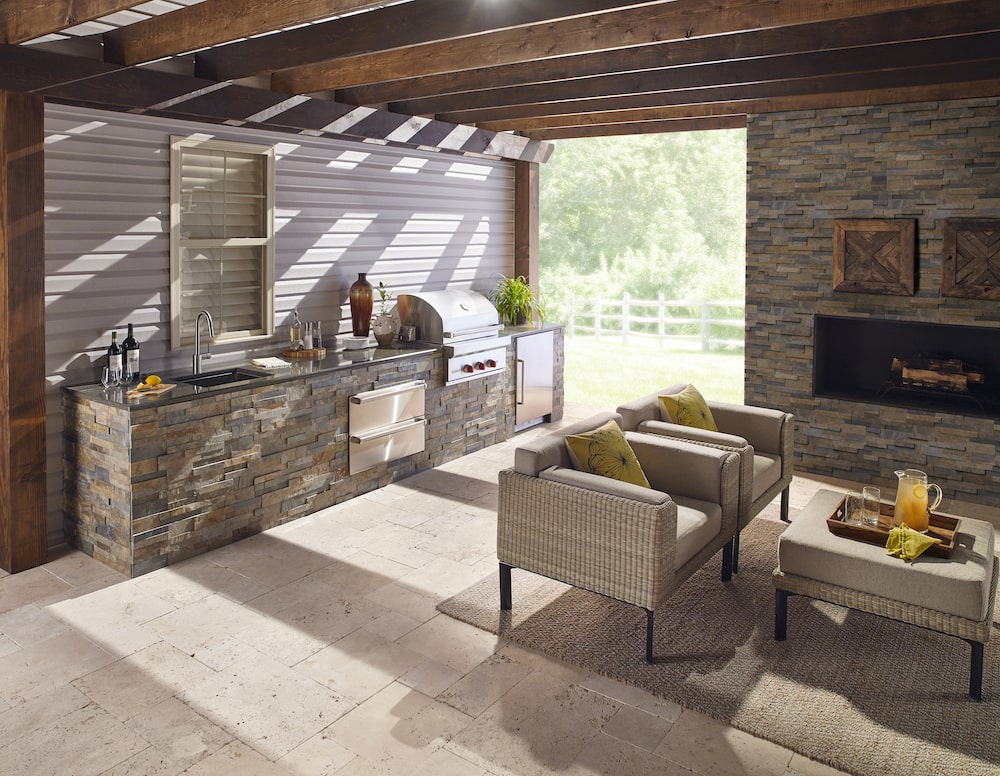 Babylon Grey Quartz
Ease of Maintenance
No one wants to spend time and money installing something that will require lots of maintenance. That's one of the many reasons quartz countertops have become such a popular choice in recent years! Quartz countertops have little to no maintenance, making them an ideal option for most homeowners building an outdoor kitchen.
Don't worry about having to seal your countertops. Once installed, they'll look good to go with a regular wipe down every now and again. You don't even need to invest in pricey cleaning products — simply wipe down your quartz countertops with soap and warm water.
Appearance
No matter the vision for your outdoor kitchen or living space, there's a style of quartz that will transform your dream into a reality. Whether you choose to install a subtle white color palette or prefer to do a dark route, your quartz countertops will tie together your space with a sleek sophistication that can't be matched with another surface.
You can spruce up your space with a variety of designs and color palettes — and you'll be able to find exactly what you're looking for with quartz vs. granite that is limited to the designs from other Nature. Browse through our selection of quartz countertop colors, styles, and shades.
How to Keep Outdoor Quartz Countertops Looking New
There are many benefits to installing quartz countertops in your outdoor kitchen. While they're extremely resistant to the elements, there are a few steps to take to keep your countertops looking their best.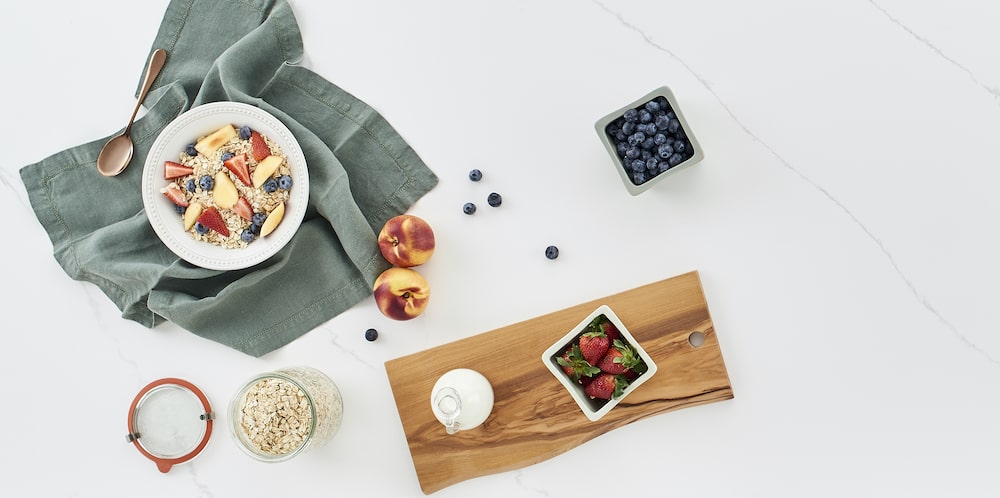 Calacatta Ultra Quartz
Avoid Direct Sun Exposure
While we know quartz countertops are extremely durable and low maintenance, you must take a few precautions to increase their lifespan. When designing your outdoor space, we recommend factoring in the location of the sun. Ideally, your quartz countertops won't be placed in direct sunlight.
Too much sun exposure can damage your quartz countertops over time, leading to issues like fading, warping, and voiding of your warranty. Additionally, the UV lights can cause the colors in your countertops to fade—and even begin to have a yellow hue! Think about your outdoor kitchen design and strategically place your countertop where it can be protected under an awning or at an angle the sun can't reach to keep your premium surfaces looking as beautiful as they did on the day they were installed.
Understand Your Weather
Quartz countertops can be installed in outdoor kitchens throughout the country, but it's important to understand your area's weather when determining if quartz is the right material for you.
If you live in an area that goes through extreme weather changes between each of the seasons, quartz might not be the right choice. The varying temperatures can impact the structural integrity of your countertops. Because quartz countertops are non-porous, they can withstand liquid (e.g. spills, rain, snow, etc.) without becoming stained or discolored. This makes them an ideal option for homeowners who live in an area that is wet to moist.
When determining if quartz countertops are a good fit for your outdoor kitchen, you must consider your climate or you're risking costly damage down the line.
Limit Its Exposure to Heat
While the natural quartz material is heat resistant, the resin and polymer fillers can be damaged through exposure to excessive heat. Most heat damage is a result of placing hot pots, pans, or dishes directly on the countertop, but direct sunlight can have a similar effect if it is hot enough outside!
Too much heat can melt the resin, which often leads to discoloration, spotting, and cloudiness visible on the surface of your quartz countertop. While quartz is an extremely durable option, if you're located in an area of the country that gets particularly hot, you might want to consider a more heat-proof option, like granite.
Do you need help choosing the right outdoor countertop surface? Chat with us now, visit an MSI showroom, or contact an authorized MSI retailer in your area.
More About Quartz Countertops
Seize the Gray! A Guide to Our Most Popular Gray Quartz Countertops
How Do You Estimate the Cost of a Quartz Countertop?
Tips from The Trade: Quartz vs. Granite for Countertops
Believe It or Not, These Marble Countertops are Actually Quartz!